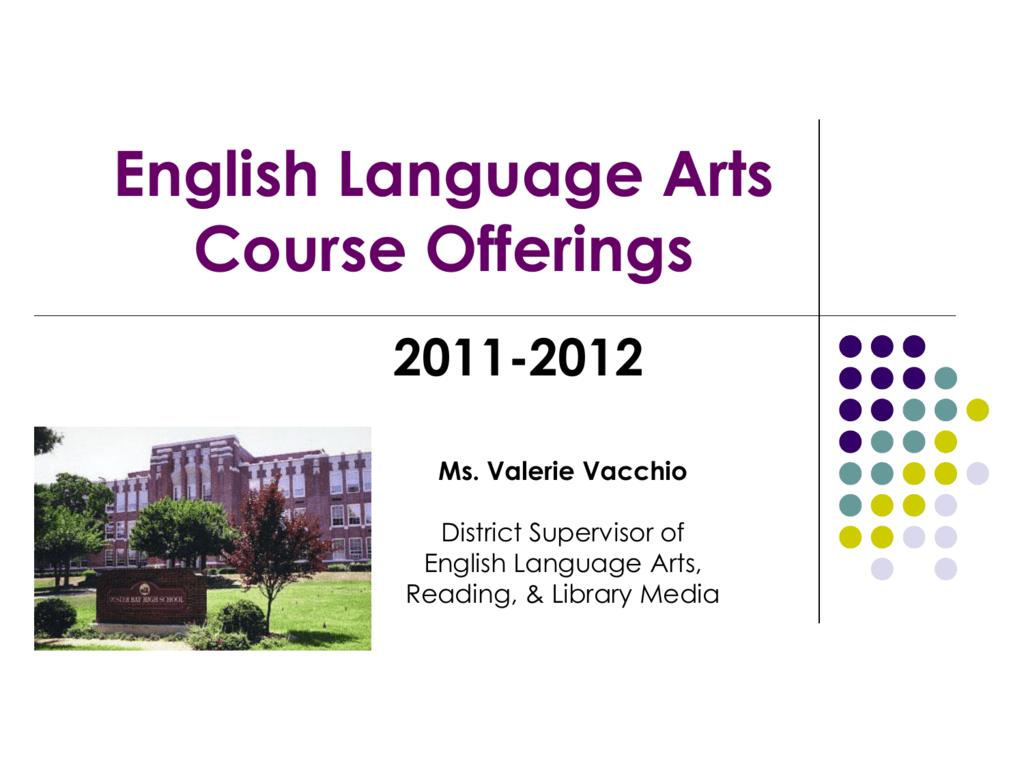 English Language Arts
Course Offerings
2011-2012
Ms. Valerie Vacchio
District Supervisor of
English Language Arts,
Reading, & Library Media
Vision for the
English Language Arts
The English Language Arts Department of Oyster Bay High
School is committed to upholding instructional excellence.
As a team, we embrace a high standard of academic
rigor, defined according to 21st Century criteria. Our
mission is to develop and foster a life-long appreciation of
the written word and to provide students with the critical
reading, writing, listening, and communication skills
necessary to succeed beyond high school. Through the
analysis of literature, students develop a sharpened
awareness of the human condition and a heightened
sensitivity to a myriad of life experiences. We strive for
students to be productive, caring members of a global
society.
ELA Department Homepage
Program Description
A four year/four credit
comprehensive program is
required of all students.
Program & Graduation
Requirements
(4 Credits of Study)
Freshman Year


English 9 Regents
English 9 Honors
Sophomore Year


1 Credit
English 10 Regents
English 10 Honors
1 Credit
Program & Graduation
Requirements
Junior Year



English 11 Regents
English 11 Honors
AP Language and Composition
Senior Year



1 Credit
1 Credit
English 12 Regents
College English with St. John's University
AP Literature and Composition
Advanced English Courses


All Honors/AP level courses require
departmental permission.
Students can earn college credit through
AP level English courses & St. John's
University.
*Please see pages 5 & 17 in the Course Description Booklet for details.
St. John's University
College Level English


This course will be offered in conjunction
with St. John's University during the Fall
2011 & Spring 2012 semesters.
For those students who register for dual
enrollment with SJU & OBHS, up to 6
college credits may be earned (approx.
$250.00/per credit).
Honors Placement Criteria
Criteria for entering the English Honors Program
Grade 9 in 2011-2012:
 A passing score on the 8th Grade NYS ELA Exam
 Cumulative average in content-specific classes
 Teacher recommendation
Criteria for remaining in the English Honors Program include:
 Cumulative average
 Teacher recommendation
*Please see page 7 in the Course Description booklet for details.
English Electives





Journalism (9-12)
Creative Writing (9-12)
The Great Film Tradition (9-12)
Values Clarification through Literature
(11-12)
College Essay (Fall Semster-12)
College Essay Highlights





College criteria (creating a list of safety,
target, & reach schools)
Application deadlines (early action, early
decision, rolling, regular)
Resume writing
Teacher recommendations
Common/SUNY/CUNY applications
College Essay Highlights








Mock interviews
Essay writing process (workshop model,
one-on-one conferences w/ teachers)
Scholarship essays
Life skills project
Overview of freshman year
Dorm necessities/registry
Money management
FAFSA
AIS-ELA

Academic support services (AIS) are
available for students sin grades 7-12
who score below New York state's
designated performance level on
assessments and/or are at risk of not
achieving the Common Core Standards
for English Language Arts & Literacy.
Revised English Regents

New three-hour, one day Regents
Comprehensive Examination in English
Contents:
The exam will consist of 4 parts and will
include:
25 multiple-choice questions
 2 short-constructed response questions
 1 essay (critical lens)

Contact Information:
Valerie Vacchio
[email protected]
District Supervisor of ELA, Reading,
&
Library Media
516-624-6547
I'd love to hear from you!
Thank you!
What questions do you have?