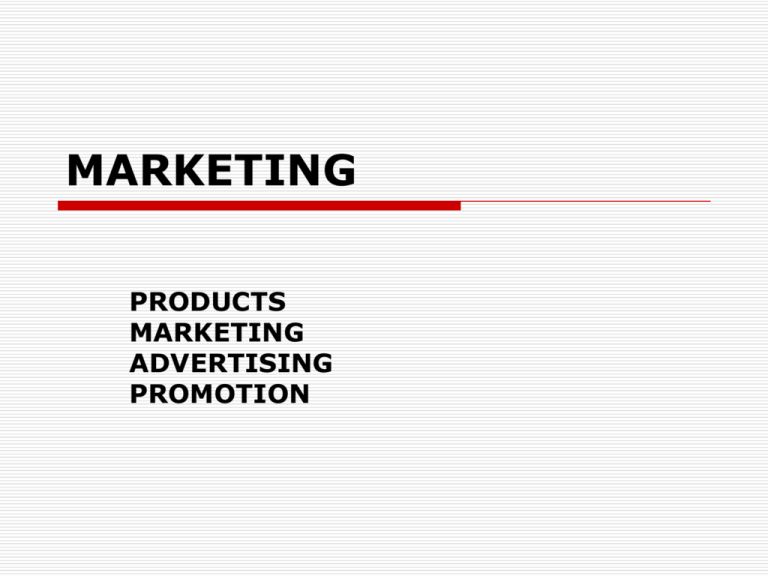 MARKETING
PRODUCTS
MARKETING
ADVERTISING
PROMOTION
What is marketing?
What do marketers do? (1a, p.64)
 Identify or
anticipate
 Develop (create)
 Persuade
 Modify
 Design
 influence






A product
A consumer need
A need
Target customers
Consumers' wants
A product
What do marketers do? (1a, p.64)






Identify or anticipate a consumer need
Develop (create) a product or service
Persuade target customers
Modify the product over time
Design particular product features
Influence consumers' wants
1b – vocabulary (p.65)
VOCABULARY CHECK










Distribution channel
To launch a product
Market opportunities
Market research
Market segmentation
Packaging
Points of sale
Product concept
Product features
Sales representative
Explain the following(1c, p.65-66):
 selling concept vs. marketing concept
 Four Ps
 producer market vs.
consumer market
PRODUCT
(Text 1 b, p.60)
Product
 definition
 types of
 benefits for customers
Brand names
 family name vs. multi-branding
Product lines and product mix
 meaning
Line-stretching and line-filling
 Meaning
(pg.1)
(pg.2)
(pg.3)
(pg.4)
PROMOTION
Match the two columns:







TARGET
BRAND
PROMOTIONAL
PUBLIC
POSITIVE
PUBLIC
NEGATIVE







AWARENESS
PUBLICITY
PUBLICITY
RELATIONS
CUSTOMERS
TOOLS
AWARENESS
More matching…










SALES
BRAND
INITIAL
REDUCED-PRICE
OFF-SEASON
SALES
PERSONAL
BRAND
LOSS
FREE










LEADER
SAMPLE
FORCE
BUYING
PROMOTION
SWITCHING
TRIAL
SELLING
LOYALTY
PACK
PROMOTION (MK:p.75, 76)
1.
2.
3.
4.
5.
6.
7.
What is the role of promotion?
What promotional tools are there?
What is PR concerned with? (What is PR about?)
What is publicity?
What is the purpose of sales promotion?
What tactics are used in sales promotion?
What are a)free samples, b)reduced-price packs,
c)loss leaders aimed at?
8. Who else can sales promotions be aimed at? Why?
9. Which is the most expensive promotional tool?
10. What are the roles of salespeople?
Questions for the answers below? (MK)
1.
2.
3.
4.
5.
6.
7.
8.
9.
Any mention of a company's products that is not paid
for, in any medium read, viewed or heard, by a
company's customers, aimed at assisting sales.
Attracting price-conscious buyers or countering a
promotion of a competitor.
To develop product or brand awareness.
To stimulate earlier or stronger sales of a product.
Advertising, public relations, sales promotion or
personal selling.
Maintaining, improving or protecting the image of a
company or product.
Generating the initial trial of a product.
Bringing customers into the shop where they will also
buy other goods.
Free samples, loss leaders, coupons, price reductions,
competitions…
ADVERTISING
 ADVERTISEMENTS
 ADVERTS
 ADS
 COMMERCIALS
ADVERTISING (MK)
 Target market
 Advertising
budget
 Advertising brief
 Media plan,
media planner
 Institutional a.,
prestige a.
 Advertising
account
 Advertising
strategy
 Word-of-mouth
 Advertising
campaign
 Advertising
agency
 Advertising Dept.
 advertiser
The advertising agency or the client
company? Who does what?
 ... creates final advertisements.
 … produces alternative ads that are
pre-tested before the final choice for
the national campaign.
 … gives an agreed budget, a set of
objectives and an overall advertising
strategy.
 … develops a media plan.
 …launches the national campaign.
ADVERTISING
(Read MK and find appropriate words to
replace the numbers.)
 Advertising informs consumers about the
existence and benefits of products and services,
and attempts to persuade them to buy them.
The best form of advertising is 1 advertising,
which occurs when satisfied customers
recommend products and services to their
friends. Large companies could easily set up
their own departments, but they tend to hire the
services of an 2.
 A contract to produce the advertisements for a
specific company is known as an 3. The client
company decides on its advertising 4, the
amount of money it plans to spend in developing
its advertising and buying media time and
space.
 The client company also provides a 5, or a
statement of the objectives of the advertising,
as well as an overall advertising 6. The choice of
how and when to advertise, and in what
proportions, is called a 7. The set of customers
that a company wants to expose to an
advertisement are known as the 8 market.
 The advertising of a particular product or service
during a particular period of time is called an
advertising 9. Favourable mentions of a
company's products or services, in any medium
read, viewed or heard by a company's
customers or potential customers, that are not
paid for, are called 10.
Media plan
(Read MK:p.71 and find
appropriate words to replace the numbers.)
Media planners' considerations:
a) What media will be used and in what 1?
b) What percentage of the 2 market
should be 3?(How many times target
customers will be 4 to the ads)?
c) How many times are the customers
likely to see the 5?
d) What is the 6, i.e. at what point does
advertising become effective ?