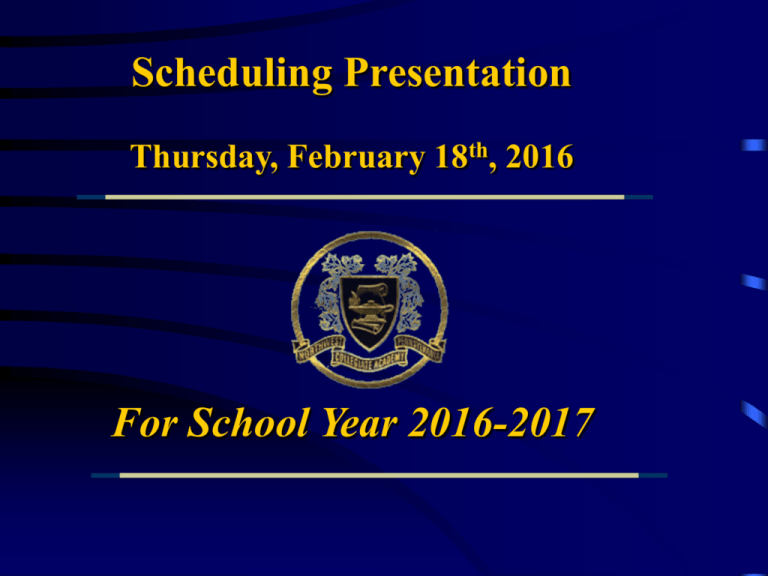 Scheduling Presentation
Thursday, February 18th, 2016
For School Year 2016-2017
Collegiate Academy
Graduation Requirements
Language Arts
Mathematics
Social Studies Minimum
Science
29
credits
World Language
Wellness/Fitness
Computers
Electives
4.5 credits
4 credits
4 credits
4 credits
3 credits
1.5 credits
.5 credits
7.5 credits
The Scheduling Process
We base our master schedule on
student requests. Because of this we
cannot change schedules greatly at
the start of next school year.
Goals for Your Schedule
Recent research shows that the single
most important indicator of a
student's potential for success in
college is the rigor of his/her high
school coursework.
1. Challenge Yourself
2. Build a Schedule with Balance
Advanced Placement Program
Get a head start on college-level work
Improve writing skills
Sharpen problem-solving techniques
Study subjects in greater depth and detail
 **Take classes both in and outside of your
intended major
Minimum of 3 AP Courses/College Courses
Advanced Placement Classes
1. Studio Art
13. Human Geography
2. Art History
14. World History
3.Computer Science
15. U.S. History
4. English Language and Composition 16. Macroeconomics
5. English Literature and Composition 17. European History
6. Calculus AB
18. Psychology
7. Calculus BC
19. Government & Politics
8. Statistics
20. German Language
9. Biology
21. Spanish Language
10. Chemistry
22. Latin
11. Environmental Science
23. Music Theory- Not Offered Until
2017
12. Physics I and II
•
•
•
•
•
•
AP Scholars Program
Recognition for Excellence in AP
Awards for students who score 3 or
higher on 3 or more AP Exams
National AP Scholar – 4 or higher on 8
or more exams & average of 4 on all
exams taken
AP Exam registration is due March 14
AP Capstone Program
AP Seminar
AP Research
Introducing - AP Capstone
is an innovative program that helps you stand out in
the college admissions process by developing the critical skills needed to
succeed in college and in your future career.
Emphasizes Critical Skills Needed
for College & Beyond
Complements the in-depth
subject-matter study in AP
Two new courses—AP Seminar and AP Research—allow students to
immerse themselves in topics that matter to them, while they develop the
analytic, research, problem-solving, and communication skills that
colleges seek in their applicants.
The Pinnacle of Distinction – AP Capstone
Diploma™
This challenging program helps students deepen their passion for learning, gives them
greater confidence in your academic skills, and a broader perspective on their
world.
Students who earn scores of 3
or higher in AP Seminar and
AP Research and on four
additional AP Exams will
receive the AP Capstone
Diploma.
Students who earn scores of 3
or higher in AP Seminar and
AP Research will receive the
AP Seminar and Research
Certificate™
AP® Capstone Exam Fees
•
•
The 2016-17 exam fees for AP Seminar and AP Research are
$141 each. Students must pay for the AP Seminar and Research
Exams Upon Registering for the capstone courses.
Deadline, August 1st each year.
•
Assistance is available for eligible students with financial need:
• The College Board offers exam fee reductions for eligible students with financial
need.
• A $39 reduction can be made for students who show financial need based on
College Board Requirements.
Only 1 Academic Enhancement
may be scheduled for every 2
AP/Dual Enrollment Courses
Maximum of one per semester.
Students are limited to 2 art
and 2 wellness classes per year.
Required Courses
4 years of each
Science
Mathematics
Social Studies
Language Arts
World Language (3 years)
Science
4 credits
Science Offerings
•
•
•
•
•
•
Chemistry
Human Biology
Anatomy/Physiology
Physics
Organic Chemistry
Principles of
Engineering
•
•
•
•
AP Chemistry
AP Physics
AP Biology
AP Environmental
Science
• Freshwater and
Marine Biology
SOPHOMORES
• Tenth grade students are required to
take Chemistry. Students in the tenth
grade with a strong interest in science
might also want to consider taking two
sciences this year. This could include
Human Biology or
Anatomy/Physiology.
JUNIORS AND SENIORS
• Eleventh and twelfth grade
students have a wide variety of
science offerings.
• All students must have a minimum
of 4 science credits for graduation.
For the student who is looking to
excel in the sciences:
• For the student who has a strong interest
in science and hopes to pursue a career in
a science based profession, the science
department has prepared a chart that lists
our recommendations of not only what
sciences to take before graduation, but also
the progression that will best prepare
students for the next level.
Progression Chart
• This planned progression provides an
advantage to students who take Organic
Chemistry prior to AP Chemistry; those that
have had Anatomy and AP Chemistry also
have a strong advantage in AP Biology.
• These charts are available for you to pick up
at the end of this presentation.
Non-Science Majors
• Students should select topics of greater
interest to them, and there are many to
choose from.
• Research college websites for required high
school science courses.
Standardized Testing
• ACT or SAT II considerations:
• Be sure to check application requirements
for highly selective universities that you
may be considering. Many require an SAT
II science or ACT exam for acceptance.
Without taking the corresponding AP
science class, taking these exams could be
more difficult.
Mathematics
4 credits
Algebra 1
Geometry
Algebra II
Trig/Pre-Calculus
College Algebra/Trig
Algebra I
Geometry and Algebra II
Trig/Pre-Calculus
AP Calculus BC
College Algebra/Trig
AP Calculus AB
Statistics/ AP Statistics
Geometry
Algebra II
Trig/ Pre-Calculus
AP Calculus AB
College Algebra/Trig
Statistics/AP Statistics
AP Calculus BC
Social Studies
4 credits
GOALS
To provide our students with these essential skills:
•
•
•
•
•
•
Think, speak, and write effectively
Approach the future realistically and flexibly
View the world geographically and interactively
Study history analytically and insightfully
Understand societies contextually & objectively
Conduct their lives ethically and responsibly
SENIORS
• Twelfth grade students are required
to take Government.
• To fulfill this requirement, seniors are
to choose either
AP Government & Politics
or
Honors Government/Honors Economics
SOCIAL STUDIES COURSES
World Geography
World History
Modern American History
AP Human Geography
AP World History
AP U.S. History
AP Government and Politics
AP European History
Honors Government/Honors Economics
SOCIAL STUDIES ELECTIVE COURSES
(do not count toward the Social Studies requirement)
AP Macroeconomics
AP Psychology
International Relations
Sociology
Language Arts
4.5 credits
(with Research)
12th Grade Language Arts H
11th Grade
Language Arts
Honors
AP English Lang &
Composition
AP Literature & Composition
10th Grade
Language Arts
Honors
Dual Enrollment
AP English
Language and
Compositon
9th Grade
Language Arts
Honors
AP Literature & Composition
12th Grade Language Arts H
Classic Literature
AP Literature
and
Composition
12th Grade Language Arts H
Dual Enrollment
AP English
Language and
Composition
AP Literature & Composition
Dual Enrollment
Dual Enrollment
12th Grade Language Arts H
Language Arts
• LA 10
• LA 11
• LA 12
• AP Language and
Composition
(gr.10-11)
• AP Literature and
Composition
(gr. 11-12)
• Classic Literature- for
students who have
taken both AP classes
(gr. 12)
Language Arts Electives
•
•
•
•
Journalism
Media Studies
Yearbook
Broadcast Journalism
• News Magazine
• Creative Writing
• Women's and African
American Literature
• SAT Prep
Required Summer Reading
Please check the Collegiate
Academy website in May for
individual class assignments.
World Language
3 credits
Language Offerings
•
•
•
•
Spanish I, II, III, IV, AP
German I, II, III, AP
Mandarin I, II, III, IV
Latin I, II, III, IV, AP
Rosetta Stone
• ½ credit online courses
• Count as elective credits only- cannot replace
World Language Requirements!!
• Arabic
• Japanese
• French
• Russian
• Italian
Wellness/Fitness
1.5 credits
All students must take
Wellness/Fitness I and II
Wellness Department
• Wellness I – 9th grade
• Wellness II – 10th grade (summer or fall)
Choose from the following to finish 1.5 credits of
Wellness
– Competitive Wellness (11th and 12th grade)
– Sports Nutrition
– Principles of Athletic Training
– Project B-Fit
– Personal Fitness
– Modern, Jazz, or Hip Hop Dance
Technology
•
•
•
•
•
•
•
•
Advanced Computer Applications
Intro to Programming
Computer Aided Design
Webpage Design
AP Computer Science
Media Production
Desktop Publishing
3D Modeling
Performing Arts
CHORUS
MUSIC
•
•
•
•
Introduction to Band
Wind Ensemble
Jazz Band I & II
Introduction to
Orchestra
• Orchestra
THEATER
• Theater I & II
• Theater Production
•
•
•
•
•
Women's Chorus
Chamber Singers
Vocal Jazz
Advanced Voice
Music Theory
DANCE
• Jazz & Modern
• CADANCE
Art
2 Dimensional
• Art I
• Art II
• Art III
• AP Studio Art
• AP Art History
• Art and Design
• Photo/Digital Imaging
• Video Editing
3 Dimensional
• Ceramics I
• Ceramics II
• Advanced Ceramics
• Ceramics Studio
High School Dual Enrollment Program
Gannon, Mercyhurst, Behrend
The High School Dual
Enrollment Program is an
opportunity for high school
juniors and seniors to enroll in
college courses prior to
graduating from high school.
Admissions:
• Admission criteria varies by college, but students
should be in good academic standing.
• Work with guidance counselor to avoid any
conflicts with your regular schoolwork.
• Upon acceptance you will be registered for your
classes of choice, based upon availability.
• Admissions as a High School Dual Enrollee does
not constitute admission to a four-year degree
program.
Costs:
Course (3 credit)
Current
Behrend
$950.00
Mercyhurst
$340.00
Gannon
$300.00
Lab Fees may apply
Text Books
Payment:
Payment is due upon registration for
course(s)
Check payable to the College or University
Give to Ms. James
Refunds are given based on College and
University policies
Continuing Enrollment Eligibility:
2.0 GPA in each class at college/university
Complete School Authorization Form each
semester
Deadlines:
Semester Applying for
Apply by the end of
Fall
May
Spring
November
Summer
March/April
Transfer credit info
• Check out individual college
website for transfer credit
policy.
• Also check
http://www.patrac.org/
Scheduling Dual Enrollment
Classes
• You will meet with your guidance
counselor in late August before classes
begin to finalize your Collegiate schedule,
accommodating your college class(es) as
much as possible.
• You and a parent/guardian will sign a Dual
Enrollment Contract to ensure all
expectations are known and followed.
Gannon Accredited Scholars
Program
• This agreement stipulates that Gannon
University will transfer advanced placement
level coursework, completed concurrently,
from Collegiate Academy, for those
students wishing to enroll directly at
Gannon University within 2 years of high
school graduation.
Receiving Credit
• Students must complete all 4 years of honors or
AP Courses as prescribed in the documents
(available at the end of this presentation or on our
website).
• All courses must be completed at Collegiate
Academy with a grade of B or better.
• Articulation credits cannot transfer to other
institutions.
• Articulation credits will not be used when
calculating Gannon GPA.