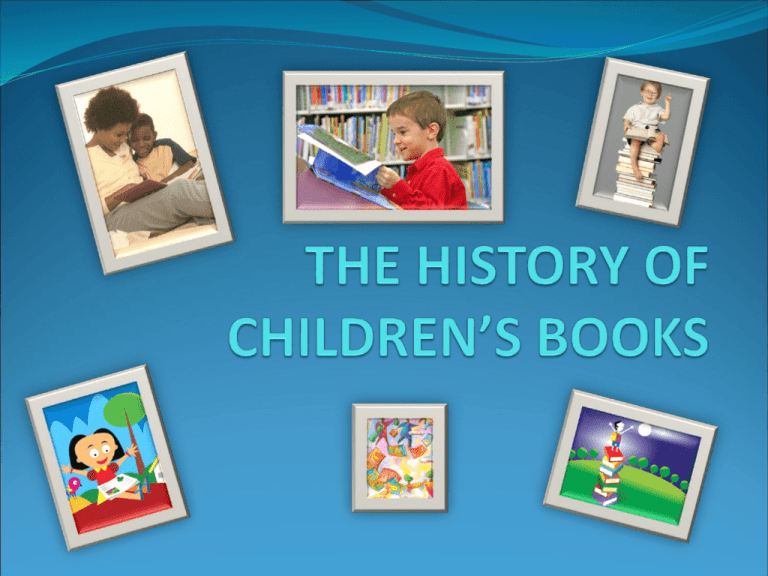 THE EARLIEST BOOKS
 Books reflect the times
 In the earliest times, children and adults listened to
the same stories
 1450s Gutenburg's movable type influenced the use of
books
1400's
 In the 1400s hornbooks
were made.
 Small, wooden paddles
with one sheet of paper
attached to it.
 This paper was expensive
and to protect it, a thin
piece of cow's horn was
used to cover the paper.
Varieties of Hornbooks
 The paper usually consisted of the alphabet or a
religious verse or the Lord's Prayer.
 Sometimes they were made of leather, silver, copper,
ivory, and even gingerbread.
 Hornbooks served as a tool for children for over two
hundred years.
th
17
and
th
18
Centuries
 Most printed material was meant for instruction rather
than enjoyment.
 There were not very many books, but they stayed in
print for more than 200 years.
 Books of this time were dominated by stern spiritual
beliefs of Puritanism.
 Children were expected to memorize John Cotton's
Catechism, stressing the salvation of their souls.
The Chapbook
 Small inexpensive
pamphlets.
 Short romances, ballads,
and popular tales such as
Jack the Giant Killer, and
Tom Thumb.
 Sold by peddlers.
Nursery Rhymes and More…
 Mother Goose – Mary
Cooper published in 1744
under the title of Tommy
Thumb's Pretty Song Book.
 Fairy tales by Charles
Perrault in 1697.
 Robinson Crusoe by Daniel
Defoe in 1719.
 Gulliver's Travels by
Jonathan Swift in 1726.
John Newbery
 Began the concept of




literature for children.
English publisher.
Books should instruct and
amuse.
"A Little Pretty Pocket
Book" 1744 - an illustrated
catalogue of children's
amusements based on the
alphabet.
"Little Goody Two Shoes"
lasted for over a century.
Literature in the 1800s
 America after the Revolutionary War
 Folktales / Grimm's Brothers
 Family Stories: Little Women, Heidi
 Adventure Stories: Treasure Island, Swiss Family
Robinson, Tom Sawyer
 Science Fiction: Jules Verne
 Fantasy: Alice's Adventures in Wonderland
th
19
Century
Illustration
 Illustrators began to
 Walter Crane
receive as much
recognition as authors.
 Randolph Caldecott
 Kate Greenaway
th
20
Century
 Literary and artistic quality in children's books
 Growth of children's publishing
 Expansion of public and school library service to
children
Trends







Changes in marketing
Changes in usage
Enlightened parents
Bookstores specializing in children's books
New publishers
New and established authors find receptive markets
Harry Potter / Stephanie Meyer
Why should we read to children?
What are characteristics of good children's
books?
Reading to Children
Why do we read to
children?
 It is fun!
 It benefits children's growth as readers and learners.
 It teaches children to appreciate the written word.
 It helps children develop important language skills that
will help them learn to read on their own.
 It helps build children's listening skills and attention
spans.
Why do we read to children?
(Continued)
 It prepares them for learning to read and keeps them
reading as they learn and grow.
 It helps build relationships between the child and the
reader.
 It helps them to learn social skills.
 It introduces the child to new concepts.
How does reading to a child affect the 4
areas of Development?
 Intellectual- learning about written word
 Social-interaction with others
 Emotional- creates feelings
 Physical-holding book and turning pages
What are characteristics of good children's
books?
•Good books have a beginning, middle, an ending, and a
conflict or problem that is being solved.
• Good books use language that is pleasing to listen to.
• Good books evoke feelings from the audience.
• Good books have illustrations that are consistent with the
text.
Children's Books Awards
Caldecott Medal and Honor Awards
 Named in honor of nineteenth-century English illustrator, Randolph Caldecott, the
Caldecott Medal is awarded each year by the Association for Library Service to Children
to the artist of the most distinguished American picture book for children.
Newbery Medal and Honor Awards
 Named for eighteenth-century British bookseller John Newbery, the Newbery Medal is
awarded each year by the Association for Library Service to Children to the author of the
most distinguished contribution to American literature for children published in the
United States in the preceding year.
Tips for picking books for
preschoolers
 Find books that they can relate to.
 Read stories with simple plots.
 Folk tales and books with animals that act like
humans are popular.
 Little children like rhyming books.
 Pick books that are interesting to you too.