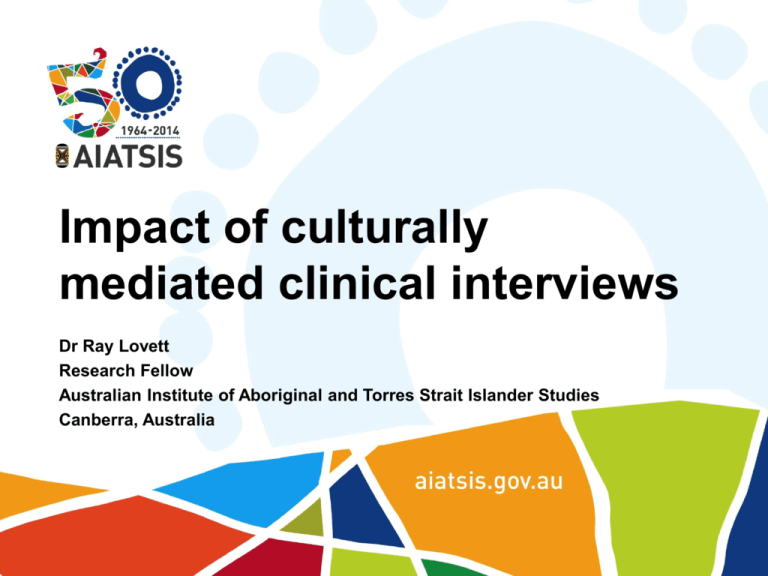 Impact of culturally
mediated clinical interviews
Dr Ray Lovett
Research Fellow
Australian Institute of Aboriginal and Torres Strait Islander Studies
Canberra, Australia
Outline
Context of the study
Aims
Methods
Results
Discussion
Implications
Acknowledgements
Consumption
Heavy
Consequences
Context
Alcoholism
and Alcohol
dependence
Harmful
alcohol use,
abuse
Severe
Alcohol-use
disorders
Problem drinker
Unhealthy
use
Risky use
Low risk use
abstinence
none
Source: Saitz, 2005
none
More context
• Poor current practice
• Valid instruments
• How to incorporate
screening and BI in hard to
reach populations
including Aboriginal
peoples?
Aim of the study
To determine if a culturally mediated
approach to alcohol screening effects
reporting of risky alcohol use.
I.
Assess psychometric properties of screening
instruments
II. Assess levels of distress in the clinical
interaction
Ethics
• Respect
• Reciprocity
• Equality
• Responsibility
• Survival and protection
• Spirit and Integrity
https://www.nhmrc.gov.au/guidelines/publications/
e52
Arm 1
Methods: Design
Arm 2
Pre study screening
audit
(n=314) client files
Eligibility
Enrolment (n=315)
Aboriginal and/or
Torres Strait
Islander
≥ 16 years
Not intoxicated
Useable (n=266)
Pre- survey clinicians
capacity for preventative
screening (n=10)
Horton's map + (mob and country
q's)
AUDIT (n=106)
AUDIT (n=160)
K10 (n=94)
Case/Control
K10 (n=108)
Survey clinicians
capacity for preventative
screening (n=10)
Post-Screening audit
(n=314) client files
Analysis
Mean AUDIT score
Mean AUDIT score
Mean K10 score
Mean K10 score
T-Tests /ANOVA
Factor analysis
Methods: data collection
Recruitment
• Study governance
structures
• Study site Coordinator
• Information and consent at
clinic reception
• All eligible clients
presenting to clinic asked to
participate
• Consent process included
in PIRS when clinician
opened client file
• 'Research' tab for data
collection
Research tab
listing clinical
items AUDIT &
K10
Methods: Data analysis
Descriptive
Inferential
• Socio-demographic •
• Alcohol and
•
distress frequency
tables
•
Internal reliability α
Exploratory factor
analysis
T-test and ANOVA
(mean alcohol and
distress scores) in
case/control groups
• χ for binary variables
2
Results
•
•
•
•
Arm 1 results
Demographics
Reliability of instruments
Alcohol + distress
GP survey results (wave 1)
•
•
•
•
Lack of awareness of guidelines
Poor confidence
Concerns over referral
Poor recording of screening
Age and gender
Age structure
Age + gender
70%
Female
60%
Male
Never smoker
Ex smoker
Current smoker
Yes
No
Not in a relationship
In a relationship
Carer/Student
Disabled
Unemployed
Employed
More than 20K
20K or less
Greater than year 10
Year 10 or less
Smoking status
Children
under 18
Relationship
status
Employment status
Income
category
Level of
education
Age Category
Over 45
36-45
26-35
25 or under
0%
Participant demographics
80%
50%
40%
30%
20%
10%
Results scale reliability
• AUDIT
• K10
• Chronbach's
α=0.90
• Exploratory factor
analysis: 2 factors
explaining 64% of
the variance
(Consumption and
consequences)
• Chronbach's
α=0.97
• Exploratory factor
analysis (2 factors
explaining 68 % of
variance)
AUDIT by Control and Case
Drinking risk
Single occasion
Lifetime
Drinking risk comparators
Distress
Kessler 10
Kessler 10 Control/Case
Differences by provider
Audit scores by
clinician
Distress scores by
clinician
Discussion
• Methods of
recruitment and
study governance
• Clinician buy in
• Reliability of
instruments
• 'Culturally
appropriate care'
Implications
• Screening in combination with BI effective
and more needed ++
• Need for regular clinician training
• Further study: Who best delivers screening
& BI
• Study governance & ethics
• Gender of clinician may be important
Acknowledgements
Participants
•
•
•
•
•
•
•
•
•
•
•
Study team
Jodie Lonford: Study
Coordinator
(Wiradjuri)
Jay Moore: Clinic reception
(Wiradjuri)
Mieke Snijder: Research
assistant
Study Steering group
Julie Tongs (Wiradjuri)
Ray Lovett (Wongaibon)
Jodie Longford (Wiradjuri)
Marianne Bookalil (GP)
Ana Herceg (Public Health)
Lowitja Institute: Funder
Who're your
mob?
Where's
your
country?