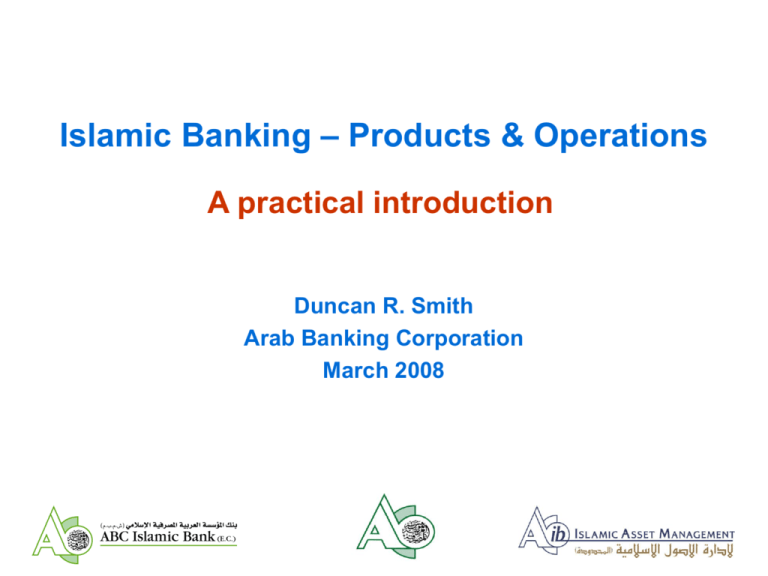 Islamic Banking – Products & Operations
A practical introduction
Duncan R. Smith
Arab Banking Corporation
March 2008
CONTENT OF PRESENTATION
•
Understanding the context
•
Looking at the products
•
Concluding Remarks
UNDERSTANDING THE CONTEXT
•
What is Islamic Banking?
•
What prompted Islamic Banking?
•
Origins of Islamic Banking
•
Islamic Finance Perspectives
WHAT IS ISLAMIC BANKING?
•
Interest free banking?

•
Profit and loss sharing?

•
Ethical banking?

WHAT PROMPTED ISLAMIC BANKING?
•
Emergence of Arab nationalism and the search for identity
•
Oil shocks and petrodollars
•
Privatization and the individual's right to choose
ORIGINS OF ISLAMIC BANKING
Quran
Hadith
&
Sunna
Interpretation
by
Shariaa Scholars
Surah
Al-BAQARRAH (#2)
Verse(s)
275-279
AL-EMRAN (#3)
130
AN-NESSA (#4)
161
Sayings of the
Prophet
i) Sahih Al-Bokhari
ii) Sahih Muslim
AR-RUM (#30)
39
Teachings &
Life style of
the Prophet
Two Sects of Islam
Sunnah
1) Hanbaly
2) Shafei
3) Hanafi
4) Maliki
Shia'h
5) Ithna-Ashriah
Qiyas - Ijtehad – Ijma'a
ISLAMIC FINANCE PERSPECTIVES
•
1.5 billion Muslims (20% of population)
•
Fastest growing and one of most active religions
•
Modern Islamic Banking started in the mid-70s, although
financing principles pre-date Islam
•
Financial assets now around US$ 700 billion
•
Liquid Funds in the Islamic Markets looking for quality
assets are around US$ 100 – 200 billion
•
Market is growing at 15% pa
LOOKING AT THE PRODUCTS
•
Islamic Finance Principles
•
Short Term Working Capital
•
Medium Term Sales Financing
•
Syndication
•
Islamic Securitization
•
Islamic ABS
•
Islamic Mortgages
•
Islamic Funds
ISLAMIC FINANCE PRINCIPLES
•
Financiers are linked to the underlying transaction
•
Not permitted finance of activity related to:
-
alcohol, pork, drugs, gambling, etc
-
speculation or unjustified enrichment
•
Money is not a "Commodity" in itself, merely reflecting
"Time Value" for a return
•
Hence, no receipt or payment of Interest (Riba)
•
Transactions must be transparent with all details agreed in
advance and ownership undisputed
(1)
WORKING CAPITAL –
COMMODITIES MURABAHA FOR SAUDI
CORPORATE
•
Saudi Corporate (SC) requires US$ 20 million from Islamic
Bank (IB) for 3 months under Master Agreement which sets
out procedures and means of fixing pricing
•
SC contracts to buy via IB an amount of a commodity with
a cash price of US$ 20 million on deferred term of 3 months
•
IB contracts to sell the commodity on behalf of SC for US$
20 million cash and passes cash to SC
•
SC contracts to pay IB for the commodity after 3 months at
the cash price plus an agreed mark up
(1)
WORKING CAPITAL –
COMMODITIES MURABAHA FOR SAUDI
CORPORATE
Deferred obligation of $ 20 million
+ mark up (3 months)
Buys commodity on
deferred terms
Commodity for cash
Saudi
Islamic
Commodity
Corporate
Bank
Broker
Sells commodity for
cash
Cash price ($ 20 million)
Commodity for cash
(2)
LIBYAN CONSTRUCTION EQUIPMENT FINANCE
TRANSACTION
•
A $ 40 million facility to finance equipment for a project in
Libya
•
LC's issued initially to finance the purchase and import of
construction equipment from Italy and elsewhere used on the
project
•
LC's converted into Murabaha leverage financing during 2007
•
Was initially to be an Islamic lease/Ijara contract but there
were tax and legal uncertainties surrounding this
•
Facility amortization over 5 years commenced July 2007
(2)
LIBYAN CONSTRUCTION EQUIPMENT FINANCE
TRANSACTION
Suppliers
Opens Letters of Credit
Makes payments against documents
ABCIB
$ payments
Equipment
Contractor
Client
Contract payments
Supply goods /
equipment
(3)
SYNDICATED FINANCING –
REVOLVING MURABAHA FOR KUWAITI
CORPORATE
•
3 year revolving facility
•
$ 100 million with ABC Islamic Bank as Investment Agent
(underwriter and arranger)
•
Series of individual murabaha transactions with payment of
profit only on individual transactions; conventionally a
"bullet" payment of principal at maturity
(4)
SUKUK ISSUE –
"ISLAMIC ABS"; SAUDI HOUSEBUILDER
•
Dar Al-Arkan is a major Saudi builder
•
Requirement for raising finance to develop houses to meet
underserved Saudi market
•
In 2007 raised $ 1.6 billion in two sukuk issue
•
Complexity because of Saudi law on property ownership
•
Total market of approx $ 100 billion of sukuk in issue end
2007
(4)
SUKUK SUMMARY
Issuer
Dar Al-Arkan International Sukuk Company (a limited liability
company incorporated in the Cayman Islands)
Guarantor
Dar Al-Arkan Real Estate Development Company (Dar Al-Arkan)
Issue
Maturity
Floating Rate
Coupon
5 Year US$[*] Trust Certificates due 2012
5 years, bullet
3-month US$ LIBOR
US$ LIBOR plus 225bps
Application made to Dubai International Financial Exchange (DIFX)
Public Listing
and Labuan International Financial Exchange (LFX)
Issue Type
Sukuk Al-Ijara
Saudi law for property-related documents
Governing Law
English law for Trust Deed and Certificates
ABC Islamic Bank (E.C.); Arab National Bank; Deutsche Bank AG;
Joint Lead Managers Dubai Islamic Bank PJSC; Gulf International Bank B.S.C.; Kuwait
and Joint Bookruners Finance House (Malaysia) Berhad; Unicorn Investment Bank,
B.S.C. (c)
(4)
TRANSACTION STRUCTURE (SUKUK AL IJARA)
SUKUK HOLDERS
Issue
Proceeds
(US$)
Offshore
On-shore
Certificates
Lease Payments
ISSUER
5 Year Lease
(Dar Al-Arkan International
Sukuk Co.)
(Use of Real Estate Assets)
Dar Al-Arkan
Guarantee
Payment for
Real Estate
Rights (US$)
Transfer of
Real Estate
Rights
Sale
Proceeds
(US$)
SAUDI SPV
Sale of Real
Estate Assets
(Transfer of
Title Deeds)
(5)
CONTAINER SUKUK ISSUE
•
Al Hamila is an ABC – established SPV which owns
shipping containers
•
Al Hamila finances its purchases through the issue of
floating rate and fixed rate sukuk. The sukuk "coupons"
match the profit of underlying leases
•
Client (shipping company) gets lease finance with funds
raised from Arab and International markets
(6)
ISLAMIC MORTGAGES –
DIMINISHING MUSHARAKA
•
Requirement for British Muslims to buy their own houses
without borrowing at interest
•
Approximately 2 million Muslims in UK with potential
"mortgage" market size of £ 6 billion
•
Marketed under the "alburaq" brand
•
Bank and customer buy the property jointly and over
period Bank sells its share to customer; Bank charges rent
on the share that it owns
•
Rent re-fixed semi-annually vs. Libor benchmark
(6)
DIMINISHING MUSHARAKAH / IJARAH
STRUCTURE
Property / Asset
Joint Purchase
Based on Shirkatal-milk.
Bank takes title
Customer agrees to
repay principal by
the buying over
time, the Bank's
share.
Consequently the
customer's
ownership interest
in the property
increases and the
Bank's decreases
The Customer
leases the Bank's
share, with periodic
adjustments made
to rental to reflect
the fact that a
reducing bank
share is being
leased
Customer (20% share)
Bank (80% share)
("Customer Share")
("Bank's Share")
Increasing ownership
Customer
Bank
Acquisition cost
instalments to purchase
80% share
Rental
Customer
(as tenant)
Lease of reducing Bank's
share
Bank's Share
ISLAMIC INVESTMENT PRODUCTS –
320 Worldwide; top 93
Islamic Equity Funds
31
Islamic Income Funds
18
Islamic Real Estate Funds
10
Islamic Balanced Funds
7
Islamic Leasing Funds
5
Islamic Commodity Funds
4
Islamic Funds of Funds
3
Islamic Index Funds
3
Islamic Murabaha Funds
3
Islamic Growth Funds
3
Islamic Hedge Funds
2
Islamic Hybrid Funds
1
Islamic Infrastructure Funds
1
Islamic Mutual Funds
1
Non Investment Islamic Fund
1
CONCLUDING REMARKS
•
Matching needs of surplus with shortage
•
Oil price, available Sharia technology, volatility in home
markets create supply
•
Credit crunch (possibly short tem), desire for
diversification as a strategy, more familiarity with Sharia
compliance create appetite
•
Potentially more benign regulatory treatment
•
Potential for investment products and serving local market
needs (10 million-plus Muslims in Western Europe)
Mille Grazie !