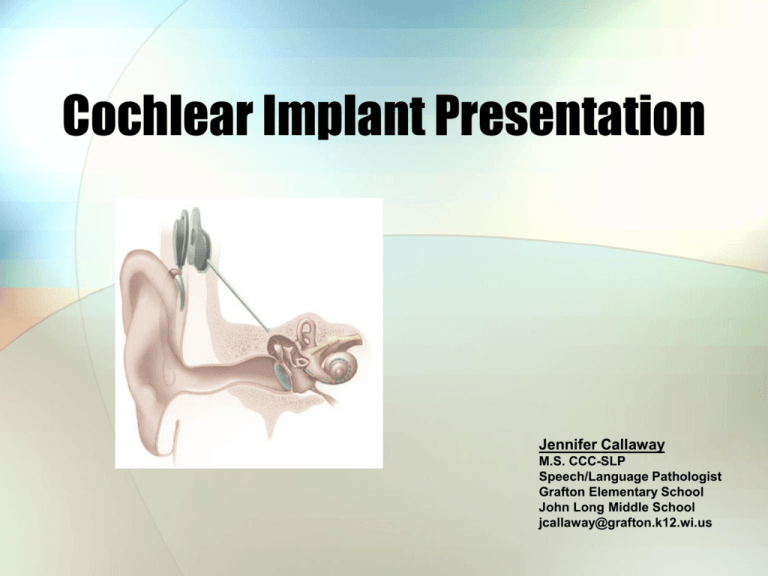 Cochlear Implant Presentation
Jennifer Callaway
M.S. CCC-SLP
Speech/Language Pathologist
Grafton Elementary School
John Long Middle School
jcallaway@grafton.k12.wi.us
What is a Cochlear Implant?
•
A small, complex electronic device
•
Provides a sense of sound to a person
who is profoundly deaf or severely hard of
hearing
•
Implant is surgically placed under the skin
behind the ear
•
An implant has four basic parts:
• Microphone
•
Speech processor
•
Transmitter and receiver/stimulator
•
Electrodes
Structures of the Ear and the Cochlear Implant
•Normal Ear
•Middle ear:
•Tympanic membrane
•Ossicular chain (Malleus, Incus,
Stapes)
•Inner ear:
•Cochlea
•Vestibular Nerve
•Cochlear Implant
•Receiver-stimulator portion of implant is
surgically placed beneath the skin
•Small opening made into the cochlea and
implant electrode is threaded in
Who receives Cochlear Implants?
•
Both children and adults can be candidates for implants.
•
Approximately 59,000 people worldwide have received implants. (According to the Food and
Drug Administration 2002 data)
•
In the United States:
• 13,000 adults have cochlear implants
•
•
10,000 children have received them
What is the cost? About $30,000 to $55,000
The Surgical Procedure
•
Performed under general anesthesia
•
Operation takes approximately three hours
•
Patients generally able to go home the same day of surgery
•
Patient not able to hear automatically
•
'Hook Up' Procedure occurs about 1 month post-implant
•
Takes some time for the brain to get used to the stimulation from the implant
•
Involves a rehabilitation program
Cochlear Implants vs. Hearing Aids
•
A cochlear implant is very different from a hearing aid.
•
Hearing aids amplify sound.
•
Cochlear implants compensate for damaged or non-working parts
of the inner ear.
•
Enable people to detect very soft speech and environmental
sounds
•
Hearing through an implant may sound different from normal
hearing
Types of Hearing Aids
What a Cochlear Implant Can NOT do:
•
An implant does NOT restore or create normal hearing.
•
It cannot replicate the same sensitivity or speech understanding in all acoustic
environments as a normal hearing person.
•
Rather, it can give useful auditory understanding of the environment and help the
individual to understand speech.
Limitations and Special Considerations
•
Physical Activities:
•
External portion must be removed during swimming
•
Voice does not carry well in large outdoor spaces
•
Poor acoustics in gyms
• Sound bounces off walls
• Background noise competes with speaker's voice
One Model: Nucleus Esprit 3G
• Made by Cochlear
• Easy-to-use controls and light weight - only
15 grams with batteries
• Batteries: 3 high power zinc-air batteries
•Battery life varies
• Two programs for different listening
environments
• Built-in telecoil for access to phones and
theaters
• Wireless access to Microlink FM
• Whisper Setting™ to bring soft sounds
closer
What does a Cochlear Implant sound like?
•
http://www.utdallas.edu/~loizou/cimplants/
•
•
Normal speech
Speech via Cochlear Implant (8 channel)
Troubleshooting
PROBLEM
SOLUTION
Intermittent buzzing sound
* Look for sources of electromagnetic
interference
including:
a. Radio/TV transmission towers
b. Security systems
c. Some digital cellular phones
No sound
* Switch processor off for a few seconds
and then turn back on again.
* Check mode setting
* Change all three HIGH POWER 675
batteries and clean battery contacts
* Plug in the auxiliary microphone
* Check coil using signal check
Static
* Plug in the auxiliary microphone
Muffled or distorted sound
* Remove any materials which may be
covering the headpiece
* Plug in the auxiliary microphone
* Change all three batteries with HIGH
POWER 675 batteries
No sound after getting wet
* Leave in Dri-Aid pack overnight
* Call your implant center
Intermittent sound
* Change all three batteries with HIGH
POWER 675 batteries
* Plug in auxiliary microphone
* Check coil using signal check
Any Questions?
jcallaway@grafton.k12.wi.us
References and Images Used
•
•
•
•
•
•
•
•
•
•
•
•
•
www.thelisteningcenter.com/
www.utdallas.edu/~loizou/cimplants/
www.hei.org/research/depts/aip/audiodemos.htm
www.cochlear.com/
www.cochlearimplant.com/
www.phys.unsw.edu.au/ ~jw/Fearnetal.html
www.bcig.org/images/news.gif
www.childrensspecialists.com/ body.cfm?id=762
www.lhsc.on.ca/ cochlear/hearing.htm
www.american-hearing.org/ name/coganpatient.html
http://apollo.med.unc.edu/ent/oto-hns/images/CI2.jpg
www.chsc.org/images/hastyles_resize.jpg
www.nidcd.nih.gov/health/hearing/images/ear_cochlear.asp
Purpose of Presentation
•
Audience: educators, parents, students, professionals
•
Objective: Answer the following questions:
•
What is a cochlear implant?
•
Who benefits from a cochlear implant?
•
How do they work?
•
How are hearing aids and cochlear implants different?
•
What do I do when something goes wrong?
•
What are good communication techniques?