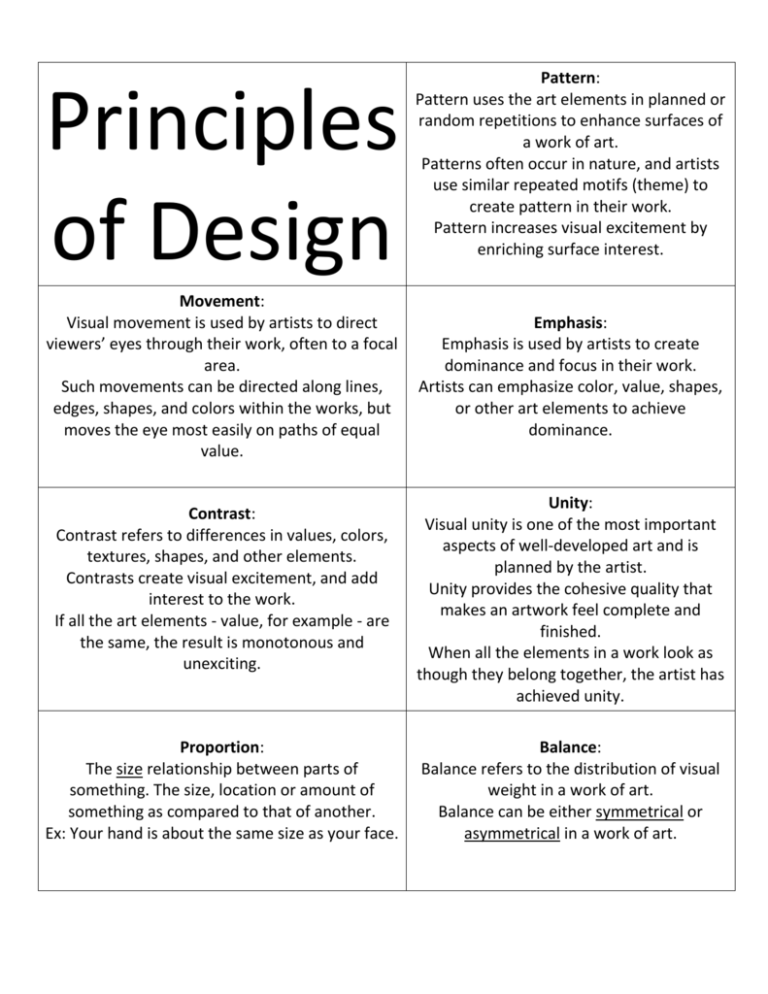 Principles
of Design
Movement:
Visual movement is used by artists to direct
viewers' eyes through their work, often to a focal
area.
Such movements can be directed along lines,
edges, shapes, and colors within the works, but
moves the eye most easily on paths of equal
value.
Contrast:
Contrast refers to differences in values, colors,
textures, shapes, and other elements.
Contrasts create visual excitement, and add
interest to the work.
If all the art elements - value, for example - are
the same, the result is monotonous and
unexciting.
Proportion:
The size relationship between parts of
something. The size, location or amount of
something as compared to that of another.
Ex: Your hand is about the same size as your face.
Pattern:
Pattern uses the art elements in planned or
random repetitions to enhance surfaces of
a work of art.
Patterns often occur in nature, and artists
use similar repeated motifs (theme) to
create pattern in their work.
Pattern increases visual excitement by
enriching surface interest.
Emphasis:
Emphasis is used by artists to create
dominance and focus in their work.
Artists can emphasize color, value, shapes,
or other art elements to achieve
dominance.
Unity:
Visual unity is one of the most important
aspects of well-developed art and is
planned by the artist.
Unity provides the cohesive quality that
makes an artwork feel complete and
finished.
When all the elements in a work look as
though they belong together, the artist has
achieved unity.
Balance:
Balance refers to the distribution of visual
weight in a work of art.
Balance can be either symmetrical or
asymmetrical in a work of art.