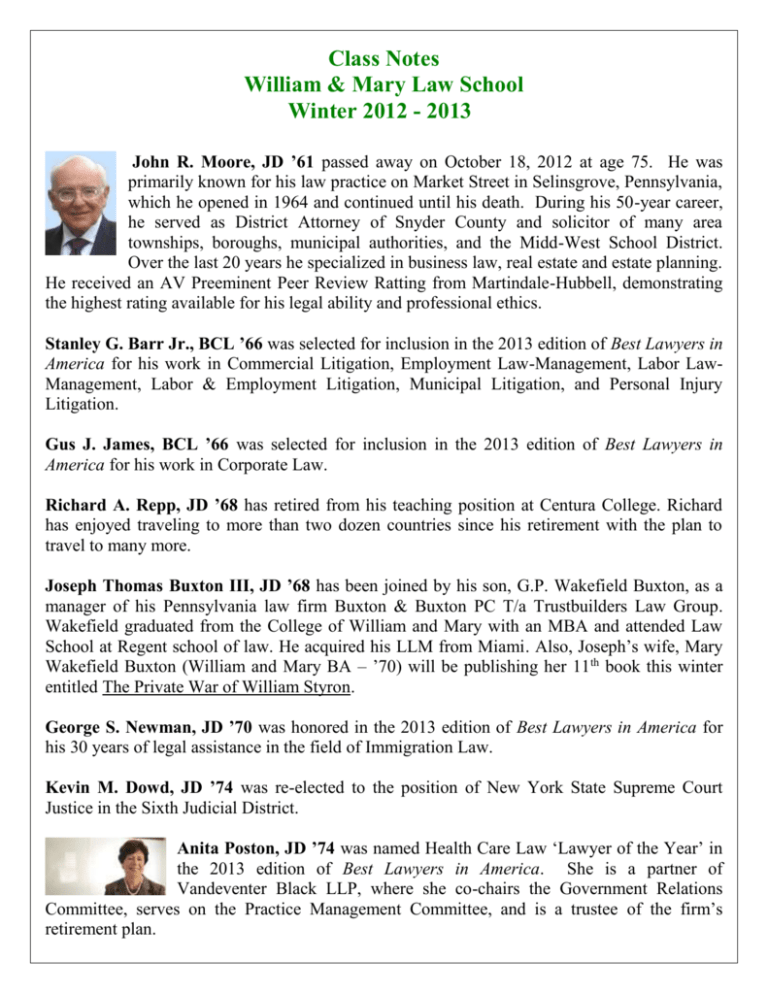 Class Notes
William & Mary Law School
Winter 2012 - 2013
John R. Moore, JD '61 passed away on October 18, 2012 at age 75. He was
primarily known for his law practice on Market Street in Selinsgrove, Pennsylvania,
which he opened in 1964 and continued until his death. During his 50-year career,
he served as District Attorney of Snyder County and solicitor of many area
townships, boroughs, municipal authorities, and the Midd-West School District.
Over the last 20 years he specialized in business law, real estate and estate planning.
He received an AV Preeminent Peer Review Ratting from Martindale-Hubbell, demonstrating
the highest rating available for his legal ability and professional ethics.
Stanley G. Barr Jr., BCL '66 was selected for inclusion in the 2013 edition of Best Lawyers in
America for his work in Commercial Litigation, Employment Law-Management, Labor LawManagement, Labor & Employment Litigation, Municipal Litigation, and Personal Injury
Litigation.
Gus J. James, BCL '66 was selected for inclusion in the 2013 edition of Best Lawyers in
America for his work in Corporate Law.
Richard A. Repp, JD '68 has retired from his teaching position at Centura College. Richard
has enjoyed traveling to more than two dozen countries since his retirement with the plan to
travel to many more.
Joseph Thomas Buxton III, JD '68 has been joined by his son, G.P. Wakefield Buxton, as a
manager of his Pennsylvania law firm Buxton & Buxton PC T/a Trustbuilders Law Group.
Wakefield graduated from the College of William and Mary with an MBA and attended Law
School at Regent school of law. He acquired his LLM from Miami. Also, Joseph's wife, Mary
Wakefield Buxton (William and Mary BA – '70) will be publishing her 11th book this winter
entitled The Private War of William Styron.
George S. Newman, JD '70 was honored in the 2013 edition of Best Lawyers in America for
his 30 years of legal assistance in the field of Immigration Law.
Kevin M. Dowd, JD '74 was re-elected to the position of New York State Supreme Court
Justice in the Sixth Judicial District.
Anita Poston, JD '74 was named Health Care Law 'Lawyer of the Year' in
the 2013 edition of Best Lawyers in America. She is a partner of
Vandeventer Black LLP, where she co-chairs the Government Relations
Committee, serves on the Practice Management Committee, and is a trustee of the firm's
retirement plan.
Lawrence G. Cumming, JD '76 was selected for inclusion in the 2013 edition of Best Lawyers
in America for his work in Real Estate Law.
R. Barrow Blackwell, JD '77 was selected for inclusion in the 2013 edition of Best Lawyers in
America for his work in Medical Malpractice Law and Personal Injury Litigation.
Beth Hopkins, JD '77 received the Legal Scholar Award at the 2012 Women
of Justice Awards, hosted by North Carolina Lawyers Weekly. She is
currently the Director of Outreach at the Wake Forest School of Law. She has
served as an Assistant United States Attorney in Virginia and Louisiana, an
Assistant Attorney General in Virginia, an attorney at Wake Forest University, and an associate
in the private law firm of Hill, Tucker, and Marsh in Richmond, Virginia.
Robert E. Smartschan, JD '77 was selected for inclusion in the 2013 edition of Best Lawyers
in America for his work in Corporate Law.
Cyrus A. Dolph IV, MLT '77 was named in the 2012 edition of Virginia Super Lawyers under
the Estate Planning & Probate, Business & Corporate, and Tax categories.
Robert A. Rapaport, JD '79 was named in the 2012 edition of Virginia Super Lawyers under
the Workers' Compensation and Civil Litigation Defense categories.
William A. Thomas Jr., JD '79 passed away on July 20, 2012. Billy, 58, lived in Palm
Springs, California. After law school, Billy was a clerk for The Honorable Walter E. Hoffman
and a prosecutor for the Virginia Beach Commonwealth's Attorney's Office, followed by
private practices in Virginia Beach, Virginia.
Andrew Edward Thurman, JD '79 passed away on October 22, 2012. Renowned as an
expert in medical ethics, he was also an educator and church deacon.
Nelson Blish, JD '79 was awarded the Best Screenplay Award for the 2012 Metropolitan Film
Festival for his screenplay, Silent Terror.
Kevin B. Connelly, JD '80 works as Senior Counsel for the U.S. Department of the Treasury in
Washington, D.C.
Ann K. Crenshaw, JD '80 was selected for inclusion in the 2013 edition of Best Lawyers in
America for her work in Real Estate Litigation and Real Estate Law.
Stan Payne, JD '80 was named chairman of the Florida Seaport Transportation and
Economic Development Council. Payne began his tenure at Port Canaveral in 2004
after serving as a former deputy executive director of the Virginia Port Authority. He
also serves on the Executive Committee of the Board of Directors of the American
Association of Port Authorities, an alliance of leading ports in the Western Hemisphere.
Phillip A. Koss, JD '81 was elected to the Walworth County Circuit Court after having been
the longest tenured District Attorney in Walworth County, Wisconsin history.
Georgia Carter, JD '82 has joined the NicSource Gas Transmission & Storage leadership as
Senior Vice President of Rates and Regulatory Affairs for Columbia Gas Transmission,
Columbia Gulf Transmission and Crossroads Pipeline. Recently, Carter served as Deputy
General Counsel for Gas Transmission and Distribution for Dominion Resources Services, Inc.
Prior to that, Carter held a variety of leadership roles in the law department and marketing
group of Consolidated Natural Gas Company and Dominion Resources.
Roberta Colton, JD '82 recently received the "Doug P. McClurg Professionalism
Award" from the Tampa Bay Bankruptcy Bar Association. The Association presents
this award annually to a lawyer in recognition for his or her outstanding
effectiveness in judicial proceedings through preparation, civility, and courtesy to
counsel and parties and who exemplifies ethical conduct and professionalism at the
highest level.
Bruce Glendening, JD '83 has recently moved to Williamsburg, Virginia after retiring from
the Federal Aviation Administration.
Louise A. Schmidt, JD '83 will be retiring from her career in Federal service with the Army
and will be pursuing a second career within the travel industry.
Robert R. Church, MLT '83 is a partner in the Harrisburg, Pennsylvania law firm of Keefer
Wood Allen and Rahal, LLP where he has practiced since 1985. Bob is an elected fellow of the
American College of Trusts and Estates Counsel (ALTEC) and his practice is focused on
probate, trusts & Estates. Bob's son William R. Church is his summer law clerk and is expected
to join Bob's practice in the future.
Stuart E. Katz, MLT '83 has retired from practicing local government for over 37 years.
Ken Powell, MLT '83 is a Senior Vice President and Wealth Advisor for US Trust in
Richmond and has recently joined the Boards of the Richmond Symphony and the University of
Richmond Law School Alumni Association.
Gregory J. Haley '84 was selected for inclusion in the 2013 edition of Best Lawyers in
America for Commercial Litigation; Eminent Domain and Condemnation Law; Government
Relations Practice; Land Use & Zoning Litigation; Municipal Litigation. He has also been
named to the United States 2012 edition of Super Lawyers Business Edition for the Business
Litigation category.
David S. Massey, MLT '84 has been reappointed to a two-year term representing state
securities regulators on the Financial Stability Oversight Council by the North American
Securities Administrators Association. He has also served on NASAA's Board of Directors and
as Chair of the NASAA Enforcement Section.
Robert Harvey Chappell Jr., LL.D. '84 passed away on December 1, 2012. He
was 86 years of age. Chappell practiced law in Richmond for more than 50 years
with Christian and Barton and served as Chairman of the firm. Mr. Chappell was
closely associated with The College of William and Mary, having received a
B.A. degree in 1948, a B.C.L. (later J.D) in 1950 and an honorary Legum
Doctorem degree in 1984. He was a member of Phi Beta Kappa, Omicron Delta
Kappa, Order of the Coif, and Editor of the Law Review. His service to William
and Mary included the Board of Visitors (1968-1976), Rector of the College (1972-1976),
President of the William and Mary Law School Association (1951-1952), and President of the
Society of the Alumni (1963-1964). He was the recipient of the Alumni Medallion in 1968.
Todd A. Leeson '86 was selected for inclusion in 2013 edition of Best Lawyers in America for
Employment Law-Management; Labor & Employment Litigation.
Steven F. Baicker-McKee, JD '87 was named by Pennsylvania Super Lawyers magazine as
one of the top lawyers in Pennsylvania for 2012 – a distinction only five percent of
Pennsylvania lawyers achieve. Baicker-McKee was named in the environmental section of the
publication. Baicker-McKee works for Babst Calland, a group of lawyers long recognized for
their work by various organizations including: U.S. News & World Reports "Best Law Firms,"
"Best Lawyers in America," "Pennsylvania's Super Lawyers." And Chambers USA:
"America's Leading Lawyers for Business."
Andrew Jiranek, JD '87 has joined the Board of Directors of the Alliance for Careers and
Education.
Eric I. Cantor, JD '88 (Honorary LL.D '11) has been re-elected as U.S. Representative for
Virginia's 7th Congressional district. Cantor has served since 2001. A member of the
Republican Party, he became House Majority Leader when the 112 th Congress convened on
January 3, 2011.
David Watson, JD '88 has been appointed to the Race Track Leasing Commission as a
representative of the 22nd District Agricultural Association, San Diego Fair Board. He has been
a partner at Duane Morris LLP since 2010. He was a partner at Hecht Solberg Robinson
Goldberg and Bagley from 2002 to 2006 and from 2008 to 2010. He was Vice President of
Yokohl Ranch Company LLC from 200 to 2008. He was an attorney at Gray Cary Ware and
Freidenrich from 1988 to 2002.
Gerry F. Gray, JD '89 was featured in CapeGazett.com that covers Delaware's Cape Region.
Gerry practices law in Georgetown, but in his spare time is a hockey player at Harrington's
Centre Ice Rink.
Douglas Young, JD '89 was named to the SMB 150 Channel Influencers List. The SMB 150-a collaboration between SMB Nation and SMB Technology Network--is the SMB technology
channel's annual list of its 150 most influential officers. Young is the Chief Operating Officer
of the ASCII Group, Inc.
Bill VanDeWeghe, JD '90 joined LRAD Corporations Board. VanDeWeghe, Senior Defense
Industry M&A and Corporate Advisor, is a managing director at RA Capital Advisors, where he
heads the firm's defense industry team developing strategies for clients and executing all facets
of M&A transactions and financings. VanDeWeghe is also is also a senior strategic advisor and
independent consultant for McKenna Long & Aldridge LLP's San Diego office, where he
works with MLA's multidisciplinary team of attorneys across the country while advising and
assisting companies with corporate matters, business disputes, government contracting, and
political issues. Prior to joining RA Capital Advisors in 2006, Mr. VanDeWeghe was a litigator
for 15 years throughout Southern California, and served as an artillery officer on active duty in
the U.S. Army from 1983-1987 followed by a position commanding a fire battery in the
Virginia National Guard. He was the Republican Party nominee for U.S. Congress, 53 rd
Congressional District in 2002.
Monica T. Monday, JD '91 was selected for inclusion in the 2013 edition of Best Lawyers in
America for Appellate Practice. She has also been named to the United States 2012 Edition of
Super Lawyers Business Edition for the Appellate category.
Thomas Todd Book, JD '93 has been elected to serve a three-year term as District 8
representative on the Board of Governors of the Ohio State Bar Association and will also serve
as a member of the OSBA Board of Governor's Government Affairs committee. Book is a
partner in the Portsmouth firm of Harcha, Book & Beck, LLC and a four-term member of the
Ohio House of Representatives. He is also running for election this fall for the 10 th District of
the State Board of Education.
Linda Jackson, JD '94 is a partner and a seven-year member of the Executive Committee at
Venable who specializes in a number of areas of employment law. She has represented clients
in court at the state and federal levels and in proceedings before administrative agencies.
Jackson's clients span a range of sectors and industries from the government contracting sector
to supermarket chains, airlines, IT, telecommunications, and the health sciences.
Carla B. Hook, JD '95 has retained her seat as the York District Representative for the
Gloucester County School Board following the November 2012 Elections. Hook was
unanimously appointed as the York District Representative in June of 2012.
Edward Scott Austin, JD '97 has been named to the United States 2012 edition of Super
Lawyers Business Edition for the Criminal Defense/White Collar category.
Jeffrey William Lobb, JD '99 was named 2012 Outstanding In-House Counsel by the
Washington Metropolitan Area Corporate Counsel Association. He is currently the vice
president and assistant general counsel of Choice Hotels International.
Shawri J. King-Casey, JD '00 has received a Service Award for Public Program, "We the
Jury: A View from the Box," Young Lawyer's Conference, Virginia State Bar, 2006. KingCasey is currently a Conflicts Attorney in Richmond Virginia. She second chaired the first
prosecution in Virginia to use gang affiliation in the sentencing phase. She was a Senior
Associate at former Hicks & Tymas, LLC of Richmond, VA and an Assistant Commonwealth's
Attorney for the City of Richmond Virginia, 2005-2006. King-Casey Co-authored "New
Supreme Court Decision Confirms Enforceability of Arbitration Clause in Employment
Contracts," Southeast Admiralty Law Institute Newsletter, February 2001.
Arnie Mason, JD '00 is now a partner at Williams Mullen in Tyson's Corner, Virginia.
LTC Karin G. Tackaberry, JD '00 passed away on October 30, 2012 at age 40. She was
commissioned as a Transportation Officer in 1994 from the United States Military Academy.
After graduating from William and Mary, she served as a legal assistance attorney, operational
law attorney, and the Chief of Administrative Law for the 82d Airborne Division. She then
became Trial Counsel and Officer-In Charge of the Giessen Legal Center with the 1st Armored
Division. After that, she was assigned to the XVIII Airborne Corps at Fort Bragg as a claims
attorney, trial counsel, and senior trial counsel. After the Judge Advocate Graduate Course, she
served as Brigade Legal Observer/Controller/Trainer at the Joint Multinational Readiness
Center in Hohenfels, Germany, and finally as a Circuit Judge with the Trial Judiciary, 2nd
Judicial Circuit, at Fort Bragg, North Carolina.
Erin Manahan Alkire, JD '01 has recently been appointed to the Cincinnati Bar Association
Board of Trustees. Alkire is an attorney with GE Aviation.
Jonathan B. Reed, JD '01 was selected for inclusion in the 2013 edition of Best Lawyers in
America for his work in Corporate Law.
Lacrecia G. Cade, JD '02 has been selected to serve on the 2012-2013 United Way Young
Professional Leaders Advisory Board. Members of this board are professional leaders under the
age of 40 who share a passion for community involvement and philanthropy, and who have a
strong drive to make a positive impact in the Atlanta area. Lacrecia, along with the other 29
board members, will support the community's goals for education in metro Atlanta to ensure
children enter school ready to learn and graduate prepared for careers.
Harmon 'Monty' Cooper, JD '04 has recently been appointed as Chairman of the
Redevelopment Authority for Prince George's County.
William Lamberth, JD '04 has captured a seat in the Tennessee House of
Representatives after winning two-thirds vote in the Central Tennessee District.
Lamberth is the first Republican to win his Tennessee House District since 1972.
Lamberth has served as an Assistant District Attorney in Summer County since
2005 and has been actively involved in the community since graduation, serving as President of
the Sumner county Bar Association, Chairman of the Portland Community Education
Foundation, and President of the local Rotary Club.
Bradley J. Wyatt, JD '04 is a member in Dickinson Wright PLLC's office in Ann Arbor,
Michigan. He is listed in Michigan Super Lawyers as a 'Rising Star' for Business/Corporate.
He focuses his practice in the areas of corporate, corporate finance, corporate governance,
mergers and acquisitions, private equity, and securities.
Melanie Friend, JD '06 was named CowanGates' newest partner.
Courtney Svajian, JD '07 and her husband Steve Svajian had a daughter; Mabel Laura Svajian
was born October 20, 2012.
Christopher Toepp, JD '07 After 5 years in public service to the Commonwealth of Virginia,
Christopher Toepp (JD '07) has joined the law firm of Allen, Allen, Allen & Allen. Working
most recently as a murder prosecutor for the City of Richmond's Commonwealth's Attorney's
Office, while in law school Chris clerked for the U.S. Attorney's Office in the North District of
New York, the District of Nevada (Las Vegas), and the Eastern District of Virginia. Chris and
wife Alison (JD '07) reside in Richmond with their daughter Kensington.
Jeff Bourne, JD '07 was recently elected to the Richmond School Board. Jeff is a
community leader who has helped bring together the private sector, the faith
community, and government to help parents shape better futures for their children.
He works as Deputy Chief of Staff for Richmond's Mayor, where has helped expand
housing opportunities for families in Richmond. He led the City's count in the most recent
census, which helped increase funding for Richmond's public schools.
Megan Alexander, JD '08 married Chas Hodapp on September 29, 2012. She now goes by the
name Megan Alexander Hodapp.
Thomas William Bruno, JD '08 was presented the 2012 Benjamin Rice Lacy IV Pro Bono
Clearinghouse Volunteer of the Year Award for providing pro bono service to the nonprofit
group Famly Healing Place for Veterans.
Amy Markopoulos, JD '08 married Michael Glick, Esq. on October 20, 2012.
Katie Burroughs Medearis, JD '08 started working as an Assistant United States Attorney on
October 2012. She is a member of the Narcotics and Organized Crime and Drug Trafficking
Unit in the Northern District of California.
Kerry Loughman, JD '09 had a son, Max Gunnar Adams, born on September 20, 2012.
Rich Mallory, JD '09 and his wife Sarah Hall Mallory had a son; Harrison Marshall Mallory
was born October 19, 2012.
William C. Smith, Jr., JD '09 has joined The College of William and Mary
Middle Passage Project 1619 Initiative Advisory Committee. He is an attorney
and presidential appointee serving at the Department of Homeland Security as a
Director of the Homeland Security Advisory Council in Washington, D.C.
Elyse Simmerman, JD '10 is now a Project Manager/Consultant for Epic Systems in Verona,
Wisconsin.
Fitz Beckwith Collings, JD '11 joined Sidley Austin's DC office in September 2012.
Nicholas V. Cumings, JD '11 joined Cochran and Owen Law Firm where he focuses on
commercial and business litigation. Before joining the firm, he clerked for the honorable
Michael F. Devine of the Fairfax Circuit Court. Nick is an active member of the Fairfax Bar
Association, and is a member of Young Lawyers.
Joseph Burres Allen, JD '12 has been hired as an associate attorney by Hartman Underhill &
Brubaker. His practice focuses on business, finance, securities, and tax matters.
Amanda DeBerry, JD '12 has been hired as an associate attorney by the Alexander Law Group
in Richmond, Virginia.
Eliza Pope, JD '12 passed away on October 8, 2012 at age 28. While
fighting her illness, she graduated on May 13, 2012, with a Juris Doctor
degree, becoming the third generation in her family to attend the law school.
Eliza will always be remembered for her quick wit, kindness to children and
skills as a great chef and painter. In recognition of her academic achievement
and leadership, she was inducted into the Order of Gownsmen while at
Sewanee. After serving as a paralegal, she entered the Marshall-Wythe School
of Law at the College of William & Mary.
Erin Deal, JD '12 has joined Kaufman and Canoles in their Williamsburg office where she
practices commercial law.