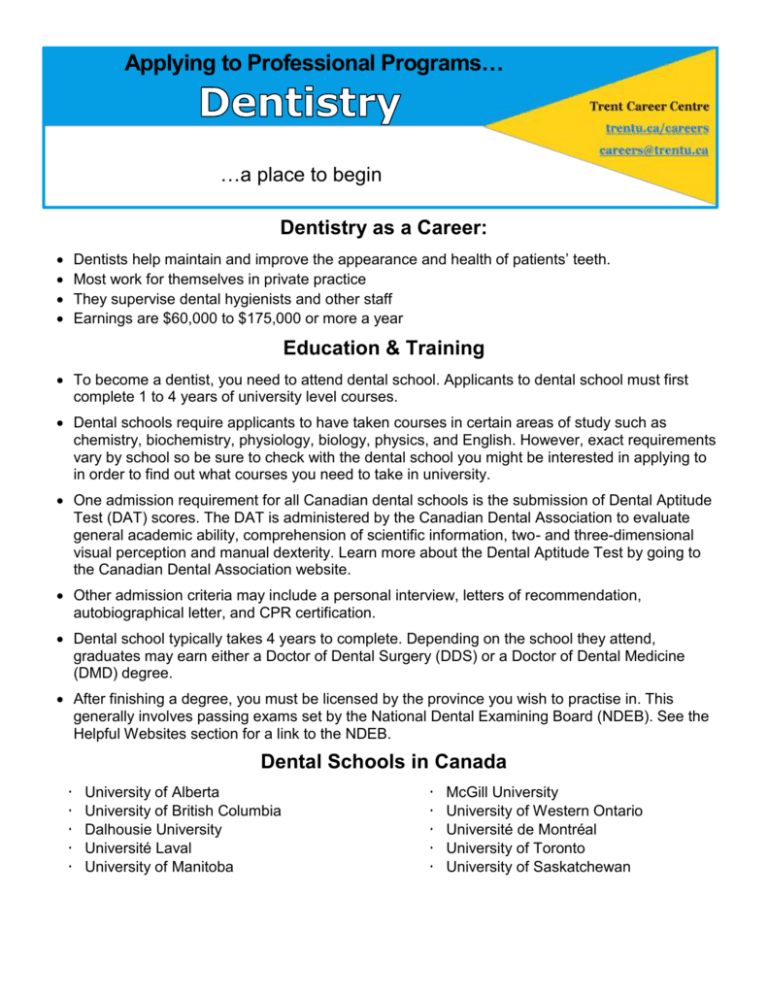 Applying to Professional Programs…
…a place to begin
Dentistry as a Career:




Dentists help maintain and improve the appearance and health of patients' teeth.
Most work for themselves in private practice
They supervise dental hygienists and other staff
Earnings are $60,000 to $175,000 or more a year
Education & Training
 To become a dentist, you need to attend dental school. Applicants to dental school must first
complete 1 to 4 years of university level courses.
 Dental schools require applicants to have taken courses in certain areas of study such as
chemistry, biochemistry, physiology, biology, physics, and English. However, exact requirements
vary by school so be sure to check with the dental school you might be interested in applying to
in order to find out what courses you need to take in university.
 One admission requirement for all Canadian dental schools is the submission of Dental Aptitude
Test (DAT) scores. The DAT is administered by the Canadian Dental Association to evaluate
general academic ability, comprehension of scientific information, two- and three-dimensional
visual perception and manual dexterity. Learn more about the Dental Aptitude Test by going to
the Canadian Dental Association website.
 Other admission criteria may include a personal interview, letters of recommendation,
autobiographical letter, and CPR certification.
 Dental school typically takes 4 years to complete. Depending on the school they attend,
graduates may earn either a Doctor of Dental Surgery (DDS) or a Doctor of Dental Medicine
(DMD) degree.
 After finishing a degree, you must be licensed by the province you wish to practise in. This
generally involves passing exams set by the National Dental Examining Board (NDEB). See the
Helpful Websites section for a link to the NDEB.
Dental Schools in Canada





University of Alberta
University of British Columbia
Dalhousie University
Université Laval
University of Manitoba





McGill University
University of Western Ontario
Université de Montréal
University of Toronto
University of Saskatchewan
Specialization after Dental School
With extra training, a dentist can become a specialist and focus on specific dental problems. For
example, oral surgeons deal with facial reconstructions and impacted wisdom teeth. They perform
some difficult and complicated operations. Orthodontists correct and prevent the irregular
development of teeth, and periodontists concentrate on treating gum disease.
There are nine nationally recognized dental specialties in Canada. The Commission on Dental
Accreditation of Canada (CDAC) reviews and accredits the education programs in the nine dental
specialties. More information about the CDAC and the following specializations can be found on the
Canadian Dental Association website.





Dental Public Health
Endodontics
Oral and Maxillofacial Surgery
Oral Medicine and Pathology
Oral & Maxillofacial Radiology
 Orthodontics and Dentofacial
Orthopedics
 Pediatric Dentistry
 Periodontics
 Prosthodontics
Timeline for Applying to Dental School
 July: registrations begin for writing the November or February Dental Aptitude Test
 Dental School application deadline: some are early and range from November to December of
the year prior to the year of admission.
Helpful Websites

cda-adc.ca -- Canadian Dental Association (CDA)
This is a national industry website for all dentistry professionals in Canada. Click on "The
Dentistry Profession" to find information about dental careers, programs, and specialties.

ndeb.ca -- National Dental Examining Board of Canada (NDEB)
This board administers certification exams to graduating dentists. Click on "Links" for contact
information for the provincial regulatory authorities.

rcdc.ca -- Royal College of Dentists of Canada (RCDC)
The RCDC administers exams for each dental specialty. Go to the "About Us" and
"Examinations" sections to find out more.

acfd.ca -- Association of Canadian Faculties of Dentistry (ACFD)
This association oversees all of the dental programs available at educational institutions in
Canada. Click on "Members of ACFD" and then have a look at "Links to Dental Schools" for a
list of all dental schools in Canada.