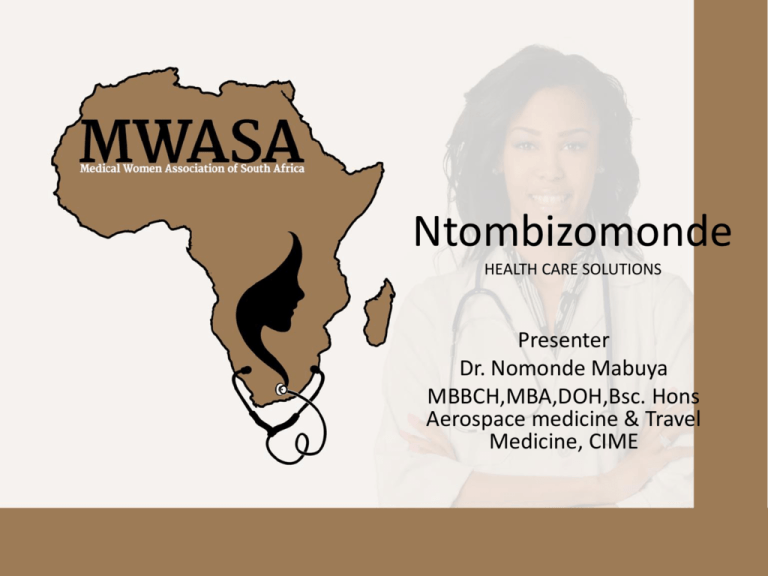 Ntombizomonde
HEALTH CARE SOLUTIONS
Presenter
Dr. Nomonde Mabuya
MBBCH,MBA,DOH,Bsc. Hons
Aerospace medicine & Travel
Medicine, CIME
The Symbiotic Relationship
Healthy
Organization
• Healthy
People
The health of the organization drives the health of the workforce
and the health of the workforce drives the health of the
organization.
Business case for change
Change management- human rights case and
equity case.
• Changing employee mindset
• Poor health and safety environments at the various Hhealth
care facilities for female staff
• Changing organizational mindset and NHI readiness
environment
• Rising medical litigation costs
• Increasing workplace OHS awareness
• High medical costs
• Skills flight ,
• Retention and Talent management
Recruitment and Selection(1)
Recruitment
• Recruitment procedure to focus on inherent job
requirements.
• Advertisement should be accesible
Selection
• Focus on essential functions of the job.
• Same selection criteria to be used for all applicants
• Selection process should determine whether
applicant is suitably qualified
• Information about disability may not be asked
Terms and conditions of employment
• Terms and conditions of employment to be
the same as other employees
Laws governing Occupational Health
Interventions @ the workplace
•
•
•
•
•
•
•
Constitution Act
EEA in 1998
BCEA
OHSA
LRA
COIDA
MHSA
Relevant Legislation
•
•
•
•
•
OHSA: fitness to work outlined within the regulations of this
Act ( Noise, Lead,HCS, HBA etc)
LRA: regulates unfair dismissals/unfair labour practices
+incapacity/disabled employees
EEA: unfair discrimination at work and against the disabled,
AA,medical testing
BCEA: Night work/shift work and fitness for work (OREP
+medical surveillance done (WASP)
RTA: Medical fitness to drive company cars/forklift/crane
operator
Constitution
Chapter 2:
• Right to privacy
• Right to fair Labour practices
• Right not be discriminated
• (Right to privacy) Is not obsolute,but governed
by prescriptions of other Acts, e.g. OHSA,
• Health Act(Notifieable diseases)Birth and
Death Registration Act.
Employment Equity ACT
• Code of good practice: key aspects of disability
in the workplace
• Unfair discrimination
• Reasonable accommodation
• Confidentiality and Disclosure
• Employment benefits
EEA
• No unfair discrimination due to health status/disability
• No enforced medical examinations unless justifiable on
medical facts, employment conditions, inherent requirements
of tasks or prescribed by law.
• Equal access to employee benefits
• Applicants for jobs considered the same as incumbents.
• coGP: Guideline in the management of people with
Disabilities in the workplace: (CCMA,will use code to evaluate
procedural fairness of the process followed)
BCEA
• Protecting the health of pregnant and breast-feeding
employees
• Section 26 (1) of the BCEA prohibits employers from
requiring or permitting a pregnant employee or an
employee who is breast-feeding to perform work
• that is hazardous to the health of the employee or the
health of her child.
• This requires employers who employ women of
childbearing age to
• assess and control risks to the health of pregnant or breastfeeding employees
• and that of the fetus or child.
•
• RESPONSIBILITIES OF THE EMPLOYER
• 1.The employer must do the following:
• Conduct a risk assessment, which involves identifying
hazards. This will include hazards
• to the pregnancy or while breast-feeding.
•
• Implement appropriate measures to eliminate or
control the hazards identified.
•
• Inform employees about the hazards in the workplace.
•
• Make adjustments to the employees' current tasks or
accommodate them in different posts if the workplace
poses a risk to pregnancy or breast-feeding.
Notify Occupational Health immediately of
the pregnancy of all employees –
Who are on medical-surveillance
programs;
Whose own health or the health of the
unborn child may possibly be adversely
affected
By their work; and
Who have any pregnancy or post-delivery
complications.
RESPONSIBILITIES OF THE EMPLOYEE
The employee must do the following:
Take reasonable steps to protect her health and safety and that of the
unborn child and other employees.
Notify the employer as early as possible of the pregnancy.
.Some of the well-researched Pregnancy and health effects on theater
employees include the following:
Early Fetal loss or miscarriages due to excessive exposure to hazardous
gases
Pre-term labor
Small birth weight babies
Intra-uterine Growth retardation
Still births
Congenital malformations
High frequency hearing loss
OSHA
•
•
•
•
OH risks identified
OH risks managed
Employees must be trained in OH risks
Risk driven medical surveillance to detect
early ill health effects
• Measure effectiveness of risk control
measures
• Reporting of results and trends
Employer Costs
• Direct costs
For an employer the -costs can include:
• lost working time
• loss of trained and experienced staff
• payment for sickness absence
• payment for replacement staff and their training
• compensation awards.
Indirect costs
•
•
•
•
•
•
•
•
Training and development
Production loss
Workman's compensation payments and levies
Medical aid contributions
Disability fund contributions
Pension fund contributions
Reputational damage
CCMA high case loads
Fitness-to-Work
Knowledge and understanding
Of the job is it relates to health
Knowledge and understanding of the
employee's health
Working Conditions
Medical Findings
+
+
Health Standards
Clinical Opinion
Judgment of Fitness-to-Work at a Specific Job
Health
Requirements
Job Categories & Risk
Lo
w
Liable
Occupations
Critical
Occupations
General
Occupations
High Risk
Occupations
Exposure
Risk
High
Role in Injury on Duty management
Employee injured
Supervisor complete
WCL2
Receives first aid on site
Supervisor gives WCL2 to service provider and send
WCL2 to Regional COID Administrator
Supervisor arrange
for transfer to
hospital or doctor
COID Administrator
•Manage COID reporting
•Notifies Ntombizomonde
Dr / Hospital treat
employee and
schedule follow up
examinations
Ntombizomonde Health Care Solutions:
•Coordinate early return to work
•Evaluate fitness to return to work
•Case management
•NO TREATMENT/Prescriptions given
Role in Occupational
Disease management
Employee possible
OD
Obtain exposure
data
OMP diagnose
Occupational
disease
OMP report to
COID administrator
Incident analysis
Employee identified with possible disease
Need exposure data to determine work relatedness
COID Administrator
•Manage COID reporting
•Notifies Ntombizomonde
Ntombizomonde Health Care Solutions:
•Notify COID administrator
•Coordinate early return to work
•Evaluate fitness to return to work
•Case management
Issues to be covered in Workplace Policies
and programs
•
•
•
•
•
•
•
•
•
•
•
•
Recruitment and Selection
Medical and Psychological testing
Immunization policy
Good infection control practices
Reasonable accommodation for pregnant females & their
appropriate Placement
Training and career development
Retaining People with disabilities
Health and safety policy & Facilities security measures
Worker's compensation
Confidentiality and disclosure of medical information
Employee benefits
Record keeping
OHS Services
Health and Wellness
Primary Health care
Case management of:
• Chronic diseases
• Medical aid
• Specialist referral
• Patient Curative care
• Health profile of
organisation
Occupational health
Occupational
medicine
Occupational
hygiene
Utilise occupational
Hygiene information for
risk based medical
surveillance program
Emergency preparedness and
response
•
•
•
•
•
•
•
•
•
•
•
•
Risk Assessment
Job specifications
Medical Surveillance
Biological monitoring
Corrective and
preventive actions
Inspections
Incident analysis
Injury on duty and
occupational disease
management
Training
Medical incapacity
management
Absenteeism
Executive health
Integrate with:
• Emergency
• First aid
/Ambulance
services
• Evacuation
services
Wellness
Integrate with:
• Employee assistance
programmes
• Stress management
• Trauma management
• Drug and alcohol abuse
• Chronic disease
management
• HIV/Aids management
• Lifestyle diseases
• Tuberculosis prevention
• Health promotion
• Voluntary Screening
• Wellness campaigns
• Wellness score card
Advantages of OHS on site
Reduced staff turnover and the retention of valued staff.
• Reduction of recruitment, training and induction costs.
• Helps to promote job satisfaction and enhances work relationships
• Reduces potential injuries and acquired occupational diseases.
• Increases quality service delivery and productivity
• It promotes employee's loyalty to the organization
• It assists in reducing absenteeism and excessive sick leave
• Reduces temporary or permanent loss of employees
• Assists in rehabilitation of the injured or sick employee into the workplace
• The promotion of employee's morale.
• It assists in the prevention of too much time away from the workplace
through utilization of the on-site service.
• On-site care and counseling provides for legal requirements.
• Reducing medical expenses and legal claims.
Health Assessments interface with
other health programs
Types of medical examinations
Pre-employment
/ Initial
Periodic / Transfer /
Post illness/ Post
absenteeism
Exit medical
Health assessments supporting fitness for duty of HCW & Females
safety workers
Fitness for duty
Initial
recruitment
Assess initial
Fitness for
Duty
Periodic Health
Assessment
Supported identification of
physical and psychological
health issues likely to affect
safety
Triggered
Health
Assessment
Achieves early intervention and appropriate
management of health problems likely to
affect safety. Triggers include:
•Scheduled review assessments
•Prolonged or recurrent sick leave pattern
•Traumatic workplace incidents
•Reports from peers/supervisors
•At request of worker
Service delivery methods
Mobiles
Clinics
Satellite
Clinics
Fixed Clinics
Types of Workplace hazards
• Biological hazards e.g TB,
Hep B,HIV and AIDS Ebola,
• Chemical hazards e.g:
theatre staff hazardous
gases and drugs that can
lead to reproductive
toxicity, birth defects,
miscarriages, still births
• Ergonomics- lifting, pulling,
awkward positions, climbing
mainly lead to Musculoskeletal problems
• Physical hazards; Radiation,
ionizing and non ionizing
radiation. Noise
• Security of Health care
facilities: e.g Rape cases
and night wok
• Psychological e.g shift work
& long working hours, night
work, long working hours
• Fumes and gases
• Tripping and slipping
hazards
Job profiles with exposure to
hazardous drugs
• Laboratory workers
• Pharmacists and
pharmacy technicians
• Nurses
• Doctors and their
assistants
• Home health care
workers
• Theatre staff
• Veterinarians
&Veterinary Technicians
• Environmental service
staff( support staff) e.g
laundry,house keeping,
maintenance workers.
• Ambulance doctors &
evacuation teams
Exposure to hazardous drugs and
chemicals
• Skin contact
• Inhalation
• ingestion or injection
Risk based Medical surveillance
program
• Health questionnaire including- chronic
disease and lifestyle disease
• Medical history including reproductive history
and occupational history.
• Physical examination
• Vision screening, Spirometry, CXR, audiometry
• Biological monitoring- Hep B titres TB, HIV ?
• Psychosocial disorders
Medical surveillance matrix
Standardise Occupational
Health File
Medical incapacity
Injury on duty / occupational diseases
Medical examination forms
Certificates of fitness,
Exit certificate
Minimum medical requirement
Risk profile (O Hygiene)
Physical ability requirement
Employee risk profile
NHS – Risk Register and Management plan
On track
No.
1
INITIATIV
E
TARGE
T
DATE
RISK IDENTIFIED
Blood borne pathogensHep B
HIV
TB
pandemic flu
Annual
85%
and
2
Ongoin
Psychological
hazardsg
monotonous work, high work loads
3
Clinic environmental issues such
as :
OHS clinical poor ergonomic chairs provided
hazards by employers, poor air quality at Ongoin
g
client sites, No air conditioners
4
%
COMPLET
E
Long working hours
and high case loads per site due
Ongoin
poor appointment scheduling at the
g
clinics
90%
STAT
US
Caution
Behind schedule
COMMENTS
Clinical staff to
receive three doses of Hepatitis B
vaccinations every 5 years after testing Hep B Titres
Pre-employment certificates to be enforced by NHS
managemnt
COIDA letter of good standing to be displayed at the clinics
Keep PEP pack at all clinics
Rotate the clinic staff to other clinics
Encourage attendance of CPD and SASHON workshops
85%
Post contract award- NHS management must insist on
Occupationlal hygiene surveys to be done at the Various
clinic sites to ensure
compliance to Environmental
Regulations
80%
Enforce clinic appointmnet systems with the regional
managers to manage long workinh hours and a high case
load
Incapacity Cases and ill health cases
• Mostly referred by Line managers from all the
regions
• Sick leave exhausted, chronic disease advise,
• Night shift assessment
• Accommodation and Work Restrictions advice
• Extension of special sick leave cases
• Temporary disability benefits and long term disability
benefits
• Medical boarding
• RTW plans post: injury and illness
Sick Leave indicators
– Sick Absenteeism Rate=Total number of potential
working days lost due to sick leave absenteeism.
Norm<2%
– Absence Frequency Rate=The average number of
sick leave incidence per employer within the
Company. Average incidents=2-3days
– Absence severity Rate=severity of sick leave
incidents, and the more serious the illness, the
longer the absenteeism. Good marker of the
health status of the employees within the
Record keeping
Auditing OH Services
Monitoring performance is a constructive process that
offers the opportunity to adjust activities to match
changing demands and to ensure that resources are
being used to maximum effect.
Setting benchmark standards
Observing and recording practice
Comparing practice against the predetermined benchmarks Drawing conclusions
from the comparison
Deciding on action to be taken arising from the
analysis Implementing the changes
Repeating the cycle
Live well Champions survey
& Wellness weeks : What can be
achieved
• Great collaboration with 164 champions
worldwide was critical to the success of the
initiative
• Internal health Expertise was leveraged (e.g.
core team composed of representatives from
Basel, Mannheim, SSF, Indianapolis, Sao
Paolo, Rio de Janeiro, Welwyn).
• The initiative delivered within budget.
• The Initiative was well received by Roche
employees across the sites.
• The topics and structure of the week was
effective.
• The Live Well visuals and branding had a
great positive impact.