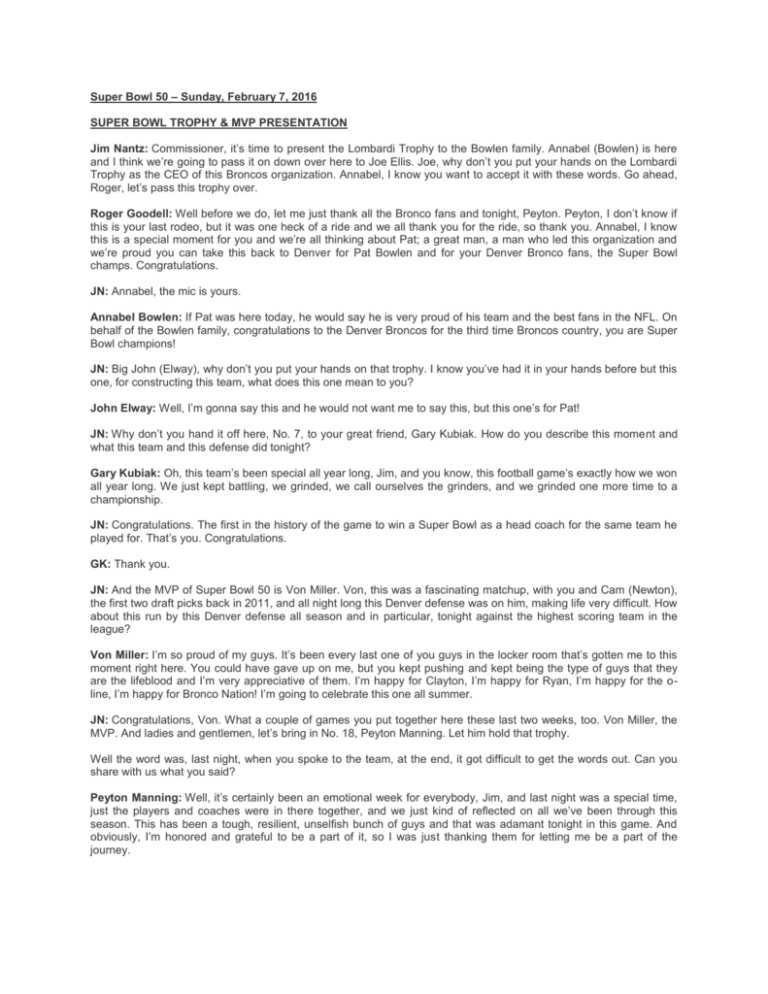 Super Bowl 50 – Sunday, February 7, 2016
SUPER BOWL TROPHY & MVP PRESENTATION
Jim Nantz: Commissioner, it's time to present the Lombardi Trophy to the Bowlen family. Annabel (Bowlen) is here
and I think we're going to pass it on down over here to Joe Ellis. Joe, why don't you put your hands on the Lombardi
Trophy as the CEO of this Broncos organization. Annabel, I know you want to accept it with these words. Go ahead,
Roger, let's pass this trophy over.
Roger Goodell: Well before we do, let me just thank all the Bronco fans and tonight, Peyton. Peyton, I don't know if
this is your last rodeo, but it was one heck of a ride and we all thank you for the ride, so thank you. Annabel, I know
this is a special moment for you and we're all thinking about Pat; a great man, a man who led this organization and
we're proud you can take this back to Denver for Pat Bowlen and for your Denver Bronco fans, the Super Bowl
champs. Congratulations.
JN: Annabel, the mic is yours.
Annabel Bowlen: If Pat was here today, he would say he is very proud of his team and the best fans in the NFL. On
behalf of the Bowlen family, congratulations to the Denver Broncos for the third time Broncos country, you are Super
Bowl champions!
JN: Big John (Elway), why don't you put your hands on that trophy. I know you've had it in your hands before but this
one, for constructing this team, what does this one mean to you?
John Elway: Well, I'm gonna say this and he would not want me to say this, but this one's for Pat!
JN: Why don't you hand it off here, No. 7, to your great friend, Gary Kubiak. How do you describe this moment and
what this team and this defense did tonight?
Gary Kubiak: Oh, this team's been special all year long, Jim, and you know, this football game's exactly how we won
all year long. We just kept battling, we grinded, we call ourselves the grinders, and we grinded one more time to a
championship.
JN: Congratulations. The first in the history of the game to win a Super Bowl as a head coach for the same team he
played for. That's you. Congratulations.
GK: Thank you.
JN: And the MVP of Super Bowl 50 is Von Miller. Von, this was a fascinating matchup, with you and Cam (Newton),
the first two draft picks back in 2011, and all night long this Denver defense was on him, making life very difficult. How
about this run by this Denver defense all season and in particular, tonight against the highest scoring team in the
league?
Von Miller: I'm so proud of my guys. It's been every last one of you guys in the locker room that's gotten me to this
moment right here. You could have gave up on me, but you kept pushing and kept being the type of guys that they
are the lifeblood and I'm very appreciative of them. I'm happy for Clayton, I'm happy for Ryan, I'm happy for the oline, I'm happy for Bronco Nation! I'm going to celebrate this one all summer.
JN: Congratulations, Von. What a couple of games you put together here these last two weeks, too. Von Miller, the
MVP. And ladies and gentlemen, let's bring in No. 18, Peyton Manning. Let him hold that trophy.
Well the word was, last night, when you spoke to the team, at the end, it got difficult to get the words out. Can you
share with us what you said?
Peyton Manning: Well, it's certainly been an emotional week for everybody, Jim, and last night was a special time,
just the players and coaches were in there together, and we just kind of reflected on all we've been through this
season. This has been a tough, resilient, unselfish bunch of guys and that was adamant tonight in this game. And
obviously, I'm honored and grateful to be a part of it, so I was just thanking them for letting me be a part of the
journey.
JN: You know, not everyone here inside the stadium heard what you said to Tracy Wolfson. So if you'd share it one
more time, the commissioner made reference to perhaps this is your last rodeo. Is this it? Will you ever step foot on
the field again tonight or do you walk off with the fairytale ending, holding this in your hands?
PM: Well, Jim, I got some good advice from Tony Dungy, who's going into the Hall of Fame and my old coach, and
he said, "Don't make an emotional decision." And this has been a very emotional week, an emotional night, and I got
a couple of priorities in order. I want to go kiss my wife, kiss my kids, I wanna go celebrate with my family and
teammates and I'm going to drink a lot of beer tonight, Jim, Budweiser, Von Miller's buying it, and those are my
priorities at this point. I'll take some time to reflect on it but I'm going to say a prayer and a thank you to the man
upstairs for this opportunity for sure as well.
JN: Well listen, there's only one thing that can be sweeter to have in your hands than that trophy, and that's your two
children right here, who are reaching up and trying to grab hold of it and share it with their daddy. Congratulations,
Peyton.
PM: Jim, thank you very much. Go Broncos!
JN: And we're going to send it back to James Brown. Congratulations to the champions of the world, the Denver
Broncos!