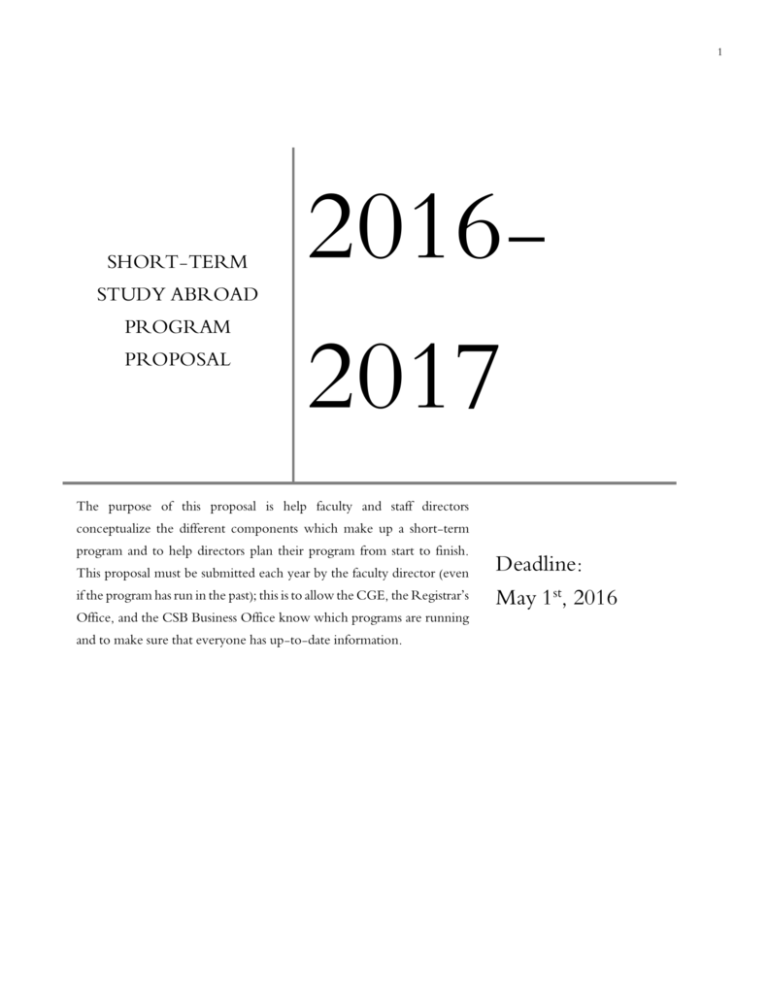 1
SHORT-TERM
STUDY ABROAD
PROGRAM
PROPOSAL
20162017
The purpose of this proposal is help faculty and staff directors
conceptualize the different components which make up a short-term
program and to help directors plan their program from start to finish.
This proposal must be submitted each year by the faculty director (even
if the program has run in the past); this is to allow the CGE, the Registrar's
Office, and the CSB Business Office know which programs are running
and to make sure that everyone has up-to-date information.
Deadline:
May 1st, 2016
2
Table of Contents
Checklist…………………………………………………………………………………………3
Course Information………………………………………………………………………………6
Itinerary Development……………………………………………………………………………7
Budget Development……………………………………………………………………………..8
Marketing and Recruiting………………………………………………………………………..9
Application Requirements………………………………………………………………………12
3
Checklist
This checklist is intended to provide you with a timeline to help plan out the various components of your short-term abroad
program.
Time Period
Activity
Contact
January - May 2016
Brainstorm meeting for program design, implementation,
administration and promotion
Annika K.
Turner
Independent research for on-site logistics and curriculum
planning
Consultation with past short-term directors
Deadline for new Course Proposal Submission - Only new
March 15
courses require the approval from the Academic Curriculum
Committee. If this course will carry any Common
Curriculum attributes, you should forward the application to
the Common Curriculum Committee.
The course (after approval) will be included with the Summer
Off-campus course listings with the course fee (program fee)
attached
May 1
Deadline to submit program proposal
Appropriate
curriculum
committee
Julie Gruska,
Registrar's Office
Annika K.
Turner
May - August 2016
Development of marketing materials (paper and website)
Refining of program (including dates, itinerary, on-theground logistics)
August 1
Deadline for budget review meeting to finalize student
program fee
August 15
Prepare marketing and promotional materials for students
(brochures & website)
Annika K.
Turner & Joe
Rogers
Annika K.
Turner
September 2016 January 2017
Promotion of program and recruitment of students
September 1
Short-Term Application opens
Annika K.
Turner
October 12
Study Abroad Fair - One day opportunity to showcase the
program to students.
Annika K.
Turner
December 1*
Initial application deadline
Complete
4
December 10-15
Program enrollment will be discussed and adjustments to
budget or cancelation of program will be made if necessary.
December 15-31
Student selection and notification of acceptance status should
be finalized.
January 10
Final list of accepted student should be sent to CGE. Send
updates as enrollments change. This roster will be used to bill
students for the program and enrollment in the course.
Joe Rogers and
Annika K.
Turner
Annika K.
Turner
*The deadline for student applications may be extended until January 15th, if the program does not have the
required minimum of 8 students. Short-Term programs applications are generally accepted and students are admitted
as long as space is available. Notification to students should be made within two weeks of applying. ALL STUDENTS
must make a $500 non-refundable deposit at the time of the application to be fully accepted to the program.
February - May 2017
February 1
Deadline for students to complete post-decision health/safety
and waiver forms
Annika K.
Turner
Book logistical arrangements (flight, accommodation, tours,
admissions to museums, etc.)
February
Pre-departure budget meeting with Short-Term Program
Manager and CSB Business Office
Katie Rock,
CSB Business
Office
After approval, the CSB Business Office will create an
account and budget for the program. You will be notified of
the account number.
Katie Rock,
CSB Business
Office
Apply for a CSB/SJU Corporate Credit Card and ATM card.
Katie Rock,
CSB Business
Office
Apply for a travel advance if needed
Katie Rock,
CSB Business
Office
Arrange for international fund wires and other prepayments of
bills (as appropriate).
Katie Rock,
CSB Business
Office
April 15
Summer Term contracts are prepared for Faculty Directors
(need to be signed and returned)
April 30
Registrar's Office will enroll students for the course.
Ben Stommes,
Academic Affairs
& Marlene
Ergen, Human
Resources
Julie Gruska,
Registrar
5
Annika K.
Turner
May 1
Submit final travel information
Mid-May
Students will be billed for tuition and program fees with
Summer Term billing.
Dave Schneider,
CSB Student
Accounts
Deadline for payment of summer charges
Dave Schneider,
CSB Student
Accounts
May - August
Mid-June
Within 30 days of
return
Submit program receipts for reconciliation.
Katie Rock,
CSB Business
Office
6
Course Information
Please indicate which category best fits the course you plan on teaching. If you are offering this program as a not-for-credit
opportunity, please indicate that as well. This information is purely for the CGE's records and to ensure that information
presented on the website, the application, and any marketing materials is correct. Please also indicate who will be teaching
the course (if it will be yourself, on-site staff, in conjunction with another faculty member, etc.) as well as if a specific
department is hosting this program.


Previously offered course
o
Name of Course
o
Course abbreviation (i.e. GEND 180A)
o
Designation(s)
o
Faculty
o
Department
Previously offered course with different topic or content (you should communicate with the Curriculum
Committee to determine if you need to submit these changes to the committee for approval; please provide this
information once you have it)

o
Name of Course
o
Course abbreviation (i.e. GEND 180A)
o
Designation(s)
o
Faculty
o
Department
New course (you should submit a new course online and then communicate with the Curriculum Committee to
determine which designations will be in place for the course; please provide this information once you have it)

o
Name of Course
o
Course abbreviation (i.e. GEND 180A)
o
Designation(s)
o
Faculty
o
Department
Not-for-credit
o
Name of Course
7
Itinerary Development
When developing the travel component of your course, there are a number of factors to consider:
Do you have a country (or countries) in mind that the program will visit?
Do you want the students to fly over together or meet in a location on-site?
Do you have experience in that country or speak the language (if it is a non-English-speaking country)?
Do you have connections with on-site personnel who can assist you?
Are you going to be based in one location and then take day trips?
What type of accommodation do you want to stay in?
Are you going to require space in which to conduct lectures or classroom time?
How much do you want the group to do together? What is the right balance between free time and organized group
activities?
If you would like assistance with the development of your itinerary, the Short-Term Program Manager is here to help you,
either by providing advice or by connecting you with a reputable program provider which can help with all of the on-site
logistics.
Please provide a brief outline of your itinerary below.
8
Budget Development
All program directors must submit a budget to the Center for Global Education for review. This budget will also be given to
the CSB Business Office to help determine the final program fee which students will be charged. You can find the budget
template below; this template has many built in formulas to help you determine the overall program fee.
Some things to think about when developing your budget:
1. The reduced rate for summer tuition is either $525 or $550 (depending on whether the student is paying CSB or
SJU tuition).
2. An assistant director is required when there are 16 or more students participating in the program. The assistant
director will have their expenses covered by the student program fee and will receive a salary of $500.
3. Only the director and assistant director salary can come from tuition. The director and assistant director costs are
covered by the student program fee.
Please indicate if you plan on bringing any dependents or having an assistant director.
Budget Spreadsheet: Budget\Short-Term Program Budget_Template.xlsx
9
Marketing and Recruiting
While the CGE is here to assist you, you should expect to do the majority of the recruiting. You should develop a recruiting
plan to help you determine the students you would like on your program (level, background, experience, gender ratio) and
how you plan on reaching them to promote your program.
One major way you can recruit students is at the Study Abroad Fair, which will be held on Wednesday, October 12th. This
is an opportunity to talk with interested students and to also talk with other faculty members to understand what would
attract students to your program. You should plan on attending the fair.
Please briefly list the ways in which you plan on recruiting students for your program.
Additionally, the CGE will promote your program on the CGE Short-Term Program section of its website. Each program
will be listed according to when it runs (fall semester, winter break, spring break, or summer) with the course code (i.e.
COLG 280R), the location(s) of the program, the name of the course, and the dates of the program. The CGE will also
develop individual pages for each program. Program directors are encouraged to use the following template to help organize
the content. Appropriate pictures are always welcome; you can include them with the content of the website. We can also
link out to external websites, brochures, videos, or any other type of content that you have developed to promote your
program.
Program/Course Title
City, Country
Dates of Program (please indicate if these are tentative)
Program Highlights






Experience famous art galleries and performance spaces.
Attend a major musical production.
Visit the Tower of London and ride the London Eye.
Travel to Brighton, and downstream to Greenwich.
Explore London through walking tours and on your own.
This is a Fine Arts (FA) designated core course.
Program Description
Insert text here as you would like to see the program described. Please visit our website (http://www.csbsju.edu/global/findan-education-abroad-program/short-term) to see examples.
10
Course Description
Please provide information about the course, if there will be any pre-departure meetings, and overall expectations of the
course. This is also where we will list information about the course, including designations assigned to the course.
Program Cost
Be as specific as possible! You want to be upfront with all expected costs of the program, whether they are billed or out-ofpocket.
The estimated Program Fee is $XXXX plus the cost of X CSB|SJU credits at the reduced summer tuition rate
(approximately $550 per credit).
The Program Fee includes:








Round-trip international airfare from Minneapolis to XXX
Accommodations during the program
Local transportation
Course related excursions including: admission to museums, cultural attractions, major musical and theatre
productions as outlined in the itinerary
Program administrative costs and fees
Some group meals
Visa fees?
Other required expenses?
The Program Fee does not include:




Most meals (estimated at: $XXX)
Personal spending money (estimated at: $XXX)
Please include anything else here that is reasonable that the student needs to budget for. (estimated at: $XXX)
Activities, housing or transportation not associated with or included in the program.
Housing
Please provide basic information about the type of accommodations provided with the program. Are they dorms?
apartments? host families? hostels? hotels? What amenities might the students expect to find? Are there any particular items
the students will need to provide (i.e. Is bedding provided but not towels?) Is there an internet connection included with the
accommodations? Is it self-catering? Is there a student cafeteria? Or will students be dining out?
Director
11
Please provide here any information you would like to include about who you are and why you are leading this trip. Do
you have past experience in this location? Do you have background/expertise in this subject area? Is there additional
information you would like to have the students consider?
Right hand Menu Box
In this section we will provide mainly links to more information and follow-up for students on the program.

Detailed Itinerary/Program Brochure

Email the Program Director

APPLY NOW!
12
Application Requirements
All credit-bearing programs which are not attached to an on-campus course must use the Short-Term Study Abroad Common
Application. This is to allow applications to open at the same time and to prevent any double applications from one student.
The CGE will provide program directors access to the Short-Term Application Database to allow for review of applications
and acceptance (or denial) into the program.
If your program has specific requirements, please make sure that you include that in the website materials and in any marketing
materials. Please contact Annika K. Turner if you would like to add any questions not found below to the application for your
program.
The Short-Term Common Application includes the following questions:
Legal First Name, Full Middle Name, and Legal Last Name
Banner ID, Email Address, Cell Phone Number
Country of Birth, Country of Citizenship, Passport Number, Passport Issue/Expiration
Select the short-term program to which you are applying
Have you ever traveled internationally? If yes: where did you travel to? For what purpose? And for how long?
What are your academic goals for participating in this study abroad program? (suggested length 200-300 words)
Intended major(s) and minor(s), Intended date of Graduation (Month/Year)
What are your professional goals for participating in this study abroad program? (suggested length 200-300 words)
Please describe your personal goals for this program and the contributions that you will be able to make to the
program. (suggested length 200-300 words)
Describe any concerns or hesitations you may have about studying abroad.
Please include any additional information that may be helpful to, or should be considered by, those who are
selecting candidates for this program.
Please indicate your current cumulative GPA
Are you aware that you must enroll in the academic credits in order to participate in this program?
Please provide the name of a CSB/SJU community member (faculty or staff member- NOT a student) who is
willing to be a reference for you.
Are there any other CSB/SJU students you would like to recommend for this program? If yes, please provide their
name.