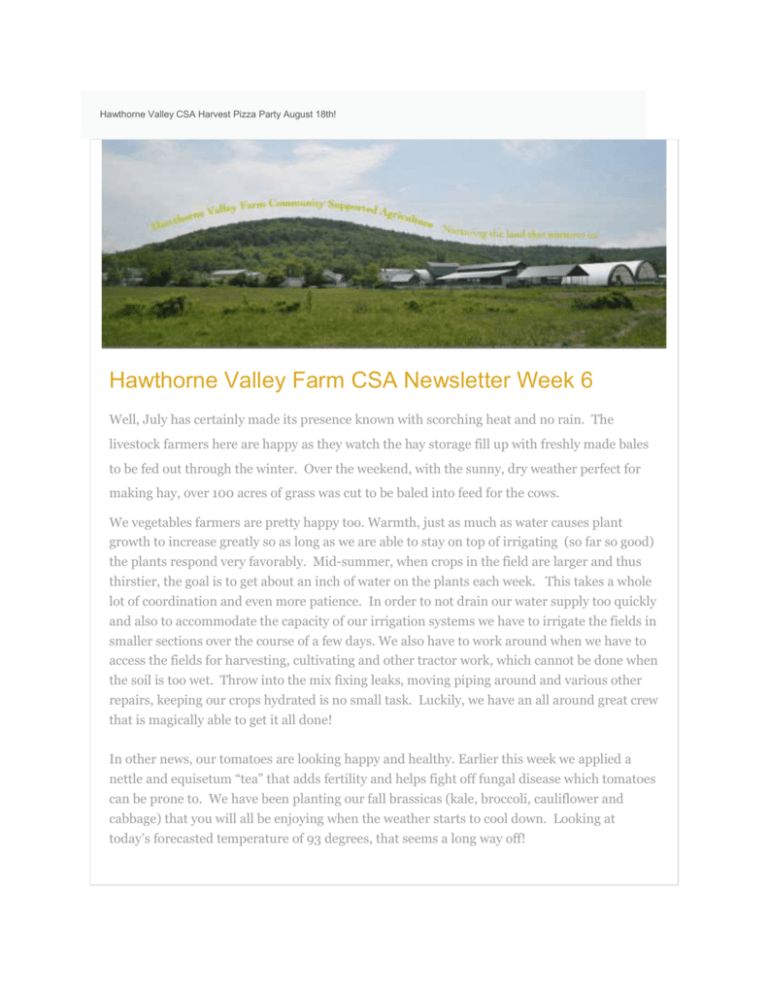 Hawthorne Valley CSA Harvest Pizza Party August 18th!
Hawthorne Valley Farm CSA Newsletter Week 6
Well, July has certainly made its presence known with scorching heat and no rain. The
livestock farmers here are happy as they watch the hay storage fill up with freshly made bales
to be fed out through the winter. Over the weekend, with the sunny, dry weather perfect for
making hay, over 100 acres of grass was cut to be baled into feed for the cows.
We vegetables farmers are pretty happy too. Warmth, just as much as water causes plant
growth to increase greatly so as long as we are able to stay on top of irrigating (so far so good)
the plants respond very favorably. Mid-summer, when crops in the field are larger and thus
thirstier, the goal is to get about an inch of water on the plants each week. This takes a whole
lot of coordination and even more patience. In order to not drain our water supply too quickly
and also to accommodate the capacity of our irrigation systems we have to irrigate the fields in
smaller sections over the course of a few days. We also have to work around when we have to
access the fields for harvesting, cultivating and other tractor work, which cannot be done when
the soil is too wet. Throw into the mix fixing leaks, moving piping around and various other
repairs, keeping our crops hydrated is no small task. Luckily, we have an all around great crew
that is magically able to get it all done!
In other news, our tomatoes are looking happy and healthy. Earlier this week we applied a
nettle and equisetum "tea" that adds fertility and helps fight off fungal disease which tomatoes
can be prone to. We have been planting our fall brassicas (kale, broccoli, cauliflower and
cabbage) that you will all be enjoying when the weather starts to cool down. Looking at
today's forecasted temperature of 93 degrees, that seems a long way off!
Hope you enjoy this week's share and be sure to scroll all the way through the email to read
about the upcoming CSA Harvest and Pizza Party!
Thank you for being part of our farm and community!
Lucy
In this week's share:
Lettuce
Mini-onion
Basil
Beets
Kale
Chard
Zucchini
Cucumbers
Fruit Share: 2 pints blueberries!
Recipes!
The following recipes come unabashedly cut-and-pasted from Food52.com (apologies, it's
July, not too much time for typing...). Just search "zucchini", you'll find a treasure trove of
ideas to get you through to September's zucchini-killing frost. And did anyone try last week's
greens pancakes recipe? I personally loved it and now make a batch every Sunday to help
healthy lunches (and disappearing chard) happen more easily. Let us know your feedback or
send us some of your own beloved summer vegetable recipes to share!
Patricia Wells' Zucchini Carpaccio with Avocado and Pistachios
By Genius Recipes
Editors' Comments:
When you just can't look another zucchini in the face, put it on a pedestal. Raw zucchini can
be spongy, bitter and strangely sticky, so pamper it like Patricia Wells does here, by shaving it
into delicate ribbons, then bathing them in a lemony marinade. A trusted mandoline makes a
big difference here -- and if you don't have one, you're better off opting for a vegetable peeler
than a sharp knife. You want planks as thin as flower petals. There will be leftover lemon salt.
Swirl it into buttered pasta; dust it on blanched green beans; put a pinch on a dark chocolate
cookie.
Serves 4 (as a meal)Lemon Zest Salt:

1 tablespoon lemon zest, preferably organic

1 tablespoon fine sea salt
1. Combine the lemon zest and salt in a spice grinder, and grind into a fine powder.
Transfer to a small jar and close the lid. (Store, sealed in the jar, in the refrigerator for
up to 1 week. After that the lemon flavor will begin to fade.)
Salad:

1 tablespoon freshly squeezed lemon juice

1/4 teaspoon Lemon Zest Salt

3 tablespoons best-quality pistachio oil (such as Leblanc) or extra-virgin olive oil

4 small, fresh zucchini (about 4 ounces each), rinsed and trimmed at both ends

1 large ripe avocado

1/2 cup salted pistachios

Leaves from 4 fresh lemon thyme or regular thyme sprigs, with flowers if possible

Fleur de sel
1. In a small jar with a lid, combine the lemon juice and 1/4 teaspoon Lemon Zest Salt.
Cover with the lid and shake to blend. Add the oil and shake to blend.
2. With a mandoline, vegetable peeler, or very sharp chef's knife slice the zucchini
lengthwise as thin as possible. Arrange the slices on a platter and pour the dressing
over them. Tilt the platter back and forth to coat the slices evenly. Cover with plastic
wrap and let marinate at room temperature for 30 minutes, so the zucchini absorbs the
dressing and does not dry out.
3. Halve, pit, and peel the avocado, and cut it lengthwise into very thin slices. Carefully
arrange the slices of marinated zucchini on individual salad plates, alternating with the
avocado slices, slightly overlapping them. Sprinkle with the pistachio nuts. Garnish
with the thyme leaves and flowers and fleur de sel. Serve.
Julia Child's Tian de Courgettes au Riz (Zucchini Tian)
By Genius Recipes
Editors' Comments:
Two-plus pounds of zucchini doesn't look so demanding once you shred, salt, and squeeze it dry. It
sheds its water weight, leaving a tamed pile and a lot of green, lightly salted liquid. You could simply
warm the shreds through with onions and garlic or simmer in cream -- or cook it into this smart
zucchini and rice tian. From Mastering the Art of French Cooking, Volume Two (Alfred A. Knopf,
1970)
Serves 6Courgettes Rapées (Grated and Salted Zucchini):

2 to 2 1/2 pounds zucchini

1/2 cup plain, raw, untreated white rice

1 cup minced onions

3 to 4 tablespoons olive oil

2 large cloves garlic, mashed or finely minced

2 tablespoons flour

About 2 1/2 cups warm liquid: zucchini juices plus milk, heated in a pan (watch this closely so
that it doesn't curdle)

About 2/3 cups grated Parmesan cheese (save 2 tablespoons for later)

Salt and pepper

A heavily buttered 6- to 8-cup, flameproof baking and serving dish about 1 1/2 inches deep

2 tablespoons olive oil
1. Shave the stem and the tip off each zucchini (or other summer squash), scrub the
vegetable thoroughly but not harshly with a brush under cold running water to remove
any clinging sand or dirt.
2. If vegetables are large, halve or quarter them. If seeds are large and at all tough, and
surrounding flesh is coarse rather than moist and crisp, which is more often the case
with yellow squashes and striped green cocozelles than with zucchini, cut out and
discard the cores.
3. Rub the squash against the coarse side of a grater, and place grated flesh in a
colander set over a bowl.
4. For each 1 pound (2 cups) of grated squash, toss with 1 teaspoon of salt, mixing
thoroughly. Let the squash drain 3 or 4 minutes, or until you are ready to proceed.
5. Just before cooking, squeeze a handful dry and taste. If by any chance the squash is
too salty, rinse in a large bowl of cold water, taste again; rinse and drain again if
necessary. Then squeeze gently by handfuls, letting juices run back into bowl. Dry on
paper towels. Zucchini will not be fluffy; it is still dampish, but the excess liquid is out.
The pale-green, slightly saline juice drained and squeezed out of the zucchini has a
certain faint flavor that can find its uses in vegetable soups, canned soups, or
vegetable sauces.
Tian de Courgettes au Riz [Gratin of Zucchini, Rice, and Onions with Cheese]:
1. While the shredded zucchini is draining (reserve the juices,) drop the rice into boiling
salted water, bring rapidly back to the boil, and boil exactly 5 minutes; drain and set
aside.
2. In a large (11-inch) frying pan, cook the onions slowly in the oil for 8 to 10 minutes
until tender and translucent. Raise heat slightly and stir several minutes until very
lightly browned.
3. Stir in the grated and dried zucchini and garlic. Toss and turn for 5 to 6 minutes until
the zucchini is almost tender.
4. Sprinkle in the flour, stir over moderate heat for 2 minutes, and remove from heat.
5. Gradually stir in the 2 1/2 cups warm liquid (zucchini juices plus milk, heated gently in
a pan -- don't let it get so hot that the milk curdles!). Make sure the flour is well
blended and smooth.
6. Return over moderately high heat and bring to the simmer, stirring. Remove from the
heat again, stir in the blanched rice and all but 2 tablespoons of the cheese. Taste
very carefully for seasoning. Turn into buttered baking dish, strew remaining cheese
on top, and dribble the olive oil over the cheese.
7. About half an hour before serving, bring to simmer on top of stove (you can skip this
step if your baking dish isn't flameproof), then set in upper third of a preheated 425degree F oven until tian is bubbling and top has browned nicely. The rice should
absorb all the liquid.
CSA Harvest Pizza Party Sunday, August 18th!
One of Hawthorne Valley Farm's hand-made wood-fired ovens where kids cook year-round.
In just a month the hard green tomatoes will be red and juicy, the
eggplants deep purple, and the zucchini, of course, will still be going
strong. Please come join your fellow CSA members here at Hawthorne
Valley Farm for a farm tour, summer vegetable harvest, and a hands-on
wood-fired pizza party. From 10 to 2:30, Sunday, August 18th.
This is a free event, but for planning purposes, please RSVP by
August 1st. We need at least 25 members to sign up for the party, so
please let us know as soon as you are able:
farmadmin@hawthornevalleyfarm.org.