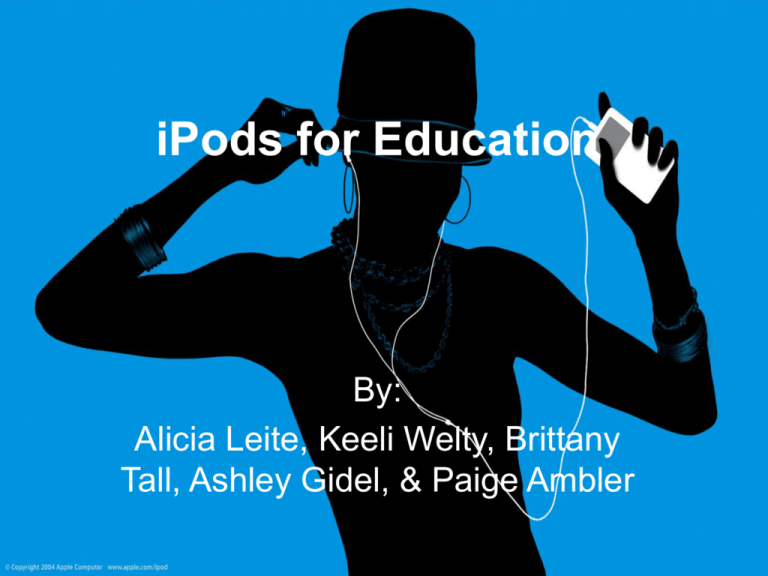 iPods for Education
By:
Alicia Leite, Keeli Welty, Brittany
Tall, Ashley Gidel, & Paige Ambler
Overview of Article
• Duke University distributed 1,650 iPods to their
freshmen to be used for educational purposes
• They have set up a Web site on iTunes music site
that will allow students to download recorded
lectures, audio books, language lessons and
other course content
• "We're approaching this as an experiment, one
we hope will motivate our faculty and students to
think creatively about using digital audio content
… to advance educational goals…" – Tracy
Futhey, vice president for information technology
at Duke
Apple's History
• Prior to 1998, Apple struggled with rising
competition & lacked innovative products
• 2000 was a rocky year for Apple due to slower
sales & misunderstanding of consumer market
• 2001 was a pivotal year for Apple- with major
updates to the iBook line in May followed by the
introduction of the iPod in October
• 2003 – Apple unveiled the iTunes Music Store &
later that same year they released the userfriendly Windows verson
• 2004 – introduced the iPod mini
Apple's Latest Products &
Services
•
•
•
•
iBook
"most anxiously awaited
Apple computer"
New semi-revolutionary
features helping to change
Apple's position in the
market
iPod mini
Height & width of business
card (various colors)
Raised the bar for
portability in a hard disk
music player
•
•
•
•
•
iPod
"Apple's first strike into
the digital music market"
iPod represented the
perfect compromise
between size and storage
capacity
Has impressive industrial
design
iTunes
Offers legal online music
download services
Has 70% of market share
iPod's Success
• Continued success with the iPod is drawing new
customers to the Macintosh fold- "halo effect"
• "If only a small number of those users bought Macs,
sales could surge"
• It's predicted that Windows users could have 100
million iPods in hand by 2008
• As of January 2005, Apple reported quarter revenue
profits to be higher than ever seen by company
• iPod sales led the way with 4.58 million units sold, a
525% increase from the same quarter a year ago
• The iPod product segment contributed $1.211 billion
in revenue
How Apple Markets the iPod
•Television Commercials
•Have you seen an ipod commercial lately?
•Word of Mouth
•How many of your friends have an ipod?
•Magazines
•Wired, MacWorld, and Spy Mag
•Billboards
•Located in high traffic areas in large cities
Word of Mouth!
• Brand Loyalty
• Individuals who have always used Apple
Computers are more open to using the
Apple iPod
• Observational Learning
• Individuals observe others using the
iPod and want to imitate that
• Accessibility to Information
• Through internet, Apple store, Friends
and Family
Have you seen these
Commercials?
• New Technology
– SHUFFLE
• Marketing with Pepsi
– Pepsi 1
• Celebrity Marketing
– Pepsi 2 ~celebrity
• Marketing with BMW
– BMW
The iPod at Duke
– Current Market Domination
(18-24 year olds) College aged students
– Who have they previously targeted?
– Who makes up their new segment?
"We think the power and flexibility of
these devices offer some real
advantages over other media used to
distribute educational content such as
CD-ROM's and DVD's."
Duke Students as Opinion Leaders
-Status symbol of Duke University
-Knowledge taken more seriously by
others
-Socially active and highly
interconnected in their communities
-"Effective opinion leaders tend to be
slightly higher in terms of status and
educational attainment than those
they influence, but not so high as to
be in a different social class."
-Duke students are Homophilious
Duke Students are Market Mavens
• Information transmitters
• Perfect group that can spread
iPod popularity
• Have solid general product
knowledge
• General high perception of Duke
students
Market Expansion
• Effect on Professors
Mere Exposure: Tendency to like
things more that we are in contact
with frequently
• Positive Word of Mouth
Professors FamiliesFriends
Entertainment to Education
• At Duke, About 75% of Freshmen
surveyed used their iPod for
academic work.
• Most popular student uses:
–Recording lectures
–Taking oral notes
–Electronic flash cards
• iPod audio capabilities used in
presentations
• Increased accuracy in quoting from
interviews
• Facilitates learning
–The iPod has made course material
"more convenient"
–Students more engaged in classes
when allowed to use the iPod
• Language classes
–master pronunciation
–recorder diaries
• Music classes
–interaction with the music
• Foreign students
–replay capabilities
Why the iPod?
•
•
•
•
•
•
•
Size
Storage Capacity
Highly mobile
Versatile
"Glorified tape recorder"
Familiarity
Broad appeal
Possible Problems
– Privacy Rights, Copyright
infringements
• However, these could be a problem
regardless of the iPod
– Students may start skipping classes
– Students may not buy text books
Competition
In education:
• CD-ROMs and
DVDs from text
books
• Use of websites to
download lectures
directly to
computers
In the technology
industry:
• Dell
• Samsung
• Sony
• Olympus
• Rio
• RCA
Wrapping it Up!
• The experiment has been successful
• There is much opportunity for future
growth
– Expansion to other school
– Increased capabilities of the iPod
• Competition will soon catch on to the
new idea
The Possibilities Are Endless
" The value of the gadgets goes beyond the
classroom. Obviously if you learn that there
are creative ways to do things that you
hadn't thought of before, and…that new
technologies may provide opportunities you
hadn't thought of, that's part of learning too."
- Peter Lange, Duke's provost
Discussion Questions
What do you think about
iPods being used to
download lectures and
books for students?
Would you use this if it
were available at USD?
Do you think giving iPods
to all students is the most
efficient way to use funds?