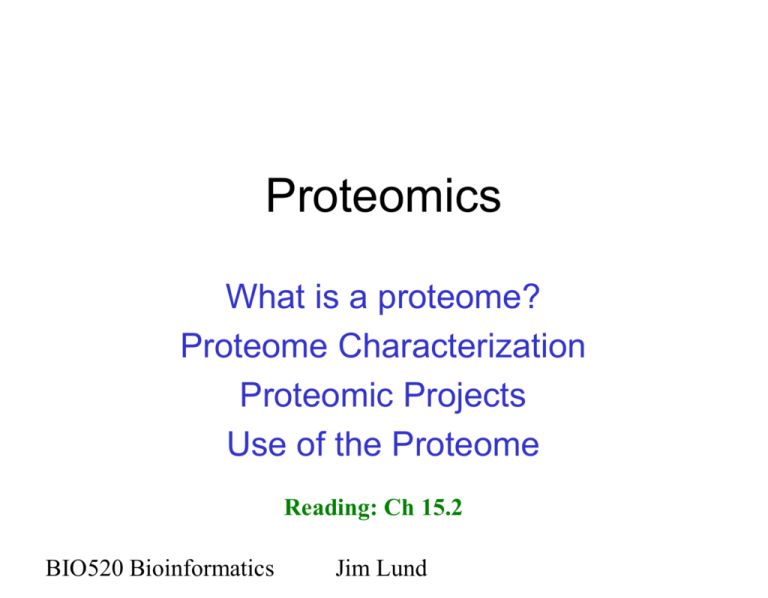 Proteomics
What is a proteome?
Proteome Characterization
Proteomic Projects
Use of the Proteome
Reading: Ch 15.2
BIO520 Bioinformatics
Jim Lund
Protein Sequences from Mastodon and Tyrannosaurus
Rex Revealed by Mass Spectrometry
John M. Asara,Mary H. Schweitzer, Lisa M. Freimark,Matthew Phillips, Lewis C. Cantley
Science 13 April 2007: Vol. 316. no. 5822, pp. 280 - 285
Gene vs. Protein diversity
• Human Genome = 25,000 genes
• Human Proteome = 300,000 to 1,200,000
protein variants
1 gene-> many proteins
• Alternative splicing: ~60% of genes
in the human genome, several splice
forms are typical.
– International Human Genome Sequencing Consortium,
Nature 2001
• Proteolytic cleavage
• Covalent modifications
• Phosphorylation, Acylation, Methylation,
Glycosylation,Sulfation, Prenylation, lipid
linkage and many more…
mRNA-protein Correlation
• YPD: should have relevant data
– will yeast be typical?
• Electrophoresis 18:533
– 23 proteins on 2D gels
– r=0.48 for mRNA=protein
• Post-transcriptional and post
translational regulation important!
Branches of Proteomics
•
•
•
•
•
•
•
Protein separation. Basic to all proteomic technologies are protein
separation; the separation of a complex mixture so that individual proteins
are more easily processed with other techniques.
Protein identification. Low-throughput sequencing through Edman
degradation; High throughput proteomic techniques based on mass
spectrometry, commonly peptide mass fingerprinting on simpler
instruments, or de novo sequencing with tandem mass
spectrometry.
Protein quantification. Gel-based methods such as differential staining
of gels with fluorescent dyes (difference gel electrophoresis). Gel-free
methods include various tagging or chemical modification methods, such
as isotope-coded affinity tags (ICATs) or combined fractional diagnoal
chromatography (COFRADIC). Mass spec methods are now giving
quantification data.
Protein sequence analysis. Bioinformatic branch, search databases for
possible protein or peptide matches.
Structural proteomics. High-throughput determination of protein
structures in three-dimensional space using x-ray crystallography and
NMR spectroscopy.
Interaction proteomics. Investigation of protein interactions using IP
then MS, 2-hydrid screens, protein chips.
Protein modification. Almost all proteins are modified from their pure
translated amino-acid sequence, so-called post-translational modification.
Specialized methods have been developed to study phosporylation
(phosphoproteomics) and glycosylation (glycoproteomics). MS methods
are also used.
Components of Proteomics
Protein Separation
Mass Spectroscopy
Bioinformatics
Protein separation
• 2D-PAGE
– Separate proteins based on size and
charge
– Types of 2D-PAGE gels:
• IEF/SDS
• NEPHGE/SDS
• HPLC
2DPAGE
Detection Methods
• Stains
– Fluorescence, Coomassie blue, silver stain
• ~500 spots
– Radiolabeling
• Coupled detection
– Mass spectrometry
• MALDI/TOF
• ESI
• Trypsin digestion/MS
Instrumentation
• 2D gels
–Simple
• MALDI-TOF and variants
–$200,000+, benchtop
2D Gel Results
• SwissProt
– www.expasy.ch/ch2d/
• 2DWG Meta-database of 2D-gels
– http://www-lecb.ncifcrf.gov/2dwgDB/
Basic Proteomic Analysis Scheme
Protein Mixture
Separation
2D-SDS-PAGE
Individual Proteins
Spot Cutting
Digestion
Trypsin
Peptide Mass
Database
Search
Mass Spectroscopy
MALDI-TOF
Peptides
Protein Identification
2D-PAGE -> MALDI-MS->PMF
2D-PAGE -> MS-MS->PMF
MS-MS
Principles of MALDI-TOF Mass Spectroscopy
MALDI-TOF Results
NOVEL
A vs B
Analytical Approach to Peptide Mass
Fingerprinting: Effect of Mass Tolerance
Search m/z
1529
1529.7
1529.73
1529.734
1529.7348
Mass Tolerance (Da) # Hits Database
1
0.1
0.01
0.001
0.0001
478
164
25
4
2
Analytical Approach to Peptide Mass
Fingerprinting: Effect of Multiple Peptide
Masses
Search m/z
1529.73
1529.73
1252.70
1529.73
1252.70
1833.88
Mass Tolerance
# Hits Database
0.1
0.1
204
7
0.1
1
Peptide Mass Fingerprinting
• Find peptide fragments from MS spectra.
– Charge state deconvolution.
• Make peptide fragment list.
• Check versus list of all possible polypeptides.
• Need to have Protein database!
Methanol m/z spectra
Peptide Mass Fingerprinting
Protein Sequences from Mastodon and Tyrannosaurus
Rex Revealed by Mass Spectrometry
Peptide Search Programs
•
Mascot
– http://www.matrixscience.com/
•
SEQUEST
– http://fields.scripps.edu/sequest/ (Thermo Scientific)
•
X!Tandem
– http://thegpm.org/
– Free and Open Source
•
PeptIdent
– Uses Swiss-Prot protein database
– http://au.expasy.org/tools/peptident.html
– Free and Open Source
•
ProteinProspector
– Searches user supplied protein database.
– http://falcon.ludwig.ucl.ac.uk/mshome3.2.htm
– Free and Open Source
•
GFS
– Uses raw genome sequence.
– http://gfs.unc.edu/cgi-bin/WebObjects/GFSWeb
– Free and Open Source
MS varieties
• Ionization Methods
–
–
–
–
–
EI (Electron Impact)
CI (Chemical Ionization)
MALDI
ESI
Fast Atom Bombardment (FAB)
• Mass Analyzers
– Ion Trap
– Time-of-Flight
• Theoretically, no limitation for m/z maximum, high throughput
– Magnetic Sector
• High resolution, exact mass
– Ion Cyclotron Resonance (FTMS)
• Very high resolution, exact mass, perform ion chemistry
– Quadrupole
• Unit mass resolution, fast scan, low cost
Technology is developing quickly!
• UK has a Proteomics Facility!
– http://www.rgs.uky.edu/ukmsf/proteomics.html
Searching parameters
• Modifications (e.g. cysteine residues, etc.)
• Number of allowable missed cleavages
• Data properties: monoisotopic/average, charge
state, amino acid composition
• MS/MS data
Protein identification approaches
Limitations-2D gel, MS
• Protein preparation/electrophoresis
– hydrophobic proteins insoluble
• Sensitivity
– stains, ~1 ng (1/10,000)
– MS (1 fmol, ~40 pg for "average")
• Protein modificationsunclear
• Data analysis/comparison
– Scimagix (www.scimagix.com)
• Nature of data
– quaternary info lost, localization lost
Clinical Diagnostics Proteomics: Protein
Profiling
Value of Proteome Data
• Contains info not in mRNA!
– [mRNA] != [protein]
– Covalent modification of proteins
critical to regulation, often with
constant expression
– Association state of proteins critical
• How can we use this information?