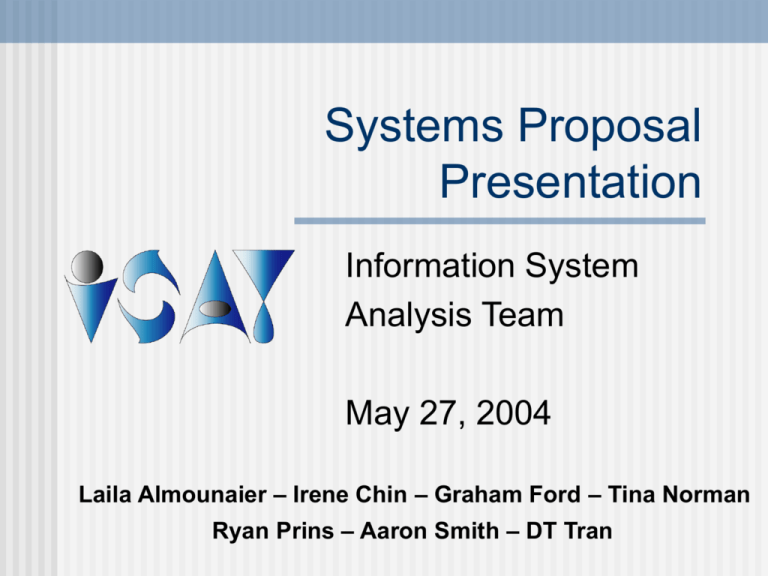 Systems Proposal
Presentation
Information System
Analysis Team
May 27, 2004
Laila Almounaier – Irene Chin – Graham Ford – Tina Norman
Ryan Prins – Aaron Smith – DT Tran
Overview







Client Description
Interview Process
Analysis
Problem Statement
Alternatives
Recommendation
Q&A
Client Description
Council on American-Islamic Relations (Seattle Chapter)
Nonprofit organization
 Mission Statement


To promote an accurate image of Muslims
and defend their rights in the United States.
Recently formed chapter
 Currently have one paid employee
 Five board members
 Many community volunteers

Why CAIR-Seattle?
Member of ISAT is a member and
volunteer
 The need to solve undefined problems
 Branch was recently established


Small systems infrastructure in place
Flexible scheduling with client
 Project was feasible

Analysis of Current System
Data Collection
 Information Problems
 Problem Statement
 Data Flow
 Organizational Chart

Data Collection

Interviews
Types of questions and responses
 Duration
 Locations

Survey and Questionnaire
 Secondary Data

Annual Report
 Website

Information Problems





Data collection
Data redundancy
Information access
Information storage and
archiving
Information
dissemination






Information accuracy
Lack of human resources
Lack of standards in data
gathering
Inadequate training
Process inefficiencies
Lack of a data recovery
system
Information Problems



Information accuracy

Inadequate training

Lack of a data recovery
system
Data redundancy
Information access
Problem Statement

Our Focus:


How CAIR-Seattle's existing software
applications interact and how the information
stored in those applications relate.
Why this is important
Inability to track members
 Inefficient use of time
 Incomplete tasks
 Difficult data analysis

Analysis
Data flow
 Organizational chart

Membership Inf orm ati on
Washi ngton
S tat e
I slam ic
Comm unit y
P aym ent directl y or t hrough P aypal
Receipt of P aym ent
Donate to
CA IR-S eatt le
Call er
I nformat ion
Reasons f or
cal li ng
Remi nders
Fol low-ups
2
1
2
T ransact ion Record
D1
K eep Records of
Regist ered
Members
Donati on T ransacti ons(Quickbooks )
CA IR
Nati onal
Membership
I nformat ion
For Washi ngton
T ransact ion
Record
Membership
I nformat ion
Correspondence Records
D 0 CA IR-S eatt le Member Data (A ccess)
CA IRS eatt le
Contact CA IRS eatt le T hrough
P hone or E -m ail
Membership
I nformat ion
A nnual Report
of open and
cl osed cases
Membership Data
3
Membership Data
Regist er
Local ly wit h t he
S eatt le Chapter
Call er
I nformat ion
Reasons f or
cal li ng
Membership Data
D1
CA IR-S eatt le Local Member Data (E xcel)
Contact and Case
I nformat ion
Contact and Case
I nformat ion
D2
Call Log (not epad)
3
Contact and
Case i nformat ion
Correspondence (MS Outl ook )
Civil Right s Dat abase(A ccess)
Record Cases
Call er
I nformat ion
Reasons f or
cal li ng
D3
D4
Information Sy stems
Analys is Team (ISAT)
4 /27 /2004
Data Flow Diagram for CAIR-Seattle
Seattle CAIR
members
People
Muslim
Community
Calls: complaints,
donations,
questions
Calls: reminders,
return-calls,
request
CAIR members
Vice Chair
Media Requests
Manager
Michaela
Croning
Samia ElMoslimany
(Media/Vice
Chair)
$10 per month
CAIR
NATIONAL
Chair
Info
Ibrahim
Mohamed
(Chairman)
Cases closed,
opened or
pending
Donation Info
Treasurer
Financial Transaction Data
Rami Al-Kabra
(Treasurer)
Raw Data
Bank of
America
Donations
Secretary
Info
Other
Volunteers
Maryam
Numbers and
tasks vary
Volunteer
Assistant
Data
Mubarek
Elamin
(Secretary/Civil
Rights Chair)
Volunteer
Secretary
Mohammed
Khan
Organizations
ACLU
EEOC
Members
Donations
Database
Spreadsheet of
names, e-mail,
also in Outlook
Spreadsheets,
Quickbooks
Civil Rights
Database
Access
CAIR-Seattle
Islamic Civil Rights
Data
25 Chapters in
US/CANADA
Current
members,
Publications
Solution Alternatives
Status-quo
 QuickBooks
 Salesforce.com CRM
 NonprofitBooks Office

Alternative #1: Status-quo
Keep current system in place
 Main Cost



No improvement on problems
Main Benefit

System is familiar to users
Alternative #2: QuickBooks



Implement a new version of QuickBooks
Implement phone logging/tracking system
Main Benefits



Better data sharing between members
Centralized information repository
Main Costs


New procedures to learn
New hardware and software purchases needed
Alternative #3: Salesforce.com


Online Customer Relationship Management
(CRM) package
Main Benefits



Free for nonprofit organizations
Online hosted service
Main Costs


Drastically different from current system
Switching cost
Alternative #4: NonprofitBooks
Office


Online Customer Relationship Management
(CRM) package
Main Benefits




Similar interface to current QuickBooks software
Can be accessed through the internet
Rich feature set
Main Costs


New hardware/software costs
Switching cost
Our Recommendation

Alternative #2: QuickBooks
Pros
 Cons
 Implementation Costs
 Phases of Implementation

Pros of Recommendation
Improved data management
 Improved communication
 Improved task management
 Central repository of data
 Reduced data redundancy
 Simple data backup

Cons of Recommendation
New Software Needed
 Hardware Must be Purchased
 Training Will Need to be Provided

Costs of Implementation

Software Purchases


Hardware Purchases


Total: $1,439.16
Total: $1834.85
Training

Total: $199.95
One Time Purchases Total: $3,473.86

Backup Media

Total: $30.88 (Annually)
Implementation Phases

Phase 1 (2 – 3 weeks)
1.

Phase 2 (1 week)
1.
2.
3.
4.

Application / Procedural training
Phase 4 (2 – 4 weeks)
1.
2.

Network setup
Computer installation
Software installation
Backup of old system data
Phase 3 (1 – 2 months)
1.

Hardware / Software purchases
Data migration
Audit data
Transition complete
Thanks To
Council on American-Islamic Relations
(Seattle Chapter)
 Michaela Corning
 Mohammad Bilal Khan
 Rami Al-Kabra

Q&A

Questions?