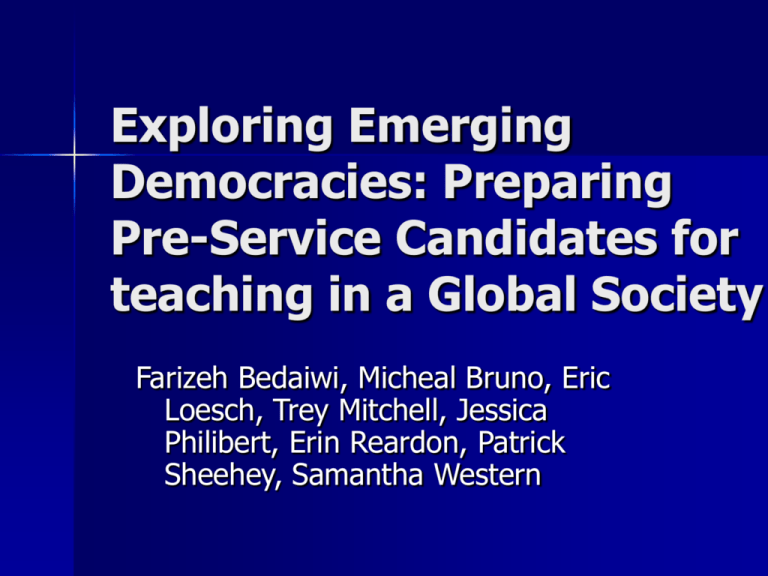 Exploring Emerging
Democracies: Preparing
Pre-Service Candidates for
teaching in a Global Society
Farizeh Bedaiwi, Micheal Bruno, Eric
Loesch, Trey Mitchell, Jessica
Philibert, Erin Reardon, Patrick
Sheehey, Samantha Western
Collaboration
Introduction


What do you feel defines your national
identity?
Do you feel you have a strong national
identity?
Kievan Rus


The Importance of the first settlers in the Ukraine
Present day countries that compromised Kievan Rus':
– Ukraine
– Western Russia
– Belarus.


Different cultures and ethnicities made up Kievan
Rus
This area was first settled in 860 A.D. by a
Scandinavian Band of peoples known as Varangians.
Kievan Rus'—Ethnic
Background



Slavic principalities
Rurik Dynasty- first
dynasty in Kievan
Rus
Beginning of the
pattern of foreign
influence on the
area
Principalities of Kievan Rus
Golden Age of Kiev




Vladimir the Great
Competetion for rule over
Kievan Rus
This competetion for the
throne led to much violence
amongst the Kievan Princes
Suffering through political,
cultural, and economic
turmoil
Vladimir the Great (9801015)
Reign of Vladimir to Mongol
Invasion






Shift in religious believes
Byzantine Christianity, the national religion
Yaroslav the Wise (1019–1054)
Powerful, but still vulnerable
Soon the principalities formed again as individual
entities
End of Kievan Rus'- 1240.
Polish-Lithuanian
Commonwealth


Ukraine fell under
Polish Rule
Religious divisions
– Nobles=Catholic Church
– Peasants=Eastern
Orthodox Church

Enlightened Monarchy
– Stefan Batory
Stefan Batory
Cossack Era


Example of Cossacks

Cossack soldiers offered
increased salary for their
involvement in the Polish
and Lithuanian war against
Russia
Poland went back on their
word
Bohdan Khmelnytsky and the
Treaty of Hadiach
Russian and Austrian Rule



Western Ukraine falls under Austrian rule
and the rest of the Ukraine falls under
Russian rule
Due to the Russo-Turkish Wars, Ottoman
Empire lost southern Ukraine
Nationalistic spirit reflected in creative arts
– Nikolai Gogol

Massacre of Talerhof
Ukraine in WWI




Divided in the war
Ukraine caught between the falls of the
Russian and Austrian Empire
Between 1917 and 1918 Ukraine in anarchy
Polish-Soviet War- Western part of Ukraine
goes to Poland and the central and eastern
parts go to the Soviet Union
Soviet Ukraine (Ukrainian
Soviet Republic)




Ukrainian National Idea
Cultural Revival- "Korenization"
Orthodox Church
Economic Policies
– Collectivization
– Famine (1933)
Ukraine in WWII

Nazi Germany + allies invasion of Soviet
Union in 1941
– "Liberators"
– A sovereign 'Greater Ukraine'
– Resistance



Soviets "save"
Myth
Death and
Destruction
Soviet Ukrainian Identity

Identification (by Ukrainians)
– with Soviet Union


Discrimination under Soviet Union
Soviet Russian Leaders-trusted and
identified with Ukrainians
– More than any other nationality (since the
Jews in the 1920's)

Independence
– Desire
Ukrainian Independence


On July 16, 1990 the Verkhovna Rada of Ukrainian
SSR adopted the Declaration of State Sovereignty
of Ukraine.
A referendum and the first presidential elections
took place on December 1, 1991. That day, more
than 90 percent of the Ukrainian people expressed
their support for the Act of Independence, and they
elected the chairman of the parliament, Leonid
Kravchuk to serve as the first President of the
country.
What are the components of
Cultural Identity?

Literature, Folklore, Customs, Music,
Art, Social Attitudes and Language
One Culture?


Ukraine is made up of the following
ethnic groups: Belarussians,
Bulgarians, Crimean Tatars,
Hungarians, Jews, Poles,
Romanians/Moldovans, and Russians.
These ethnic groups have various
cultures which derive from the same
common family
Commonly Overlooked


Language as a component of National
Identity.
Can these differences cause a split of
the country or ethnic separation?
Language Laws


Language Laws were passed shortly
after the 1991 vote of Independence.
Many of the ethnic groups within
Ukraine did not fully support such
laws. Some groups believed it gave
too much leeway allowing Russian to
be spoken unofficially. While others
did not want to be forced to speak a
language foreign to them.
Language
in Ukraine
Native language (according to annual surveys by the Institute of Sociology of
the National Academy of Sciences):
199
4
199
5
199
6
199
7
199
8
199
9
200
0
200
1
200
2
200
3
200
4
200
5
R 34.7
37.8
36.1
35.1
36.5
36.1
35.1
38.1
34.5
38.1
35.7
34.1
Spoken language in family (at home) (according to annual surveys by the
Institute of Sociology of the National Academy of Sciences)
199
4
199
5
199
6
199
7
199
8
199
9
200
0
200
1
200
2
200
3
200
4
200
5
R 32.4
32.8
33.1
34.5
33.4
33.6
36.0
36.7
33.2
36.0
34.3
36.4
R/U 29.4
34.5
29.6
26.8
28.4
29.0
24.8
25.8
28.0
25.2
26.3
21.6
Question

Will this cause a split in the U.S. if it
becomes a one language country or a
bilingual country.
Viktor YushchenkoPresident

Our Ukraine Bloc
– free market economy
– pro-West foreign policy
– support from Western
Ukraine
– Ukrainian nationalism
Viktor Yanukovych-Prime
Minister

Party of the Regions
– largest party in
parliament
– support from Eastern
Ukraine
– support of close ties
with Russia
– defends government
of a few strong
economic and political
groups
January 2005

Yushchenko was sworn into the
presidency. He won a re-vote against
Yanukovych after the results of an initial
presidential poll favoring Yanukovych were
thrown out by the country's Supreme
Court following allegations of fraud.
January 2006


The parliament voted to dissolve the
government.
Yushchenko, the president, criticized the
constitutional changes that limited his
authority as president and expanded the
authority of parliament. He called for an
entirely new constitution.
In 2007



To make peace the President (Yushchenko)
appointed his opponent from the elections in
2005 (Yanukovych) as prime minister.
Power struggle--President vs Prime
Minister/parliament
government is at a stand still because there is a
question as to which group has more power the
president or the parliament
Let's reflect!



Why didn't this
happen in the US
after independence
but it can happen in
the Ukraine?
How can this crisis be
solved?
Does this crisis matter
in the wider world? If
so, how?