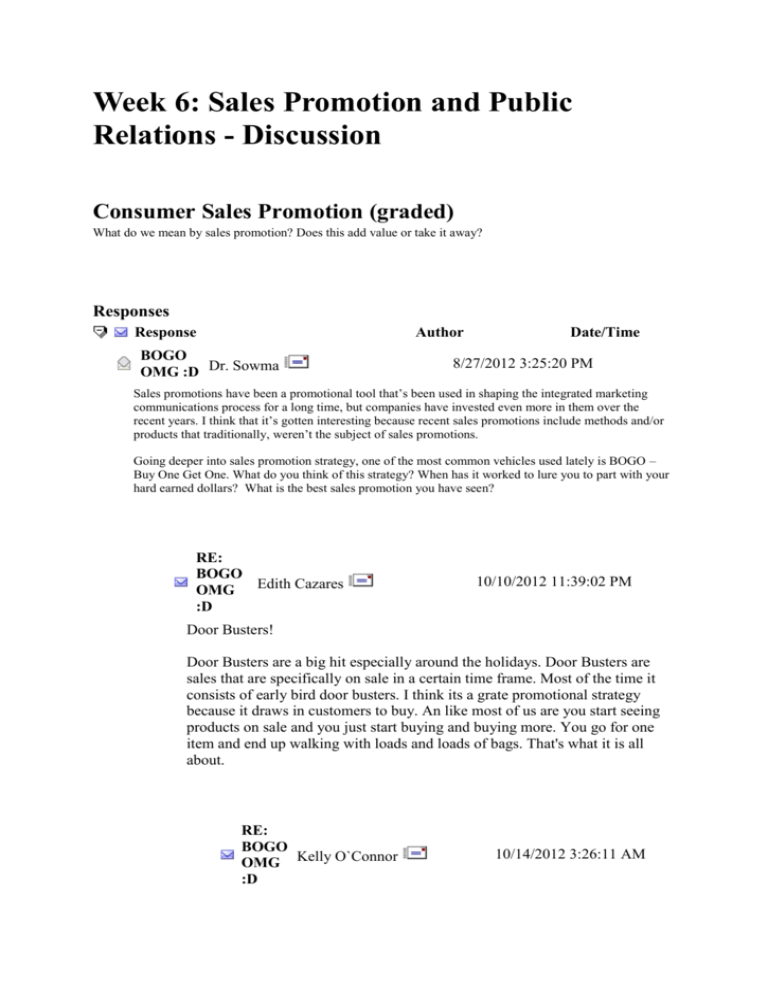 Week 6: Sales Promotion and Public
Relations - Discussion
Consumer Sales Promotion (graded)
What do we mean by sales promotion? Does this add value or take it away?
Responses
Response
Author
BOGO
OMG :D Dr. Sowma
Date/Time
8/27/2012 3:25:20 PM
Sales promotions have been a promotional tool that's been used in shaping the integrated marketing
communications process for a long time, but companies have invested even more in them over the
recent years. I think that it's gotten interesting because recent sales promotions include methods and/or
products that traditionally, weren't the subject of sales promotions.
Going deeper into sales promotion strategy, one of the most common vehicles used lately is BOGO –
Buy One Get One. What do you think of this strategy? When has it worked to lure you to part with your
hard earned dollars? What is the best sales promotion you have seen?
RE:
BOGO
OMG Edith Cazares
:D
10/10/2012 11:39:02 PM
Door Busters!
Door Busters are a big hit especially around the holidays. Door Busters are
sales that are specifically on sale in a certain time frame. Most of the time it
consists of early bird door busters. I think its a grate promotional strategy
because it draws in customers to buy. An like most of us are you start seeing
products on sale and you just start buying and buying more. You go for one
item and end up walking with loads and loads of bags. That's what it is all
about.
RE:
BOGO
OMG Kelly O`Connor
:D
10/14/2012 3:26:11 AM
Hey Edith!
Your comment on Door Busters made me think of the "Blue Light Special"
that is offered at KMart. They do not happen often but when they do you
can get items for up to 85% off. My first "real job" on the books years ago
was at KMart and when these special sales were offered, the employees
hated it. There were two reasons for this, the set up was a pain in the butt
and then when the sale started, people were rude and paid no attention to
others safety.
However, the good part, for KMart is that they were selling off old inventory
that was sitting around and was able to clear out the older merchandise for
the newer, up-incoming merchandise. KMart was able to recoup some of
their costs put out for the inventory and made the consumers happy.
RE:
BOGO
OMG Ryan Hahn
:D
10/10/2012 6:46:47 PM
I play guitar and go through a pack a strings a month on each one of my guitars, 3 electrics
and 1 acoustic. Guitar Center doesn't really use BOGO, but they have promotions such as buy
3 and get one free, which is close. So when I purchase strings I buy in bulk because each one
of my guitars is in a different tuning and uses different guitar strings.
To some people, they may think the company is losing money because of giving one for free,
but in reality many companies that promote this have such a huge margin on costs, that they
really are not losing anything. And if this can attract more customers to make purchases than
normal they are actually gaining profits.
RE:
BOGO
OMG Dr. Sowma
:D
10/11/2012 10:34:08 AM
Good personal example Ryan. Unless a product is a designated "loss
leader", the mark-up is usually high enough to run promotions
without making money, not to mention how many other thing you
may buy as a result of the initial promotion.
RE:
BOGO
OMG Kelly O`Connor
:D
10/14/2012 3:33:23 AM
Hey Professor,
I have noticed that a lot of "loss leaders" are either in the produce
department or dairy section of a grocery store. Right now, one of
the local markets has Red Seedless grapes for $.69 a lb. The cost
per pound to the grocery store is $1.99 per lb, so the store is
ultimately losing money on this item, however it is was is bring
people into the stores. The same thing happens with the price of
eggs and some cheeses. These items are offered at a steep
discount, or below the company's profit margin to get people into
the stores.
I can tell you that when Bing Cherries are on sale for $.88 per lb
my butt is in that store buying no less then 5 lbs. and since I am
already at the grocery store, I will make additional purchases,
some necessary and some, not so...you know, like a bag of Double
Stuff Oreos. =).
Sometimes a "loss leader" item needs to be offered to get
consumers into the location to spend more money on items at a
higher profit margin.
RE:
BOGO
OMG Seena Rose
:D
10/10/2012 7:08:07 PM
I love BOGO promotion sales. The consumer feels like they are getting a good deal and walk
away from the transaction satisfied. I love payless shoes promotion "buy one pair of shoes
and get another for 50% off". I just went to payless yesterday and wanted two pairs of cute
shoes but, decided to just get the one pair. The promotion was buy one accessory get one
50% off. I also enjoy Bath and Body Works promotions. They offer "buy 3 get one free or
buy a certain amount for a set price".
RE:
BOGO
OMG Renee Anderson
:D
10/10/2012 9:08:05 PM
I think promotions are good things. As one of my many jobs at this moment, I
work in retail part time and we offer a lot of promotions. And it is our (the
employees job) to mention our promotions all over the store and do
suggestive selling (or also known as upsells). The whole BOGO buy one get
one free. I know that a lot of buyers always go for those type of deals because
the buyers believer they are getting great deals. Normally these promotions
are on or after major holidays. I know that a lot of stores at the malls like to
do these type of promotions during christmas time and especially after
christmas. Either the buy on get two or buy two get three free are some of the
best promotions as my husband says. However I personally like the 50
percent off.
RE:
BOGO Jennifer Morris
10/9/2012 1:44:06 PM
OMG
:D
If I had a dime for every time I heard someone say, "I didn't really need it, but
it was buy one get one free" I think I'd be rich. People love buy one get one
free, and they are immediately more enticed because of that one word 'FREE'. The word "free" makes most shoppers buy something anyway even
if they don't really need it since they feel they are getting a good deal.
I was a BOGO shopper at Bath and Body Works. When they have their semiannual sales its hard not to give into temptation and stock up on products.
RE:
BOGO
OMG Freddy De La Cruz
:D
10/10/2012 1:44:45 PM
Jennifer you do have a point that it can attract customers to
your business but in reality I believe it is not worth having a
BOGO sale especially if your business has built an image of
it own. Not only is it hard to have such a sell, it really
depends on the quality you are trying to provide. I believe it
is a bad marketing strategy as you are trying to sale products
at a price that still can be profitable but then again make it
seem as if the consumer is actually saving money. To do so,
the company will have to make the product at a low cost so
they can sale it a a margin fair enough for the customers.
Therefor, the customer actually gets a product not of quality
and that is what I believe is affecting the slaes and the
business overall of pay-less shoes. At the end great post
Jennifer!
RE:
BOGO
OMG Andrew March
:D
10/10/2012 8:28:13 AM
Sales promotion ultimately means a stimulation of sales achieved through
contests, demonstrations, discounts, or trade shows. It really is a good way for
a company to really boost their awareness and credibility out to the public.
Sales promotion also gives buyers incentive to make an immediate purchase
or to switch from a competitive brand. Behavioral targeting is also vital
within sales promotion because the promotional process has to be targeted to
the consumer.
RE:
BOGO
OMG Dr. Sowma
:D
10/10/2012 9:04:31 AM
Succinct Andrew!
RE:
BOGO
OMG Anne Zimmerman
:D
10/9/2012 4:04:33 PM
I'm still in the market for a new refrigerator. Stopped in the local appliance
store to see if they had any deals. I'd never consider paying retail for
this. Found a deal on a Maytag - right style, right features, everything......I
took a picture of the tag on the fridge and went home to do some
homework. Did a price comparison online and found that the deal at the local
appliance store is really a good deal!! I also read up on ratings and comments
made by owners of the fridge I'm considering.....it seems to pass all the
rigors. So, I will be going back to the local appliance store to make a
purchase!!
When it comes to sales promotions, there are some brands and items that I
would not skimp on....I'll purchase that brand/item no matter what the price
because I'm totally devoted to it. However, other items, like the fridge, I'm
open to different brands. The important thing is that it's meets certain criteria
and I'm paying the lowest possible price I can find!!
RE:
BOGO
OMG Jennifer Kachikian
:D
10/8/2012 7:20:40 PM
Today, at my gym, there was a posting : Columbus Day special: Purchase a
year membership today, and get the second year for free. The gym is L.A.
Fitness. Recently, Bally's merged with L.A. fitness, and I was a member of
Bally's , before L.A. fitness. So, they tell me, "Oh, you don't qualify, because
you came from bally's". It made NO SENSE. I swear, these 'too-good-to-betrue' deals are deals I don't fall for. And unfortunately, I wouldn't qualify for
this gym deal. If I were to qualify, it would have been $142 today, and free
for next year.
Another fantastic sales promotion I've seen was, "Purchase this car today, and
you will receive a $1,000 gift card". It might have either been $1,000 or
$2,500. I can't remember which car commercial.
So I think to myself, "So, what is the catch"? And, these gift cards are cards
from companies which the company chooses, which I find unfair.
Every deal I have seen (EVER), the first thing that comes in my head, "what
is the catch"?
RE:
BOGO
OMG Andrew March
:D
10/12/2012 12:31:21 PM
I really do feel that companies that are struggling the most in the
market push the hardest when it comes to sales promotion because
people are unaware of their brand or the organization is really low on
there revenue intake. For example there really is no incentive for
Apple to do sales promotions because individuals already know how
sufficient there products are and plus people are willing to pay high
premium prices just because, so I really feel that sales promotion is
more beneficial for a company who is struggling in the market.
RE:
BOGO
OMG Herbert Martin
:D
10/8/2012 7:31:17 PM
Dr.Sowma and class, BOGO is a good strategy when an
organization is trying to move/replace old product for new
merchandise.
Also, it draws current and new customers to the store. If the
consumer does not like what's on sell they may find other
items to purchase.
In my opinion, the most effective stores I have been
encouraged to go into based on this strategy are sporting
goods stores and grocery stores. The items advertised seem
not to be that costly and I will buy just because it says buy
one get one free.
RE:
BOGO
OMG Stephanie Phillips
:D
10/14/2012 2:52:09 PM
This is true Herbert. Most stores have these sales on things that are
not that expensive in the first place. I don't think I have ever seen
anything like a stereo system, Wii, Playstation or anything like that
have a BOGO deal. The most common item I see with this deal is
candy bars at the gas station. Or they even have buy this, and get that
for free. That is another promotional offer I see that is popular out
there.
RE:
BOGO
OMG Sean Peotter
:D
10/9/2012 3:08:04 AM
BOGO is a very effective strategy. Myself, and many people I know, fall to this one. There is
a catch to it though. It generally does not get me to buy a product or brand I normally would
not buy, but it can get me to buy a product/brand I do buy but at a time when I was not
planning on buying. In other words BOGOs are very good at getting the consumer to impulse
buy a familiar product/brand. The one's that really get me are when you can get two Blu-rays
for the price of one, and I'm also susceptible to the BOGO candy offers.
RE:
BOGO
OMG Kelly O`Connor
:D
10/9/2012 3:59:29 AM
I am a fan of BOGO, totally...except when it is for an item that I could care less about,
and then I do not need two, so there is no point of paying the full price for something
I do not need, even if I get two.
I find that I am usually more apt to do a BOGO purchase with food like others have
mentioned, primarily bread. The price of bread is ridiculous now and when I can get
two loaves of good, quality bread for $4.49 BOGO rather than buying them separate,
I am all over it.
I am apt to do a breakdown cost analysts when shopping (because I am a dork), and
if I really look at my bread BOGO, it has to be a better buy (two loaves at $4.49) than
the "Buy Two for $5.00" or "On Sale for $2.49 each". If I can BOGO but the price of
one item is $5.25, then I would be better off partaking in the "Two for $5.00 sale" or
any other sale relevant to my purchase choice from (possibly) another manufacturer
completely flat leaving my brand.
If the price is right and the product selected is one that moves than BOGO can be a
wonderful sales promotion. It is important though for the company that this BOGO
will be making money in the long run. Sometimes a business has to "put out" a little
to reap a bigger return in the end. As others have mentioned, Payless has big BOGO
sales promotions throughout the year that bring in a lot of people. This keeps
Payless in peoples minds and when most people see BOGO, they think of Payless
right away, even when it is another store (not Payless) that is having the BOGO
sale. BOGO and Payless are now synonymous with each other... talk about an
awesome sales promotion.
RE:
BOGO
OMG Roger Dubreuil
:D
10/8/2012 5:32:25 PM
Buy one get one is a common promotion that a lot of different industries
utilize. As other have mentioned, Payless shoes is probably best known for
its BOGO sales that it always has. I think these promotions work well for
companies, but you have to be a sucker to actually believe you are getting one
for free, typically the one you pay for is at a marked up cost to compensate
for the second one being free. Exceptions to this are going out of business
and liquidation sales, as these typically are at discounted rates and are
designed to just get rid of inventory on hand before the store has to shut
down. There is a fireworks store that is close to my parents house and I stop
by there a few times a summer when I'm going up to visit them. Its funny to
see how the promotions change, as the fireworks are usually reasonably
priced, but around the 4th of July all prices double (sometimes more than
double) and everything becomes BOGO. Something that was $30 is now $65
but I can get a second item for "free." They do this to give the illusion of a
great deal and it helps move more products, as someone who wanted to just
buy the $30 product now has to get two items for $65.
RE:
BOGO
OMG Steven Crellin
:D
10/7/2012 12:56:43 PM
BOGO is brilliant!
Listen, my whole project is based on the idea of promotions and the "BOGO"
theory. Well, not ALL of it, but a major part is. The reason I put this much
weight on the promotions idea is that it works for us. I know that when we
see a great deal such as a BOGO, or if we get a coupon for something that is
good enough to get us to go into the store, its a big move. In today's shooping
environment, the act of getting people to physically get into a store to get
something is a massive step in improving your sales. I understand that a
BOGO can be online as well, but most of the time it is for stores in real life.
Look at places where kids eat free. If you buy an adult meal, a kid eats
free. Buy one, get one. I think Payless Shoes made their entire marketing
plan BOGO over the past 4 years. They have BOGO in huge letters in each
of their stores promoting the idea that if you come in and buy a pair of shoes,
a similar pair is free.
I have said it about 20 times larready, but I am a sucker for buying things in
stores I did not intend on buying. So getting a person to come in with a
promotion or a BOGO, no matter what, they are going to see your stuff and
make a purchase they may not have been thinking of making prior to the
promotion.
RE:
BOGO
OMG Victoria Minos
:D
10/7/2012 5:56:58 PM
This type of sales promotion would probably work well in low cost items such as
the ones found in retail stores. The BOGO system traditionally has worked well in
Supermarkets. I do think though to compensate for the BOGO that the retailer
raises the price of the 1st item. Having worked in this field I would also have to
say that the retail chains would approach the manufacturer also to commit to the
BOGO.
In my opinion the best sales promotions are the ones that are found on the internet
Especially when there is a third party involved. For example I like to purchase
items or services using Groupon. I think you can really get good deals using this
entity.
RE:
BOGO
OMG Justin DeMoulin
:D
10/8/2012 11:29:10 AM
Groupon has definitely been a big one for using the BOGO
sales promotion. I rarely paid attention to BOGO deals
before using Groupon and the only reason that I do now is
because of Groupon's mobile app reminders. Every day I
get three or four deals popping up on my mobile device and
once in a while there are BOGO promotions in there. In the
past, I always assumed that BOGO deals were only offered
for low quality items, so I never jumped at them. Lately
though, it does seem as though more and more companies
are offering BOGO deals. Groupon has brought up a
number of great BOGO deals in the Las Vegas area for
various tours and what not that sometimes carry very high
values, up to $100. This has gotten me to start opening my
eyes to BOGO deals and now I find them at some of my
favorite supermarkets, such as Sunflower Market (now
Sprouts).
RE:
BOGO Dr. Sowma
10/8/2012 3:44:25 PM
OMG
:D
Steven, Victoria, & Justin, good start!
RE:
BOGO
OMG Steven Crellin
:D
10/8/2012 6:42:14 PM
100% accurate, Victoria!
I will go back to Payless shoes for this. Ever since the sale
started, the price of the first pair has gone up for sure. Not a
lot, but there is always a notable difference between the new
price and the old ones. That being said....the sale price still
results in a slight difference and savings to the buyer. It also
results in more units being sold.
But even with the increase in prices, say someone comes in
and buys an additional pair of shoes. That is the whole point
right!? If you get someone into the store to make a
purchase, they may be tempted to get more stuff. Including
other things like laces, back packs, purses and other things
they sell there.
I think that giving things at a discount like a BOGO is a
great thing for everyone. It gets people in the door which is
HUGE! I know that when things are on sale BOGO style, I
go shopping. In places I typically wouldnt go at times
too. Get that deal, get me in the door.
RE:
BOGO
OMG Gerald Charles
:D
10/8/2012 7:56:50 PM
Victoria, you are correct, BOGO works well in supermarkets
because in Florida, I shop of Windixie and when they
advertise BOGO, I look forward to go there and get what I
needed, I like that promotion. Knowing that they have to
compete with publix which is well known, they have to
promote BOGO's which drives people in.
RE:
BOGO
OMG Steven Crellin
:D
10/9/2012 11:53:00
AM
Gerald, taht is my whole point.
Getting people in the door is a massive
accomplishment. That is hard enough these
days. So getting people to physically come into the
store and shop which is very hard, using a BOGO
deal is always goign to be worth it for the street
traffic alone. We all know that the stuff that sells
the most is the crap by the register right? You can't
ever sell that unless people are actually in the store
shopping. Using BOGO to get people in will get
people to see that other stuff.
Like I have been preaching, getting people to your
location is the biggest deal ever. The reason the
milk is at the back of the grocery store is to get
people to walk back there and see other things on
the way there and buy those things. If it were at the
front, people would go right in and go right out. By
putting it in the back, you are going to see more
things that may interest you. Bogo is like putting
the milk in the back of the store.
RE:
BOGO
OMG Daniel Kuhfal
:D
10/9/2012 12:59:30
PM
Steven I am glad you brought up the
grocery store, I do the shopping for my
family so I make the budget and am very
disciplined with is. However when I see
BOGO for a product like buy one steak get
one free I usually buy it simply because it
helps stretch the budget. Free stuff is
always been a powerful tool in selling
something because even the most frugal
customer would take advantage of it
because they hate spending money, I know
I do.
RE:
BOGO
OMG Dr. Sowma
:D
10/11/2012
10:35:03 AM
Great train of comments everyone!
RE:
BOGO
OMG Seena Rose
:D
10/14/2012 5:06:27
PM
The Club stores like Costco, BJ's, and
Sams come to mind when I think of
special deals or BOGO. The problem is
you either have a ton of bulk items
around the house and limited space to
store them or you spend a lot more on
items you didn't intend on buying before
you walked in the store. Instead of saving
more money they end up spending more
money. Consumers can make out on these
club stores if they just don't get carried
away every time they go in.
RE:
BOGO
OMG Ryan Hahn
:D
10/13/2012 3:06:48
PM
And that is very common for
people to do Daniel, I am the same
way.
Some people even take it further
than BOGO and conduct their
grocery shopping at places such as
Costco where you can buy items in
bulk at a cheaper price. For
instance, my girlfriend and I make
our pastas, meat and drink
purchases at Costco along with a
few other miscellaneous items as
well. For other things such as
vegetables, fruits, breads and eggs,
we make our purchases at the
grocery store Safeway. That way
the items wont go to waste because
they are not an everyday food for
us to eat.
RE:
BOGO
OMG Herbert Martin
:D
10/11/2012 7:57:50 PM
Victoria, there are quite a few promotional
opportunities,but no matter where they come from the
whole idea is to offer the customer an incentive for
purchasing a companies product.
Everyone likes to feel they got a great deal on their
purchase and stores want to draw customers to their
store or website, sales promoting is a great way to
bring the customer to both.
RE:
BOGO
OMG Dr. Sowma
:D
10/10/2012 9:13:25 AM
Like the kids eat free example Steven, it's a classic BOGO that we
don't think of as a BOGO.
RE:
BOGO
OMG Gerald Charles
:D
10/10/2012 10:59:11
AM
I think getting the kids to eat free is one of the best things
one can do in order to get people in. There's also another
one out there and that's get three meals for under $20, you
look at Olive garden which started this advertisement and
others saw that people are going n like crazy and they are
now following.
Sales
Promotion
Valerie Chambers
10/7/2012 9:36:31 PM
Sales promotion is where a comapny is trying sell
an item and they make it less than what it would
normally go for. And they would make sure that
people know about it. Of course the promotion will
only last for a week or a month.
RE: Sales
Promotion Andrew March
10/14/2012 4:13:24 PM
I think that sales promotion is very vital for a company that is just starting out
in the market, when a new company enters the market they have to do as
much as possible to gain popularity and awareness. Every now and than I see
car commercials, and I have noticed that American autombiles push the
hardest In the automobile industry because I think they know deep down that
their cars will and do not hold up like the japanese cars.
RE: Sales
Promotion Omer Mennan Guler
10/14/2012 11:41:36 PM
If the promotions are done well, they are an effective way for you to
market your business or products and services. And the meaning of
well is not the promotions in which you drop the prices on your
existing products significantly, or when you have a blowout sale to
move stale inventory. Instead I mean a well-planned, seasonally
relevant focus on solutions that can add value to your products which
your customers will recognize.
Sales
promotion
Stephanie Phillips
10/7/2012 9:45:28 PM
Sales promotion has been defined as "a direct inducement that offers an extra value or
incentive for the product to the sales force, distributors, or the ultimate consumer with
the primary objective of creating an immediate sale."
(Belch 520)Belch, George and Belch, Michael. Advertising and Promotion: An
Integrated Marketing Communications Perspective, 9th Edition. McGraw-Hill
Learning Solutions, 2012. <vbk:0077609123#outline(16.3)>.
By doing a sales promotion the business is trying to add value to the product. Trying
to increase the purchase activity and promote their product against other similar
products. This way once a consumer starts to purchase their product based on that sale
they can see the quality of the product and can turn into a loyal customer with or
without a discount.
Sales
promotions
Daniel Kuhfal
10/8/2012 1:58:57 PM
Sales promotions have always reduced profits and or cost money from the
company doing them but they do so with a purpose, they bring in business
while fulfilling the objective and a new customer that keeps coming back is
worth a onetime loss. A good example is a t-shirt vendor offering buy 1 get 1
free, he losses money on the second shirt but brings in more business because
of the promotion and hopefully some of the customers will be new customers
that became repeat business.
RE: Sales
promotions Valerie Chambers
10/13/2012 5:43:24 PM
As long as the customer is happy with the tshirts that they buy. It also depends on if
the the business has multiple locations it may
be that the customer is from a different state
or country and is just here visiting when they
see the ad. It would also be good if they
were to have a website that people could buy
from.
RE: Sales
promotions Joshua Newsome
10/14/2012 11:08:54 PM
Valerie is right, this only works if the company is selling a product
that satisfies the consumer. If it doesn't, it doesn't really matter if they
got 1 free. If they weren't satisfied they're not coming back.
Sales
Promotion
Keisha Serna
10/9/2012 3:07:20 PM
Pro-mo-tion noun
1 the act of promoting or the fact of being promoted: advancement
2. Encouragement of the process, growth, or acceptance of something: furtherance
3. Advertising: publicity
**thefreedictionary.com
Sales promotions are coupon, contest, freebie, premiums, prizes and product
samples of brands. Sales promotions can be used for the consumer(consumer sales
promotion), retail staff,and retailers (trade sale promotions). Ales promotions are
designed to add value or incentives to consumers that purchase there brand. This can
include methods as BOGO free, BOGO half off, Coupons for discounts, Waiver
coupons, Buy two get the third free, and mail-in rebates. Also promotions can be
used in a certain time frame, such as MACY'S one day sales.
In some instances I can see how these kinds of sales promotions can take away from
the value of the promotion. For example, My family doesn't drink alot of milk, so if
there was a BOGO free offer I most likely would not take it because I know I'll be
throwing the milk away. Also in brand picking, if Kroger has a sale on there ketchup,
I still would'nt buy it just because I prefer Heniz.
RE: Sales
Promotion Omer Mennan Guler
10/12/2012 10:49:03 AM
Websites, mobile phones can also be used as a type of promotion. For
example, in the United Kingdom, Nestle printed individual codes on KITKAT packaging, whereby a consumer would enter the code into a dynamic
website to see if they had won a prize. Consumers could also text codes via
their mobile phones to the same effect.
Bundle
of Joy
Dr. Sowma
10/9/2012 4:18:49 PM
Hello Class; An important topic we need to cover is the concept of bundling. What is bundling? What
are some examples of bundles that companies offer? Do you think this technique is effective or
not? Please support your answers. ---Professor Sowma
RE:
Bundle Stephanie Phillips
of Joy
10/13/2012 11:16:49 AM
Bundling is where a company combines deals or packages to increase their
sales on a product. For example and of the gaming systems. You have the
Playstation 3 bundle with the Move, which is the camera and wands that
make the playstation similar to the Wii. I do believe this technique is
effective because with a small discount you still get more product sold when
doing combined deals. The consumer sees it as a money saving opportunity.
RE:
Bundle Victoria Minos
of Joy
10/10/2012 3:25:47 PM
Bundling is the process a company uses to sell multiple products at a discount
rate initially. Probably the most popular bundling would come from
communication companies. For example the cable company would offer
Cable channels, internet and also telephone service. The technique is effective
for people that do not have the time or willingness to shop around. usually
bundling comes with introductory pricing that is typically raised through
time. I paid one price when I bundled then It was a higher price in 6 months.
There is always fine print.
RE:
Bundle Freddy De La Cruz
of Joy
10/11/2012 10:44:25 PM
That is a great example Victoria, one that clearly shows the
effectiveness into bundeling and in making the customer believe they
are actually saving. In my opinion it is a great marketing tool in
attracting attention, but a bundle must be well designed in order for
the business to make profit out of it. At times I tend to see some
bundles at that mall where their may not seem attractive at all. For
instance buy this certain jacket and receive these headphones that go
with the design of your jacket. I thought to myself, "is it really worth
buying these jacket for $125 to receive such bundle in where the
headphones I imagine are of low quality and will get destroy that
quickly. For the price I am paying I would hope to see a better
bundle or at least a better pair of headphones. Overall, this was a
great example Victoria!
RE:
Bundle Sean Peotter
of Joy
10/11/2012 2:34:55 AM
Bundling is when several products are offered together for one price. Video game companies
often bundle franchised games together to sell (i.e. get Fallout, Fallout 2, and Fallout Tactics
for $20). Another good example of this are Blu-rays/DVDs. Movie companies often sell
"collections" of movies together. This can be a very effective means of marketing. I, for one,
often buy bundles. I buy bundles of movies, games, and even books. I like to collect entire
series, so if there is a bundle for a movies, game or book series that I like I tend to buy that
instead of buying them individually. When I buy bundles I feel like I am getting a good deal,
even when there really isn't any significant savings.
RE:
Bundle Darryl Abbott
of Joy
10/10/2012 11:28:03 PM
Some examples of bundling would be like Comcast cable which offer
(telephone, internet, and cable), now they also include adding cellular
services.
RE:
Bundle Kelly O`Connor
of Joy
10/10/2012 4:42:41 AM
Bundling is a marketing strategy that joins products or services together in order to
sell them as a single combined unit. It allows the convenient purchase of several
products and/or services from one company. Usually the products and services are
related however they can also have dissimilar products which may appeal to one
group of consumers. Retrieved on October 10, 2012 from investopedia.com @:
http://www.investopedia.com/terms/b/bundling.asp#ixzz28tJF9VxE
Examples of companies that use bundling are cable companies. The packages that
many offer can include cable, internet and phone. These bundles (or packages) are
usually offered at a set rate for a predetermined amount of time so that the consumer
is saving money by purchasing all three simultaneously, rather than
separately. Sometimes after the pre-determined time passes, these packages rates
can go up, it all depends on the contract.
I do think that this type of technique (bundling) can prove effective as far as getting a
consumer to switch to a competetive companies product. Most people today are
looking to save money but, as mentioned above, the consumer must look at the terms
and conditions of the contract to see just how long these bundling rates will be
effective. If the price increases dramatically after thepre-determined period, then the
initial cost savings may not be worth it in the long run and the company offering the
bundle may lose this consumer.
RE:
Bundle Dr. Sowma
of Joy
10/10/2012 9:18:14 AM
Great service example Kelly. When we think of bundling, we tend to
think about products, but of course it's the life-blood of several
service industries. Think about insurance polcies, comprehensive
auto services, etc...
On the flipside, Class, are there any potential downsides to bundling?
RE:
Bundle Justin DeMoulin
of Joy
10/10/2012 9:36:40 AM
One of the downsides to bundling is that you are likely not
dealing with experts in fields. A company may excel at one
service and simply have the capability to provide another
service. The bundling gives the consumer a better price, but
at the expense of degraded expertise in at least one field. I
found an article that describes this very thought and a few
more: http://outofyourrut.com/why-bundling-servicesmight-be-a-bad-deal/. A telephone company may provide
stellar service with your phone, but not have a full expertise
in the cable TV that they offer. The secondary service may
suffer from other low cost measures such as employees that
are trained on the cheap and therefore have less knowledge
than what another company may offer. The article also
states a lack of flexibility as a concern, such as less features
and lowered product selection. Additionally, problems
become magnified. A billing problem with your telephone
has now become a billing problem with your telephone,
cable TV and internet service.
RE:
Bundle Daniel Kuhfal
of Joy
10/10/2012 10:10:18
AM
Bundling can force someone to take on services or products
they don't need or want. Think about it you just want phone
service from a provider and to get a better price they might
force you into a position to bundle or pay more, here is a
commercial that emphasizes or shows what I mean
http://www.youtube.com/watch?v=3BcQpOGpxcI
bundles can force a customer to get a bunch or stuff they
didn't want or need. Also lets look at price this isn't a
absolute rule but when you bundle they give you a
introduction price and when that time is over they hit you
with a giant bill, also you cant quit easily because the
introduction price is usually during the time you can pullout
so either your struck for the duration or you pay a huge one
time penalty.
RE:
Bundle Roger Dubreuil
of Joy
10/11/2012 7:12:05
AM
I agree Daniel. Bundling can often provide the
benefits of savings and convenience, but they aren't
always the best choice. Most cable companies sell
internet and phone service as well, and often design
the bundles so that it isn't much more, or sometimes
even less, to add the third service. If you wanted to
get internet and TV with my cable company, it is
only $5 more to add phone service, and this also
gives you free movie channels and other added
bonuses. As you put it, this forces you into taking
the phone because it just makes sense. Someone
like me would keep the phone even after the
promotion ends because I just pay my bills and
move on rather than taking the time to call up and
cancel the services I don't need and never really
wanted. I'm sure a lot of customers are like this and
it ends up costing you more than you actually
intended on paying.
RE:
Bundle Dr. Sowma
of Joy
10/11/2012 10:42:00
AM
Jennifer, Justin, Danile and Roger, perfect,
together you all nailed this. Bundles can be
a powerful marketing tool, but it should be
used with care; indeed, not everything may
be high quality in the bundle, we may not
want all of it, and the bundle risks being
priced out the market in absolute terms,
despite any real savings.
Did we miss anything?
RE:
Bundle Daniel Kuhfal
of Joy
10/13/2012 9:58:50
AM
People hate not having a choice so
if they are forced to bundle they
might not do it simply because
they feel forced. So by bundling
you take away peoples choice they
get mad, and mad people don't
think. So they might pass on the
bundle simply because they don't
think.
RE:
Bundle Dr. Sowma
of Joy
10/13/2012
11:49:36 AM
Good one Daniel, anyone
else?
RE:
Bundle Jennifer Kachikian
of Joy
10/10/2012 10:15:15 PM
You see numerous bundles through telecommunication
companies (i.e. AT&T, Verizon, Sprint, and so forth). If
people were to purchase internet service separately through
AT&T, that would cost $39.99 a month, the consumer has
Comcast cable for $79.99 a month, and a smart phone
through T-Mobile for $89.99 a month. That equals out to
$210 a month for that person. This is pretty pricy, and the
downside to this is that this person doesn't realize that he/she
can get a great bundle through AT&T (all of these options,
for around $159.99 a month). Another downside is that
within that bundle package, you are forced to purchase a
service, for that low price.
RE:
Bundle Darryl Abbott
of Joy
10/12/2012 11:15:15 PM
Some of the downsides to bundling for example is my
cable service, (telephone, cable, internet) in which I
never use my home phone, I mostly use my cell phone.
So what happens is that you are bundled for a service
that you have that you hardly use. Bundling does not
always allow you to pick the services that you want in
your package, some of the drawbacks are with some
companies, since you are paying for all the services as
one bill, if you don't have enough money to pay the
bill, you can risk having all the services disconnected.
RE:
Bundle Kelly O`Connor
of Joy
10/14/2012 3:44:28
AM
Hey Darryl,
So I am tackling two questions in one: the Professors
comment on other negative sides of bundling and the
fact that I have the opposite problem that you have.
I cannot partake in the complete "Triple Play" bundle
pack offered buy my cable company, Time Warner
Cable. I can partake in 2 of the 3, such as the Cable itself
and the internet, however, when it comes to the phone, it
is a no go. The reason being, I live in a complete cellular
dead zone. There is no service within 2 miles of my
house in any direction. The problem with the phone
option is that if the power goes out, cable and internet
will also go out, therefore I have no means of
communication to the outside world. I would have to
travel, again 2 miles in any direction, to get service and
during a storm or emergency, I am afraid that that would
not cut it. So becasue I do not have cell service, I have to
pay for a regular land line.
Now I could get the phone and save a few dollars for a
year however,but again, I would still need the land line
and be paying $63.00 a month for that. Further, after
the year contract for the "Triple Play" bundle is up, the
telephone service and internet and cable will also go up
and I will not be in a better financial postion in one year
then I am today.
RE:
Bundle Darryl Abbott
of Joy
10/14/2012 5:38:50
PM
Another disadvantage to bundling is
your commitment of up to two years
may be required to get special offers
and/or rebates but then you are
offered high early termination fees of
several hundred dollars. If the service
is not acceptable, why would one want
to continue for that long?
RE:
Bundle Dr. Sowma
of Joy
10/14/2012 2:22:27
PM
Good point Kelly!
RE:
Bundle Sean Peotter
of Joy
10/13/2012 12:41:43
AM
One potential downside would be if the consumer doesn't want all of the
products/services in the bundle. They may feel that it's not worth paying
the bundle price if they are not going to use all of the products/services.
This could also lead them to feel that the price of the individual
product/service is overpriced in comparison to how much they feel it's
share of the bundle price is. (i.e. if there are 3 items in the bundle and it
costs $3 dollars then the consumer may feel that each product/service is
worth $1 and anything more is overpriced.)
RE:
Bundle Gerald Charles
of Joy
10/10/2012 11:01:20 AM
Bundling is a process that I believe Verizon adapted years ago which
they also named it One Stop shop. Why get several bills and not just
bundle your service especially if you get discounts for bundling your
services.
RE:
Bundle Joshua Newsome
of Joy
10/10/2012 11:20:17 PM
Depending on who you are and what services you are
choosing to bundle it can be a good or bad idea. Sometimes
bundling isn't the cheaper way to go. Also if you're bundling
then you're stuck paying for a service even if if it's not of
good quality.
RE:
Bundle Gerald Charles
of Joy
10/11/2012 4:47:05
PM
You are right Joshua, some bundling can be bad and
I don't really call it bundling, I call it a rip off. The
definitions of bundling should be to combine your
services or products together in order to get a better
price and save in the long run. If someone has to
pay more, then it should not be considered
bundling.
RE:
Bundle Joshua Newsome
of Joy
10/13/2012 11:23:48
PM
Right, it is a ripoff and it shouldn't be
called bundling. When people think
"bundle" the think "savings". For example,
buying two apples and getting a third one
for cheap or even free is a bundle. If there
is no saving involved then it is pointless.
RE:
Bundle Roselyn Herrera
of Joy
10/12/2012 9:15:16 PM
Bundling is a great idea when it comes to paying home billS.
I have a bundling package with my cable internet and phone
bill. I love it not having to worry about diffienet date when
things are and I can pay it all at once. I think bundling is a
great on services but I do not think it will be a good idea on
products or food.
RE:
Bundle Renee Anderson
of Joy
10/13/2012 10:29:00 PM
Personally, I don't like bundling. Yes they may look like fantastic deals
upfront for new customers, I think that it can ultimately screw you over in the
end. Certain companies that do bundles are companies like Comcast and so
forth. They set you up for a product of a triple bundle that would consist of tv,
phone and internet costing you around $100.00 for the first year and you are
locked in for two years. However once you hit past the first year mark, your
bill will skyrocket up and you have to pay about $200.00 to get out of it. I
don't think it is really effective because in the end, the customer will not be
satisfied. I have dealt with so many issues over the past couple of years with
bundle deals and I just do not like them anymore. I would if the price would
stay the same but you really have to read the finer details of the plan.
What do we
mean by sales Joe Bartolotta
promotion?
10/9/2012 6:02:12 PM
Sales promotion is the activity meant to make people come and buy more of your product, especially in
the short term. Using different methods of promotion such as; giving away coupons, offering discounts,
cash refunds, patronage rewards and samples makes customers decide to buy now.
RE: What
do we mean
Valerie Chambers
by sales
promotion?
10/14/2012 2:00:02 PM
There is also the fact that they may have
someone who owns it or they already have one
and need another one.
Giving previous
customers a better deal on the item(s) they
are more likely to go tell more people about
the item and give the business more customers.
Sales
Promotion
Claudia Escobar
10/9/2012 6:10:30 PM
Sales promotion is one of the aspects of the promotional mix. Examples of sales
promotion includes, coupons, samples, premiums point of purchase, displays, price
deal, reward program, price-pack deal, rebates, buy one get one free, buy one get the
other 50% off, and vouchers.
Does this add value or take it away? I would say that it adds value because is tactic
used to attract new and current customers,
Consumer
Sales
Promotion
Jennifer Kachikian
10/9/2012 7:21:18 PM
Sales promotion consists of short term incentives to encourage the purchase or sales of
a product or service thus offering reasons tpo buy product or services now. Using
different methods of promotion such as; giving away coupons, offering discounts,
cash refunds, patronage rewards and samples makes customers decide to buy now.
When companies come out with these promotions, I always think, "This sounds too
good to be true". It adds value to the company. Walgreens is an example. There are
always promotions (i.e. buy this pantene pro-v, get the 2nd for free). So, the
Walgreens store has to have so many of these pantene pro-v's in stock, so everyone
can buy it.
Watch Your
Dr. Sowma
Language!
10/10/2012 9:35:17 AM
Some people take well to a creative language while others find it offensive.
For example, "pursuit of bestness" or "fixed automagically"- is that catchy or does it make you think
someone made a mistake? How might that influence how a promotion is received?
RE: Watch
Your
Herbert Martin
Language!
10/12/2012 4:51:44 PM
Dr. Sowma and class, I do not think it's offensive, people should
realize it's advertisement their job is to get the consumer thinking of
their product or service, therefore the public should understand and
not be insulted IF they understand what the advertisement message
is.
A particular phrase or jingle will help the customer remember the
companies product.
A marketer is in the business to promote products and services, this
is just another way of going about it.
RE: Watch
Your
Keisha Serna
Language!
10/11/2012 8:04:23 AM
I think the creative language is a way to set your brand away from others but I
do see how there is room for error when using this method. Some creative
language will go with the product like your example "pursuit of bestness"this is a Snapple quote and Snapple is "made with the best stuff on earth". So
I think this small quote goes along with the brand and makes it fun and
interesting to look at (catchy).
Now one commercial that comes to mind when thinking of creative language
is when Gain used the word "Gooder". To me this is just incorrect grammar
and it did throw me off a little to think, "this has got to be a mistake!"
With using this non-word it seems as if this detergent is trying to market to a
younger group. Which young people don't do the laundry, mom or dad does
it. I use Gain and this language didn't make me stop buying the product that I
like but it did just make Gain look as if there are weak in the market and their
trying to make more innovated ads to boost sales. I think they should just
stick with new fragrances and shaping new bottle...... leave the funny lingo
out!
RE:
Watch
Dr. Sowma
Your
Language!
10/11/2012 10:53:01 AM
Keisha, yep, daddy does it in my case :)
Good points and one's that I am likely to groove with as well BUT, with that said,
I'd bet we have a bunch more people that like it a lot sometimes and even some that
are in the middle.
This type of language, while not overly common, is around enough to teach us that
it can be effective sometimes (think about the Kia example; what to you do when
you don't have competitive attributes to push or even a paradigm to work with,
with newer to market products).
Any other takers on our central question here?
RE:
Watch
Daniel Kuhfal
Your
Language!
10/11/2012 5:05:21
PM
I don't care for that type or advertising language it is a turn
off for me when shopping, think about it that sounds just
like sloppy writing. There are many more refined ways to be
playful when selling to the customer, like a jingle or slogan
they give the same type of fun but is much more refined.
RE:
Watch
Justin DeMoulin
Your
Language!
10/12/2012 10:43:55
AM
I have to agree that I am also not a fan of this linguistic
creativity. There have been too many times when I've had
to explain to some of my younger friends that the words
used in some advertisements are grammatically incorrect
and should therefore not be repeated in their everyday
conversation. Not to sound like a grammar prude, but if
people are unaware of these improper usages of the
English language, it only helps to slowly degrade the way
that Americans are viewed intellectually by other
nations. An example that has stirred up some trouble
among grammar Nazis would be the Mercedes ad that
features the phrase "less doors" when it clearly should be
"fewer
doors". http://blog.quickanddirtytips.com/2011/09/29/themercedes-less-doors-commercial/
RE:
Watch
Kelly O`Connor
Your
Language!
10/14/2012 4:04:57
AM
I agree with you both Daniel and Justin,
I too am not a fan of this type of "creative
language". Yes sometimes it does work, as
Keisha brought up the Snapple example,
however there are some companies that should
not tailor their ads in this "dumbed down"
language. I know the Mercedes Benz
commercial that you are referring too and it
drives me nuts. Mercedes is a luxury car
company and for the most part, markets to
well-to-do professionals that are usually
educated so why for the love of all that is holy
would they use incorrect grammar?! It boggles
my mind.
As far as the degradation of America, I fear that
being educated and understanding proper
grammar is becoming a losing battle. There is
so much technology available yet the ways and
means that it is used must communicate a
message to the intended target in a succinct
way sometimes due to limited characters, i.e.
Twitter, or just to capture the attention of the
viewer in general. Because of this, there are
more shortcuts and abbreviations that are used
and it is crushing the English language.
One company's catch phrase/jingle ticks me off
every time I hear it is McDonald's "I'm Lovin'
It". I do not love it. Why could the "g" not be
added to the "lovin'" part? Is it that difficult to
do? Does it really sound cooler and hipper
without the "g"? Apparently it is easier to
punctuate it properly rather than use the
correct grammatical spelling.
Sorry for my rants, I just sometimes feel that
creative language can actually ruin a
consumer's view of the company. As you stated
Justin, there are grammar Nazi's out there and
I must admit that I am one of them though not
for everything that is written incorrectly. I am
more so one when the creative language seems
to be out of place or nonsensical to the product
being offered/advertised, or does not fit
with the image/branding of the company that is
producing the advertising.
RE:
Watch
Roger Dubreuil
Your
Language!
10/13/2012 3:17:10
PM
I have seen this recently and I'm not sure how I feel about it,
I guess I'm in the middle. It causes you to think about the
advertisement more because it draws your attention to the
"error" so I'm sure it can have some positive effects. Some
people might find it unprofessional or tacky and not respond
to it well, but I think these tactics are geared more towards
the younger markets.
RE:
Watch
Freddy De La Cruz
Your
Language!
10/14/2012 1:30:01 PM
Well said Keisha, to some extend it is crucial that a company has a
phrase or message that can help attract their customers but also in
allowing there customers to remember who they are. Like how you
stated Keisha, Snapple has a message that is very catchy and has
always gotten my attention even when I was a kid, which made me
try their product and I must say that Snapple to me is still on of the
best drinks and if it was for their message, I would of never even of
bother trying it especially when there were cheaper alternatives. Now
my question should every product have a message that can either
create commotion or a song? In my opinion, I do believe that at least
the product has a message in order to give the customer an idea of
what they are getting. Overall, great post Keisha!
RE: Watch
Your
Jennifer Morris
Language!
10/12/2012 9:23:41 PM
Modified:10/14/2012 5:35 AM
I don't care for plays on language myself. Chick-fil-a advertisements are big on their
play with words. It's supposed to be funny, but to me I probably would've bought their
chicken sandwiches if they spelled it right. It didn't really seem all that humorous to
me. But they are obviously doing well (besides their recent anti-homosexual scandal)
On the other side -Groupon has hilarious advertisements for their online deals that use proper language
and emphasizes on comedy to boost sales - and now they are worth billions.
http://www.nytimes.com/2011/05/29/business/29groupon.html?pagewanted=all&_r=0
For me I prefer the advertisements of Groupon that use proper language, they are
clever, witty, hilarious, and keep you laughing all the way to the checkout.
Screen Shot 2012-10-14 at 7.34.37 AM.png
RE: Watch
Your
Seena Rose
Language!
10/13/2012 6:35:28 PM
I think it's genius how some advertisements play on words. One that stands out in my mind is
"free bytes and bites" from Hampton Inn and Suites. Most consumers can tell that the
promotion was using creative language and they end up laughing. It sticks in consumers
minds which is one goal of advertising. I think more people like it than find offense. It's
similar to drivers who use personalized license plates. They have fun with it and use a lot of
incorrect grammar in order to get other drivers to figure out what there message is.
RE: Watch
Your
Ryan Hahn
Language!
10/14/2012 3:17:33 PM
I believe it depends on the demographic they are reaching towards. I
personally would look at something such as this and think to myself "that's
pretty creative", where as my father would probably say "that's retarded". The
same approach happens in music I hear on the radio all the time. The way
Snoop Dog uses slang such as " fo shizzle" and other artist make up words to
fit their rhymes, but in a way they are also marketing themselves and listeners
catch on to these words and when they do they think of where they heard it
from (which is the artist) and many people dig this kind of thing and continue
to listen to these artists music. Obviously, my father would not think this is
very entertaining to listen too, but these artists are not reaching his
demographic.
Consumer
sales
Roselyn Herrera
10/10/2012 3:54:40 PM
promotion
A sale promotion is a marketing technique usually desgined to have customers.
Common sale promotion techniques can include special pricing, coupons and staging
event to gain publicity. A sale poromtion can be offer of many reasons to keep
existing customers, to clear out inventory for new products, reaching a new segment
in the market, to intorctions a new product or to increase awareness of a product. I
think a sale promotion will always add value to a company or a product. Everyone is
always try to get the best even if it on sale. A sale catches the actions of many people
even if it only the sale promotion it will keep them coming back for more sales.
Sales
Promotion
Omer Mennan Guler
10/10/2012 11:15:26 PM
Sales promotion is any kind of promotion that is done by an organization to increase
their sales, usage of their product or service. There are different types of sales
promotions which can lead the company to success. For example, buy one get one free
is a good and effective way of sales promotion.
A good example for daily sales promotion is discount coupons that are given by
supermarkets like Ralph's, CVS, etc. When you purchase a specific amount of product
from them, they give you a little amount of discount for your next purchase. In fact,
the discount coupons are not in huge amounts but the thing is they encourage people
to do their next shopping in the same store or from the same brand.
Other examples are vouchers and coupons, which are usually in newspapers and
magazines or on product packs, are also a good way for sales promotions.
Another example is that Subway gives away a card with six spaces for stickers with
each sandwich purchase. Once the card is full the consumer is given a free sandwich.
Joint promotions between brands owned by a company, or with another company's
brands. For example fast food restaurants such as Mc Donald's or Burger King often
run sales promotions where toys, relating to a specific movie release, are given away
with promoted meals.
If you have successful sales promotions you can also add value to your company, even
to your product. With an effective sales promotion you can create differentiation
among your competitors. You can also create new communication opportunities, such
as word of mouth with your promotions. And eventually it will help your sales to
increase.
B2B
for
you
Dr. Sowma
10/11/2012 11:06:32 AM
and
me.
Continuing our theme of sales promotions this week, we are going to look a little deeper at tradeoriented sales promotions, particularly for B2B markets.
For starters, what are the differences between consumer-oriented and trade-oriented sales promotions?
How do pull strategies differ than push strategies?
RE:
B2B
for
you Jennifer Kachikian
and
me.
10/14/2012 11:06:41 PM
Coupons encourage retailer support but may delay consumer purchases. Deals
reduce consumer risk but reduce perceived value. Premiums offer consumers
additional merchandise they want, but they may be purchasing only for the
premium. Contests create involvement but require creative thinking.
Sweepstakes encourage repeat purchases, but sales drop after the
sweepstakes. Samples encourage product trial but are expensive. Loyalty
programs help create loyalty but are expensive to run. Displays provide
visibility but are difficult to place in retail space. Rebates stimulate demand
but are easily copied. Product placement provides a positive message in a
noncommercial setting but is difficult to control. Trade-oriented sales
promotions include (a) allowances and discounts, which increase purchases
but may change retailer ordering patterns, (b) cooperative advertising, which
encourages local advertising, and (c) salesforce training, which helps increase
sales by providing the salespeople with product information and selling skills.
Source : http://highered.mcgraw-hill.com
RE:
B2B
for
you Claudia Escobar
and
me.
10/11/2012 6:06:44 PM
Modified:10/11/2012 8:55 PM
Let's start by defining what is sales promotion, is the practice of offering
buyers an incentive to make a purchase.
Consumer-oriented sales promotion includes promotional tactics directed at
customers and is divided into two categories one is consumer promotion and
the other one is retail promotion.
Business-Oriented sales promotion is when the promotional tactics are
directed to another business. Business-Oriented sales promotion is divided in
three categories which are trade promotion, industrial promotion and business
promotions.
Trade promotion refer to the promotional activities between businesses,
producers, retailers and wholesalers.
Manufacturers use trade promotion to expand distribution of their products, to
control their inventory and to encourage retail promotions.
The Success of trade promotion is the increase of sales during promotional
period.
RE:
B2B
for
you Keisha Serna
and
me.
10/12/2012 9:26:49 AM
Modified:10/12/2012 9:40 AM
Claudia you made some really good points and I couldn't have explained it better myself.
Looking more at the push/ pull strategies there are two different methods marketers use in
order to get the product noticed. The push strategies involves taking the product directly to
its consumer. And marketers will use whatever resources they have in order to pursue this,
examples are: Trade show promotions, direct selling such as showrooms or face to face,
Talking with retailers to add your product to line, packaging designs, and POS displays.
With the pull strategies makes your company motivate the consumer to seeks out your
brands in a process. All in all getting the consumer to come to you! Examples of this
method includes: Advertising and mass media promotion Word of mouth referrals,
Customer relationship management and Sales promotions and discounts.
Great display to explain better:**http://www.marketing-made-simple.com/articles/pushpullstrategy.htm
RE:
B2B
for
you Dr. Sowma
and
me.
10/12/2012 10:07:31 AM
Killer post Keisha! Everyone shold take a gander at it.
RE:
B2B
for
you Daniel Kuhfal
and
me.
10/12/2012 4:29:51 PM
Keisha according to your logic if you work in the
automotive industry then using push you would take
it to a car show, that way everyone can see your
new car and tempt them because your showing off
and its right their. According to pull you would put
the car in your shops then let people know that it is
better tempting them to come to you.
RE:
B2B
for
you Anne Zimmerman
and
me.
10/13/2012 11:44:11 AM
At the trade shows we exhibit at, we are looking for B2B business
primarily. However B2C business is welcomed as well. Our B2B efforts are
more "businesslike" in that we tell the corporations what kind of a savings
and investment partnering with us will give them. We sometimes consider 2way business with the corporations. You buy from us, and we will buy from
you. The challenge in B2B is finding the right person to talk to. They must
have authority to make decisions about our relationship and authority to
purchase. Some relationships take a whole 12 to18 months to establish
before real business begins!
The B2C business is more emotional and personal. We are showing the trade
show attendee how business with us can change and improve their own lives.
A sale on a B2C level could happen almost instantly.
B2B sales are much more profitable in the long run.
RE:
B2B
for
you Victoria Minos
and
me.
10/12/2012 2:18:32 PM
Consumer- oriented sales promotions are targeted to the end user. Examples
of these type of promotions include, coupons, samples, premiums,
contests/sweepstakes, refunds, rebates, bonus packs, loyalty programs,
events.
Trade- oriented sales promotions target peers in the industry or distributors of
the products. These include promotions for, Trade Allowances, POP displays,
Training Programs, Trade Shows.
Push Policy has a different line set-producer, wholesaler, retailer consumer as
opposed to a Pull Policy which works the opposite way starting with the
consumer and so on.
B2BPS
Dr. Sowma
10/12/2012 10:13:45 AM
Hi Class,
B2B promotions can be different than those for consumer products. For instance, since B2B products
are usually indemnified by large sales volume orders, but overall less frequent purchases than consumer
purchasing, there may be a justification for personal selling. It's of course rare to use personal selling
for many routine consumer products.
Personal selling is a valuable form of promotion that often for B2B products is justified where
advertising is not. What are some of the roles of personal selling?
RE:
B2BPS Joe Bartolotta
10/12/2012 5:24:23 PM
Roles of personal selling:
Identifying decision makers, decision processes, and qualified buyers
Promoting to corporate, travel trade, and other groups
Generating increased sales at the point of purchase
Providing detailed and up-to-date information to the travel trade
Maintaining a personal relationship with key clients
Gathering information on competitors' promotions
RE:
B2BPS Roselyn Herrera
10/13/2012 4:23:44 PM
The roles of the personal selling is to inform the customers/ prospects. To
create awareness to present the product also to influence the customer to sell
benefit . Help the customer to make the buying decision to seek
commitment and to help to close the sale.
RE:
B2BPS Claudia Escobar
10/13/2012 12:14:36 PM
Personal selling involves conversations, either by telephone or face to face
between salespersons and prospective customers. Some of the roles of
personal selling includes to qualify the buyers, they are decision makers,
generate increase sales and maintain a personal relationship with key clients.
A good common example of personal selling is when department stores
salespeople try to sell a perfume or cosmetics, such as Macy's and one of their
salesladies from Channel Perfume Department is trying to sell a perfume to a
prospective customer.
RE:
B2BPS Kelly O`Connor
10/14/2012 4:15:25 AM
I feel that an additional aspect of the roles of personal selling is having a personality
and being able to get on the consumers level. If you are dealing with face-to-face
marketing, then the consumer is in front of you, therefore you can look and see nonverbal cues such as body language to indicate whether or not the consumer is on
board such as a smile (maybe on board), furrowed brow (confused), rubbing the
forehead (unsure of all information), consistent eye contact (sign of trust).
Further verbal cues can give an indication of interest, or lack there of. If the
consumer uses words like excited and can't wait, then there is a good chance of a
sale. If the consumer keeps stating, I don't know, I'm not sure, tell me that again,
then you may have to switch up your tactics.
It is also further important to understand that when a consumer is given the
opportunity to be sold something, there are some consumers that will say no to the
sale about 5 to 7 times before they say yes. So just because someone says no once, if
they are still standing in front of you, then there is still the opportunity. Again, I
understand the roles of personal selling but it is important that the seller has
personality. I am using my own personal experience and training courses as my
reference.
Week 6
Dr. Sowma
10/13/2012 11:52:08 AM
Summary
Class,
This has been a great week of sales promotion discussions. In addition, we began a discussion about the
importance of B2B sales promotions. It is also important to see the evolution of sales promotions over
time.
Our objectives this week were:
· Evaluate their effectiveness, and develop recommendations regarding their relevance to the product or
company.
· Identify the personal experience of any of these sales promotion techniques as they might apply to a
product or company.
· Describe the different sales promotion techniques currently used in the market.
Please do not forget to complete your two homework assignments.
With the advent of social networking, do companies who produce everyday products like Snapple or
paper towels stand to benefit form a presence on Facebook or Twitter? ---Professor Sowma
RE: Week
6
Jennifer Morris
Summary
10/14/2012 5:38:51 AM
On Facebook people love to 'Like' normal everyday products.
Brawny paper towels has over 346,000 likes and 7,000+ are talking about the
product. Their Facebook banner is a "Support Your Heroes" image. They are
getting people engaged by doing outreach efforts. Social interaction is
ALWAYS important.
Snapple has over 1 million likes and over 30,000+ are talking about their
products. I think social interaction is HUGE. From everyday products to
popular tv shows, social media interaction can be a hit.
Screen Shot 2012-10-14 at 7.37.39 AM.png
RE: Week
6
Joe Bartolotta
Summary
10/14/2012 8:42:07 AM
Facebook allows business owners the opportunity to run advertisements to the social
network's users. They can set up a targeted advertising campaign that runs to users based on
factors such as their marital status, gender, geographical locations and interests. Companies
can also set-up a daily budget to ensure that their advertising campaign is cost-efficient for
the business.
RE: Week
Anne Zimmerman
6
10/14/2012 2:29:10 PM
Summary
Companies definitely do have benefits for having a presence on Facebook or
Twitter. When I'm on my Facebook and notice that one of my friends "liked"
a product, I always stop and pay it my attention. For example, I recently
noticed that three or four of my friends liked Macy's. That is powerful
stuff!! If several of my friends are essentially endorsing a company or
product, it makes me stop and ask if I should be using the product or sending
my business to a certain company. The flip side of that can be
dangerous. My friends could express their unhappiness with a product or
company on social media as well. The company must be vigilantly on the
look out for those sorts of comments and address them
immediately. Fortunately for some companies, Facebook has not created a
"thumbs down" icon yet!
RE:
Week 6
Seena Rose
Summary
10/14/2012 5:35:30 PM
Good point Anne. Facebook is a great way for any company well
known or not to get attention. The great thing is friends are doing all
the work to spread the word, the Company isn't really doing much on
their end. Companies do have to be careful though that they don't
turn a consumer off by all the junk emails and newsfeed popups on
Facebook and risk an "unlike". As long as the Companies keep
offering sweepstakes and other incentives consumers will "like"
them on Facebook. Most importantly, they need to have a strong
product. If a product has been around awhile, it could mean it has a
large fan base. This could benefit them if they use Facebook or
Twitter.
RE: Week
6
Claudia Escobar
Summary
10/14/2012 8:48:12 PM
Sales promotion stimulates immediately sales by using tools such as coupons
, rebates, displays, premiums, samples, coupons, sweepstakes. rewards,
vouchers and discounts.
There are three types of sales promotion strategies.
A Pull Strategy is a strategy that entice consumers to try a new product.
A Push Strategy involves personal selling.
And the third one is the combination of both. For example when car dealers
offer dealer incentives or cashback offers with a purchase of a vehicle.
Tactics used by pull strategy are coupons, samples, cash refund, rebates,
premiums, contests, sweepstakes and games, and priced pack meals.