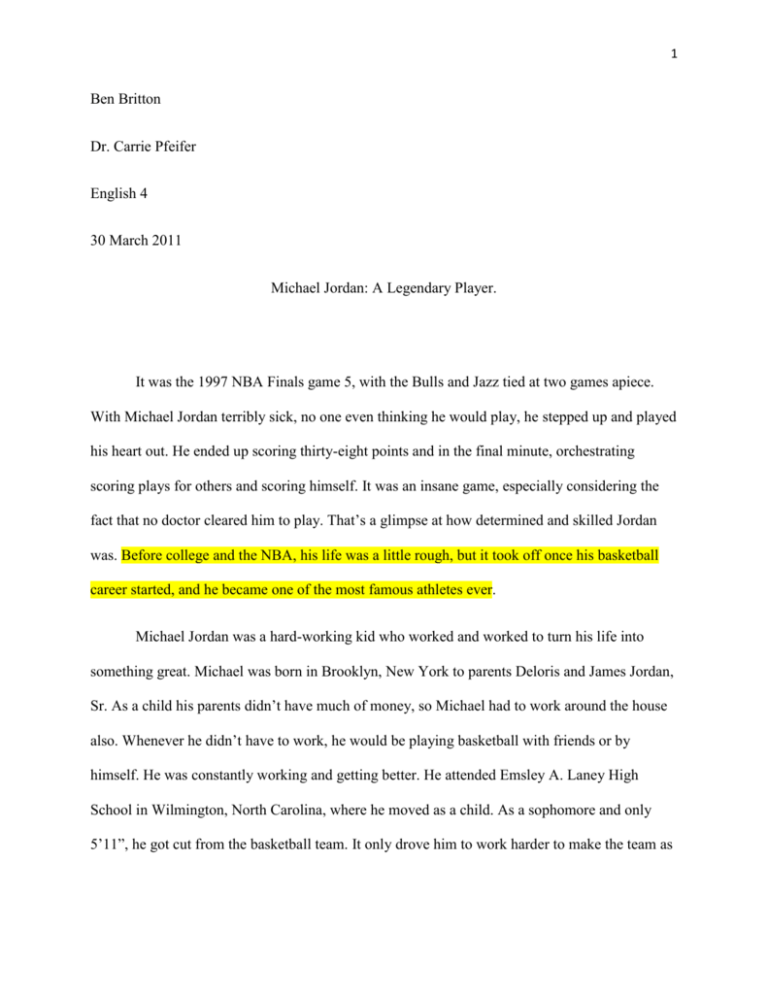 1
Ben Britton
Dr. Carrie Pfeifer
English 4
30 March 2011
Michael Jordan: A Legendary Player.
It was the 1997 NBA Finals game 5, with the Bulls and Jazz tied at two games apiece.
With Michael Jordan terribly sick, no one even thinking he would play, he stepped up and played
his heart out. He ended up scoring thirty-eight points and in the final minute, orchestrating
scoring plays for others and scoring himself. It was an insane game, especially considering the
fact that no doctor cleared him to play. That's a glimpse at how determined and skilled Jordan
was. Before college and the NBA, his life was a little rough, but it took off once his basketball
career started, and he became one of the most famous athletes ever.
Michael Jordan was a hard-working kid who worked and worked to turn his life into
something great. Michael was born in Brooklyn, New York to parents Deloris and James Jordan,
Sr. As a child his parents didn't have much of money, so Michael had to work around the house
also. Whenever he didn't have to work, he would be playing basketball with friends or by
himself. He was constantly working and getting better. He attended Emsley A. Laney High
School in Wilmington, North Carolina, where he moved as a child. As a sophomore and only
5'11", he got cut from the basketball team. It only drove him to work harder to make the team as
2
a junior, and as a senior he played phenomenally and was heavily recruited all over the country,
but chose to be a North Carolina Tar Heel.
During his college and NBA career, and still today, Jordan is widely considered the best
man to play the game. As a Tar Heel he won the NCAA championship in 1982 with a gamewinning shot against Georgetown. In 1984 he won gold at the Olympics in basketball. He was
selected in the draft by the Chicago Bulls, a team desperately in need of a great player, and
Michael was the answer. In 1984, his first NBA season, he was successful in helping leading the
Bulls to the playoffs, winning Rookie of the Year, and also making the All-Star Team. He didn't
play much in 1985 because of injuries, but in 1987, he won his first MVP honors. In 1990 the
Bulls made it to the Eastern Conference Finals. They won the NBA championship the year after,
defeating the Los Angeles Lakers. The very next year the Bulls were in the finals again, and won
again, this time beating the Portland Trailblazers. In 1993, they won it, again this time against the
Phoenix Suns. By this time Jordan had endorsement deals with Nike, and was on top of the
world, but a shocking event would turn it all around. (A&E Television "Michael Jordan
Biography, p.1)
His father, James Jordan had been shot and killed in a robbery by two teenagers. This
shook Jordan to the core, and it led to his retirement from the NBA in 1993. The whole world
was shocked to see a player leave at the prime of his career, and many Bulls fans weren't happy.
He decided to take up baseball, playing for the Birmingham Barons, a minor league team. He
didn't fit in baseball, so in 1995 he returned to basketball and rejoined the Bulls. In his first full
season out of retirement, he won the Finals again beating the Seattle Supersonics. Also in 1996
he was the star of a real life-cartoon movie Space Jam, with the Looney Toons characters. It was
a successful movie, and got great reviews. Jordan and the Bulls won the championship the
3
following two years, defeating the Utah Jazz both years. (A&E Television "Michael Jordan
Biography p.2)
After his last championship, Jordan decided to retire for a second time, and took the job
as President of Basketball Operations for the Washington Wizards. But in 2001 he decided to
play once again, for the Washington Wizards. In 2003, he retired for good after two more
seasons
The legacy left behind by Jordan is still huge today. In 2006, Jordan bought part of the
Charlotte Bobcats and remains the owner for that team today. That same year he and his wife,
Juanita, divorced. They had three children: Jeffrey, Marcus, and Jasmine. Both of Jordan's sons
play basketball in college and are both considered great players. In April 2009, he made it to the
Naismith Hall of Fame. He is a very wealthy man, and lives in Highland Park, Illinois. He still
makes money from his Nike brand "Air Jordan". In the NBA, still today players are trying to be
'Like Mike'. As a kid Jordan didn't have the best life, but worked hard and he overcame
troubles; which led to one of the greatest basketball careers, and a gigantic legacy.
4
Works Cited
A&E Television Networks, A&E. "Michael Jordan Biography." www.biography.com. A&E
Television
Networks, 2011. Web. 31 Mar. 2011. <http://www.biography.com/articles/
Michael-Jordan-9358066?part=0>.
NBA. "Michael Jordan Statistics." NBA.com. NBA Media Ventures, LLC, 2011. Web. 31 Mar.
2011.
<http://www.nba.com/playerfile/michael_jordan/index.html>.