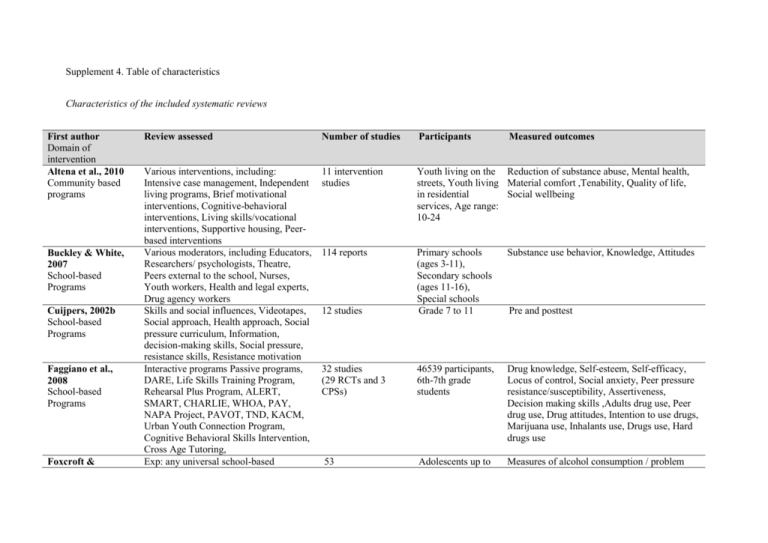 Supplement 4. Table of characteristics
Characteristics of the included systematic reviews
First author
Domain of
intervention
Altena et al., 2010
Community based
programs
Buckley & White,
2007
School-based
Programs
Cuijpers, 2002b
School-based
Programs
Faggiano et al.,
2008
School-based
Programs
Foxcroft &
Review assessed
Number of studies
Participants
Measured outcomes
Various interventions, including:
Intensive case management, Independent
living programs, Brief motivational
interventions, Cognitive-behavioral
interventions, Living skills/vocational
interventions, Supportive housing, Peerbased interventions
Various moderators, including Educators,
Researchers/ psychologists, Theatre,
Peers external to the school, Nurses,
Youth workers, Health and legal experts,
Drug agency workers
Skills and social influences, Videotapes,
Social approach, Health approach, Social
pressure curriculum, Information,
decision-making skills, Social pressure,
resistance skills, Resistance motivation
Interactive programs Passive programs,
DARE, Life Skills Training Program,
Rehearsal Plus Program, ALERT,
SMART, CHARLIE, WHOA, PAY,
NAPA Project, PAVOT, TND, KACM,
Urban Youth Connection Program,
Cognitive Behavioral Skills Intervention,
Cross Age Tutoring,
Exp: any universal school-based
11 intervention
studies
Youth living on the Reduction of substance abuse, Mental health,
streets, Youth living Material comfort ,Tenability, Quality of life,
in residential
Social wellbeing
services, Age range:
10-24
114 reports
Substance use behavior, Knowledge, Attitudes
12 studies
Primary schools
(ages 3-11),
Secondary schools
(ages 11-16),
Special schools
Grade 7 to 11
32 studies
(29 RCTs and 3
CPSs)
46539 participants,
6th-7th grade
students
Drug knowledge, Self-esteem, Self-efficacy,
Locus of control, Social anxiety, Peer pressure
resistance/susceptibility, Assertiveness,
Decision making skills ,Adults drug use, Peer
drug use, Drug attitudes, Intention to use drugs,
Marijuana use, Inhalants use, Drugs use, Hard
drugs use
53
Adolescents up to
Measures of alcohol consumption / problem
Pre and posttest
Tsertsvadze, 2011a
School-based
Programs
Foxcroft &
Tsertsvadze, 2011b
Family based
Programs
Foxcroft &
Tsertsvadze, 2011c
Multicomponent
Gates et al., 2006
Community Based
programs,
Family based
Programs
Multicomponent
Gottfredson &
Wilson, 2003
School-based
Programs
Hopfer et al., 2010
School-based
Programs
psychosocial or educational prevention
program
Cont: any alternative prevention program
or standard curriculum
Successive mailings of 4 booklets to
families, Telephone discussions between
health educators and family members,
SAAF, PWC-SA , General parenting
skills and family functioning: (CAPR),
Gender-specific culturally relevant parent
education program, Computer-mediated
gender-specific program based on family
interaction theory
Combinations of: school-, community-,
and/or family-based programs
Education and skills training, Family
interventions
Brief intervention/ motivational
interviewing
Multi component community
intervention
Moderators: peer, teacher and police
AAPT, AMPS, BABES, Be a winner
Brain power, Caring school community,
The child an adolescent trial for
cardiovascular health, Coping power
program, Drug abuse resistance
education, Early risers skills for success,
Good behavior game, Growing healthy,
RCTs
18 years attending
school
drinking
Alcohol initiation (age)
Drunkenness initiation (age)
12 Randomized trials
Students 18 years
of age or younger
Any direct self-reported or objective measures
of alcohol consumption or problem drinking.
Alcohol use (yes/no) (quantity, frequency)
Drinking 5+ drinks at any one occasion
(yes/no) Incidence of drunkenness, Alcohol
initiation (age), drunkenness initiation (age)
20 parallel-group
trials
The unit of
randomization in 15
trials was a cluster
17 studies,9 cluster
randomized studies
with 253 clusters , 8
individually
randomized studies
Children up to
18 years
1230 participants
Adolescents less
than 25 years of
age
Alcohol use (yes/no), Alcohol use (quantity,
frequency; Drinking 5+ drinks at any one
occasion (yes/no), Incidence of drunkenness,
Alcohol initiation (age, drunkenness initiation
(age)
Drug use or initiation of drug use , Reduction
or cessation of drug use , Substance
dependence , Death, Hospitalization, Treatment
for drug-related health problems, Criminal
activity, Other relevant outcomes
94 studies
High school
adolescents
Alcohol or drug outcomes
30 evaluation reports
on 24 programs
Elementary schools Subsequent drug use
Psychosocial factors
Lemstra et al., 2010
School-based
Programs
I'm special, Keepin it real, Lining
families with teachers, Life skills
training, Positive action, Protecting you,
Raising healthy children, Say yes first,
Skills opportunity en recognition, Native
American program, Tobacco prevention
program, Tobacco free
Knowledge-based programs
Comprehensive-based programs.
6 pooled studies
Sample sizes varied
from 604 to 3989
Adolescents 10-15
years
Reduction alcohol use, Reduction drug use,
Enhanced knowledge, Enhanced skills,
Reduction multiple behavior, Impact towards
no drug use
Two sets of effect sizes: drug use (i.e., tobacco
use, alcohol use, marijuana or Int. other illicit
drug use) and psychosocial behavior (i.e., peer
pressure resistance, self-esteem, attitudes
towards drug use, attitudes towards police, or
family bounding) .
Smoking, drinking or drug use by child;
Intention of child to participate in smoking,
Drinking or using drugs; Alcohol and drugrelated risk behaviors in child such as criminal
offending, antisocial behavior, risky sexual
behavior and antecedent behaviors such as
truancy, conduct disorders or poor academic
performance.
Self-reported cannabis-use measures
Pan & Bai, 2009
School-based
Programs
DARE program
20 studies
Students in the
USA
Petrie et al., 2007
Family based
programs
Parenting skills training in groups
Homework tasks requiring parental
participation
Mailed booklets
Home visiting
A mixture of these approaches
Randomized
controlled trials
(RCTs), controlled
before/after (CBA)
studies
Parents with
children <18 years
of age,
Porath-Waller et
al., 2010
School-based
Programs
Social learning, Less than 15 sessions,
Teachers/not teachers,
Interactive/didactic, +14 / -14 years,
Program fidelity checked/not checked
Smit et al., 2008
Family based
programs
Home-based child and parent relations
sessions, Family meetings, Follow-up
telephone calls, CD-rom and print
material
Clinician messages , Educational
15 studies
experimental or
quasi-experimental
design with a control
group
Nine RCTs in 18
publications
15,571 sampling
units of students,
schools, and classes
youth aged 12 to 19
years
Adolescents aged
Alcohol initiation (lifetime ever/never alcohol
under 16 in a
use), last month, Alcohol use (ever/never used
general population alcohol in last 30 days or past month),
Frequency of alcohol use (average number of
drinking occasions in the past month; Quantity
Teesson et al., 2012
School-based
Programs
Thomas et al., 2011
Community based
programs
Werb et al., 2011
Community Based
Programs
Werch & Owen,
2002
Negative effects
materials, Training in parenting skills, A
program aimed specifically at African
American families, Parent-only sessions
that identified risk factors and promoted
effective strategies and conflict
management.
SHAHRP, CLIMATE: Alcohol
Resilient Families Intervention
CLIMATE: Alcohol, and Cannabis Life
Education Gatehouse, Project Health
Promoting Schools
No intervention, or:
Standard health education curriculum,
Experimental Interventions
All mentoring programs
and frequency of beer, wine and liquor
consumption over last year; 30-dayseven-day
frequency of alcohol use; Frequency of beer or
alcohol consumption on past month)
8 Trials of 7
prevention programs
4 Randomized
controlled trials
(RCTs) or clusterrandomized
controlled
trials (C-RCTs)
Public service announcements
Identified seven
randomized trials
(n=5428) and four
observational trials
(n=1704).
Adolescent alcohol prevention trial
17 evaluation studies
addressing social influences, Social
and 43 negative
influences alcohol prevention program, 11 outcomes
lesson project Alert, 10 self-contained
lesson outlines based on a knowledge
attitudes model, Life education program,
Here's looking at you curriculum targeting
knowledge, 3 session child and parent
relations project based on family factors, 5
week structured curriculum presented in
religion, health and social studies, Project
PALS social influence based training, 5
lesson social influence alcohol education ,
Australian schools
Knowledge, Use of alcohol or drugs, Frequency
of alcohol/drug use at post-test or follow up
"deprived" and
mostly minority
Adolescents (aged
13 to 18).
Abstinence as measured by number of
participants never starting to use drugs and/or
alcohol, Use of alcohol or drugs as measured
by number of subjects who use alcohol or
drugs at least once monthly.
RCT (n=5428)
OT (n=17404).
Intention to use, drug use
Participant from
fourth graders to
college students
Knowledge, skills, drug use, intention to use
Cuijpers, 2002a*
School-based
Programs
Healthy for life in school social influences
program with parental and community
components., DARE program, 7 session
school based component of the pivot
social influence prevention program, 12
lesson PASS theory of planned behavior,
Adolescent decision making social
influence, substance use prevention
program, 9session boys and girls club's
stay SMART social influence program, 2
phase program targeting social norms
Life-Skills Training, The programs of
Meta-analyses
Project Northland, Project STAR,
studies examining
Healthy Schools and Drugs Project
mediating variables
of interventions and
studies directly
comparing
prevention programs
with or without
specific
characteristics
Drug Awareness Resistance Education
3 primary studies
(DARE)
Grade 7 to 11
Pre and posttest
School aged
Drug related behavioral measures, Positive
Mcbride, 2003*
School-based
students
impact on students drug related behaviors
Programs
Life skills training, Universal programs
16 studies
Vulnerable
Drug related outcome measures
Roe et al., 2005
School-based
Early interventions
Randomized
adolescents in
Self-reported frequency
Program,
Short programs
controlled trials
school
Illegal drug use
family based
Community programs
(RCTs)
30 day use of alcohol
programs
Note. The thick line indicates the division among studies with quantitative results and those who do not show any quantitative results.
*Note. These reports (McBride, 2003; Cuijpers, 2002a) were based on a more extensive report.