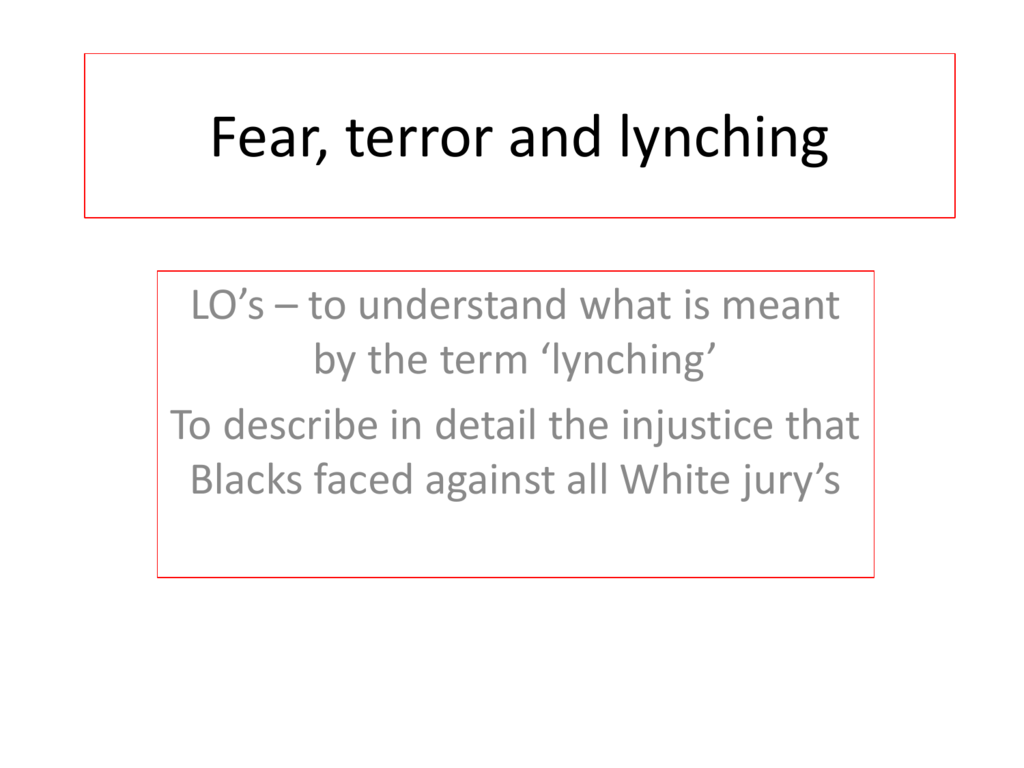 Fear, terror and lynching
LO's – to understand what is meant
by the term 'lynching'
To describe in detail the injustice that
Blacks faced against all White jury's
Lynching
• Lynching is the word
used to describe a variety
of murders, tortures and
punishments given to
Black Americans.
• It could take the form of
being whipped, hanged
or even burned alive by a
mob
Lynching per state
• Use your
map to
explain
which
states
have the
most
cases of
lynching
Lynching
Date
Number of Lynchings
1882
42
1887
70
1892
161
1897
123
1903
84
1910
67
1915
56
1921
51
1952 was the first year with no reported lynchings – Why
might this data be unreliable?
A History of Lynching
• https://www.youtube.com/watch?v=CiyQFG6
uHgg
• What does this link tell us about lynching in
the South?
Lynch Law
• A group of people (usually White) could
decide that a Black person was guilty of a
'crime' and could punish that person.
– Lynching was actually illegal
• There was no trial
• No defence
• No judge
Scottsboro boys
• March 25th, 1931
• 9 young men (ages 13-21) rode a freight train
from Chattanooga, Tenn
• They were charged for raping 2 White girls
• **This case shows up the racism, prejudice
and discrimination in the USA**
Guilty?
• Scottsboro Alabama is
where they were tried
for the first time
• 1 of the girls was a
prostitute
• Boys non-guilty plea
was rejected by the
jury
• 8/9 boys were
sentenced on April 9th,
1931
• 1930's South
The local lawyer they were
appointed with had no time to
prepare of given any help in
preparing their defence.
– Almost
automatic that
'Black criminals'
were sentenced
without a fair
trial
The boys were up
against a system
that was racist and
corrupt!
Lynching Party
• 10,000 White demonstrators came in to
Scottsboro to put pressure on the jury
• The crowd wanted the boys to be found guilty
Support for the boys
Support gathered around the country
1 day after the sentence was delivered there was a huge demonstration in
Harlem, NY
Money was gathered to pay for a better lawyer
Demonstrations were also held in German towns with Albert Einstein
petitioning for their release
Ruby Bates – one of the women they had supposedly raped finally admit that
the attack never happened
Nov 8th, 1932 – the boys were given a
new trial
5/9 had the charges dropped
4 were retried and convicted – 3 of
which were paroled and the 4th escaped
Emmett Till
• https://www.youtube.com/watch?v=AjYD5PJV
YkU
• Bob Dylan wrote a song about a young man
named Emmett Till
– Listen to the words carefully – as they tell an
incredibly cruel story of injustice, racism and
discrimination
Emmett Till
• Read over the case study of Emmett Till
• In your own words summarise the injustice
that this case highlights
– You should also include details as to why he was
lynched, who was involved and the impact of this
event.