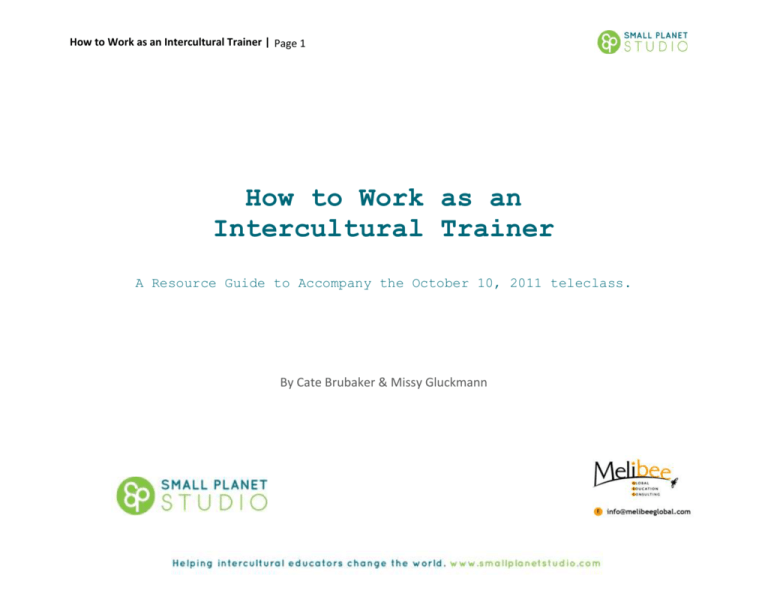 How to Work as an Intercultural Trainer | Page 1
How to Work as an
Intercultural Trainer
A Resource Guide to Accompany the October 10, 2011 teleclass.
By Cate Brubaker & Missy Gluckmann
How to Work as an Intercultural Trainer | Page 2
Table of Contents
3
| Working as an Intercultural Trainer: Roles, Romanticizing & Reality
7
| Intercultural Training Self-Assessment
8
| How to Get Started as an Intercultural Trainer
9
| Action Plan
10
| Resources
25
| Graduate Programs
How to Work as an Intercultural Trainer | Page 3
Working as an Intercultural Trainer: Roles, Romanticizing & Reality
Role
Independent
intercultural
trainer







Romanticizing
Your own business
You're in control of your
offerings, hours, rates,
curriculum, training
methods, schedule, and
who you (don't) work with
Travel to exciting places
around the world
You choose partnerships
and collaborations
Lots of vacation time
Work from home
Virtual training (train in
your PJs!)








Reality
You are responsible for
everything: website design &
upkeep, marketing, finances,
taxes, travel logistics, setting
prices, finding clients, paying
health insurance, sending
invoices, prof. dev., etc.
Significant amount of time
working alone
Inconsistent income
Can take months to develop
relationship with clients
You may do half the work
before you get paid
Client schedules may not
mesh with your schedules
Could be a lot of travel
Virtual: time zone challenges
challenges







Good if you…
Want to build a
business
Like the unknown
Are ok with risk
Prefer freedom to
stability
Like the challenge
of marketing and
finding clients
Want to
hire/manage staff
Like to work alone
How to Work as an Intercultural Trainer | Page 4
Contract
intercultural
trainer
 Company finds clients for
you
 You don't have to do
marketing, create
curriculum or training
methods
 Work for established,
well-known, respected
companies
 Work with companies and
business leaders around
the world
 May work remotely or
from home
 Flexibility
Travel
 Companies tend to work
primarily with experienced
trainers
 You are responsible for taxes
& benefits
 Pay is often significantly less
than if you worked directly
with the client
 May involve frequent travel
 May only see inside of hotel
conference room
 May not be able to plan your
training schedule
 May not be able to choose
clients
 Often little room for your
own creativity in terms of
content and methods
 May have little contact with
colleagues
 Have training
experience
 Are moving
towards starting
your own business
but don't have any
clients
 Want to
supplement
income
 Don't want to
spend time on
marketing and
finding clients
 Are flexible and
spontaneous
 Are looking for a
part-time work
How to Work as an Intercultural Trainer | Page 5
Full-time
trainer
within a
company or
university/
college
 Full-time work
 Benefits
 Wteady, predictable
paycheck
 Primary focus on training
 Work with colleagues/on
team
 Office environment
 May include travel
 Intercultural training may
only be a small part of your
training work
 Positions are few and
typically only in very large
corporations or universities
that have training
departments
 Are often viewed as "nice to
have" positions and could be
the one of the first positions
to be eliminated
 Possible travel
 Possible virtual training
 Want to develop
yourself as a
trainer
 Enjoy an office
environment with
colleagues
 Prefer a steady
paycheck, benefits
Develop
your current
position into
one that
includes
intercultural
training
 Keep the position,
colleagues, pay,
organization, seniority,
benefits you like
 Continue doing the
aspects of your job that
you love
 You may get to engage in
intercultural trainingrelated professional
development
 You may need to be at your
job for a while before you
can pitch intercultural
training
 You may (at least initially)
have to do some or all of
your intercultural training
work on your own time
 Your boss may simply say no
 Want to keep your
current position
 See a need in your
organization for
intercultural
training
 Have a boss who's
open to the idea
How to Work as an Intercultural Trainer | Page 6
Do
intercultural
training
part-time in
addition to
your current
job
 You keep the job you
enjoy, income, benefits,
etc.
 You choose the clients
you work with, set your
own rates, schedule, etc.
 Make some extra money
 You're responsible for finding
clients, marketing, business
finances, training
preparation, etc.
 Your employer might not
allow "moonlighting"
 You may need to work nights
and weekends
 You may feel like you're
working two jobs and burn
out
 Are thinking about
building a business
 It's impossible to
build intercultural
training into your
current position
 You just want to do
intercultural
training a couple
times a year
How to Work as an Intercultural Trainer | Page 7
Intercultural Training Self-Assessment
What an
intercultural
trainer needs
Intercultural
Experience
Intercultural
Competence
Professional
Experience
Education &
Certifications
Training
Experience
What I have…
What I need…
Where I can get it…
How to Work as an Intercultural Trainer | Page 8
How to Get Started as an Intercultural Trainer
1. Determine your niche
2. Assess your interests, skills, knowledge & experiences
3. Identify your growth areas
4. Engage in professional development
5. Read
6. Network
7. Find a training mentor
8. Join a professional organization
9. Start training
10. Get feedback
How to Work as an Intercultural Trainer | Page 9
Action Plan
What are 3 Action Steps you can take in the next couple weeks to move you towards the intercultural training
career you dream of?
Action Step #1:
____________________________________________________________________________________________
Action Step #2:
____________________________________________________________________________________________
Action Step #3:
____________________________________________________________________________________________
How to Work as an Intercultural Trainer | Page 10
Resources
Blogs, organizations, academic journals, training tools, and more.
'absolutely intercultural'
http://www.absolutely-intercultural.com/
 A podcast that looks at intercultural issues. Features various speakers and professionals in the field. The
blog details each podcast episode.
AnnMarie Lei Consulting
http://www.annmarielei.com/index.html
 Private consulting firm focused on cross-cultural training, personnel management and marketing. Check
out her personal blog for more in-depth discussion on intercultural issues.
Aperian Global
http://www.aperianglobal.com/
 Aperian Global is a global consulting, training, and web tools firm, attentive to facilitating talent
development and business transformation across borders. Offices in the Americas, Europe, Dubai, and East
Asia.
BEVI
http://www.thebevi.com/
 The Beliefs, Events, and Values Inventory (BEVI) is an analytic tool that can be used as an independent or
dependent measure in a wide range of applied settings, evaluative contexts, and research projects.
Opportunities to get certified to implement the instrument survey.
How to Work as an Intercultural Trainer | Page 11
Bridging Cultures
http://www.bridgingcultures.us/index.html
 A private company that provides cross-cultural counseling, training, and consulting services that focus on
the interplay of psychology and culture to help people experience success in multicultural settings. Its
mission is to support individuals and organizations in cultural transition.
Cartus
http://www.cartus.com/
 Focus in global mobility and workforce development support to organizations worldwide. Services include
employee relocation, accounting and management reporting, intercultural and language training,
consulting services supporting benchmarking and change management, and a complete range of
outsourcing options to support mobility and organizational goals.
Communicaid Blog
http://blog.communicaid.com/
 Professional cross-cultural training firm offers posts on various intercultural issues, especially in the
workplace.
Connect East
http://www.connecteast.net/
 Provides intercultural and cross-cultural coaching, training and consulting services to companies and
individuals doing business in China and Latin America. Based in Reston, Virginia.
Cross-Cultural Blog
http://ccr.stanford.edu/blog/
 A collaborative blog hosted by an exchange between instructors and students at Stanford University and
Örebro University in Sweden as part of their Cross-Cultural Rhetoric class.
How to Work as an Intercultural Trainer | Page 12
Cultural Awareness International (CAI)
http://www.culturalawareness.com/training.html
 CAI's core services include cross-cultural management and training, and destination and relocation
services. Delivers customized programs in more than 400 locations worldwide. Currently seeking
intercultural trainers and country specialists.
Cultural Detective
http://www.culturaldetective.com/
 A dynamic series of tools that develop invaluable intercultural and global business competence in
individuals and organizations.
Culture Wizard
http://rw-3.com/
 Intercultural training consulting firm that provides online training tools to individuals and businesses.
Culturosity.com
http://culturosity.com/
 Provides multiples resources for increasing intercultural awareness and diversity awareness.
Diversafari
http://www.executivediversity.com/resources/diversafari.htm
 Training tool and method for diversity training
Exchanges Connect
http://connect.state.gov/
 An online social networking community maintained by the U.S. Department of State that connects
potential, current, and former educational and cultural exchange program participants so that they can
discuss application processes, programs, and living abroad.
How to Work as an Intercultural Trainer | Page 13
Global Perspectives Consulting
http://www.gpccolorado.com/
 Private consulting company focused on intercultural training programs and management to businesses.
Based in Colorado.
Global Scholar Online Program
http://globalscholar.us/
 Developed by the Center for Global Education to introduce students to the opportunities and challenges
inherent in participating in study abroad programs
 Pre-departure, support, and reentry course online for study abroad students
 Can be implemented into more formal courses or workshops
Highroad Global Services
http://www.highroaders.com/
 Private cross-cultural training and consulting firm focused on the following areas: Europe, Asia, the
Americas, and the Middle East. Based in Georgia.
Insights Discovery
http://www.insights.com/
 A framework and training tool for adapting and connecting with others, based on self-understanding.
Inspired by the work of Swiss psychologist Dr. Carl G. Jung.
Interchange Institute
http://www.interchangeinstitute.org/
 A non-profit research institution founded in 1997 that conducts research on the process of intercultural
transition, produces publications to assist newcomers to the US, designs and deliver specialized crosscultural training workshops, and trains and consults to professionals in the field.
How to Work as an Intercultural Trainer | Page 14
Intercultural Communication Institute
http://www.intercultural.org/
 A nonprofit charity with the mission of fostering an awareness and appreciation of cultural difference in
both the international and domestic arenas
 Offers resources for intercultural, cross-cultural, multicultural, international, diversity training, and
education
Intercultural Development Inventory (IDI)
http://idiinventory.com/
 The Intercultural Development Inventory® (IDI®) is a theory-based instrument used to measure
intercultural competence adapted from the Developmental Model of Intercultural Sensitivity. It can be
taken either in paper and pencil form or online.
 IDI LLC offers organizational development, business management and consulting, educational consulting,
and individual and group assessment of intercultural competency.
Intercultural Insights
http://finance.groups.yahoo.com/group/interculturalinsights/
 Yahoo Group (members-only) resource exchange and professional development discussion group on
intercultural and cross-cultural business, training, education, research and consulting topics for
experienced intercultural professionals.
Intercultural Meanderings
http://interculturalmeanderings.wordpress.com/
 Personal blog about expat life, multicultural issues, international business, training and job advice
Intercultural Press
http://www.interculturalpress.com/
 Publisher offering a great selection of intercultural books.
How to Work as an Intercultural Trainer | Page 15
Intercultural Training Center
http://www.isss.umn.edu/programs/itc/
 Based out of the International Students and Scholars department at University of Minnesota, the
Intercultural Training Center offers individualized workshops and experiential activities to improve
communication across cultures.
International Journal of Intercultural Relations (IJIR)
http://www.intercultural-academy.org/html/ijir.html
 IJIR is dedicated to advancing knowledge and understanding of theory, practice, and research in intergroup
relations. Published by International Academy on Intercultural Research.
John Cutler's Blog
http://jcutler.typepad.com/john_cutlers_blog/
 An intercultural trainer, John Cutler explores different cross-cultural issues and provides advice and
resources to others looking to work in the field
Journal of Intercultural Communication
http://www.immi.se/intercultural/
 The goal of the journal is to promote research, but also education and training in the area of intercultural
communication. The journal is an outgrowth of the activities of NIC – the Nordic Network for Intercultural
Communication.
Journal of Intercultural Studies
http://www.tandf.co.uk/journals/cJIS
 The Journal of Intercultural Studies is an international, interdisciplinary journal that particularly encourages
contributions from scholars in cultural studies, sociology, gender studies, political science, cultural
geographers, urban studies, race and ethnic studies. It focuses primarily on emerging cultural formations,
intercultural negotiations and contemporary challenges to cultures and identities.
How to Work as an Intercultural Trainer | Page 16
Journal of International and Intercultural Communication
http://www.tandf.co.uk/journals/rjii/
 An outlet for original research on international and intercultural communication. The journal showcases
diverse perspectives and methods, including qualitative, quantitative, critical and textual approaches. It
addresses an international readership and features research conducted in a wide range of locations by
diverse groups of scholars. The journal is a publication of the National Communication Association
Kwintessential
http://www.kwintessential.co.uk
 Private consulting firm based in London. Services include: professional document translation, interpreters,
multilingual business services and training.
Language & Culture Worldwide, LLC
http://www.languageandculture.com/
 Their mission: to provide training, consulting and translation services that inspire professionals to connect
across cultures.
Maximizing Study Abroad
http://www.carla.umn.edu/maxsa/
http://www.carla.umn.edu/maxsa/documents/MAXSAResearchReport.pdf
 Series of guidebooks aimed at helping students, program professionals, and language instructors make the
most of study abroad opportunities through strategies for language and culture learning and use.
Developed by the Center for Advanced Research on Language Acquisition at the University of Minnesota.
How to Work as an Intercultural Trainer | Page 17
Melibee Global Ed Consulting
http://www.melibeeglobal.com/
 International Education consulting blog on study abroad topics, intercultural training, international
students, and other worldly topics.
 Various guest posts by international professionals, artists, educators, filmmakers, and others all bringing
something new to the field
Myers-Briggs Foundation
http://www.myersbriggs.org/
 A research firm focused on the field of psychological type. Developed the Myers-Briggs Type Indicator ®
instrument. Offers consulting services for individuals, businesses and organizations.
NAFSA Blog
www.blog.nafsa.org
 Official Association of International Educators blog that spotlights the importance and impact of
international education
NAFSA Intercultural Communication and Training Network
http://www.nafsa.org/groups/home.aspx?groupid=13
 You have to register as a member, but this webpage provides many resources and discussion forums for
intercultural trainers and educators
Navigating Cultures: Blog
http://navigatingcultures.com/blog/
 A blog hosted by Language & Culture Worldwide that explores the impact of both language and culture on
today's business environment
How to Work as an Intercultural Trainer | Page 18
Peace Corps – Culture Matters
http://www.peacecorps.gov/wws/educators/enrichment/culturematters/index.html
 A cross-cultural training handbook developed by the Peace Corps to help new Volunteers acquire the
knowledge and skills to work successfully and respectfully in other cultures. Chapters include
"Understanding Culture," "American Culture and American Diversity," "Styles of Communication," "Culture
in the Workplace," "Social Relationships," and "Adjusting to a New Culture." Can be used for a variety of
audiences and contexts.
PLATO Project with the Center for Global Education
http://globaled.us/plato/index.html
 The Project for Learning Abroad, Training, and Outreach is an integrated study abroad training,
certification, and diversity outreach program which provides comprehensive support resources for study
abroad to all U.S. college and university students – with special support for underrepresented students
Practical Intercultural Communication
http://practical-intercultural-communication.blogspot.com/
 Hasn't been updated in a while, but a good chronicle of the life of an intercultural trainer and student, her
methods and strategies, and musings on cross-cultural issues
Prudential Relocation Services
http://www.prudential.com/view/page/public/11535
 Offers a full range of relocation services around the world to corporations, governmental organizations,
and their relocating employees. Services include global consulting, intercultural training and development,
and tools to help buy and move personal items.
How to Work as an Intercultural Trainer | Page 19
SIETAR Europa
www.sietareu.org
 Website for Europe's largest association of interculturalists and is part of the worldwide SIETAR network
 Job announcements in Europe, events, webinars, journals and other publications
SIETAR UK
http://sietaruk.posterous.com/
 A network blog for interculturalists living in the UK
SIETAR USA
www.sietarusa.org
 Website for the US association of interculturalists, part of the worldwide SIETAR network
 Job announcements (http://sietarusa.org/jobblog), conferences and events, newsblog, and newsletter
Small Planet Studio
http://smallplanetstudio.com/
 A learning community for intercultural educators who want to change the world.
 Posts on intercultural issues, international schools and education, study abroad, travel, profiles of
intercultural educators, and occasional guest posts by cool people doing awesome things in the field
Summer Institute for Intercultural Communication (SIIC)
http://www.intercultural.org/siic.php
 The 35th annual Summer Institute for Intercultural Communication (SIIC) offers professional development
opportunities for people working in education, training, business, and consulting, in both international and
domestic intercultural contexts. One of the premier gatherings of professionals in the field of intercultural
communication, SIIC presents a unique opportunity to explore the field and network with others in a
stimulating and supportive environment.
How to Work as an Intercultural Trainer | Page 20
The Global Education Collaborative
http://globaleducation.ning.com/
 The official social networking site for the online 2011 Global Education Conference, to be held November
14-18
 Opportunities for networking with other global educators and trainers
Visuals Speak
http://www.visualsspeak.com/
 Training method that primarily uses visual photographs for a wide variety of processes including: visioning,
team building, conflict resolution, change management, diversity and inclusion, intercultural
communication, marketing research, and so much more.
What's Up with Culture?
http://www2.pacific.edu/sis/culture/
 Site was designed to support advisers in preparing students for their abroad experience and analyzing their
experiences after returning
World Work
http://www.worldwork.org/
 World Work is an "experiential training seminar in conflict work and community building" that takes place
every two years. It focuses its approach in "Deep Democracy" to address the issues of groups and
organizations of all kinds. The seminar provides a unique opportunity for people from all over the world to
come together in a powerful forum for focusing on and working with social, environmental, and political
issues using group process skills.
How to Work as an Intercultural Trainer | Page 21
Young SIETAR
http://www.youngsietar.org/
 An international association which combines the efforts of students and young professionals from a wide
range of practical and academic disciplines who share a common concern for intercultural relations.
 Through various activities Young SIETAR provides a unique opportunity to build a bridge in this dynamic
field between newcomers and professionals, educating a new generation of interculturalists.
LinkedIn Intercultural Training Groups
















Alternative Perspectives in Intercultural Communication (APICC)
Boston Multilingual & Intercultural Professions
Canadian Intercultural, Cross-Cultural and Diversity Professionals Network
Comunicacion Intercultural/Cross-cultural Communication
Communicaid – Cross-Cultural Training
Competence in Intercultural Professions
Creative and Cultural Education
Culture Matters
Diversity & Intercultural Organization Development
Diversity in International Education
EAIE: European Association for International Education
Global Leader 2.0
Global Village Network
ICDC: Intercultural Competence Development Center
Intercultural Assessments
Intercultural Communication Institute
How to Work as an Intercultural Trainer | Page 22













Intercultural Insight
Intercultural Intelligence
International Educator Circle
Japan Intercultural Consulting
Living Stone Centre for Intercultural Entrepreneurship
NAFSA: Association of International Educators
Research in the Internationalization of Higher Education
Sales and Soft Skills for Intercultural Business Trainer
SIETAR Metro New York
SIETAR-USA
The Cultural and Public Diplomats
The Forum on Education Abroad
The Kozai International Education Network
Conferences
AACU Annual Meeting
January 25-28, 2012 — Washington, DC
The Association of American Colleges and Universities is a network of 1,200 higher education institutions in the
U.S. dedicated to ensuring a liberal arts education all students regardless of background, enrollment path,
academic specialization, or intended career. The theme for the 2012 conference is "SHARED FUTURES / DIFFICULT
CHOICES: Reclaiming a Democratic Vision for College Learning, Global Engagement, and Success."
How to Work as an Intercultural Trainer | Page 23
AIEA Annual Conference - http://www.aieaworld.org/events/conf2012.htm
February 19-22, 2012 — Washington, DC
The 2012 AIEA Annual Conference for senior international educators provides a forum to reflect on the
relationship between the internationalization of our institutions and institutional responses to these important
global challenges. The theme of the conference this year is "Building a Secure World through International
Education."
ASTD Annual Conference - http://www.astd.org/content/conferences/
May 6-9, 2012 – Denver, Colorado
Learn from world-renowned leaders. Explore the latest training theories and models. Share insights and
experience with colleagues. ASTD conferences ensure that you're up-to-date with the trends affecting workplace
learning and performance.
Forum on Education Abroad - http://www.forumea.org/Denver2012.cfm
March 21-23, 2012 — Denver, Colorado
The Forum conference brings together higher education colleagues and education abroad professionals to focus
intensively for two days on important education abroad topics and issues. The 2012 conference theme, "Tracing
the Experience: From Inquiry to Integration," focuses on the transformational nature of education abroad by
exploring the education abroad experience as a whole, from the first spark of interest to the incorporation of the
experience later in a student's life.
How to Work as an Intercultural Trainer | Page 24
FIGT: Families in Global Transition - http://www.figt.org/2012_conference
March 29-31, 2012 — Alexandria, Virginia
The conference provides a forum where members of internationally mobile families, e.g. corporate, military,
diplomatic, missionary, gather with those who assist them: human resource personnel, relocation experts,
educators and counselors. Together we develop strategies for dealing with challenges of cross-cultural living.
NAFSA: Association of International Educators - http://nafsa.org/annualconference/default.aspx
May 27-June 1, 2012 — Houston, Texas
Comprehensive Internationalization: Vision and Practice is the theme of the NAFSA 2012 Annual Conference &
Expo in Houston, Texas, which will feature hundreds of posters, sessions, and workshops, unlimited networking
opportunities, and a dynamic expo.
SHRM -- http://annual.shrm.org/
June 24-27, 2012 – Atlanta, GA
Society for Human Resources Management annual national conference.
SIETAR USA 2012 Conference - http://www.sietarusa.org/
October 17-20, 2012 — Minneapolis, Minnesota
Listen to and connect with the leaders in our field, partake in thought-provoking sessions and discussions, and
strengthen your networks and friendships within our growing interculturally-minded community. You will leave
with deeper insights on topics of vital interest to the field and your career, acquire new ideas for transforming
and balancing our lives, and gain an expanded appreciation for how we live and work in an intercultural world.
How to Work as an Intercultural Trainer | Page 25
Graduate Programs
Name of
School
American
University
Location
URL
Contact
Person
Washington, DC http://www.american.edu/cas/seth/M Graduate Assistant
A-ITE.cfm
Laurie Melin
itep@american.edu
Kent State
University
Kent, Ohio
Lesley
University
Cambridge,
Mass.
http://www.kent.edu/ehhs/hied/certif Dr. Martha Merrill,
icates/internationalization-of-higherAssociate Professor
education.cfm
and Coordinator of
Internationalization of
Higher Education
Certificate, at
mmerril@kent.edu
http://www.lesley.edu/gsass/65irp.ht Jana Van der Veer
ml
jvander@lesley.edu
Degree
Options
MA in
International
Training and
Education
M.Ed., Higher
Education
Administration
[Certificate in
Internationaliz
ation of Higher
Education]
MA,
Intercultural
Relations (2
program
options: on
campus or
online)
How to Work as an Intercultural Trainer | Page 26
SIT Graduate
Institute
Vermont
http://www.sit.edu/graduate/21164.h
tm
admissions@sit.edu
University of
Minnesota
Minneapolis,
MN
http://www.cehd.umn.edu/olpd/grad- Dr. Jeremy Hernandez,
programs/CIDE/default.html
Coordinator of
graduate studies
herna220@umn.edu
-Master of Arts
in Intercultural
Service,
Leadership, &
Management
-Master of Arts
in International
Education
-Master of Arts
in Teaching
English to
Speakers of
Other
Languages
(TESOL)
MA, or Ph.D.,
Comparative
and
International
Education
Development
How to Work as an Intercultural Trainer | Page 27
New York
University
New York City
http://steinhardt.nyu.edu/humsocsci/i Letizia La Rosa
nternational/ma
letizia.larosa@nyu.ed
u
Columbia
University's
Teachers
College
New York City
http://www.tc.columbia.edu/its/cie&i
ed/index.asp?Id=Home&Info=Welcom
e
Sarah Sherman,
Program Assistant
sherman@tc.edu
The
International
Partnership
for ServiceLearning and
Leadership
(IPSL)
Stanford
University
Multiple
locations—
starts in
Portland, OR.
http://www.ipsl.org/node/51
info@ipsl.org
Stanford, CA
http://suse-ice.stanford.edu/
info@suse.stanford.ed
u
M.A. or Ph.D.
International
Education or
Advanced
Certificate in
International
Education
4 options
(M.A., ME.d.
Ph.D., Ed.D) in
International
and
Comparative
Education
MA in
International
Development
and Service
M.A. and Ph.D,
International
Comparative
Education
How to Work as an Intercultural Trainer | Page 28
University of
the Pacific
Stockton, CA
http://www.pacific.edu/School-ofInternational-Studies/MA-inIntercultural-Relations/MAIR-DegreeRequirements.html
Katrina Alison
Jaggears, Associate
Director.
kjaggears@pacific.edu
M.A.
Intercultural
Relations
University of
Florida
Gainsville, FL
http://www.jou.ufl.edu/grad/intlcom
m/default.asp
Dr. Michael Leslie,
Graduate Coordinator.
mleslie@jou.ufl.edu
University of
Maryland,
Baltimore
County
Baltimore, MD
http://www.umbc.edu/mll/incc/
MA in Mass
Communicatio
ns, with an
International
Comm.
specialization
M.A. in
Intercultural
Comm.
University of
Miami
Miami, Florida
Dr. Denis M.
Provencher, Program
Director of MA in
Intercultural
Communication
provench@umbc.edu
http://www.com.miami.edu/graduate- Diane
intercultural-communication
Millette
Associate
Professor, Program
Director:
Communication
Studies
.
millette@miami.edu
MA
International
Comm.
How to Work as an Intercultural Trainer | Page 29
Boston
College
University of
Pennsylvania
University of
Pennsylvania
Boston, MA
http://www.bc.edu/schools/lsoe/acad Ana M. Martínez
emics/departments/eahe/graduate/he Alemán
Ed.D.,
a/grad.html
Associate Professor:
alemanan@bc.edu
-MA in Student
Affairs or
General Higher
Ed Admin.
-Ph.D in Higher
Ed Admin.,
specialty in
International
and
comparative
higher
education
Philadelphia, PA http://www.gse.upenn.edu/degrees_p Penny Creedon, LLE
M.S.Ed. and
rograms/icc
Coordinator: University Ph.D.
of
Intercultural
Pennsylvania
Graduat Comm.
e School of Education
pennyc@gse.upenn.e
du
Philadelphia, PA http://www.gse.upenn.edu/degrees_p Alex Posecznick,
M.S.Ed. and
rograms/ecs
Ph.D.
Division
Ph.D.
Manager: Education,
Education,
Culture & Society
Culture, &
Division
Society
alpos@gse.upenn.edu
How to Work as an Intercultural Trainer | Page 30
Pennsylvania
State
University
University Park,
PA
http://www.ed.psu.edu/educ/eps/cied David P. Baker,
Program Chair
dpb4@psu.edu
Masters and
PhD.
Comparative
and
International
Education
Drexel
Philadelphia, PA http://www.drexel.com/onlineOnline degree info:
Master of
University
degrees/education-degrees/msinfo@drexel.com
Science in
global/index.aspx
Global &
International
Education
(online only)
University of Amherst, Mass. http://www.umass.edu/education/aca Gretchen Rossman,
Master's
Massachusett
demics/epra/ed_intl.shtml
Concentration
Program in
s, Amherst
Coordinator:
International
gretchen@educ.umass Education
.edu
Indiana
Bloomington,
http://education.indiana.edu/tabid/10 Sandy Strain,
Master's in
University
Indiana
203/Default.aspx
Administrative
International
Bloomington
Assistant:
and
(812) 856-8370
Comparative
Education
George
Washington, DC http://gsehd.gwu.edu/programs/iep/ Katie
MA in
Washington
masters
Weigel,
Executive
International
University
Program Assistant:
Education
iep@gwu.edu
How to Work as an Intercultural Trainer | Page 31
Boston
University
Boston, MA.
http://www.bu.edu/iedp/
Program Assistant at:
iedp@bu.edu
Florida State
University
Tallahassee FL
http://bit.ly/rkjDEt
College of Ed. info:
info@coe.fsu.edu
http://bit.ly/q6wM9C
Harvard
University
Cambridge, MA
http://www.gse.harvard.edu/academi
cs/masters/iep/
iep@gse.harvard.edu
Loyola
University of
Chicago
Chicago, IL
http://www.luc.edu/education/acade
mics_degrees_masters.shtml
School of Education:
SchlEduc@luc.edu
MA in
International
Education
Development
MA & Ph.D in
Higher Ed.
MA & Ph.D in
Sociocultural &
International
Development
Ed. Studies
M.Ed.
International
Educational
Policy
(4 options)
M.A., M.Ed.,
J.D./M.A. Dual
degree & Ph.D.
in Cultural and
Educational
Policy Studies
How to Work as an Intercultural Trainer | Page 32
Old Dominion Norfolk, VA
University
http://education.odu.edu/efl/
The Ohio
State
University
Columbus, OH
http://ehe.osu.edu/epl/
The
University at
Albany
(SUNY)
Albany, NY
http://www.albany.edu/eaps/
Dr. William Owings,
M.S.Ed., Ed.S,
Graduate Program
and Ph.D. in
Director: ELS@odu.edu Ed. Leadership.
M.S.Ed., Ed.S,
and Ph.D. in
Higher
Education.
School of Educational
M.A. or Ph.D.
Policy and Leadership: in Educational
edplssgs@osu.edu
Policy and
Leadership
Department Secretary, M.S. or Ph.D. in
Carm Colfer
Higher
ccolfer@uamail.albany Education
.edu
M.S. or Ph.D. in
Educational
Policy Analysis
How to Work as an Intercultural Trainer | Page 33
University of Los Angles, CA
California, Los
Angles (UCLA)
http://gseis.ucla.edu/for/prospectivestudents
University of
Maryland
College Park,
MD
http://www.education.umd.edu/EDHI/ Steven Klees,
academics/ied.html
Professor;
sklees@umd.edu
University of
Pittsburgh
Pittsburgh, PA
http://www.education.pitt.edu/scae/
University of San Francisco,
San Francisco CA
Department: (310)
825-8326
Division Admin
Assistant
Ramces Jimenez
jimenez@gseis.ucla.e
du
Michael
Gunzenhauser, Assoc.
Professor
mgunzen@pitt.edu
http://www.usfca.edu/soe/programs/i Department email:
me/
ime@usfca.edu
(4 options)
Ed.D in
Educational
Leadership.
MA and PhD in
Social Sciences
and
Comparative
Education.
Master in
Student
Affairs.
M.A. and Ph.D.
in International
Education
Policy (IEP)
M.Ed., M.A., &
Ph.D. in Social
and
Comparative
Analysis in
Education
M.A. or Ph.D.
in International
and
Multicultural
Education
How to Work as an Intercultural Trainer | Page 34
Western
Michigan
University
Kalamazoo, MI
Texas Tech
University
Lubbock, Texas
Peace Corps
partnerships
Various
Thunderbird
School of
Global
Management
Glendale, AZ
http://www.wmich.edu/leadership/edl Department contact:
eadership/hesa/index.html
Donna Talbot
donna.talbot@wmich.
edu
M.A.
Educational
Leadership,
Higher
Education &
Student Affairs
concentration
http://www.educ.ttu.edu/academicDr. Colette Taylor:
(3 options)
programs/psychology-andcolette.taylor@ttu.edu M.Ed., Ph.D., &
leadership/higher-education/default
Ed.D. in Higher
Education
http://www.peacecorps.gov/index.cfm Various
Various
?shell=learn.whyvol.eduben.school_re
sults
http://www.thunderbird.edu/graduate admissions@thunderbi Master of Arts,
_degrees/master_of_arts/curriculum/i rd.edu
Global Affairs
ndex.htm
(particularly
useful if
interested in
working in
Business
Schools.)
How to Work as an Intercultural Trainer | Page 35
Programs Outside the U.S.
http://studyguide.aau.dk/programmes General info:
/program/culture-communicationaau@aau.dk
and-globalization(5417)
Aalborg
University
Aalborg,
Denmark
University of
Oslo
Oslo, Norway
Liverpool
Hope
University
Liverpool,
England
http://www.hope.ac.uk/prospective/p
ostgraduatecourses/educationinternational-perspectives-ma
Università
della Svizzera
italiana
Lugano,
Switzerland
http://www.mic.usi.ch/index/presenta
tion.htm
University of
Bedforshire
(aka
University of
Luton)
Luton, England
http://www.beds.ac.uk/howtoapply/c
ourses/postgraduate/interculturalcommunication
http://www.uio.no/english/studies/pr
ogrammes/ciedu-master/
uvstudieinfo@uv.uio.no
Postgraduate
Admissions Team
postgraduate@hope.a
c.uk
Admissions:
internationaladmissions@beds.ac.u
k
Master's in
Culture,
Communicatio
n and
Globalization
Comparative
and
International
Education
MA Education,
International
Perspectives.
Master of
Advanced
Studies in
Intercultural
Comm.
MA
Intercultural
Comm.
How to Work as an Intercultural Trainer | Page 36
University of
Warwick
Warwick,
England
http://www2.warwick.ac.uk/fac/soc/al Helen Spencer-Oatey,
/postgrad/msc/
Professor and Program
Director
Helen.SpencerOatey@warwick.ac.uk
MSc.
Intercultural
Communicatio
n for Business
& the
Professions
Lecturer Marko
Master's
Siitonen
degree in
marko.siitonen@yu.fi
Intercultural
Comm.
Dr Iona Huang, Head of MA
International
Management
Programmes
of
(iona.huang@edgehill. International
ac.uk)
Higher
Education
Chairperson of MA
Master of Arts
program: Dr. Ciarán
in Intercultural
Dunne
Studies
(ciaran.dunne@dcu.ie)
University of
Jyväskylä
Finland
https://www.jyu.fi/hum/laitokset/vies
ti/en/subjects/intercultural/icc
Edge Hill
University
Near Ormskirk,
England
http://www.edgehill.ac.uk/study/cour
ses/management-of-internationalhigher-education#details
Dublin City
University, Sc
hool of
Applied
Languages
and
Intercultural
Studies
Dublin, Ireland
http://www.dcu.ie/salis/index.shtml
How to Work as an Intercultural Trainer | Page 37
Questions? Comments? We'd love to hear from you!
Cate Brubaker
Founder, Small Planet Studio
http://ww.smallplanetstudio.com
Skype: cate.brubaker
Email: smallplanetstudio@gmail.com
Missy Gluckmann
Founder, Melibee Global Education Consulting
http://www.melibeeglobal.com
Skype: missyg77
Email: info@melibeeglobal.com
All contents copyright ©2011 by Small Planet Studio and Melibee Global Education Consulting. All rights reserved.
No part of this document may be reproduced or redistributed in any form, by any means (electronic,
photocopying, or otherwise) without the prior written permission of the publishers.