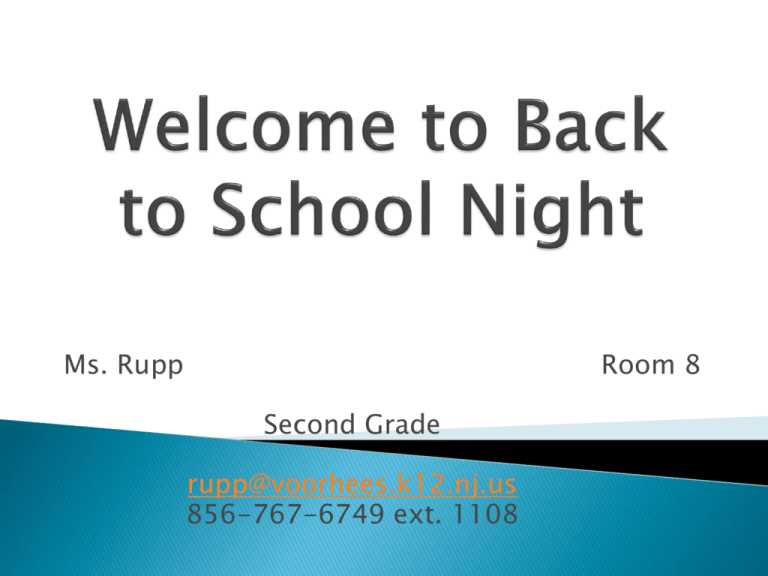 Ms. Rupp
Room 8
Second Grade
rupp@voorhees.k12.nj.us
856-767-6749 ext. 1108
•Reading
Street by Scott Foresman
•Oral Language development
•Word Work
•Reading ~ comprehension,
vocabulary, and fluency
•Focus on differentiated instruction
•Small groups focus on word attack
strategies, comprehension, and
fluency using 'just right' books
•Language ~ grammar and writing
•Foster
a lifelong love of
reading and writing
•Embrace good literature as
readers and writers
•Enhance skill development
Students:
•Read
 Teachers
Working with
Students:
to Self
•Read to Someone
 Guided Reading
•Work on Writing
 Guided Writing
•Word Work
 Assessing
•Listen to Reading
 Conferring
Reading
Fluency
•Read
aloud with accuracy,
comprehension, and
appropriate rate
•Read aloud with expression
•Second grade goal is to read
90 words per minute.
•Running records will be used
to assess student fluency.
Reading
Vocabulary
•Recognize
and automatically
read high-frequency words &
lesson vocabulary
•Use context clues to figure out
meaning of new vocabulary
•Classify and organize words
•Understand synonyms &
antonyms
•Build oral vocabulary with
Amazing Words
Reading
Comprehension
Strategies & Skills
•Set
a purpose for reading
•Activate and use prior
knowledge
•Make and confirm predictions
•Answer and generate questions
•Summarize text by retelling
stories or main idea
•Create mental images
•Make connections
•Identify literary elements- plot,
setting, characters, theme
•Identify
Reading
Comprehension
Strategies & Skills
the author's purpose
•Compare and contrast
•Name cause and effect
relationships
•Make inferences
•Distinguish fact from opinion
•Use graphic organizers
•Sequence events in a story
•Identify main idea & supporting
details (determine importance)
•Use fix-up strategies
Writing
•Use
pre-writing strategies to
organize and brainstorm writing
ideas
•Write personal narratives
•Create interesting
openings/closings
•Write a friendly letter
•Include details
•Write a non-fiction paragraph
•Steps in a process
•Dialogue
•Cursive writing introduced
during the second half of the
year
•Ideas
•Organization
•Voice
•Word
Choice
•Sentence Fluency
•Conventions
•Presentation
•Word
study includes our
daily work with phonics and
spelling. We will be working
with spelling patterns, word
families, and high frequency
(sight) words.
•"Amazing Words," highfrequency words, and
selection words will be
introduced weekly.
Math
Students will be
expected to learn their
math facts to 20 and
quizzes will be given
throughout the school
year. Flashcards will be
sent home to practice.
•Addition
and subtraction
strategies
•Two-digit addition &
subtraction
•Three-digit addition &
subtraction
•Mental addition & subtraction
•Place value to 1,000
Math
•Time
•Geometry
•Money
•Organize
and interpret data
•Measurement
•Introduction to multiplication
and division
•Communities:
Social Studies
community
workers, urban, suburban and
rural areas and how communities
can change
•All About Earth: landforms,
seasons, and Earth's resources
•Our Past: Native Americans,
Pilgrims, Colonies to states,
American Revolution, Famous
people in history
•All
Social Studies
About Work: Needs and
wants, goods vs. services,
producers vs. consumers, trading
with other countries, different
kinds of jobs and how people
meet their needs
•Our Government: Our country's
government, capital, American
heroes and American symbols
•Animals:
Science
6 classification groups
and characteristics, habitats
•Changes on Earth: Water cycle
and weather, changes on Earth,
fossils, dinosaurs
•Space: Earth's rotation, seasons,
planets
•Matter: 3 states of matter,
changing matter, engery- heat,
light, sound
•Define
Bully Busting
State-Mandated
Lessons
bullying
•Distinguishing between bullying
and normal conflict
•Recognize different behaviors that
may be aggressive, passive and
assertive
•Using an "I" message: "I feel
__________ when you ___________. I
want you to _____.
•Tattling vs. telling
•Bystander strategies
•Respect
Reading: 10% Homework
40% Classwork
50% Tests
Language: 0% Homework
50% Classwork
50% Tests
Spelling: 0% Homework
50% Classwork
50% Tests
Math: 10% Homework
40% Classwork
50% Tests
Science & Social Studies: 0% Homework
50% Classwork
50% Tests
A+ 100-98
A 97-95
B+ 91-89
B 88-86
C+ 82-80
C 79-77
D+ 73-71
D 70-68
F 64 and below
I incomplete
ABCD-
94-92
85-83
76-74
67-65
Please sign your child's agenda each night.
•Please
sign and return all tests.
•Quizzes do not need to be
signed and returned.
•Students will be given dictation
sentences weekly. These
sentences will count as a
classwork grade for spelling and
grammar. You will see two
grades on your paper separately
for spelling and grammar.
•Math website used daily during lesson
•Reading website used daily during lesson
•Students can sign on at home to practice skills
•Students' username and password sent home
4 R's
Respect*
Responsibility
Resilience
Recognition
Classroom Expectations
•We value our own learning and
the learning of others.
•We will take care of ourselves,
each other, and this place.
•We will have fun learning,
playing, and growing together.
Music Box
Marble Jar
Dollars
If you would like to make any contributions to
our classroom, they would be greatly
appreciated.
The following items are things we will need for
our school year:
Tissues
Hand Soap
Hand Sanitizer
Antibacterial Wipes or Baby Wipes
•Birthday
treats may be sent in to
celebrate your child's birthday
•Leave
•You
in the office
may also join your child for
lunch. Our lunch starts at 11:40.
•Will
be sent home
approximately 4-5 times
throughout the year
•Checks only made payable to
Scholastic Book Clubs
Orders may also be placed
online
 Sign-up in folder
 Shhh!!! It's a secret
 Bring in your child's favorite
story to share!
 Please specify month and day(s)
of the week that works best for
you.
 I will contact you near your
availability.