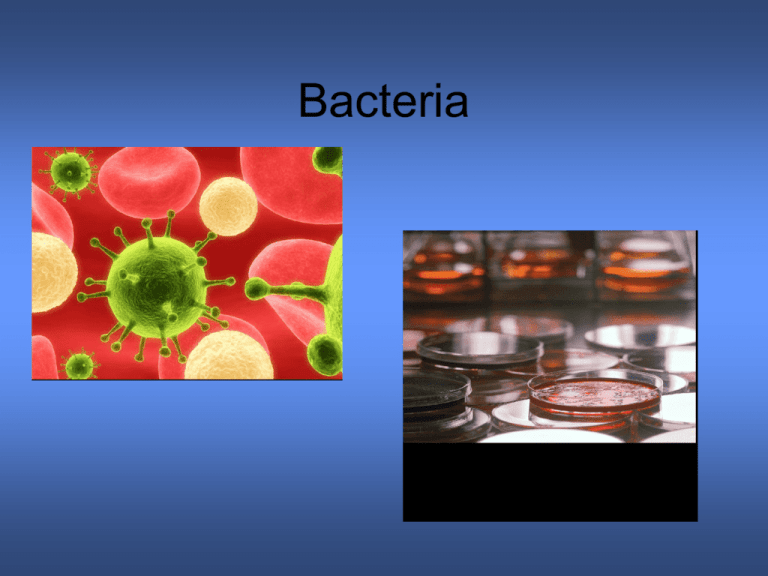 Bacteria
Prokaryote – single celled with no
nucleus
• Eubacteria – peptidoglycan (a
carbohydrate) cell wall
• Archaebacteria – cell wall of lipids, no
peptidoglycan in the cell wall
Identifying Prokaryotes
• Shape
a. bacilli – rod shaped
b. cocci – spherical shaped
c. spirilla – corkscrew shape
http://biology.clc.uc.edu/graphics/bio106/bacteria.jpg
Identifying Prokaryotes
• Cell Wall – use gram stain
i. gram positive has peptidoglycan wall
ii. gram negative has no peptidoglycan
wall
• Movement – may or may not move
>flagella
>lash, snake, or spiral forward
>glide on slime like secreted layer
Metabolic Diversity
• Heterotrophs: chemotrophs &
photoheterotrophs
• Autotrophs
>photoautotrophs –
ex. Cyanobacteria
http://steel.ced.berkeley.edu/cris/
hiddenecologies/HE/wp-content/uploads/
2006
Metabolic Diversity
• >chemoautotrophs – energy from
chemical reactions is used to make food
(from ammonia, hydrogen sulfide (H2S),
nitrites, sulfur, or iron)
Growth & Reproduction
• Binary fission
http://www.biology-resources.com/drawing-amoeba-reproduction.html
Growth & Reproduction
• Conjugation
http://americanscientist.org/Libraries/images/thumbnail/20033711443_307.gif
Growth & Reproduction
• Spore Formation: structures of DNA &
some cytoplasm (formed when
conditions were unfavorable for growth)
remain dormant for months or years
until the right conditions
exist
http://ppdl.purdue.edu/PPDL/images/
daylily_rust_spores400x.jpeg
Importance of Bacteria
• Decomposers – recycle nutrients &
maintain equilibrium
• Nitrogen fixers – change
nitrogen gas into
useable compound
plants can use
www.windows.ucar.edu/earth/climate/images/
nitrogencycle.jpg
Importance of Bacteria
• Human use – make food & beverages, clean
up oil spills, remove waste products from
ground, synthesize drugs & chemicals, make
vitamins our bodies
need (E.coli in large intestine)
www.javno.com/slike/slike_3/r1/g2007/
www.fotosearch.com/LIF145/pdb07006/
http://library.thinkquest.org/J002755/graphics/vitamins.gif
Viruses
• Virus: particles of nucleic acid, protein,
& sometimes lipids (typically DNA or
RNA core with a protein coat)
>only reproduce by infecting living
cells
>use living cells to
make more viruses
Image by Karsten Schneider/Science Photo Library
Viruses
• Capsid: protein coat of a virus
>capsids bind to cell host & "trick" the
cell to let the virus inside the healthy cell
• Bacteriophages: viruses that only infect
bacteria
Viral Infection
• Lytic – virus enters a cell, makes copies
of itself, & causes the cell to burst
• Lysogenic - virus combines its DNA with
the host cell and the viral DNA
replicates with the host's DNA
Viral Infection
Retroviruses
• Viruses that contain RNA
• Named retro because they copy genetic
information from RNA to DNA (usually
genetic information is copied from DNA
to RNA
Retroviruses
HIV VIRUS
•
www.chm.bris.ac.uk/.../levasseur/images/hiv.GIF
The "take-home" message
• STAY
HEALTHY
• WASH YOUR
HANDS, ETC.