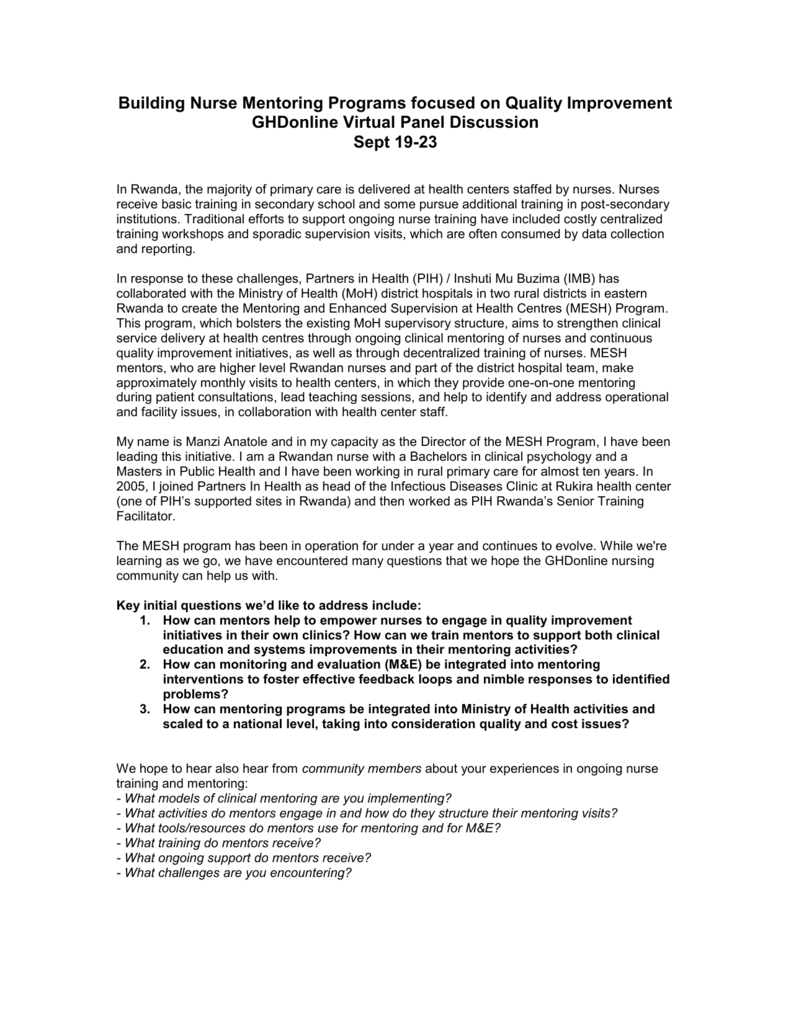 Building Nurse Mentoring Programs focused on Quality Improvement
GHDonline Virtual Panel Discussion
Sept 19-23
In Rwanda, the majority of primary care is delivered at health centers staffed by nurses. Nurses
receive basic training in secondary school and some pursue additional training in post-secondary
institutions. Traditional efforts to support ongoing nurse training have included costly centralized
training workshops and sporadic supervision visits, which are often consumed by data collection
and reporting.
In response to these challenges, Partners in Health (PIH) / Inshuti Mu Buzima (IMB) has
collaborated with the Ministry of Health (MoH) district hospitals in two rural districts in eastern
Rwanda to create the Mentoring and Enhanced Supervision at Health Centres (MESH) Program.
This program, which bolsters the existing MoH supervisory structure, aims to strengthen clinical
service delivery at health centres through ongoing clinical mentoring of nurses and continuous
quality improvement initiatives, as well as through decentralized training of nurses. MESH
mentors, who are higher level Rwandan nurses and part of the district hospital team, make
approximately monthly visits to health centers, in which they provide one-on-one mentoring
during patient consultations, lead teaching sessions, and help to identify and address operational
and facility issues, in collaboration with health center staff.
My name is Manzi Anatole and in my capacity as the Director of the MESH Program, I have been
leading this initiative. I am a Rwandan nurse with a Bachelors in clinical psychology and a
Masters in Public Health and I have been working in rural primary care for almost ten years. In
2005, I joined Partners In Health as head of the Infectious Diseases Clinic at Rukira health center
(one of PIH's supported sites in Rwanda) and then worked as PIH Rwanda's Senior Training
Facilitator.
The MESH program has been in operation for under a year and continues to evolve. While we're
learning as we go, we have encountered many questions that we hope the GHDonline nursing
community can help us with.
Key initial questions we'd like to address include:
1. How can mentors help to empower nurses to engage in quality improvement
initiatives in their own clinics? How can we train mentors to support both clinical
education and systems improvements in their mentoring activities?
2. How can monitoring and evaluation (M&E) be integrated into mentoring
interventions to foster effective feedback loops and nimble responses to identified
problems?
3. How can mentoring programs be integrated into Ministry of Health activities and
scaled to a national level, taking into consideration quality and cost issues?
We hope to hear also hear from community members about your experiences in ongoing nurse
training and mentoring:
- What models of clinical mentoring are you implementing?
- What activities do mentors engage in and how do they structure their mentoring visits?
- What tools/resources do mentors use for mentoring and for M&E?
- What training do mentors receive?
- What ongoing support do mentors receive?
- What challenges are you encountering?