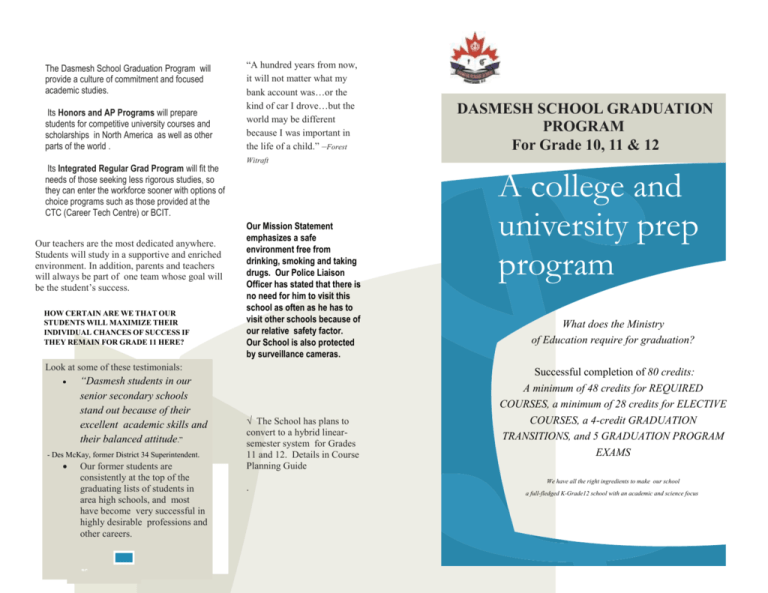 The Dasmesh School Graduation Program will
provide a culture of commitment and focused
academic studies.
Its Honors and AP Programs will prepare
students for competitive university courses and
scholarships in North America as well as other
parts of the world .
Its Integrated Regular Grad Program will fit the
needs of those seeking less rigorous studies, so
they can enter the workforce sooner with options of
choice programs such as those provided at the
CTC (Career Tech Centre) or BCIT.
Our teachers are the most dedicated anywhere.
Students will study in a supportive and enriched
environment. In addition, parents and teachers
will always be part of one team whose goal will
be the student's success.
HOW CERTAIN ARE WE THAT OUR
STUDENTS WILL MAXIMIZE THEIR
INDIVIDUAL CHANCES OF SUCCESS IF
THEY REMAIN FOR GRADE 11 HERE?
"A hundred years from now,
it will not matter what my
bank account was…or the
kind of car I drove…but the
world may be different
because I was important in
the life of a child." –Forest
Witraft
Our Mission Statement
emphasizes a safe
environment free from
drinking, smoking and taking
drugs. Our Police Liaison
Officer has stated that there is
no need for him to visit this
school as often as he has to
visit other schools because of
our relative safety factor.
Our School is also protected
by surveillance cameras.
Look at some of these testimonials:

"Dasmesh students in our
senior secondary schools
stand out because of their
excellent academic skills and
their balanced attitude."
- Des McKay, former District 34 Superintendent.

Our former students are
consistently at the top of the
graduating lists of students in
area high schools, and most
have become very successful in
highly desirable professions and
other careers.
sc
DASMESH SCHOOL GRADUATION
PROGRAM
For Grade 10, 11 & 12
√ The School has plans to
convert to a hybrid linearsemester system for Grades
11 and 12. Details in Course
Planning Guide
.
A college and
university prep
program
What does the Ministry
of Education require for graduation?
Successful completion of 80 credits:
A minimum of 48 credits for REQUIRED
COURSES, a minimum of 28 credits for ELECTIVE
COURSES, a 4-credit GRADUATION
TRANSITIONS, and 5 GRADUATION PROGRAM
EXAMS
We have all the right ingredients to make our school
a full-fledged K-Grade12 school with an academic and science focus
WHAT DOES DASMESH OFFER GRADE 10?
An already balanced, strong, and intensive
academic program in Grade 10. Honors
Programs were added in 2010 as a sure
step to making our Grad Program a college
and university prep program.
GRADE 10 PROGRAM AT DPS
Required Courses
Credits
PLANNING 10
4
ENGLISH 10/HON
4
FOUNDATIONS OF MATH &
PRECALCULUS 10/ HON
4
SOCIAL STUDIES 10
4
SCIENCE 10/HON
4
PE 10
4
INFOTECH (Applied Skills)
4
These contribute to 28/48 required credits
for graduation.
Elective Courses
Credits
PUNJABI 12 (Accelerated Gr. 10)
PUNJABI 11 (GR.9)
PUNJABI 10 (GR.8)
BAA YEARBOOK 10 (GR.9)
BAA MUSIC 10
4
4
4
2
2
Students here qualify for 28 credits for
REQUIRED COURSES and 16/28 credits
for ELECTIVES by the end of their Grade
10 year.
What is the advantage of an Accelerated
Punjabi Program?
More time for studies in subjects that will
strengthen the student's FOCUS AREA
FOR A CHOSEN CAREER PATH in Grade
11 and 12 years
EXAMS & SCHOLARSHIPS
Our Grade 10 students appear for 4
PROVINCIAL EXAMS:
 3 MANDATORY
 1 OPTIONAL (in DPS all students
write this Punj.12 Exam).
For Grade 11, the Provincial Social Studies 11
Exam is compulsory. In year 12, the English
12 exam is compulsory (Total of 5 graduation
program exams).
DPS students aiming for competitive university
studies will have the option of writing AP
exams in year 12.
Some facts:
 Between 2 to 4 students have received
Passport to Education Scholarships from
the Ministry of Education every year in
Dasmesh.

A large percentage of our Grade 10
students have qualified for a bursary or a
scholarship from the DPS Endowment
Fund or community-staff contributions
every year
►The goal is to maintain this and build up the
scholarships in year 11 and 12. The sky is the
limit once students are in Grade 12, and they
have done well, and made a difference with
their social contributions. There are hundreds
of big scholarships available from different
organizations e.g. RBC (Royal Bank)
Scholarships for new Canadians as well as
citizens are huge and many. There are many
BC Hydro scholarships. All colleges and
universities have many entrance scholarships
and bursaries, for those who qualify.
Google search: Abbotsford Community
Foundations Awards Program or
www.keytoscholarships.com for more info on
scholarships for BC students. The DPS Grade
11 and 12 Student Services Counselor will be
able to support students further on this topic.
GRADE 11 COURSE OFFERINGS, 201112:
Required:
ENGLISH 11 or ENGLISH 11 HONORS
SOCIALS 11 (+Prov. Exam )
FOUNDATIONS OF MATH 11
or PRE-CALCULUS 11 HONORS
CHEMISTRY 11 or CHEM 11 HONORS
4
4
4
4
4
Plus GRAD TRANSITIONS ( CAREER PLANNING
+DPA/PE+ COMMUNITY SERVICE) to be continued into
the Grade 12 year.
Electives (Some schools offer "Required Courses" as
electives too, and we will do the same to consolidate
students' skills in these. Any 2 per semester, according to
students' choice of career path and counselor's /subject
teacher's recommendation (depending on at least 5
students per course):
BIOLOGY 11 or
BIOLOGY 11 HONORS
PHYSICS 11 OR
PHYSICS 11 HONORS
BAA TABLA/ DRUMS 11
BAA BHANGRA & GIDDA DANCING 11
COMPUTER PROGRAMMING 11
ACCOUNTING 11
LAB ASSISTANCE
PEER TUTORING
A PE 11 course (e.g.Fitness)
4
4
2
2
2
2
2
2
2
Some points worth looking at:
►Bhangra is a credit course at SFU now.
►At UFV since 2009, students hoping for a head-start on their
university science studies have been able to apply for the BSc
Program while still in Grade 11. The benefits: students get
connected to the university community and are invited as
participants in activities hosted by the university eg. Seminars,
distinguished speakers panels, science career nights, direct
access to science professors etc..
GRADE 12 PLANNED COURSE
OFFERINGS 2011-12
Required:
ENGLISH 12 + Prov. Exam
Or ENGLISH 12 H +Prov.Exam
FOUNDATIONS OF MATH 12
Or CALCULUS 12 AP
Plus GRAD TRANSITIONS12
(completion year)
4
4
4
4
Electives:
Any 2 of these
A PE 12 course
LITERATURE 12 AP
BIOLOGY12 (R= regular)
BIO 12 (AP)
CHEMISTRY 12 (R)
CHEM 12
(AP)
PHYSICS 12 ( R)
PHYSICS 12 (AP)
2
2
4
4
4
4
4
4
ACCOUNTING 12
HISTORY12
BAA WORLD RELIGIONS 12
PEER TUTORING12
TEACHER ASSISTANCE 12
LAB ASSISTANCE 12
PHOTOGRAPHY 12
TABLA/MUSIC 12
AN ICT COURSE 12
4
4
4
2
2
2
2
2
AP students can write AP Exams in
Grade 12 ( apart from the mandatory
Ministry of Education English Exam).
This will give them university credits or
an edge when they seek early acceptance
into programs of their choice.
At Dasmesh highly motivated students
will be encouraged and supported to
write as many Provincial 12 Exams as
required ( only English 12 is
compulsory) if they wish to give
themselves maximum chances for
Ministry of Education Grad Program
Scholarships.