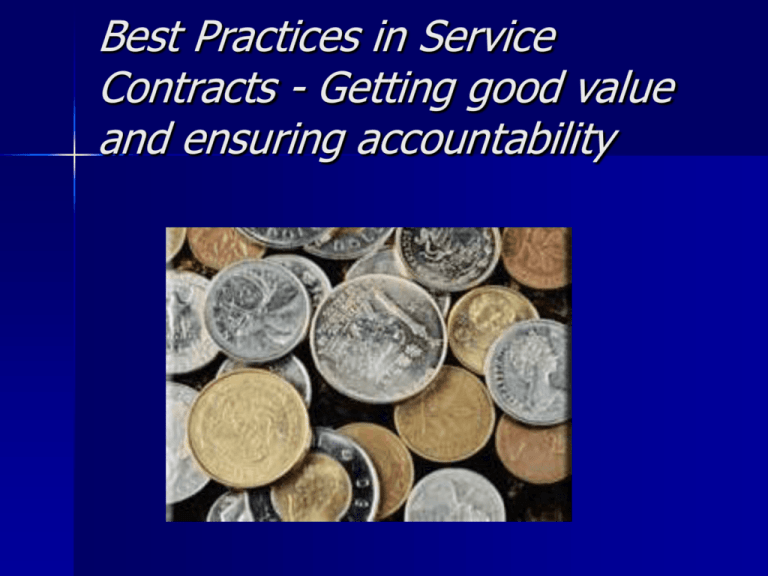 Best Practices in Service
Contracts - Getting good value
and ensuring accountability
Best Practices




Building the Contract
Managing the Contract
Completion of the Contract
Capturing new knowledge
Building the Contract
Building the Contract

Client - define the expectations for a
successful contractual relationship.
Examples:
– On time and at or below budget
– Performance criteria
– Customer survey results
Building the Contract

Contracting team (client, procurement)
determine the contracting approach
– Support selected success criteria
– Partnership with Contractor
– Determine key risks/mitigating strategies
– Define roles – who will be managing the
contract?
Defining Expectations
Building the Contract

Define and execute a fair bidding and
awarding process.
– Model RF(x) by contract type
Fixed price
 Cost reimbursement
 Time and Material
 Indefinite delivery

– Ensure "Full Monty" bidding process
Building the Contract
4-Negotiate a mutually agreeable contract that
embodies the contracting approach. Clearly
determine contract completion (date,
acceptance…)
– Client defines desired outcome
– Contractor determines the best way to achieve
that outcome
– Clearly defined "Statement of Work" (SOW)
Managing the Contract
Managing the Contract

Provide orientation for contractors.
– Culture and norms of the client. Discuss
performance measures, contract
milestones etc. with key individuals.
– Clearly define roles of Client / Contractor
– Organization policy compliance e.g.
harassment, workplace safety, parking,
travel.
Managing the Contract

Monitor Performance and provide
timely feedback.
– Performance-based contracting

Focus on output, quality or outcomes
– Connect all the pieces
Client desired expectations
 Contracted terms and deliverables

exercise
Managing the Contract

Establish a clear communication
process specific to the project
– Reporting schedule
KPI model
 Benchmarking metrics
 Competency standards for consultants

– Meeting schedule
Progress reporting to SOW
 Conflict resolution

Completion of the
Contract
Completion of the Contract

Contract completion based on contract
type.
– Acceptance
– Fixed date
– Final Milestone completion
– Bonus or penalties for performance
– Requirement for competitive evaluation
Capturing New Knowledge
Capturing New Knowledge


Knowledge transfer to client
Post mortem evaluation
– RFP evaluation methods
– contracting methodology
– KPI metrics used
– Communication methods
– Update templates (rf(x), contract, letters
etc.)
Summary



Funding agencies requiring more
accountability and demonstrated value
Ensuring value and accountability
requires significant effort even before
the RFP
"Value add" for the procurement
organization
Best Practices in Service
Contracts - Getting good value
and ensuring accountability

Questions?
Bibliography



Effectively Managing Professional Services Contracts. Sandra L. Fisher, Michael
Wasserman, Paige P. Wolfe. IBM Centre for The Business of Government.
Seven Steps to Performance Based Services Acquisition. U.S. Office of Federal
Procurement Policy.
It's what's up front that counts. Richard W. Walker, Government Computer
News, 11/10/03
Contributions by:
Bob Moore, Director, Purchasing - University of Western Ontario
Paul Dugal, Manager, Purchasing Services – University of Manitoba
Ron MacDonald, Chief Executive Officer-Interuniversity Services Inc.