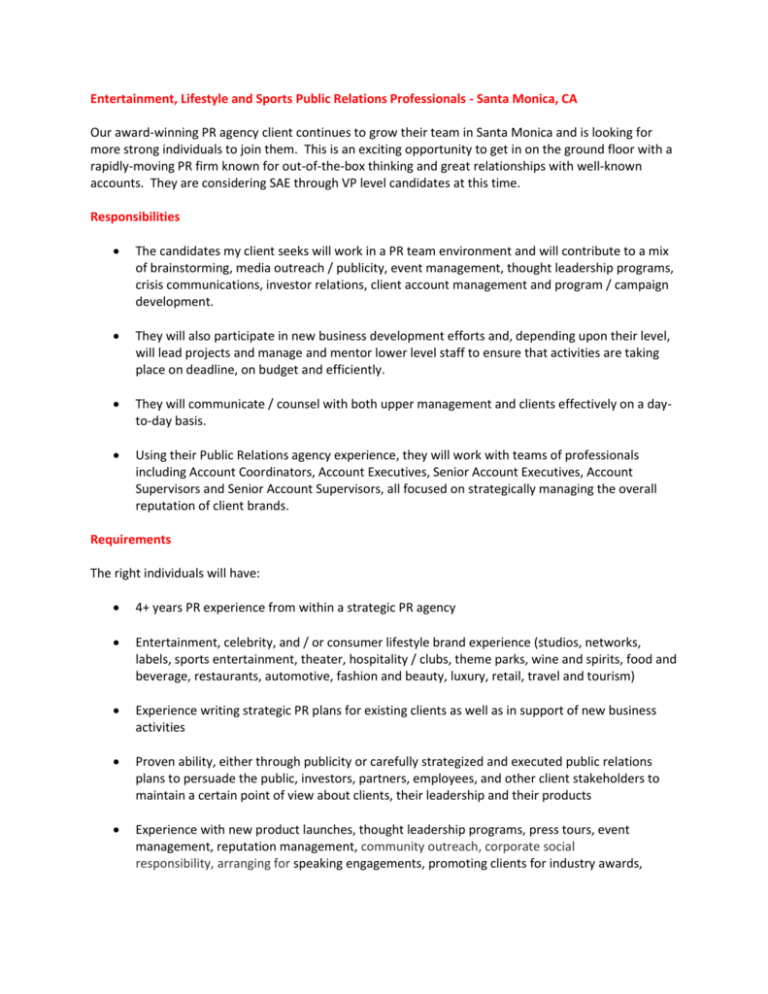 Entertainment, Lifestyle and Sports Public Relations Professionals - Santa Monica, CA
Our award-winning PR agency client continues to grow their team in Santa Monica and is looking for
more strong individuals to join them. This is an exciting opportunity to get in on the ground floor with a
rapidly-moving PR firm known for out-of-the-box thinking and great relationships with well-known
accounts. They are considering SAE through VP level candidates at this time.
Responsibilities

The candidates my client seeks will work in a PR team environment and will contribute to a mix
of brainstorming, media outreach / publicity, event management, thought leadership programs,
crisis communications, investor relations, client account management and program / campaign
development.

They will also participate in new business development efforts and, depending upon their level,
will lead projects and manage and mentor lower level staff to ensure that activities are taking
place on deadline, on budget and efficiently.

They will communicate / counsel with both upper management and clients effectively on a dayto-day basis.

Using their Public Relations agency experience, they will work with teams of professionals
including Account Coordinators, Account Executives, Senior Account Executives, Account
Supervisors and Senior Account Supervisors, all focused on strategically managing the overall
reputation of client brands.
Requirements
The right individuals will have:

4+ years PR experience from within a strategic PR agency

Entertainment, celebrity, and / or consumer lifestyle brand experience (studios, networks,
labels, sports entertainment, theater, hospitality / clubs, theme parks, wine and spirits, food and
beverage, restaurants, automotive, fashion and beauty, luxury, retail, travel and tourism)

Experience writing strategic PR plans for existing clients as well as in support of new business
activities

Proven ability, either through publicity or carefully strategized and executed public relations
plans to persuade the public, investors, partners, employees, and other client stakeholders to
maintain a certain point of view about clients, their leadership and their products

Experience with new product launches, thought leadership programs, press tours, event
management, reputation management, community outreach, corporate social
responsibility, arranging for speaking engagements, promoting clients for industry awards,
working with the press, celebrity seeding, product sponsorship, branded entertainment and/or
endorsements

Great track record working with corporate clients from the CMO on down / solid reputation for
your ability to deliver on clients' strategies and provide superior client counsel

Experience leading and mentoring junior team members

Great media contacts throughout one or more industry verticals, tier 1 business publications
and social / digital media

Successful experience helping with new business pitching / being part of a pitch team

Self-starter attitude; ability to work autonomously as well as with teams of PR professionals

Entrepreneurial, roll-up-your-sleeves attitude
More About the Hiring Firm
This firm of approximately 140 communications professionals has received several awards for the work
they've done, including:




PRWeek Midsize Agency of the Year Finalist 2012
The Holmes Report Small Agency of the Year 2011
PR News Top Places to Work in PR 2011, 2013
NJ BIZ Best Places to Work in NJ, 2009, 2010, 2011 & 2012
They provide excellent benefits including:










Medical, dental, vision, life, and disability insurance
401(K) with matching
Annual bonuses
Generous paid time off
Paid half-days on Fridays during the summer
Mass transit / parking reimbursement account
Tuition reimbursement and regular internal training / mentoring opportunities
Regular social events and outings
Casual dress and work environment
Opportunities for CSR contributions
And, they represent well-known clients, some of which are &/or have been:
Disney
General Mills
breastcancer.org
Milk Bone
Hard Rock
Turner Sports
Mtn Dew
Lifetime
Pfizer
Medco
9Lives
The Container Store
Shop Rite
Starwood Hotels and Resorts
V8
Good Year
Meow Mix
Eggland's Best
Mary Kay
Longines
Novartis
Humana
Harley-Davidson
Pillsbury
Heathrow Airport
Siemens
Campbell's
Crayola
Quaker State
Del Monte
Vtech
Hasbro
Toys R Us
Red Robin
Burger King
BASF
ESPN
Hong Kong Tourist Board
BMW
Diet Pepsi Max
Ironman
Casio
Chap Stick
South Africa
IMAX
WebMD
UPS
Chrysler
Hershey's
Harlem Globetrotters
To Apply
In order to be considered for this position, please return your resume and cover letter addressing why
you think you're a fit for this team to deb@debhester.biz.