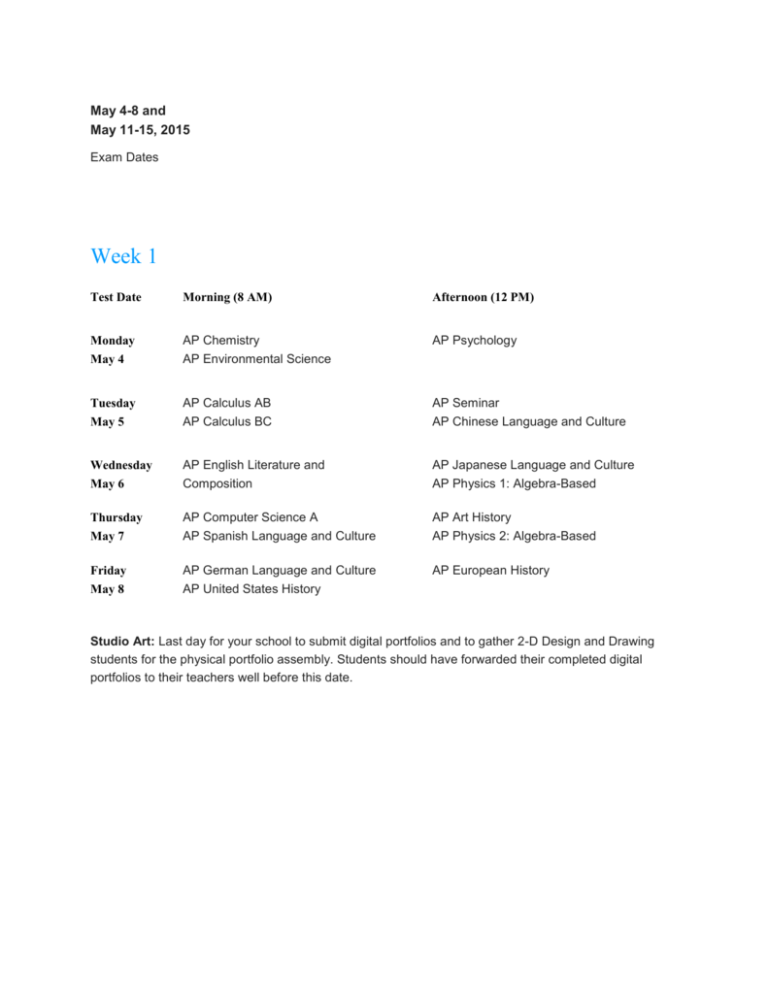 May 4-8 and
May 11-15, 2015
Exam Dates
Week 1
Test Date
Morning (8 AM)
Afternoon (12 PM)
Monday
May 4
AP Chemistry
AP Environmental Science
AP Psychology
Tuesday
May 5
AP Calculus AB
AP Calculus BC
AP Seminar
Wednesday
AP English Literature and
AP Japanese Language and Culture
May 6
Composition
AP Physics 1: Algebra-Based
Thursday
AP Computer Science A
AP Art History
May 7
AP Spanish Language and Culture
AP Physics 2: Algebra-Based
Friday
AP German Language and Culture
AP European History
May 8
AP United States History
AP Chinese Language and Culture
Studio Art: Last day for your school to submit digital portfolios and to gather 2-D Design and Drawing
students for the physical portfolio assembly. Students should have forwarded their completed digital
portfolios to their teachers well before this date.
Week 2
Test Date
Morning (8 AM)
Afternoon (12 PM)
Monday
May 11
AP Biology
AP Music Theory
AP Physics C: Mechanics
IMPORTANT ALERT AFTERNOON (2
p.m.)
Special Exam time.
AP Physics C: Electricity and Magnetism
is the only exam given at 2 p.m.
Tuesday
AP United States Government and
AP French Language and Culture
May 12
Politics
AP Spanish Literature and Culture
Wednesday
AP English Language and Composition
AP Statistics
Thursday
AP Comparative Government and Politics
AP Italian Language and Culture
May 14
AP World History
AP Macroeconomics
Friday
AP Human Geography
AP Latin
May 15
AP Microeconomics
May 13
May 20-22, 2015
Late-testing dates.
June 15, 2015
AP Services must receive written requests to change college score report recipients, and to withhold or
cancel scores for the current year's exam administration, by this date.
July
AP scores are released to designated colleges, students and their high schools.