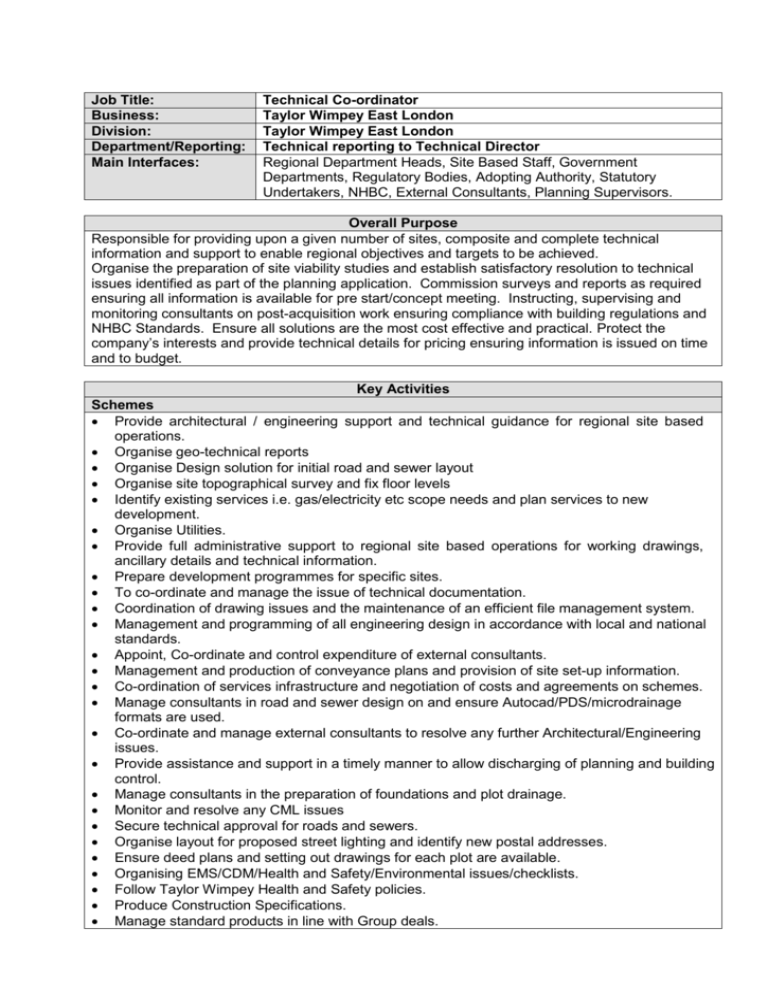 Job Title:
Business:
Division:
Department/Reporting:
Main Interfaces:
Technical Co-ordinator
Taylor Wimpey East London
Taylor Wimpey East London
Technical reporting to Technical Director
Regional Department Heads, Site Based Staff, Government
Departments, Regulatory Bodies, Adopting Authority, Statutory
Undertakers, NHBC, External Consultants, Planning Supervisors.
Overall Purpose
Responsible for providing upon a given number of sites, composite and complete technical
information and support to enable regional objectives and targets to be achieved.
Organise the preparation of site viability studies and establish satisfactory resolution to technical
issues identified as part of the planning application. Commission surveys and reports as required
ensuring all information is available for pre start/concept meeting. Instructing, supervising and
monitoring consultants on post-acquisition work ensuring compliance with building regulations and
NHBC Standards. Ensure all solutions are the most cost effective and practical. Protect the
company's interests and provide technical details for pricing ensuring information is issued on time
and to budget.
Key Activities
Schemes
 Provide architectural / engineering support and technical guidance for regional site based
operations.
 Organise geo-technical reports
 Organise Design solution for initial road and sewer layout
 Organise site topographical survey and fix floor levels
 Identify existing services i.e. gas/electricity etc scope needs and plan services to new
development.
 Organise Utilities.
 Provide full administrative support to regional site based operations for working drawings,
ancillary details and technical information.
 Prepare development programmes for specific sites.
 To co-ordinate and manage the issue of technical documentation.
 Coordination of drawing issues and the maintenance of an efficient file management system.
 Management and programming of all engineering design in accordance with local and national
standards.
 Appoint, Co-ordinate and control expenditure of external consultants.
 Management and production of conveyance plans and provision of site set-up information.
 Co-ordination of services infrastructure and negotiation of costs and agreements on schemes.
 Manage consultants in road and sewer design on and ensure Autocad/PDS/microdrainage
formats are used.
 Co-ordinate and manage external consultants to resolve any further Architectural/Engineering
issues.
 Provide assistance and support in a timely manner to allow discharging of planning and building
control.
 Manage consultants in the preparation of foundations and plot drainage.
 Monitor and resolve any CML issues
 Secure technical approval for roads and sewers.
 Organise layout for proposed street lighting and identify new postal addresses.
 Ensure deed plans and setting out drawings for each plot are available.
 Organising EMS/CDM/Health and Safety/Environmental issues/checklists.
 Follow Taylor Wimpey Health and Safety policies.
 Produce Construction Specifications.
 Manage standard products in line with Group deals.









Manage Standard House Types and the use of this portfolio.
Ensure production of H&S file for RSL's or Management Companies.
Ensure checking of supplier manufacturer details and information such as Floor beams, joists,
roof designs, M&E and Kitchen layouts etc.
Ensure all technical clearances for section 38, 104 and 278 agreements are secured for
adoption process.
Ensure public open space area agreements in place for the Management Co or for adoption by
the L.A.
Attend pre start, specification and any other relevant meeting as required under the Company's
Operating Framework.
Attend monthly site meetings and undertake regular site visits.
Organise and chair design team meetings. Support Technical Manger/ Technical Director in
their roles.
Maximising profits to scheme by ensuring accuracy of information, checking drawings and
details and questioning all technical aspects to find the most cost affective solutions.
Management
 Must be able to manage external consultants and control external fees and expenditure.
 Coordination and checking of all technical information and distribution.
 The commissioning, co-ordination and checking of various specialist suppliers designs and
integrate their requirements into the working drawing packages.
 To liase with NHBC, resolving technical & design issues.
 To register, resolve and monitor where appropriate site queries from production management
to enable progressive product development.
 Support Customer Care team as necessary.
 Work to create a positive team spirit.
 Be pro active in approach to projects.
 Follow team procedures and Operating Framework.
 Aid to improve team procedures.
 Provide guidance to junior staff.
Communication
 Liaise with Regional Team's in the production of layouts.
 Liaise with Design team to ensure coordination of layout designs.
 Liaise with Sales & Marketing regarding site brochure production.
 Look to maximise through good communication with other teams the companies profits and
reduce risks.
Commercial Creativity
 Design economically and understand the commercial aspects of design decisions.
 Produce designs in agreed timescales to ensure regional forecasts are achieved.
 Must be able to communicate well at all levels internally within the group and externally with
public bodies.
 Embrace innovative solutions to resolve technical and design issues.
 Should have a broad understanding of corporate vision and policies.
 Work with the project team to ensure the most desired and economical decisions are made
and implemented into the design.
CDM & CPD
 Embrace Health and Safety.
 Discharge the designer's responsibilities under CDM regulations.
 Must undertake continuous professional development.
 Work in line with Taylor Wimpey procedures and Operating Framework.


Knowledge Required
Experience of coordinating, managing and providing technical guidance and support to
residential developments.
Be able to lead a team and manage meetings to the benefit of the region.
Desired Qualifications




C.I.A.T.
Degree
HNC / ONC
CAD







Technical Competencies
AutoCAD, Excel, Word, Power Projects, Power Point.
Design and engineering construction knowledge
Technical and Building Construction knowledge
Building Regulations
NHBC legislation
Health & Safety / CDM Regulations
Planning legislation.
Key Competencies
Teamwork [This means much more than working closely with others. It also means promoting our
shared values and getting the best out of our colleagues while participating fully in adding value to
the business]
Team Work: Acts as a role model in demonstrating very effective team working both within
immediate team and wider 'TW' team. Plays an effective role as a member of the TW Team.
Builds Effective Teams: Builds a strong team and encourages direct reports to do likewise
reinforcing steps in that direction. Creates strong morale and team spirit.
Communication [Effective communication is a two-way street. It involves being a good listener as
much as a good talker. It means asking questions to ensure full and proper understanding, and
being able to influence other people, by gaining their agreement for ideas and initiatives]
Sharing Information: Communicates with clarity and impact to all levels of employees relating
effectively to their needs.
Credibility and Trust: Generates trust by openness, two way communications style and
consistency. Demonstrates clear understanding of all relevant business issues which enhances
credibility.
Presence and Influence: Projects presence at Team meetings – able to contribute with
confidence. Able to deploy a range of influencing skills to deal with barriers/problem situations,
drawing on personal experiences to make communications more affective.
Personal Drive [The ability to inspire others through one's own enthusiasm and commitment to the
job. Positive behaviour, setting challenging goals and standards for oneself and others; acting as a
role model]
Inspires by example: Self starting – pushes team and self to achieve stretching targets. Drives a
culture of continuous improvement inspiring others by personal commitment and enthusiasm.
Resilience And Self Confidence: Self confident and energetic in pursuit of goals without the need
for constant referral or reinforcement from others. Resilient when faced with setbacks/obstacles.
Works harder in adversity..
Customer Focus (Internal & External) [Working to understand customer needs, to meet and
exceed expectations, and to establish and maintain longer-term customer relationships]
Personal Commitment: Takes an active lead in promoting the importance of long-term
relationships with customers.
Right First Time: Secures full commitment to customer satisfaction from team and a collective
drive towards a right first time culture.
Process Focus: Proactive in ensuring structured customer management processes are
implemented. Drives a problem solving approach to customer complaints, rather than
compensation driven solutions.
Business and commercial acumen [This means helping to maximise our profitability by
controlling costs; exploring new ways to improve efficiency; and taking the financial implications
and risks into account when making decisions]
External Effectiveness: Proactively focuses on changes required for the future of the business.
Recognises where resources/expertise outside the team can enable more effective delivery and
makes use of these.
Commercial Focus: Understands the key commercial fundamentals in each area of the business
and puts in place procedures to ensure these are monitored and controlled. Takes the necessary
steps to deliver margin and profitability.
Decision Making: Demonstrates decisiveness within scope of role knowing when risk factors
require referral upwards. Able to handle more complex commercial decision making.
Innovation [Consistently producing imaginative new ideas and solutions to problems; encouraging
the same in others; being prepared to experiment and being comfortable with managing risk]
Seeks And Applies New Ideas: Challenges the Status Quo – looks for and stimulates ideas and
suggestions for improvement. Willing to try out new ideas.
Represents Wider TW Business: Acts as the representative of the full breadth of TW activities.
Integrity [Demonstrating consistently the professional virtues of honesty, fairness, sincerity and
trustworthiness; being committed to the highest standards of professional ethics]
Integrity and Respect: Treats all relationships with integrity and respect. Trustworthy and reliable
in dealings with employees. Respected by all colleagues.
Role Model: Acts as a role model – shapes culture of effectiveness by own example.
Leadership (if managing a team or has influence on another) [Shaping the vision; being a
credible, inspiring role model; having the ability to lead and manage diverse groups and adapt
one's style to suit situations and people; putting oneself on the line to deal with difficult problems]
Develops Employees and Delegates Effectively: Takes a conscious and consistent approach to
delegation and review. Develops capability in direct reports, coaching and mentoring where
needed to create a strong team.
Strategic Vision [Being able to influence project/department/branch strategy in accordance with
business values; awareness of longer-term needs and implications for the business; recognising
benefits of the diverse TW operating base]
Inputs To TW Strategic Vision: Actively contributes towards the wider TW Strategic Vision in
appropriate forums ensuring local realities and priorities are taken into account.
If you are interested in this role please send your C.V. to Cristina Alonso at cristina.alonso@taylorwimpey.com
by 22nd May 2015.