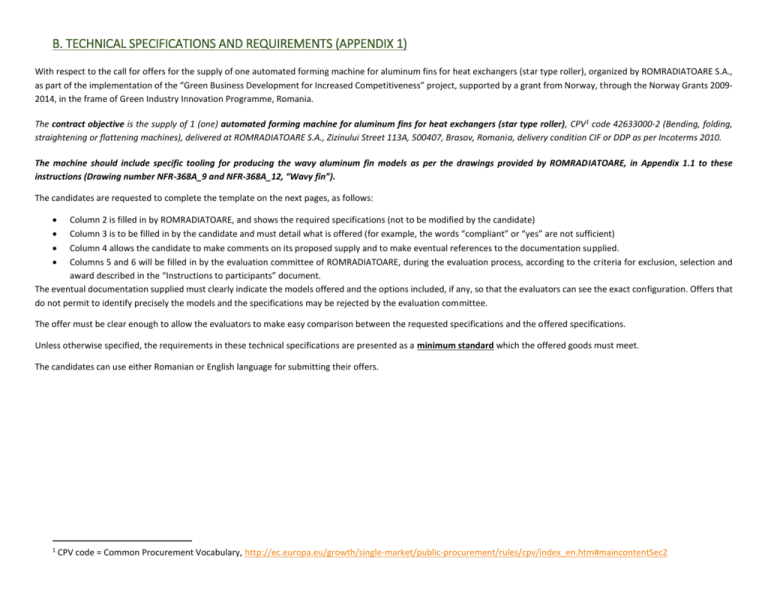 B. TECHNICAL SPECIFICATIONS AND REQUIREMENTS (APPENDIX 1)
With respect to the call for offers for the supply of one automated forming machine for aluminum fins for heat exchangers (star type roller), organized by ROMRADIATOARE S.A.,
as part of the implementation of the "Green Business Development for Increased Competitiveness" project, supported by a grant from Norway, through the Norway Grants 20092014, in the frame of Green Industry Innovation Programme, Romania.
The contract objective is the supply of 1 (one) automated forming machine for aluminum fins for heat exchangers (star type roller), CPV1 code 42633000-2 (Bending, folding,
straightening or flattening machines), delivered at ROMRADIATOARE S.A., Zizinului Street 113A, 500407, Brasov, Romania, delivery condition CIF or DDP as per Incoterms 2010.
The machine should include specific tooling for producing the wavy aluminum fin models as per the drawings provided by ROMRADIATOARE, in Appendix 1.1 to these
instructions (Drawing number NFR-368A_9 and NFR-368A_12, "Wavy fin").
The candidates are requested to complete the template on the next pages, as follows:




Column 2 is filled in by ROMRADIATOARE, and shows the required specifications (not to be modified by the candidate)
Column 3 is to be filled in by the candidate and must detail what is offered (for example, the words "compliant" or "yes" are not sufficient)
Column 4 allows the candidate to make comments on its proposed supply and to make eventual references to the documentation supplied.
Columns 5 and 6 will be filled in by the evaluation committee of ROMRADIATOARE, during the evaluation process, according to the criteria for exclusion, selection and
award described in the "Instructions to participants" document.
The eventual documentation supplied must clearly indicate the models offered and the options included, if any, so that the evaluators can see the exact configuration. Offers that
do not permit to identify precisely the models and the specifications may be rejected by the evaluation committee.
The offer must be clear enough to allow the evaluators to make easy comparison between the requested specifications and the offered specifications.
Unless otherwise specified, the requirements in these technical specifications are presented as a minimum standard which the offered goods must meet.
The candidates can use either Romanian or English language for submitting their offers.
1
CPV code = Common Procurement Vocabulary, http://ec.europa.eu/growth/single-market/public-procurement/rules/cpv/index_en.htm#maincontentSec2
SUPPLIER NAME: …………………………………………………
1.
Item
no.
1
1.1
1.2
1.3
1.4
1.5
1.6
1.7
1.8
1.9
1.10
1.11
1.12
1.13
1.14
1.15
1.16
1.17
1.18
2
3
2. Specifications required
3. Specifications offered
Automated forming machine for aluminum fins for heat exchangers (star type roller)
Manufacturer's name
Product type, model
Set of tools suitable for the fin drawing provided - please
provide photo/3Dmodel and specifications
Aluminum strip thickness: from 0.14mm to 0.20mm
Fin height: 9, 12mm (changeable). Please specify fin height
capability/tolerance of the machine
Fin pitch (mm) – please specify pitch and
capability/tolerance of the machine
Fin width (min 30mm – max 300mm)
Strip feeding speed (meters/minute)
Forming speed (meters/minute) for the fin types provided in
the drawing – (minimum 2.65 m/min for 9 mm fin height)
Fin strip decoiler included – (please specify internal and
outside diameter of the strip roll, max weight)
Supply voltage 380v/50Hz
Material and treatment for durability of the roller tools –
please provide specifications and estimated durability
How the cutting system is controlled and what is the
capability/accuracy of the process?
Lubrication and oil collection system details
Touchscreen control availability
Pre-setting capabilities (what parameters can be controlled
and stored for retrieval)
Ethernet connectivity, USB port
Noise level in operation
Energy consumption levels – official technical
certificate/documentation from the manufacturer of the
machine
Minimum and maximum allowed ambient operating
temperature
Safety - CE Marking
All items shall conform to the
(certificate)
relevant applicable technical
regulations in the EU – please
provide certificate
Warranty
Minimum one year after delivery
and acceptance.
4. Notes, remarks, reference to
documentation
5. Evaluation
committee's notes
6. Points
scored
4
Installation
5
Testing
6
Training
7
Technical
documentation for
equipment
8
Service, repair and
technical assistance
General warranty terms and
conditions to be provided with the
offer.
Description of technical support
offered during installation of the
machinery
First testing should be done by the
Manufacturer in his plant prior to
delivery. Final testing should be
done in ROMRADIATOARE S.A.,
after installation
Description of instruction and
operator training provided
Operating manuals, users guide,
equipment operating
instructions/cleaning procedures,
maintenance procedures,
calibration procedures will be
supplied in English or Romanian
language no later than the delivery
of the actual equipment.
Technical assistance and service
during warranty period. Candidate
must provide the their technical
and commercial terms and
conditions for service and
maintenance, including standard
response time and repair time.