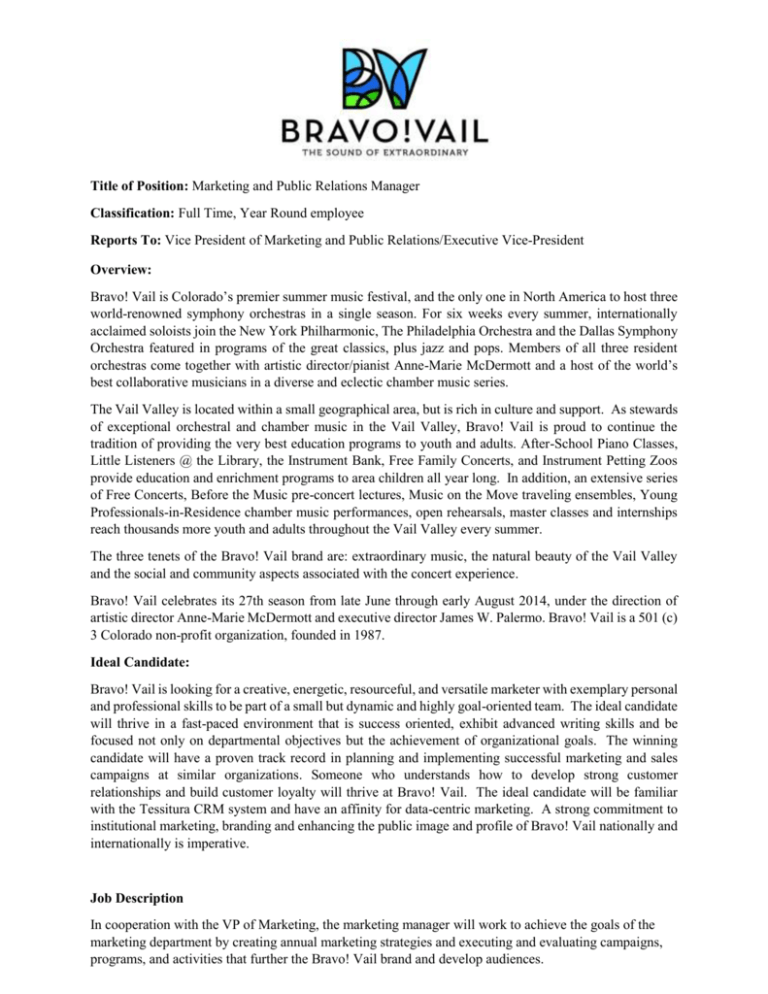 Title of Position: Marketing and Public Relations Manager
Classification: Full Time, Year Round employee
Reports To: Vice President of Marketing and Public Relations/Executive Vice-President
Overview:
Bravo! Vail is Colorado's premier summer music festival, and the only one in North America to host three
world-renowned symphony orchestras in a single season. For six weeks every summer, internationally
acclaimed soloists join the New York Philharmonic, The Philadelphia Orchestra and the Dallas Symphony
Orchestra featured in programs of the great classics, plus jazz and pops. Members of all three resident
orchestras come together with artistic director/pianist Anne-Marie McDermott and a host of the world's
best collaborative musicians in a diverse and eclectic chamber music series.
The Vail Valley is located within a small geographical area, but is rich in culture and support. As stewards
of exceptional orchestral and chamber music in the Vail Valley, Bravo! Vail is proud to continue the
tradition of providing the very best education programs to youth and adults. After-School Piano Classes,
Little Listeners @ the Library, the Instrument Bank, Free Family Concerts, and Instrument Petting Zoos
provide education and enrichment programs to area children all year long. In addition, an extensive series
of Free Concerts, Before the Music pre-concert lectures, Music on the Move traveling ensembles, Young
Professionals-in-Residence chamber music performances, open rehearsals, master classes and internships
reach thousands more youth and adults throughout the Vail Valley every summer.
The three tenets of the Bravo! Vail brand are: extraordinary music, the natural beauty of the Vail Valley
and the social and community aspects associated with the concert experience.
Bravo! Vail celebrates its 27th season from late June through early August 2014, under the direction of
artistic director Anne-Marie McDermott and executive director James W. Palermo. Bravo! Vail is a 501 (c)
3 Colorado non-profit organization, founded in 1987.
Ideal Candidate:
Bravo! Vail is looking for a creative, energetic, resourceful, and versatile marketer with exemplary personal
and professional skills to be part of a small but dynamic and highly goal-oriented team. The ideal candidate
will thrive in a fast-paced environment that is success oriented, exhibit advanced writing skills and be
focused not only on departmental objectives but the achievement of organizational goals. The winning
candidate will have a proven track record in planning and implementing successful marketing and sales
campaigns at similar organizations. Someone who understands how to develop strong customer
relationships and build customer loyalty will thrive at Bravo! Vail. The ideal candidate will be familiar
with the Tessitura CRM system and have an affinity for data-centric marketing. A strong commitment to
institutional marketing, branding and enhancing the public image and profile of Bravo! Vail nationally and
internationally is imperative.
Job Description
In cooperation with the VP of Marketing, the marketing manager will work to achieve the goals of the
marketing department by creating annual marketing strategies and executing and evaluating campaigns,
programs, and activities that further the Bravo! Vail brand and develop audiences.
Duties:



















Plan and manage annual subscription campaign
Manage or oversee marketing tactics including collateral production, advertising campaigns, eblasts, and social media
Negotiate and work with outside vendors as needed
Manage marketing timelines and production schedules
Along with the VP of Marketing, work with outside marketing strategy consultants and
implement resulting plans.
Develop and implement strategic public relations plans to support Bravo! Vail's mission, goals,
and objectives. Create and manage press release schedules and work closely with outside
consultants and writers to ensure success. Research new media outlets and maintain relationships
with current media outlets; develop and maintain/oversee maintenance of PR databases
Work with media outlets and other partners to create effective promotions
Manage distribution of materials to local hotels, restaurants and other partners, along with
surrounding towns
Write and/or edit promotional copy for marketing collateral, email, and advertising for Bravo!
Vail programs
Proofread all marketing communications with a keen attention to detail to ensure that only
accurate and well-written material is released
Manage all aspects of the Concert Program Book, effectively communicating with all departments
involved; assist the Marketing Assistant with the ad sales timeline and plan
Assist in conducting marketing research to inform strategy
Regularly analyze the effectiveness of marketing plans and revise as needed
Develop an in-depth understanding of progressive marketing strategies and best practices; become
expert in using the Tessitura database for marketing data analysis to inform marketing decisions.
Take the initiative to learn and creatively think about new ways to leverage the CRM and analyze
data for marketing purposes
Brainstorm with team regularly to develop innovative new approaches to achieving marketing goals
Strive for interdepartmental collaboration and communication throughout the organization. Aid in
communicating all marketing initiatives accurately and effectively to the rest of the staff; coordinate
campaigns with other departments, particularly Development. Maintain strong, regular
communications with Box Office staff
Support and supervise the Marketing Assistant; assist in developing the role and assigning duties;
mentor the individual through positive feedback and constructive criticism; provide management
support and job specific advice; help the employee to reach their full potential
Help manage marketing budget to ensure effective use of resources
Perform other duties assigned by the VP of Marketing
Qualifications:












Bachelor's degree in marketing, arts administration, or related field, and a minimum of 3 years
experience as a marketing and communications professional in a successful arts organization, or
similar field
Innovative strategic thinker who is able to prioritize and operate successfully on many levels
Ability to work with others and manage
Great attention to detail
Excellent verbal and written communication skills; strong editing and proofreading skills
Ability to conceptualize and produce persuasive, concise promotional copy
Knowledge of performing arts industry marketing and communication best practices, especially
success with increasing earned revenues - single ticket and subscription sales
Successful experience working with box office and telemarketing personnel a plus
Experience using metrics to inform marketing strategy
Must have an interest in the arts, and believe in the mission of Bravo! Vail. Knowledge of and
passion for classical music is preferable
Proven track record in developing effective working relationships with other staff, media, vendors
and volunteers.
Knowledge of Microsoft Office Suite; knowledge of graphic design programs such as Adobe CS
programs; Photoshop, Illustrator, Dreamweaver, Pagemaker or equivalent and knowledge of
Tessitura CRM system preferred.
How to Apply: info@bravovail.org
Send a resume, cover letter, and 3 professional references to info@bravovail.org




Employer: Bravo! Vail
Website: http://www.bravovail.org
Location: Vail, Colorado, United States
Job Categories: Featured and Music. Job Types: Full Time. Job Tags: advertising, arts management,
marketing, music, and sales. State: Colorado.