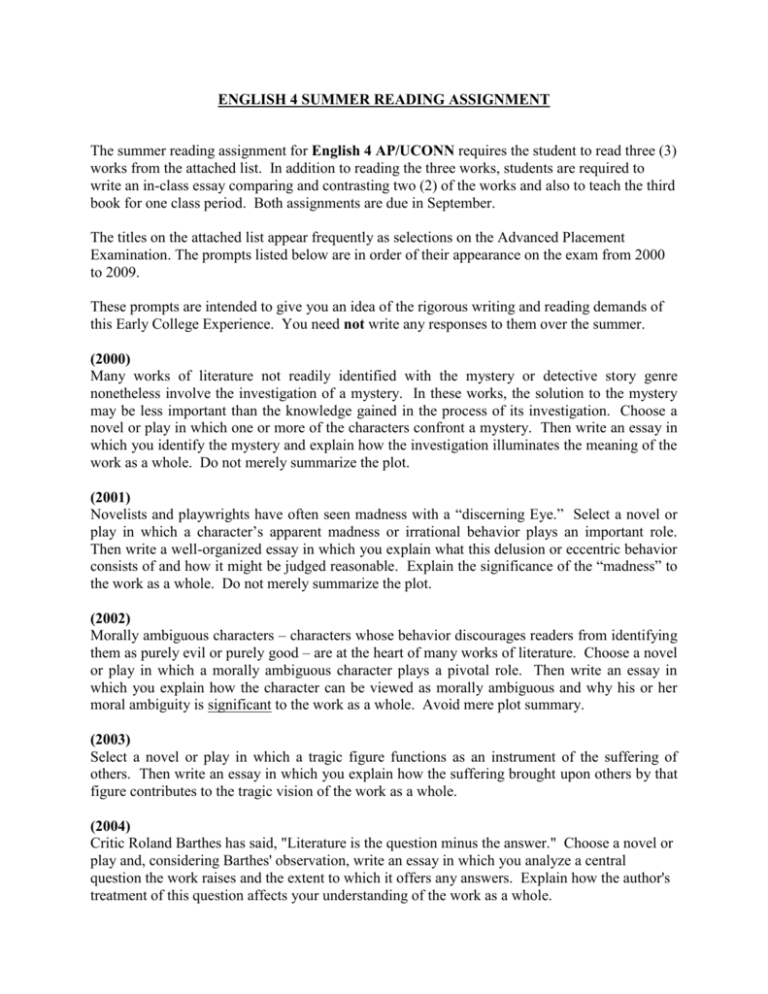 ENGLISH 4 SUMMER READING ASSIGNMENT
The summer reading assignment for English 4 AP/UCONN requires the student to read three (3)
works from the attached list. In addition to reading the three works, students are required to
write an in-class essay comparing and contrasting two (2) of the works and also to teach the third
book for one class period. Both assignments are due in September.
The titles on the attached list appear frequently as selections on the Advanced Placement
Examination. The prompts listed below are in order of their appearance on the exam from 2000
to 2009.
These prompts are intended to give you an idea of the rigorous writing and reading demands of
this Early College Experience. You need not write any responses to them over the summer.
(2000)
Many works of literature not readily identified with the mystery or detective story genre
nonetheless involve the investigation of a mystery. In these works, the solution to the mystery
may be less important than the knowledge gained in the process of its investigation. Choose a
novel or play in which one or more of the characters confront a mystery. Then write an essay in
which you identify the mystery and explain how the investigation illuminates the meaning of the
work as a whole. Do not merely summarize the plot.
(2001)
Novelists and playwrights have often seen madness with a "discerning Eye." Select a novel or
play in which a character's apparent madness or irrational behavior plays an important role.
Then write a well-organized essay in which you explain what this delusion or eccentric behavior
consists of and how it might be judged reasonable. Explain the significance of the "madness" to
the work as a whole. Do not merely summarize the plot.
(2002)
Morally ambiguous characters – characters whose behavior discourages readers from identifying
them as purely evil or purely good – are at the heart of many works of literature. Choose a novel
or play in which a morally ambiguous character plays a pivotal role. Then write an essay in
which you explain how the character can be viewed as morally ambiguous and why his or her
moral ambiguity is significant to the work as a whole. Avoid mere plot summary.
(2003)
Select a novel or play in which a tragic figure functions as an instrument of the suffering of
others. Then write an essay in which you explain how the suffering brought upon others by that
figure contributes to the tragic vision of the work as a whole.
(2004)
Critic Roland Barthes has said, "Literature is the question minus the answer." Choose a novel or
play and, considering Barthes' observation, write an essay in which you analyze a central
question the work raises and the extent to which it offers any answers. Explain how the author's
treatment of this question affects your understanding of the work as a whole.
(2005)
In Kate Chopin's The Awakening (1899), protagonist Edna Pontellier is said to possess "that
outward existence which conforms, the inward life which questions." In a novel or play that you
have studied, identify a character who conforms outwardly while questioning inwardly. Then
write an essay in which you analyze how this tension between outward conformity and inward
questioning contributes to the meaning of the work.
(2006)
Many writers use a country setting to establish values within a work of literature. For example,
the country may be a place of virtue and peace or one of primitivism and ignorance. Choose a
novel or play in which such a setting plays a significant role. Then write an essay in which you
analyze how the country setting functions in the work as a whole.
(2007)
In many works of literature past events can affect, positively or negatively, the present actions,
attitudes, or values of a character. Choose a novel or play in which a character must contend
with some aspect of the past, either personal or societal. Then write an essay in which you show
how the character's relationship to the past contributes to the meaning of the work as a whole.
(2008)
In a literary work, a minor character, often known as a foil, possesses traits that emphasize, by
contrast or comparison, the distinctive characteristics and qualities of the main character. For
example, the ideas or behavior of the minor character might be used to highlight the weaknesses
or strengths of the main character. Choose a novel or play in which a minor character serves as a
foil to a main character. Then write an essay in which you analyze how the relation between the
minor character and the major character illuminates the meaning of the work.
(2009)
Select a novel or play and, focusing on one symbol, write an essay analyzing how that symbol
functions in the work and what it reveals about the characters or themes of the work as a whole.
READING LIST FOR ENGLISH IV AP/UCONN
Atwood. Handmaid's Tale – In the futuristic Republic of Gilead which is being ruled and
policed by men, women are divided into classes based on their household functions.
Austen. Sense And Sensibility - Classic novel of morality in 18th century England.
Bronte, C. Jane Eyre – There's a sinister secret that haunts Jane in her new life as a governess.
Bronte, E. Wuthering Heights – Classic 19th century, English love novel set in the moors of
England.
Camus. The Plague – A novel with the dreaded plague as the powerful force affecting people.
Defoe. Moll Flanders – Set in 17th century England, this story relates Moll's life from her birth
in Newgate Prison to her final prosperous respectability
Dostoevsky. Crime And Punishment - Nietzschean hero Raskolnikov has committed a
murder. Will he confess? Will the authorities break him?
Ellison. Invisible Man – The odyssey of one black man's fervent search for his own identity.
Erdrich. Love Medicine – A story of anger, magic, and healing in the lives of two Native
American families.
Faulkner. Absalom, Absalom! – Parable of the founding, glory and decay of the South as
Thomas Sutpen aspires to Southern aristocracy and falls.
Fitzgerald. Tender Is The Night – A love story in which an idealist is confronted by a doomed
marriage.
Frazier. Cold Mountain – The story of a very long walk.
Heller. Catch 22 – A bitterly, savagely funny account of World War II bombing missions.
Hurston. Their Eyes Were Watching God – American classic about a young black woman and
her coming to an understanding of love and happiness.
Huxley. Brave New World – A novel of a soulless, streamlined society in the future.
Jonson, Volpone – A satire on greed by one of Shakespeare's contemporaries.
Joyce. A Portrait of the Artist as a Young Man – Stephen Daedalus severs all conventional
ties in order to test his singular vision against the reality of an indifferent world.
Kingsolver. The Poisonwood Bible – Missionary Nathan Price along with his wife and four
daughters go off to the Belgian Congo, a place for which they are completely unprepared.
Kingston. Woman Warrior - Autobiography about growing up female and Chinese-American
in California
Marquez. Love In The Time Of Cholera – 52 years of unrequited love.
McCarthy. All the Pretty Horses – Young rancher heads off for a dangerous adventure on the
Texas-Mexico border.
Morrison. Beloved – In post-Civil War Ohio, the past continues to haunt the ex-slave Sethe and
the surviving members of her family.
Orwell. 1984 – Eternal warfare is the price of bleak prosperity in this satire of totalitarian
barbarism.
Paton. Cry, the Beloved Country – A black man's country under white man's law.
Shakespeare. Othello – Love and betrayal.
Shakespeare. The Tempest - Recently redefined by modern criticism as a romance, the play has
been read as an escapist fantasy, a political allegory, and a celebratory fiction. Most often,
however, The Tempest is interpreted as a summary of Shakespeare's view of his own art of
playwriting.
Shaw. Mrs. Warren's Profession - Shaw pits a clever heroine against a memorable gallery of
rogues in this superbly intelligent and still shocking comedy.
Silko. Ceremony – A Native-American's struggle to re-enter his tribal world after returning
from the war-torn South Pacific.
Wharton. House of Mirth – Lily Bart was comfortable in turn-of-the-century New York's
society circles, until she broke the rules.