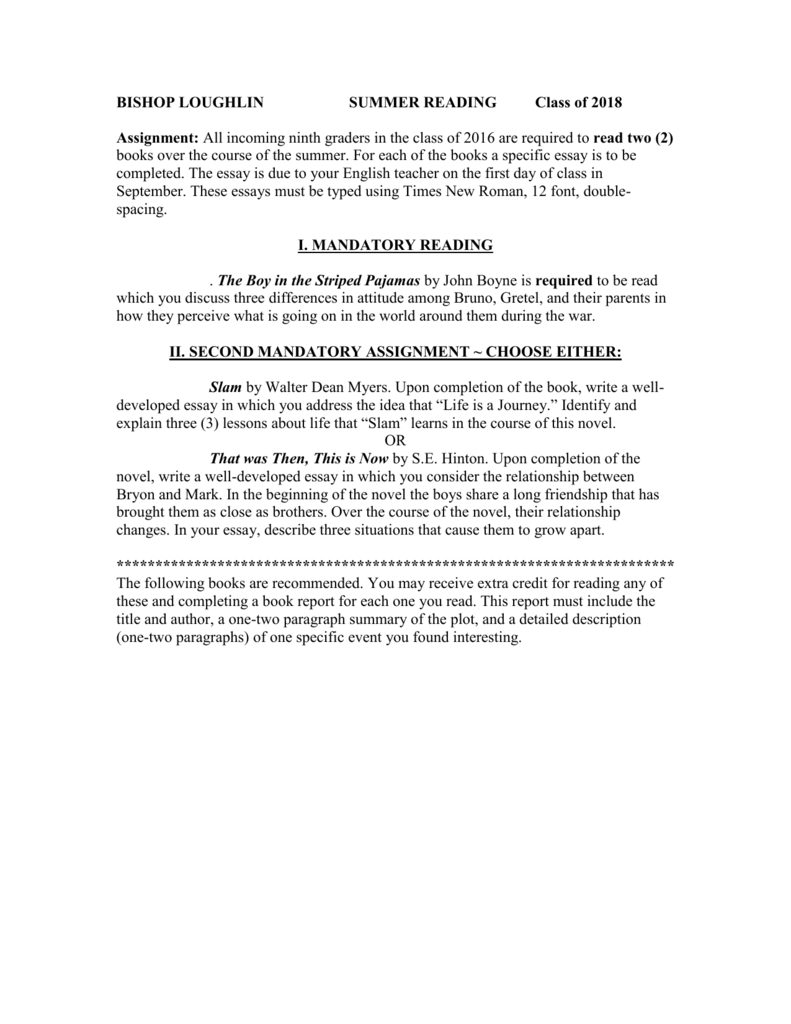 BISHOP LOUGHLIN
SUMMER READING
Class of 2018
Assignment: All incoming ninth graders in the class of 2016 are required to read two (2)
books over the course of the summer. For each of the books a specific essay is to be
completed. The essay is due to your English teacher on the first day of class in
September. These essays must be typed using Times New Roman, 12 font, doublespacing.
I. MANDATORY READING
. The Boy in the Striped Pajamas by John Boyne is required to be read
which you discuss three differences in attitude among Bruno, Gretel, and their parents in
how they perceive what is going on in the world around them during the war.
II. SECOND MANDATORY ASSIGNMENT ~ CHOOSE EITHER:
Slam by Walter Dean Myers. Upon completion of the book, write a welldeveloped essay in which you address the idea that "Life is a Journey." Identify and
explain three (3) lessons about life that "Slam" learns in the course of this novel.
OR
That was Then, This is Now by S.E. Hinton. Upon completion of the
novel, write a well-developed essay in which you consider the relationship between
Bryon and Mark. In the beginning of the novel the boys share a long friendship that has
brought them as close as brothers. Over the course of the novel, their relationship
changes. In your essay, describe three situations that cause them to grow apart.
************************************************************************
The following books are recommended. You may receive extra credit for reading any of
these and completing a book report for each one you read. This report must include the
title and author, a one-two paragraph summary of the plot, and a detailed description
(one-two paragraphs) of one specific event you found interesting.