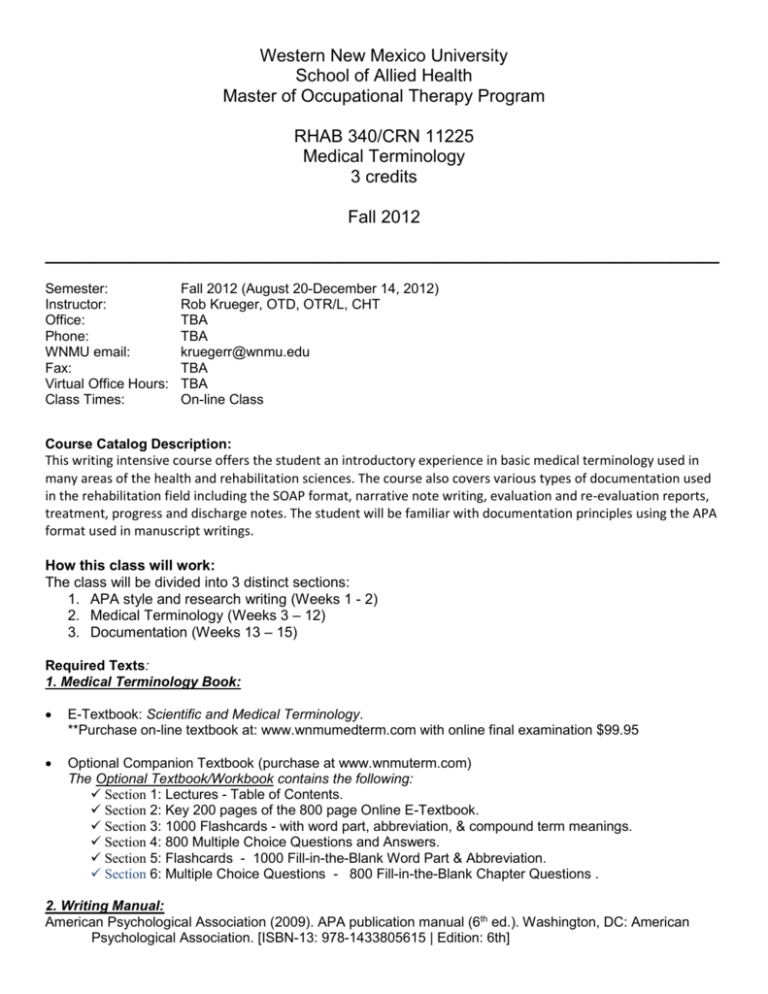 Western New Mexico University
School of Allied Health
Master of Occupational Therapy Program
RHAB 340/CRN 11225
Medical Terminology
3 credits
Fall 2012
_____________________________________________________________________
Semester:
Instructor:
Office:
Phone:
WNMU email:
Fax:
Virtual Office Hours:
Class Times:
Fall 2012 (August 20-December 14, 2012)
Rob Krueger, OTD, OTR/L, CHT
TBA
TBA
kruegerr@wnmu.edu
TBA
TBA
On-line Class
Course Catalog Description:
This writing intensive course offers the student an introductory experience in basic medical terminology used in
many areas of the health and rehabilitation sciences. The course also covers various types of documentation used
in the rehabilitation field including the SOAP format, narrative note writing, evaluation and re-evaluation reports,
treatment, progress and discharge notes. The student will be familiar with documentation principles using the APA
format used in manuscript writings.
How this class will work:
The class will be divided into 3 distinct sections:
1. APA style and research writing (Weeks 1 - 2)
2. Medical Terminology (Weeks 3 – 12)
3. Documentation (Weeks 13 – 15)
Required Texts:
1. Medical Terminology Book:

E-Textbook: Scientific and Medical Terminology.
**Purchase on-line textbook at: www.wnmumedterm.com with online final examination $99.95

Optional Companion Textbook (purchase at www.wnmuterm.com)
The Optional Textbook/Workbook contains the following:
 Section 1: Lectures - Table of Contents.
 Section 2: Key 200 pages of the 800 page Online E-Textbook.
 Section 3: 1000 Flashcards - with word part, abbreviation, & compound term meanings.
 Section 4: 800 Multiple Choice Questions and Answers.
 Section 5: Flashcards - 1000 Fill-in-the-Blank Word Part & Abbreviation.
 Section 6: Multiple Choice Questions - 800 Fill-in-the-Blank Chapter Questions .
2. Writing Manual:
American Psychological Association (2009). APA publication manual (6th ed.). Washington, DC: American
Psychological Association. [ISBN-13: 978-1433805615 | Edition: 6th]
3. Documentation textbook:
Borcherding, S., Morreale, M. (2007). The OTA's Guide to Writing SOAP Notes (2nd ed.). Thorofare, NJ:
Slack Incorporated. [ISBN 978-1-55642-779-4]
Course Instructional Objectives:
1. Develop and demonstrate an understanding of the medical vocabulary used in a wide variety of health related
settings.
2. Recognize the different types of documentation.
3. Appreciate and understand the purpose and necessity of professional communication, both written and oral.
4. Respond to feedback in a positive manner.
5. Value and model reliable work and study habits.
6. Demonstrate beginning skills in written communication through the practice of proper documentation using a
variety of formats.
7. Demonstrate an understanding of documentation and its impact on medical reimbursement for occupational
therapy services.
8. Demonstrate an understanding of ethical and legal responsibilities of the documentation process, including
adhering to facility, local, state, and federal reimbursement agencies.
9. Show observation skills in writing and classroom activities.
10. Demonstrate an understanding of both oral and written communication skills.
11. Reiterate an understanding of correct APA format in manuscript (research) writing.
12. Demonstrate the ability to document occupational therapy services to ensure accountability of service
provision and to meet the standards for reimbursement of services by federal, state, private pay, and third-party
systems.
13. Demonstrate the ability to effectively interact through written, oral and nonverbal communication with the
family, client, significant others, colleagues, and the public in a professionally acceptable manner.
Assessment/Evaluation and Grading Scale:
A = 90-100
B = 80-89
C = 70-79
D = 60-69
F = 59 or less
Assignments / Expectations
Due Date
Research paper
11/02/12
APA Quiz
08/31/12
Medical Terminology Workbook
11/09/12
Medical Terminology Final Exam
11/09/12
Documentation Quiz # 1
Documentation Quiz # 2
Weekly Discussion Post
Weekly Peer Feedback Post
TOTAL
12/10/12
12/03/12
Wednesday
Friday
Weight
20%
10%
30%
15%
5%
5%
15%
100%
Course Expectations and WNMU Policies for Students
Attendance:
Attendance in an online class is evaluated by your attendance to the material. You will get out of the course
what you put into the course. You will need to be a self-starter and control your own calendar in order to meet
the deadlines for the course.
Canvas Down Time and Inclement Weather:
Due to the possibility of Canvas down time or lack of connection due to inclement weather, it is important that
you not wait until the last minute to finish assignments, postings, or assessments.
Posting Assignments and Discussions:
Students are responsible for posting all discussions on the Discussion Board and all assignments to the
Assignments posting area. If you are having difficulty with this, it is your responsibility to contact the instructor
so that s/he can get you the assistance you need to learn how to do this.
Assignments and Due Dates (instructor inserts schedule of assignments and policies regarding due dates):
Informed Consent:
Some individuals may choose to disclose personal information during class. Therefore, it is important that all
classmates agree not to discuss or write about what others have discussed in class.
Professionalism:
Students are learning professional skills and are expected to engage in class discussions, complete reading
assignments, and meet deadlines as befits professional behavior.
Scholarly Writing:
Use clear college level writing with correct spelling and grammar for all assignments. If you need help with
your writing, consult a Smarthinking writing tutor: http://www.wnmu.edu/univ/smarthinkins.shtml
Communications policy statement regarding official e-mail:
WNMUs policy requires that all official communication with the University, other than your in-class Canvas
communications, be sent via Mustang Express. Emails sent to you by various University departments related
to your registration, financial account balance, changes in schedule, etc., will be sent to your wnmu.edu email
address. It is very important that you access your Mustang Express email periodically to check for
correspondence from the University. If you receive most of your email at a different address, you can forward
your messages from Mustang Express to your personal address. To forward your WNMU e-mail to a personal
e-mail address:
1. Log in to Mustang Express.
2. From the My E-mail Inbox in the center of the screen, select the small E-mail hyperlink (beside
the envelope icon).
3. Select Options.
4. Select Settings.
5. Below Mail Forwarding at the bottom of the screen, type in your personal e-mail address.
6. Select Save Settings.
WNMU policy on email passwords:
WNMU requires that passwords for access to all of protected software, programs, and applications be robust,
including complexity in the number of characters required, the combination of characters required, and the
frequency in which passwords are required to be changed. Minimum complexity includes:



Passwords shall contain at least six (6) characters
Passwords shall contain at least one capital (upper case) letter, and at least one numeral.
Passwords shall be changed at least every 90 days
Academic Integrity:
Each student shall observe standards of honesty and integrity in academic work as defined in the WNMU
catalog, 2011-2012, p. 61. Violations of academic integrity include any behavior that misrepresents or falsifies
a student's knowledge, skills or ability with the goal of unjustified or illegitimate evaluation or gain.
Generally violations of academic integrity include cheating and plagiarism. Refer to the WNMU catalog, p. 61,
for definitions. Penalties for infractions are as follows:
For Plagiarism: Intentional or unintentional representation of another's work as one's own without proper
acknowledgement of the original author or creator of the work:
Instructor inserts penalties (example below):


1st infraction: Grade of 0 for assignment;
2nd infraction: Dismissal from the class with grade of F.
For Cheating: Using or attempting to use unauthorized materials and unauthorized collaboration with others,
copying the work of another or any action that presents the work of others to misrepresent the student's
knowledge:
Instructor inserts penalties (example below):

1st infraction: Dismissal from class with grade of F.
Integrated Use of Technology:
You will be using Canvas to post discussions, post assignments, and take all quizzes and exams. You will
need to learn how to attach documents if you don't already know how to do this.
Disability Support Services:
Services for students with disabilities are provided through WNMU's Disability Support Services office. Some
examples of the assistance provided are audio materials for the blind or dyslexic, note takers, readers, audio
recorders, and special tutors. In order to qualify for these services, documentation must be provided by
qualified professionals. Disability Support Services forms are available from the DS staff at 575.538.6400 or
dss@wnmu.edu. The Disability Support Services office serves as Western New Mexico University's liaison for
students with disabilities.
Need Help?






Post your question to the Discussion Board in your online course.
Send a question via Canvas email to your instructor.
For 24/7 Canvas Help call: 888.332.6994
Contact the WNMU Help Desk at helpdesk@wnmu.edu or 575.574.4357.
Register for IPS 010, Canvas Orientation. This is a short, free, non-credit introduction to Canvas, no
textbook is required. Once you complete the orientation activities, you can re-enter the course at any
time during the semester to get additional help from the instructor as needed.
Consult Student Online Resources at http://learn.wnmu.edu/support/resstu.shtml for an online
readiness assessment, Technical Requirements, Canvas tutorials and Canvas Student Guide.
Course Access:
Access to online course materials will be available to students between the start and end dates listed in the
class schedule.
Copyright:
The materials found in this course are only for the use of students enrolled in this course for purposes
associated with this course and may not be retained by students in any electronic form or further disseminated
or distributed to anyone not enrolled in this course.
CODE OF CIVILITY
In order to promote a positive, professional atmosphere among students, faculty and staff, the following Code
of Civility has been developed:
Respect: Treat all students, faculty, staff and property with respect and in a courteous and professional
manner. This includes all communications, whether verbal or written. Let your actions reflect pride in yourself,
your university, and your profession.
Kindness: A kind word and gentle voice go a long way. Refrain from using profanity, insulting slang remarks,
or making disparaging comments. Consider another person's feelings. Be nice.
Truth: Exhibit honesty and integrity in your dealings with fellow students, faculty and staff members. Don't lie,
don't cheat, and don't steal.
Responsibility: Take responsibility for your actions. This includes gracefully accepting the consequences of
your behavior.
Cooperation: Exhibit a cooperative manner when dealing with students, faculty and staff so we may all work
towards our common goals and mission.
Acceptance: Accept differences in others, as they accept differences in you. This includes diversity in
opinions, beliefs and ideas and everything else that makes us unique individuals.
Professionalism: Always conduct yourself in a manner that will bring pride to your profession, to Western
New Mexico University, and, most importantly, to yourself.
Course Calendar: RHAB 340 Medical Terminology
Module
Week Of
08/20/12
1
Topic
Readings/exercises
Introduction to
course
Review APA PowerPoint
OWL writing Lab
Technical
Writing/APA
Review OWL Sample Paper
DUE DATES
-Discussion & peer
feedback post # 1
**See Canvas modules for
details
08/27/12
2
Technical Writing/
APA
OWL Writing Lab
See Canvas Module 2 for
details
-Discussion & peer
feedback post # 2
-APA Tutorial and
Quiz: Due by 08/31/12
at Midnight
3
09/03/12
Labor Day
University Closed
Holiday 
09/04/12
Medical
Terminology
Review orientation sheet
Discussion & peer
feedback post # 3
Chapters 1-4
4
09/10/12
Medical
Terminology
Chapter 5
Discussion & peer
feedback post # 4
5
09/17/12
Medical
Terminology
Chapters 6-7
Discussion & peer
feedback post # 5
6
09/24/12
Medical
Terminology
Chapters 8-9
Discussion & peer
feedback post # 6
7
10/01/12
Medical
Terminology
Chapter 10
Discussion & peer
feedback post # 7
8
10/08/12
Medical
Terminology
Chapter 11
Discussion & peer
feedback post # 8
9
10/15/12
Medical
Terminology
Chapters12-13
Discussion & peer
feedback post # 9
10
10/22/12
Medical
Terminology
Chapters14-15
Discussion & peer
feedback post # 10
11
10/29/12
Medical
Terminology
Chapters12-13
Discussion & peer
feedback post # 11
Research Paper: due
11/02/12
12
11/05/12
Medical
Terminology
Complete Medical
Terminology Workbook
Discussion & peer
feedback post # 12
Medical Terminology
Workbook
Medical Terminology
Final Exam: 11/10/12
13
11/12/12
Clinical
Documentation
11/19/12 11/25/12
Thanksgiving
Recess
No Class
14
11/26/12
Clinical
Documentation
Chapters 1-2,
15
12/03/12
Clinical
Documentation &
Wrap up
Discussion & peer
feedback post # 15
Finals Week
Documentation Quiz
#2: 12/10/12
16
12/10/12
Discussion & peer
feedback post # 13

Discussion & peer
feedback post # 14
Documentation Quiz
#1: 12/03/12
*NOTE 1: This course calendar is subject to change at the discretion of the professor in order to accommodate learning, and/or
prioritization of course, objectives. Any such changes will be posted on the Announcements tab of Canvas.
NOTE 2: Each weekly learning module should be available to students on Canvas the Saturday or Sunday prior to the beginning of
that learning module.
NOTE 3: Unless indicated otherwise, students are to bring textbooks to all on-campus laboratories.
*NOTE 4: Weekly discussion posts are due by Wednesday at Midnight & peer feedback posts by Friday at Midnight.