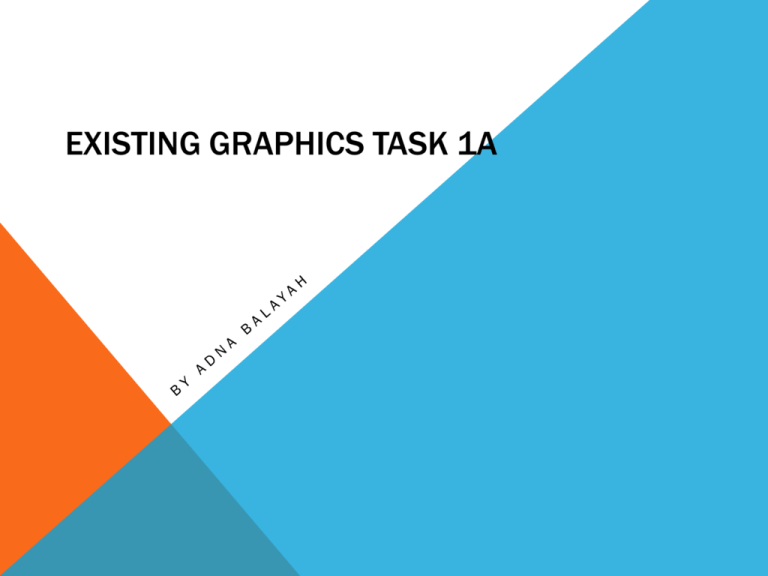 EXISTING GRAPHICS TASK 1A
USER REQUIREMENTS
Aim: To promote a local area
 An A4 Photoshop Magazine Cover
A range of images using either:
 A digital camera
 A scanner
 Or just sourcing from the internet
SUCCESS CRITERIA
 Engaging Graphic Design
 4 Standard Tools used
 3 Specialised Software Tools used
RESEARCH METHODS
•
Google Images
•
Find different types of magazines
•
Annotate what type of techniques used
•
Use any techniques you like in your own graphic design
EXISTING GRAPHICS TASK 1B
MOOD BOARD
EXISTING GRAPHICS TASK 1C
A
INITIAL PLANNING
B
C
D
EXISTING GRAPHICS TASK 1D
MARKET RESEARCH
1) Which picture is the most eye capturing?
A
B
C
D
2) Which picture should be the background image?
A
B
C
D
3) Which picture promotes Canada the most?
A
B
C
D
From my questionnaire shown,
60% of participants said that
Image B should be the background
image for the magazine cover as it
makes Canada look very
appealing. The most eye capturing
image is Image A because it
targets children as well as adults
advertising them to come visit
Canada. However over half of the
participants believes that Image C
has promoted Canada the most
because of the beautiful
landscape and scenery.
EXISTING GRAPHICS TASK 2A
COPYRIGHT
Thumbnail of Image
Website address
Date accessed
http://inhabitat.com/canadasvertigo-inducing-capilanosuspension-bridge-is-not-for-thefaint-of-heart/
30/01/2014
http://eswalls.com/canadascenery-wallpaper-hd/
30/01/2014
http://www.smithsonianjourneys.
org/tours/rocky-mountaineertrain?display=itinerary
30/01/2014
http://www.christophedoucet.org/
en/gallery/2009/11/11/Norther
n-lights
30/01/2014
http://www.victorianweb.org/auth
ors/dickens/montreal/1.html
20/01/2014
http://ringmybelle.blogspot.co.uk
/2012/01/galaxyland-at-westedmonton-mall.html
20/01./2014
http://freesoftwarekit.com/wallpa
pers/Canada/0/y5AUnb6ngbThH
30/01/2014
EXISTING GRAPHICS TASK 2B
SOFTWARE
The software that will be used to create my final graphic is Adobe Dreamweaver
CS5.5, because it allows pictures to be edited using different layers.