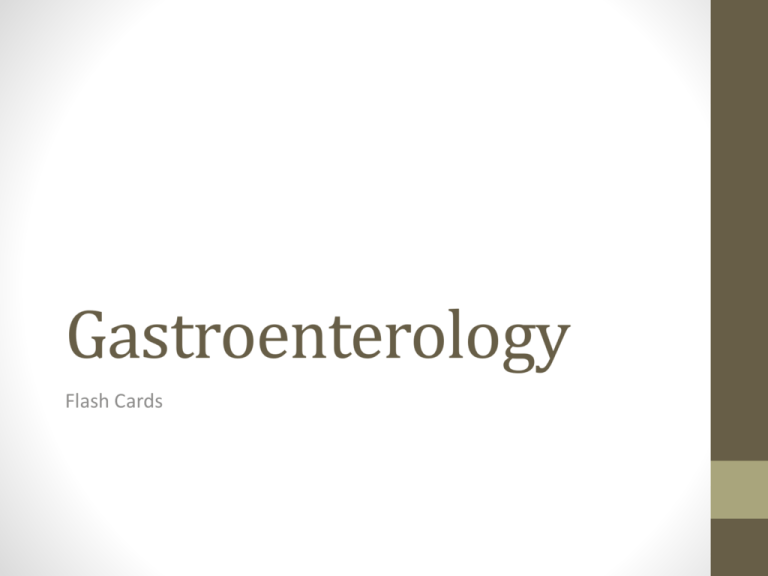 Gastroenterology
Flash Cards
Ibs = Includes Crohns and
Ulcerative Colitis
• AdjunctiveLoperamide 2mg after each loose stool (max
16mg/day)
• Antispasmotics- Dicyclomine, Propantheline, Hyoscyamine
• Cholestyramine- For Bile Salt-induced diarrhea after Ileal
Resection
• Aminosalicylates- next slide
• Corticosteroids- next slide
• Antibiotics –
Cipro and Flagy
• l
• NEXT SLIDE= IMMUNOSUPRESSANTS
UlCERATIVE COLITIS
• Immuno-modulator- MTX (Crohns only) Azathioprine,
6MP(Mercaptopurine)
• Infliximab (remicade) – UC & Crohns-for refractory pt. 4080% response.. Up to 50% of patients develop antibodies
against it.
• Adalimumab (Humira)-(Fully humanized- no antibodies form)
UC & CD. For remicade failures. SUB-Q
• Certolizumab (Cimzia) – UC 62% response for C-React >10,
37% if C-React < 10
• Golimumab (Simponi) – UC Sub-q
• Natalizab (Tysabri) – UC.. Assoc with leukoencophalopathy..
Check for mental status change
IBS –treatment- Side-effects.
• TNF-alpha antagonist-- Risk infection (screen TB & Hepatitis), heart
failure, hepatosplenic t-cell lymphoma when used w azathrioprine
or 6mp in young males, antibody formation
• Antimotility agents- Risk of toxic megacolon
• Azathioprine (6MP)- Bone marrow supression, pancreatitis,
hypersensitivity, need to check TPMT enzyme prior to giving. This
enzyme is responsible for inactivating it. Must have TPMT
• Methotrexate- Bone marrow supression, pulmonary, hepatic
toxicity
• Corticosteroids- adrenal supression, metabolic effects, infection.
Irritable Bowel (tx diarrhea or
constipation)
• Hyoscyamine/Dicyclomine- Target pain to spam and also tx diarrhea.
Initial or adjunctive therapy for IBS-D or IBS-M
• Tricyclic-Antidepresants- Garget pain and diarrhea. Generally reserved
for IBS-D, low doses
• SSRI- Target pain and often have promotility action in IBS-D. Can also
tx comorbid depression for anxiety
• Lubriprostone- Indicated for IBS-C in women> 18yo. Main adverse
effect- nausea, very expensive
• Probiotics- Some potential improvement in global symptoms and pain
• Alosetron- Indicated for IBS-D in women>18 yo, failing other therapies.
Mus be enrolled in program. Risk of ischemic colitis
• Tegaserod- Indicated for IBS-C… available on emergy use only due to
CV risk
• Rifaximin– Some data to support improvement in bloating.
IBS- 5-aMINOSALICYLATES
• General 5HT side-effects: rash, fever, pneumonitis, hepatotoxicity,
bone marrow depression, hemolytc anemia, pancreatitis.
• Sulfasalazine- (sulfa)- 20-25% discontinue due to intolerance to
sulfa (hypersensitivty) (azulfidine and azulfidine EN).. Cleaved by
colonic bacteria to 5ASA
• Meslamine (Pentasa, Asacol) – no sulfa- Delivers to large intestine
(poor choice for crohns) Use for UC of large intestine. Suppository=
procilir Mesalamine enema is more effective than hydrocortisone
enema for left sided disease.
• Olsalazine (Dipentum) – delivers mesalamine past small intestine
to large intestine and colon. Se= diarrhea in up to 25%
• Balsalazine (Colazal) = delivers mesalamine to large intestine.
(ulcerative colitis is confined to large intestine)
IBS- Corticosteroids
• 1. Works quickly to supress inflammation during Flareups
• 2. No role in maintenance.. Although > 50% are dependent on
steroids
• 3. Budesonide is about 15x more potent than prednisone. Allow 2
weeks overlap when changing from prednisone to budesonide.
Only 10-20% is systemically absorbed.
• Prednisone- 20-60 mg/day
• Budesonide Capsule (Entocort) 9mg/day, then 6mg q day for up to
3 months. Minimal absorption , for crohns, involving colon
• Budesonide tablet (Uceris) 9mg/day x 8 weeks- for mild to mod UC
• Hydrocortisone- 100mg q 8 hrs
• Methylprednisolone 15-48 mg/day – 7010 days, chg to po when
gut if functional.
IBS –case 1
• JT is admitted via the Emergency room with exacerbation of
Crohns. What is the initial treatment option?
1.
2.
3.
4.
Methotrexate 15mg q week
Natalizumab now
Methylprednisone 40 mg q day
Mesalamine now
5. Answer: Steroids have the fastest action.
IBS-Case 2
• KT is at home after a two week stay in the hospital for
exacerbation of Crohn's. Her Crohns is slowly improving with
the prednisone 20mg q day she is taking, however, her blood
glucose has been in the 400s, what alternative therapy might
be prudent?
1. Switch prednisone to Balsalazine
2. Switch prednisone to Budesonide 9mg/day w 2 week
overlap
3. Stop taking prednisone.
4. Decrease prednisone and add sulfasalazine
1. Answer: budesonide is only 10-20% absorbed
IBS– case 3
• JJ is taking Azulfidine for her Crohns and appears to be
controlling it at the moment. She breaks out in a rash and
has in increase in her eosinophil count, what should we
recommend?
a.
b.
c.
d.
Stop azulifidine and give prednisone.
Stop azulifidine and switch to Asacol
Stop azulifidine and swich to mesalamine enema
Stop auzlifidine and switch to Infliximab
e. Answer: enema covers only colon. Use a non-sulfa 5aminosalicylate such as asacol.
IBS-case 4
• JL is a 84 YO female with Irritable Bowel Disease, Atrial Fib, post
Stroke who is currently suffering from constipation that has not
responded to typical laxatives
• What do you recommend?
A.
B.
C.
D.
Add Rifaximin
Add Lubiprostone
Add Tegaserod
Put patient on fluid restriction.
E. Answer: Add lubriprotone. Rifaximin is for bloating, tegaserod can't be used
if CV risk.
IBS treatment
Ulcerative Colitis
Crohns
• Mild to moderateaminosalicylate or
budesonide
• Mild to moderateAminosalicylate or
budesonide
• Moderate to severeInfliximab or azathioprine
•
+/- short term
steroid
• Moderate to Severe- TNKalpha inhibitor
•
+/- short term steroid
• Last line: Vedolizumab
• Last line: Vedolizumab or
Natalizumab
Hepatitis b- Diagnosis and
monitoring
• HBsAg--- appears 1-10 weeks after exposure, for most pts it will
disappear in about
•
6 months. For chronic pt it will stay POSITIVE.
• HBeAg---- This serologic marker indicates HBV replication and
infectivity. It's
•
presence is usually associated with high HBV DNA levels.
• SEE NEXT SLIDE FOR MORE ANTIGEN/AB
Hepatitis b- Diagnosis and
monitoring
• HBV DNA- Assess replication, under 2,000 means HBV
is dormant. >20K
•
means treatment is needed. Biopsy and AST
and clinical signs
•
need to be considered.
• HBcAg (core) The antibody to HBcAg is Anti-HBcIgM.
When this rises and HBcAG
•
decreases, we say they are cured.
- Anti-HBCIgM POS and HBsAg negative.. Means you either
had Hep B or have been vaccinated
- - ALT levels are also monitored
- Vaccine prophylaxis– Anti-Hbs >- 10 mIU/ml
Hepatitis B –Case study
• SS went to the physician's office due to feeling fatigue and
complained of a 'yellowish tint to her skin.' Lab work was done
with an elevated ALT/ AST and high HBsAG levels… She returned
in 4 months with Decreased HBsAg, elevated AntiHBsAg, and
positive. What does this mean?
a.
b.
c.
d.
SS has chronic Hepatitis B
SS is building resistance to Hep B
SS is cured of Hep B
There is not enough information to make a choice.
e. ANSWER: c… when HbsAG drops, it means hep B is gone, like wise
the antiHBsAG means she will have immunity to hep b.
COMPLICATIONS OF PROTON
PUMP INHIBITORS
• Risk of fractures
• Hypomagnesium
• C-Diff
• CAP
• Inhibit CYP450- omeprazol inhibit clopidogrel
•
CYP2C19- inhibit diazepam
Treatment of Hepatitis B
• TREATMENT FOR: -- chronic HBV pts ( HBeAg positive or HBeAg negative
chronic hepatitis. Pts with HBV DNA >2000 int units/ml – peristent biopsy,
ALT >=2….
• TREAT WITH:
•
•
•
IFN-a 16 weeks
PEGIFN-a: 48 weeks
LAM/ADV/ETV/ldT/TDF- minimum 1 year. Tx at least 6 months
after conversion
• END-POINT of TREATMENT- Seroconversion from HBeAg to anti_HBe
Cirrhosis
• ENCEPHALPATHY-- give lactulose- titrate to 2-4 loose stools / day
(30ml qid may add Rifaximin 400mg tid
• SBP-CRITERIA------ Ascitic Protein < 1.5 gm/dl + Scr >= 1.2 =
should receive treatment for prevention = bactrim ds q day
•
Treatment= w cefotaxime if serum
albumin/ascitis albumin < 1.1 otherwise ascitis is due to protal
hypertension. Neutrophil count done, 10 ml ascitic fluid cultured.
• Eg: serum alb = 2.2 and ascitic alb = 1.4 SAAG= 2.2/1.4 = 1.5
portal htn
Spontaneous bacterial peritonitis & variceal
bleed
• PROPHYLAXIS WITH TMP/SMX OR CIPRO- Pts who have had prior
SBP, ascitic fluid protein is < 1.5gm/dl with impaired renal or liver
failure (scr>=1.2mg/dl or BUN>=25, or serum sod <130)
• TREATMENT WITH 3RD GEN CEPH OR QUINOLONE- PMN >=250
cells/mm3 or Temp > 100 or abdom pain and/or tenderness,
change in mental status
• VARICEAL BLEED---- 30-50% mortality with bleed, 70% recurrence
rate in 1st month.
•
1. stabilize with iv fluids
•
2. band ligation
•
3. Proton-pump inhibitor drip , octreotide x 3-5
days,
•
4. Vasopressin and nitroglycerin
•
5. Non-specific beta blockers.
H Pylori
• DIAGNOSIS--- Rapid Urease Urate Breath test
•
Fecal antigen test
•
IGG- test serologic
• Confirmed success- 1st two are negative, IGG will remain POS
forever.
• TREATMENT: 4 drug regimen better than 3 drug.
•
4 drugs x 14 days= 90% effective 2% reinfection
•
rate
•
IF PCN allergic.. Use flagyl in place of amoxil
• 4 drug= PPI + Bismuth + flagyl + TCN … 10-14 days
• Triple = PPI + amoxil or flagyl + Clarithromycin
Hepatitis C-traditional
treatment
• RIBAVIRIN (COPAGUS)- Purine Nucleoside analog x 12-24 weeks
PLUS Peginterferon alpha2a (pegasys) (USE BOTH OF THESE w one
of the following:
•
-Boceprevir (protease Inhibitor)– anemia, decrease neutrophil,
dysgeusia
•
-Telaprevir (protease Inhibitor)- Rash, Anorecal discomfort,
steven-johnson
- Simeprevir (protease Inhibitor) 2nd generation..rash, life threating
photosensitivity,
- Pruritis.
- ** beware of P450 drug interactions **
Hepatitis C - Treatment
• DX: Serologic Assay for antibodies to Hep C. Detect or quantify
HCV RNN
•
if alt > 2x ULN and HBV DNA > 20k
• SCREEN: people w fibrosis panel, consider lung biopsy
•
20-30% of positive pts will get chronic respiratory disease.
• Telaprevir 750mg tid x 12 wks
start after 4 wks
• Plus peg-inferon followed by
• Peg inft rivarvirin x 12 weeks
• Entecavir and tenofovir are Preferred.
boceprevir 800mg tid
after 4 weeks
Hepatitis c- harvoni
• HARONI – fixed dose of ledipasiir sofosbvir
• Treatment naive pts w or w/out cirrhosis– 12 weeks
• Treatment duration Not- naïve pt w cirrhosis----- 24
weeks.
Child-pugh scores
•
•
•
•
•
•
Measure
1 point
2 points
3 points
Total bilirubin mg/dl …….. < 3
34—50
> 50
Serum Albumin g/dl………. > 3.5
2.8-3.5
< 2.8
PT INR……………………..
< 1.7
1.71-2.3
> 2.3
Hepatic Encephalopathy…… none
grade 1-2 grade 3-4
Ascites………………………. None
mild
mod to severe
•
•
•
•
Pts
class one-year survival
2 yr survival
5-6
A
100% ………………
85%
7-9
B
81%........................... 57%
10-15 C
45% ……………......
35%
Pepcid ulcer disease
• PEPTIC ULCER - either duodenal or gastric
•
- etiology: H. pylori, NSAIDS
•
-risk: age > 60, hx pud, corticosteroids, anticoag,
•
asa.smoking, cvd, ra, ssri
•
- treatment: PPI for 8-12 weeks (2013 gerd
•
guidelines= 8 wks)
• GERD--- Don't worry about dx.. Just tx with PPI
•
-treatment- 1st PPI second= h2 blockers
•
third= promotility agents, 4th- surgery
• Note: if take off asa for bleed.. Put back on asa within 1 week.
GERD
• ENDOSCOPY WARRENTED IF: -dysphagic, bleeding, wt loss,
choking, cp..
•
otherwise it is prudent to give PPI/H2 without endoscopy.
• PRESUMPTIVE GERD: No diagnosis needed. Ambulatory pH reflux
monitoring recommended.
• LIFE-STYLE– wt loss, avoid eating 2-3 hrs prior to hs, avoid EtOH,
caffeine chocolate, spicy food, nicotine, tight clothes, fats,
anticholinergic benzo, tca, estrogen, calcium channel blockers. – if
asymptomatic may stop
• TX::.. PPI x 8 weeks given before meals. If partial response then
bid.
•
Drug interactions (neutral stomach) – ketoconazole, iron,
protease inhib.
GERD- CASE STUDY
• LJ arrives at the pharmacy requesting for something to take for a
burning stomach.
• When questioned how often, she says usually about once a day .
She has no bleeding and has been eating with no problems..
Usually after supper. What is your recommendation for her?
a.
b.
c.
d.
See a physician to get an endoscope
Sell her a bottle of proton-pump inhibitor
Sell her a bottle of H2 blockers
Tell her to eat some crackers.
e. Answer: Presumptive GERD does not need a dx, Proton pump
inhibitors are more effective than H2-blocker.