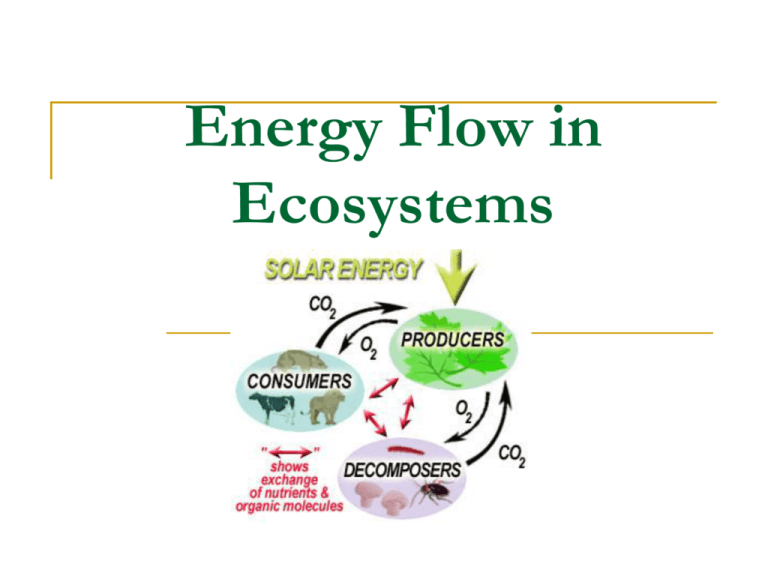 Energy Flow in
Ecosystems
Food chains:



show the path of energy through trophic
(feeding) levels
Energy come from the
Energy is not recycled – it decreases and
is "lost" (made unavailable in the form of
heat)
Level 1 - Producers


Undergo
photosynthesis
(plants, algae, some
bacteria)
Use energy from the
sun to make food
(glucose)
Level 2 - Primary (1) Consumers

Herbivores – eat plants
Level 3 – Secondary (2) Consumers

Carnivores – eat meat

Omnivores – eat
both meat and plants
Margay
Pygmy
Golden Headed Lion
Tamarin
Detritivores - obtain energy from dead
organisms at all trophic levels



Decomposers –
cause decay
Bacteria, fungi,
worms
Rabbit



Scavengers – feed on
the remains of dead
organisms
snails, crabs, worms,
raccoons, maggots,
vultures, hyenas
Gecko
Review
PRACTICE!!!





Producer
Fourth order
(quaternary) consumer
Second order
(secondary) consumer
First order (primary)
consumer
Third order (tertiary)
consumer
Food Web vs. Food Chain

What is the
difference
between a food
chain and a food
web?
Energy flow through ecosystems can be
represented using a pyramid - why?



10% of the energy at each level is passed on to the next
level, 90% is used by heat and metabolism.
Energy decreases as you move through trophic levels!
It takes a lot of vegetation to support higher trophic
levels.