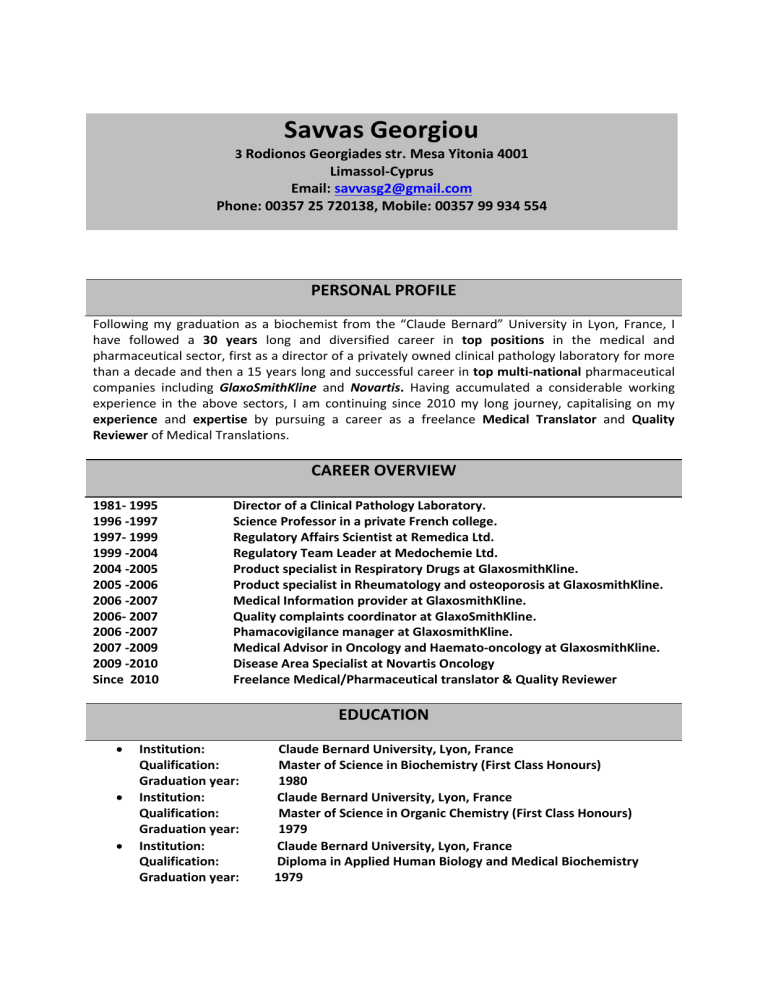 Savvas Georgiou
3 Rodionos Georgiades str. Mesa Yitonia 4001
Limassol-Cyprus
Email: savvasg2@gmail.com
Phone: 00357 25 720138, Mobile: 00357 99 934 554
PERSONAL PROFILE
Following my graduation as a biochemist from the "Claude Bernard" University in Lyon, France, I
have followed a 30 years long and diversified career in top positions in the medical and
pharmaceutical sector, first as a director of a privately owned clinical pathology laboratory for more
than a decade and then a 15 years long and successful career in top multi-national pharmaceutical
companies including GlaxoSmithKline and Novartis. Having accumulated a considerable working
experience in the above sectors, I am continuing since 2010 my long journey, capitalising on my
experience and expertise by pursuing a career as a freelance Medical Translator and Quality
Reviewer of Medical Translations.
CAREER OVERVIEW
1981- 1995
1996 -1997
1997- 1999
1999 -2004
2004 -2005
2005 -2006
2006 -2007
2006- 2007
2006 -2007
2007 -2009
2009 -2010
Since 2010
Director of a Clinical Pathology Laboratory.
Science Professor in a private French college.
Regulatory Affairs Scientist at Remedica Ltd.
Regulatory Team Leader at Medochemie Ltd.
Product specialist in Respiratory Drugs at GlaxosmithKline.
Product specialist in Rheumatology and osteoporosis at GlaxosmithKline.
Medical Information provider at GlaxosmithKline.
Quality complaints coordinator at GlaxoSmithKline.
Phamacovigilance manager at GlaxosmithKline.
Medical Advisor in Oncology and Haemato-oncology at GlaxosmithKline.
Disease Area Specialist at Novartis Oncology
Freelance Medical/Pharmaceutical translator & Quality Reviewer
EDUCATION



Institution:
Qualification:
Graduation year:
Institution:
Qualification:
Graduation year:
Institution:
Qualification:
Graduation year:
Claude Bernard University, Lyon, France
Master of Science in Biochemistry (First Class Honours)
1980
Claude Bernard University, Lyon, France
Master of Science in Organic Chemistry (First Class Honours)
1979
Claude Bernard University, Lyon, France
Diploma in Applied Human Biology and Medical Biochemistry
1979
TRANSLATOR PROFILE
Freelance Medical-Pharmaceutical Translator and Quality Reviewer
From August 2010 – present.
I am a highly experienced Medical Translator, working exclusively in the translation of Medical,
Pharmaceutical and Regulatory documentation with top-notch pharmaceutical multinational companies,
including GlaxoSmithKline and Novartis, translation agencies specializing in the medical-pharmaceutical
sector and with international medical institutions and Healthcare organisations.
As part of my services a post translation Quality Review is also performed on third party produced
translations, in order to validate the terminology of the translated text in the target language and ensure
the suitability of the medical writing style for publishing and official use.
A comprehensive list of document options for translation includes:
Medical Translation
Medical Fields
Pharmaceutical Translation
Medical Reports
Internal Medicine
Standard operating procedures (SOPs)
Medical Certificates
Oncology
Validation Reports
Articles in Medical journals
Haematology
Toxicology
Medical Diplomas/Resumes
Immunology
Audit/ Inspection Reports
Patient Medical Records
Traumatology
GMP Certificates
Medical Practice Guidelines
Nutritional Healthcare
Certificates of analysis
Laboratory Tests & Reports
Endocrinology
Brand Promotional Materials
Imaging Reports (CT, MRI, PET)
Pulmonology
Sales Force Educational Training
Medical Device User Manuals
Dermatology
Product Monographs
Questionnaires & Surveys
Gynaecology
Drug Specifications
Patient Education Materials
Obstetrics
Manufacturing Protocols
Forensic Pathology reports
Cosmetic surgery
Press Releases
Discharge Letters
Cardiology
Summary of product Characteristics (SmPCs)
Medical Insurance contracts
Neurology
Patient Information Leaflets (PILs)
Medical insurance claims
Urology
Labeling
Physician instructions
Biochemistry
Pharmaceutical correspondence
Laboratory diagnostic kits
Microbiology
Pharmaceutical patents
Clinical Trials
Pharmacovigilance
Regulatory
Protocols & Amendments
CIOMS Reports
Country specific Drug Registration Dossiers
Informed Consent Forms (ICF)
DSURs
Centralised and MR European applications
Case Report Forms (CRFs)
PSURs
INDs (Investigational New Drug) Applications
Patient Reported Outcomes (PRO)
PSMF (System Master File)
Common Technical Doc. (CTD) Modules
Investigational Drug safety Reports
ICSRs
Marketing Authorization Certificates
Quality of Life Questionnaires
Risk Minimization Plans (RMP)
Marketing Authorization application forms
IBs (Investigator Brochures)
Pharmacovigilance SOPs
Health supplements Registration
IRB/Ethics committee documents
Inspection/Audit Reports
Correspondence with Regulators
INPD (investigational product Dossier)
Drug safety Correspondence
Proposed Labeling
Language combinations: Greek, English, French, Russian
Software/CAT tools: MS Office Pro, MS Word, MS Excel, Powerpoint, Adobe Acrobat ,Wordfast, Omega T
Services: Translation, Editing/ Proofreading, Quality Reviewing
Rates: Translation from and to any of the above language pairs, EUR 0.08/source word, Quality review
EUR 25/hour.
EMPLOYEMENT CAREER
NOVARTIS ONCOLOGY
(1 year)
Disease Area Specialist in oncology
I have successfully worked in the implementation of targeted cancer therapies in the areas of Breast
cancer, Renal cell carcinoma, Lung cancer, Soft tissue Sarcomas and Skin Melanoma. As part of the above
work some hundreds of pages of corporate materials were translated from English to Greek for
Healthcare Professionals or patient's use.
GlaxoSmithKline (GSK)
For more than 5 years I have occupied various key positions in the British pharmaceutical giant,
including:


In marketing department, as a product specialist in Respiratory medicine, Osteoporosis,
Rheumatology, Diabetology, Oncology.
In Medical department as the Named Safety Contact for Adverse events reporting and
Pharmacovigilance trainer, as a responsible person for providing medical information and
Risk Management plan (RMP) implementation, as a Quality Complaints coordinator and as a
Medical adviser in solid tumour Oncology and Haemato-Oncology.
Medochemie Ltd (Top generic drug manufacturer in Cyprus)
(5.5 years)
As a Regulatory Affairs Team Leader
I have successfully managed a large team of Regulatory scientists responsible for international
generic drug registration. I have authored numerous (Quality-Module 3) Common Technical
Documents (CTD dossiers) for marketing authorisation applications.
Remedica Ltd (Generic Drug Manufacturer in Cyprus)
(2.5 years)
As a Regulatory Affairs Scientist
As a member of the Regulatory Affairs team I was responsible for Local and international marketing
authorisation applications. I have compiled and translated whenever necessary the required
Regulatory documentation in French and English.
French school "Ecole Arthur Rimbaud "
June 1996- July 1997
As a Science Professor
I have taught various scientific subjects such as Biology, Chemistry and Life sciences in French language at
the "Arthur Rimbaud" French college in Limassol, Cyprus, for a whole academic year.
Director of a private Clinical Pathology Laboratory,
Febr. 1981- May 1995
For more than a decade, I have performed and supervised thousands of Medical Laboratory tests covering
multiple diagnostic medical areas, such as Biochemistry, Haematology, Immunology, Microbiology,
Parasitology, Endocrinology and have edited an equivalent number of reports on tests results.