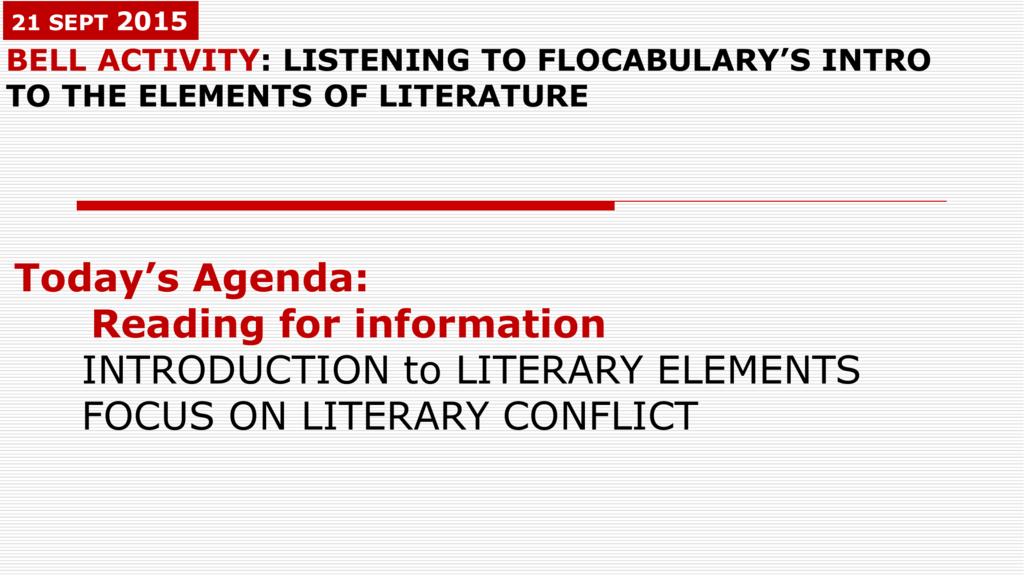 21 SEPT 2015
BELL ACTIVITY: LISTENING TO FLOCABULARY'S INTRO
TO THE ELEMENTS OF LITERATURE
Today's Agenda:
Reading for information
INTRODUCTION to LITERARY ELEMENTS
FOCUS ON LITERARY CONFLICT
TRANSITION
YOU WILL NEED:
HIGHLIGHTERS
A PEN
INSTRUCTION HANDOUT
PRINTING PRESS ARTICLE
READING FOR INFORMATION
Much of the reading you do is reading to find answers and
information.
Reading for information is
therefore a
EXTREMELY
IMPORTANT
SKILL
READING FOR INFORMATION
BEFORE READING AN ARTICLE:
IDENTIFY THE QUESTIONS YOU NEED TO ANSWER.
IF THEY ARE PRINTED AS A PART OF THE ARTICLE HIGHLIGHT THEM.
IF THE QUESTIONS ARE ASSIGNED, BUT ARE NOT WRITTEN IN THE
ARTICLE, WRITE THEM IN THE MARGINS.
IDENTIFY AND HIGHLIGHT
THE TITLE AND SECTIONS HEADINGS
READING FOR INFORMATION
AS YOU READ
Highlight any bolded words
Highlight any sentences with numbers
Highlight any definitions
Highlight info YOU think will be important to know
a claim sentence in a paragraph
main ideas of paragraphs
answers to the questions
READING FOR INFORMATION
What question(s) does the article says you must
answer?
What question(s) did the teacher tell you to answer
using the article?
What came before the printing press?
Why did Gutenberg develop a printing press?
What was his job that made him the perfect guy to make metal typeset.
How did the press work and why was it better than previous attempts
by the Chinese?
READING FOR INFORMATION
Final point:
Although it is convenient to know what questions
you are trying to answer, one of the biggest mistakes
you can make is to just look for the answers and not
bother to read the rest of the document.
LITERARY ELEMENTS
ADD THE FOLLOWING NOTES TO
THE BACK OF YOUR PRINTED CLOZE
NOTES ON LITERARY CONFLICT
TYPES
LITERARY ELEMENTS
 CONFLICT
 SETTING
 CHARACTER
 PLOT
 THEME
 TONE & MOOD
 POINT OF VIEW
Preview: Characters
A CHARACTER:is a person or
creature that interacts with others
within a story.
Without at least one character
there is NO STORY
ESSENTIAL CHARACTER TYPES
 PROTAGONIST: The action of the story
revolves around the protagonist and the central
conflict that he or she faces.
 ANTAGONIST: the force or character opposing
the protagonist in the central conflict.
Conflict
Conflict is the dramatic
struggle between two
forces in a story.
WITHOUT CONFLICT….
there is NO PLOT,
there is NO PROTAGONIST
there is NO ANTAGONIST
CONFLICT
WITHOUT CONFLICT THERE IS
NO STORY.
THE CENTRAL CONFLICT
In most stories there is more than one conflict and more
than one type of conflict occurring.
There is conflict between the protagonist and minor or
other major characters or forces. There may also be
conflict with and between minor characters.
HOWEVER, THERE IS ONLY ONE CENTRAL CONFLICT
FOR EACH STORY, AND WITHOUT IT THERE IS NO
STORY.
CENTRAL CONFLICT
REQUIREMENTS
The CENTRAL CONFLICT must be between
the protagonist and the antagonist.
During the plot climax the
protagonist and the antagonist must
resolve the CENTRAL CONFLICT.
CONFLICT CAN BE DIVIDED INITIALLY
INTO 2 BASIC TYPES
ALL Conflict is either ……
OR
Internal
External
CONFLICT that occurs INSIDE the
character's mind is
Internal
CONFLICT that occurs between the
character and an OUTSIDE force is…
External
7 TYPES OF LITERARY CONFLICT:







CHARACTER
CHARACTER
CHARACTER
CHARACTER
CHARACTER
CHARACTER
CHARACTER
VS
VS
VS
VS
VS
VS
VS
SELF
CHARACTER
NATURE
SOCIETY
FATE
SUPERNATURAL
TECHNOLOGY
Internal Conflict
There is only one
kind of Internal
Character
Conflict…..
.
VS
Self
Character vs. Self
 The only example of
Internal Conflict
 In a Character vs Self
Conflict the character
experiences some kind
of conflict with her or
himself.
CHARACTER VS. SELF can be as simple
as…
 What do I want vs.
what do I need
 It often involves a choice
between right and wrong.
can involve the INTERNAL CONFLICT caused by
• troubles from one's past
• overwhelming emotions
• the decisions associated
with growing up.
Conflict is always either ……
External
OR
Internal
TYPE: CHARCTER VS SELF
External Conflict
Conflict between a character
and an outside force.
EXTERNAL CONFLICT:
THERE ARE 6 TYPES OF
CONFLICT WHICH ARE
CONSIDERED EXTERNAL
CONFLICT
Character vs. Character Conflict
 This type of
conflict finds the
character in
conflict with
another character,
human or not
human.
Character vs. Nature Conflict
 This type of
conflict finds the
character in
conflict with the
forces of nature,
which serve as the
antagonist.
External Conflict
Character vs. Nature
The character
is
typically trying
to survive the
forces of
nature. There
are stories
where a
character is
trying to
discover the
causes or
secrets of
nature.
Character vs. Society Conflict
 This type of conflict
has the character in
conflict with a larger
group: a community,
society, culture,
governments,
schools, tradition,
law, etc.
Character vs. Fate
 When a character has a problem with something he
can't do anything about, a pre-determined destiny.
 A character attempts to break free of a
predetermined path chosen before him prior to his
knowledge.
The prophecy said
that Hercules
would defeat
Hades and save
the world. It was
his foretold
destiny, his fate.
Character vs Fate
involves a prophecy
and or deity.
Myths often involve
Character vs Fate Conflicts.
CHARACTER vs. SUPERNATURAL
The character struggles with a
supernatural being or force..
Gods
Ghosts
Vampires
Werewolves
Aliens
Wizards
CHARACTER vs. TECHNOLOGY
The character is in conflict with
any form of technology,
usually Computers or
machines
"I, Robot" a story where one man combats a Robot Revolution.