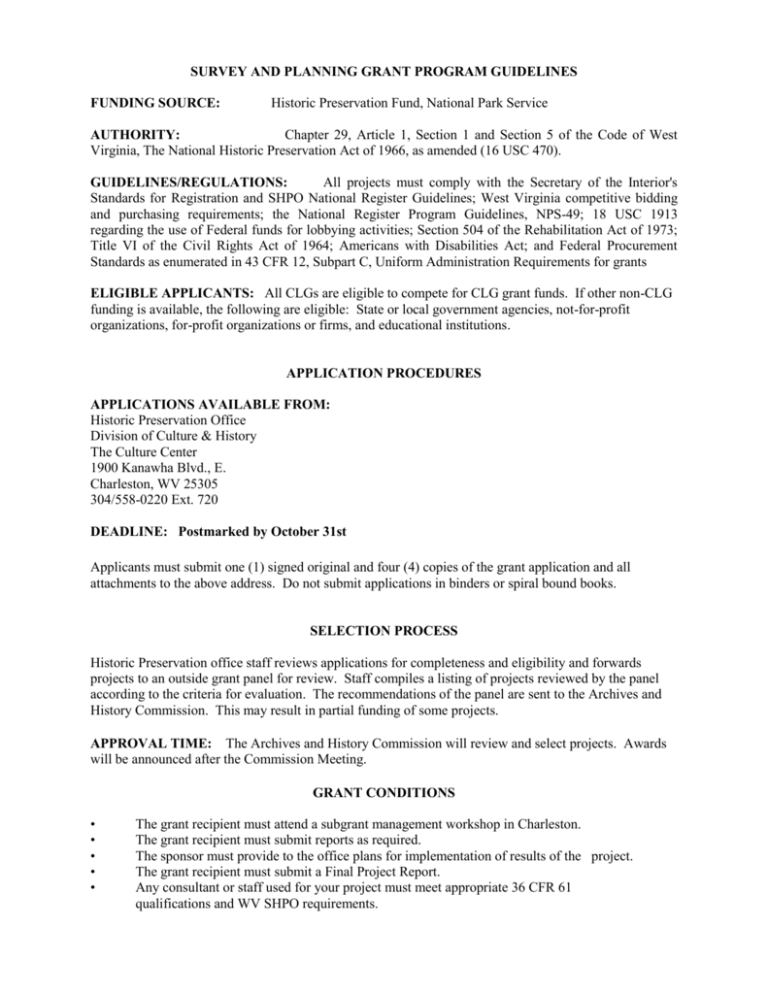 SURVEY AND PLANNING GRANT PROGRAM GUIDELINES
FUNDING SOURCE:
Historic Preservation Fund, National Park Service
AUTHORITY:
Chapter 29, Article 1, Section 1 and Section 5 of the Code of West
Virginia, The National Historic Preservation Act of 1966, as amended (16 USC 470).
GUIDELINES/REGULATIONS:
All projects must comply with the Secretary of the Interior's
Standards for Registration and SHPO National Register Guidelines; West Virginia competitive bidding
and purchasing requirements; the National Register Program Guidelines, NPS-49; 18 USC 1913
regarding the use of Federal funds for lobbying activities; Section 504 of the Rehabilitation Act of 1973;
Title VI of the Civil Rights Act of 1964; Americans with Disabilities Act; and Federal Procurement
Standards as enumerated in 43 CFR 12, Subpart C, Uniform Administration Requirements for grants
ELIGIBLE APPLICANTS: All CLGs are eligible to compete for CLG grant funds. If other non-CLG
funding is available, the following are eligible: State or local government agencies, not-for-profit
organizations, for-profit organizations or firms, and educational institutions.
APPLICATION PROCEDURES
APPLICATIONS AVAILABLE FROM:
Historic Preservation Office
Division of Culture & History
The Culture Center
1900 Kanawha Blvd., E.
Charleston, WV 25305
304/558-0220 Ext. 720
DEADLINE: Postmarked by October 31st
Applicants must submit one (1) signed original and four (4) copies of the grant application and all
attachments to the above address. Do not submit applications in binders or spiral bound books.
SELECTION PROCESS
Historic Preservation office staff reviews applications for completeness and eligibility and forwards
projects to an outside grant panel for review. Staff compiles a listing of projects reviewed by the panel
according to the criteria for evaluation. The recommendations of the panel are sent to the Archives and
History Commission. This may result in partial funding of some projects.
APPROVAL TIME: The Archives and History Commission will review and select projects. Awards
will be announced after the Commission Meeting.
GRANT CONDITIONS
•
•
•
•
•
The grant recipient must attend a subgrant management workshop in Charleston.
The grant recipient must submit reports as required.
The sponsor must provide to the office plans for implementation of results of the project.
The grant recipient must submit a Final Project Report.
Any consultant or staff used for your project must meet appropriate 36 CFR 61
qualifications and WV SHPO requirements.
BEGINNING DATE:
ENDING DATE:
ANNUALLY IN MARCH
JUNE OF FOLLOWING YEAR
FUNDING LIMIT:
No grant will be awarded for less than $ 1,000.00
All grant expenditures and match resources must be expended for services and/or materials used for the
approved project during the project period.
MATCHING REQUIREMENTS
Grants are awarded for no more than 60% of the total project costs, with the project sponsor providing at
least 40% of the total costs of the project. Match for Certified Local Governments is 70/30. CLG
grants will be awarded for no more than 70% of the total project costs, with the CLG sponsor
providing at least 30% of the total costs of the project.
ELIGIBLE MATCH: Non-Federal sources of cash. Cash derived from the Community
Development Block Grant Program, Revenue Sharing Program, in-kind or donated contributions.
INELIGIBLE MATCH:
Federal sources of match with the exception of those described above. Any
costs whether cash or in-kind that is not necessary and reasonable to the completion of the project and
within the grant period.