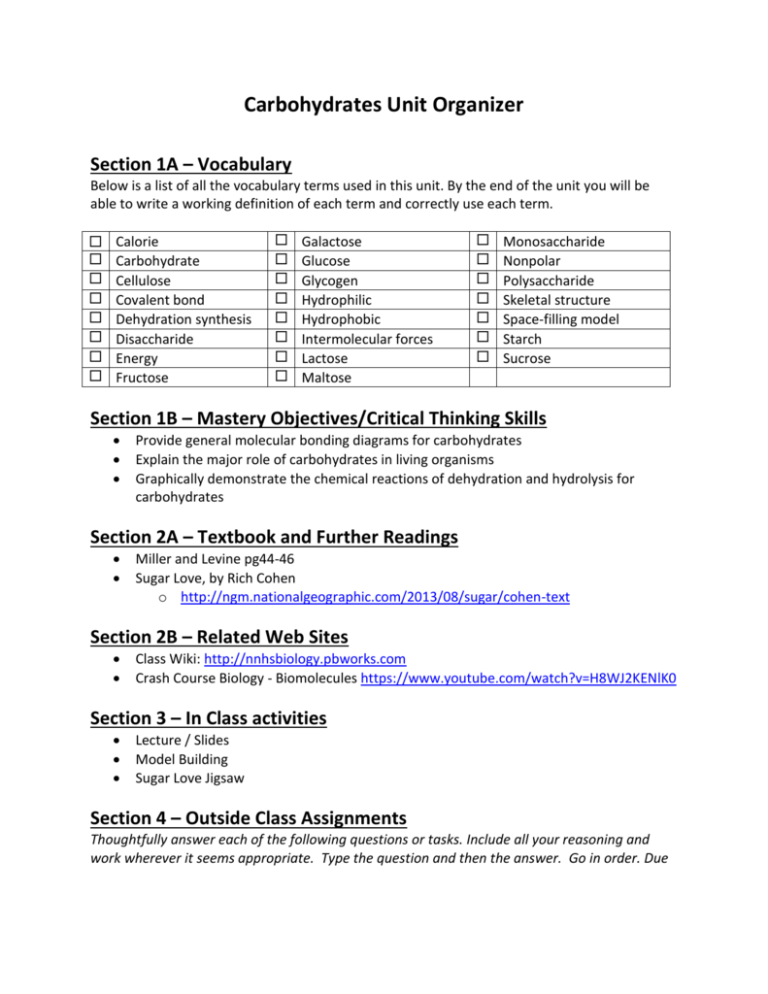 Carbohydrates Unit Organizer
Section 1A – Vocabulary
Below is a list of all the vocabulary terms used in this unit. By the end of the unit you will be
able to write a working definition of each term and correctly use each term.








Calorie
Carbohydrate
Cellulose
Covalent bond
Dehydration synthesis
Disaccharide
Energy
Fructose








Galactose
Glucose
Glycogen
Hydrophilic
Hydrophobic
Intermolecular forces
Lactose
Maltose







Monosaccharide
Nonpolar
Polysaccharide
Skeletal structure
Space-filling model
Starch
Sucrose
Section 1B – Mastery Objectives/Critical Thinking Skills



Provide general molecular bonding diagrams for carbohydrates
Explain the major role of carbohydrates in living organisms
Graphically demonstrate the chemical reactions of dehydration and hydrolysis for
carbohydrates
Section 2A – Textbook and Further Readings


Miller and Levine pg44-46
Sugar Love, by Rich Cohen
o http://ngm.nationalgeographic.com/2013/08/sugar/cohen-text
Section 2B – Related Web Sites


Class Wiki: http://nnhsbiology.pbworks.com
Crash Course Biology - Biomolecules https://www.youtube.com/watch?v=H8WJ2KENlK0
Section 3 – In Class activities



Lecture / Slides
Model Building
Sugar Love Jigsaw
Section 4 – Outside Class Assignments
Thoughtfully answer each of the following questions or tasks. Include all your reasoning and
work wherever it seems appropriate. Type the question and then the answer. Go in order. Due
dates for each assignment will be given in class. (Please remember - homework that is passed in
late is automatically discounted 15% and 0% after the unit test.)
1. Construct a hierarchical concept map with linking phrases or make a labeled diagram for
each of the following groups of terms:
a. Carbohydrate, cellulose, disaccharide, fructose, galactose, glucose, glycogen,
lactose, monosaccharide, polysaccharide, starch, sucrose
b. Calorie, Carbohydrate, dehydration synthesis, energy, glycogen, hydrolysis
starch, glucose
2. Read and follow the directions as you color in the following pages:
a. Carbohydrates
b. Simple Sugars
3. Create a table to compare and contrast the 4 major biomolecules. Include each
biomolecule, the elements that make them up, the monomers (building blocks) of the
biomolecule, and the role each biomolecule plays in living organisms. Only fill in the
information for carbohydrates. Keep this table to add on other biomolecules in future
units.
4. Carbohydrates (as well as proteins and lipids) are formed by a chemical reactions called
dehydration synthesis.
a. Write the chemical equation for dehydration synthesis for the formation of
sucrose.
b. Using molecular skeletal models, diagram the formation of a disaccharide.
5. List 2 major roles of carbohydrates (refer to question 3) and describe those roles in
living organisms.