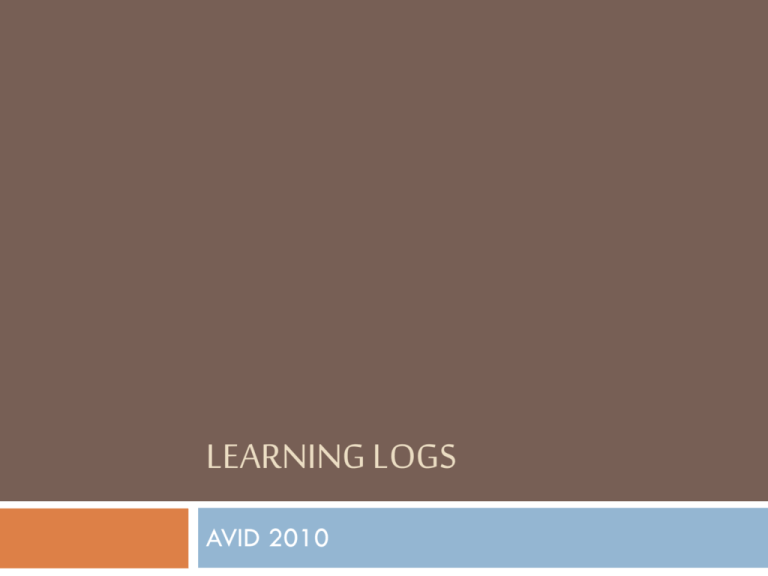 LEARNING LOGS
AVID 2010
What is it?
A learning log is something that helps you articulate what you've
learned and discover what you don't understand. It also helps you
expand what you learned.
Why should I even care?
In AVID, you need to be concerned about where are you going.
All of you want to go to college, so now it is time to get that
education and stop being lazy!
What Should I Write?
There are 6 ways to know what to write in a learning log.
(You better be taking Cornell Notes on this, friends =)
Recap What you Learned
Ask ??'s like:
1. What did I learn in class today? How did I learn it?
2. What was especially interesting about class today? Why?
3. What do I now know about this topic that I didn't know before class?
4. An important activity I was involved in today was…and it affected me
by…
5. By taking today's test, I learned….
Feeling Confident?
Ask these ???'s
1.
What questions did I have that were answered today?
2.
How would I explain this to someone else?
3.
How could I teach this to a group of my peers?
4.
In what other ways can I demonstrate my understanding of this
topic? (pictures, diagrams,etc)
5.
What do I wonder about this?
Confused or Need Clarification?
Ask these ??'s
1.
What confuses me?
2.
What ??'s do I have about this topic? How can I get the answers?
3.
Something I am still confused about is…because…
4.
One thing I'd like to know (or think) more about is…because…
5.
I think my teacher had us do…..because….
Feeling inspired or want to talk
about why you learned it?
Ask these ??'s
1.
What surprised me about this material? Why?
2.
Why is it important that I know this information? How can I use it?
3.
What I learned today will help me because…
4.
The most important idea I got from the discussion was…
5.
Today's learning change my belief that…
6.
Today's learning clarified my misconception that…
Extend Your Learning…
Ask these ??'s
1.
What do I want to learn more about? How will I do this?
2.
How does this material connect to ideas or information I
already know?
3.
I can relate what I learned today and what I learned in another
class by…
4.
The video I watched related to the course in the following way…
Examine Group and Discussion
Interaction
Ask these ??'s
1.
In what ways did I participate in the discussion today? How can
I improve for the next discussion?
2.
How can I encourage other students to participate more in our
next discussion?
3.
How did I work with my group today?
4.
What was challenging about working in my group today?
Good Writing Log:
Subject: History
Topic: The Great Depression
Date: 1/5/2010
Today in history, I learned a lot about the Great Depression. I had no idea
that so many people were in turmoil and suffering. Many people were left
homeless, including whole families. One of the areas that was the worst was
the Dust Bowl. The Dust Bowl is located in Midwest America (Oklahoma,
Kansas, Missouri, etc.). I really had no idea it was so devastating. I try to
imagine myself in this situation, and would only hope that I had close family
to help me through such a difficult situation. I know that I would hate having
to move my family from everything they knew to find a job that paid .05 to
pick grapes. I guess we would just do what we had to do. Everyone talks
about today and how the economy is pretty bad right now, but looking back,
it seems things could always get worse. We are pretty lucky.
BAD!
Subject: History
Topic:
1/5/2010
OMG!Yeah, so I learned about some stuff in the
Great depression. It was pretty sad. Families were
homeless and stuff. Neways, it was bad.. BTW- I
don't really understand why I have to know this. It
just gets on my nerves.
Little Tips
1.
2.
3.
Learning logs need to be a good, solid paragraph. Don't
skimp and don't add a bunch of fluff.
These need to be completed once for each subject, a week.
You may not use the same question/prompt for all your
subjects.
When Should You Do a Learning
Log?
1.
2.
3.
4.
5.
After taking notes, add a learning log page to figure out what
you do and don't understand
During a regular nightly study session to slidify your grasp of
the topic.
To prepare for a tutorial
Preparation of a subject area class so you know what questions
to ask
To prepare for a test
Group It Up!
Each group, assigned by Mrs. Vignon, will come
up with a good learning log and a bad learning
log and share out to the rest of the group.
Learning Logs!
Your Turn!
Learning logs will be due every Friday. Mrs. Vignon
will read/grade them during our Free Write Session.
Must be completed on Friday, no late logs turned in.