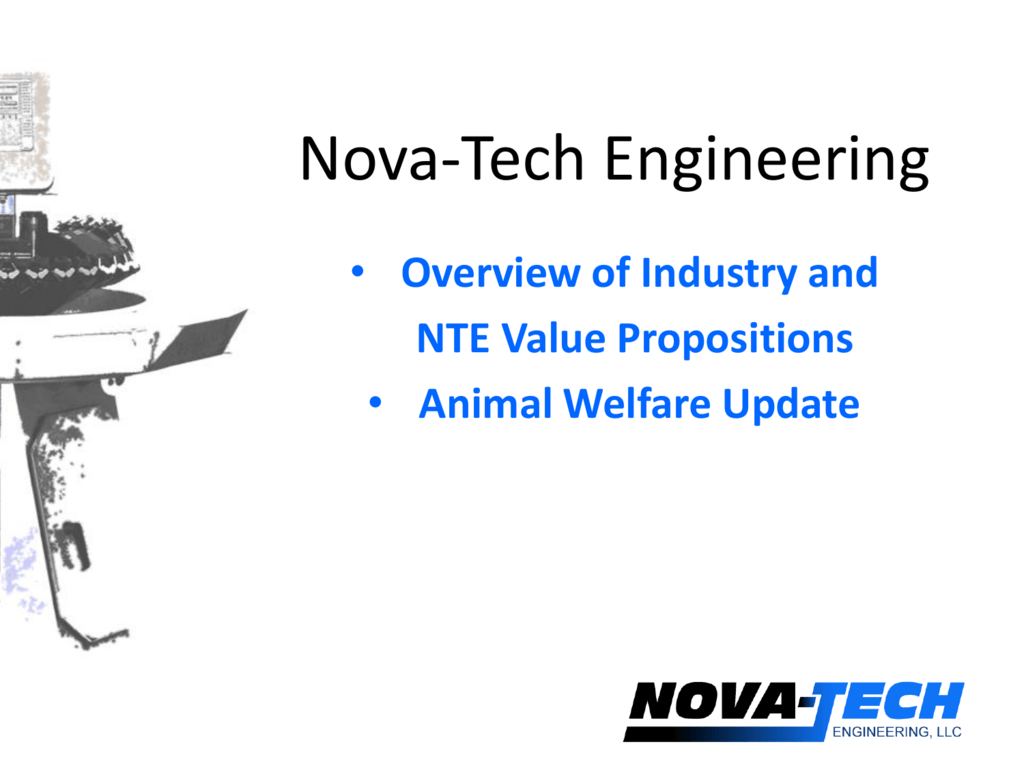 Nova-Tech Engineering
• Overview of Industry and
NTE Value Propositions
• Animal Welfare Update
Nova Tech Purpose Statement
We create revolutionary solutions
that advance our customer's ability to
feed the world.
Beak Treatment
Let's Start with Why
Infrared Beak Treatment (IRBT)
GOALS OF BEAK TREATMENT
• When properly administered beak treatment helps to:
• Control of pecking related injuries and cannibalism.
• Improve feather scores / bird temperature regulation.
• Improve feed conversion ratio
• Promote bird development, weights and flock
uniformity.
• Improve feed intake.
• Key for sustaining peak egg production in high
performing layer strains.
• The above helps to maximize the genetic potential of
poultry species
OTHER BENEFITS OF INFRARED
BEAK TREATMENT
• Non contact bloodless procedure.
• Improve bio-security. Administered in bio-secure
hatchery versus traveling teams to the farms.
• Adjustable / prescriptive treatment. Able to match
treatment against flock age, breed and farm
conditions.
2
• UK research suggest that IR beak treatment of day old
chicks does not result in chronic adverse consequences
for sensory function, nor does it demonstrate evidence
of chronic pain associated with the procedure.
2 Chronic neurophysiological and anatomical changes associated with infra-red beak
treatment University of Glasgow, Dr Dorothy McKeegan, Dr Adrian Philbey
Beak portion exposed to treatment source
Infrared Treatment
1 Day After
Beak tissue affected
by infrared energy
Examples of Prescriptive Treatment
@84 Days
25/23 Plate
30% of Beak Length
Reduction
27/23c Plate
15% Beak Length
Reduction
No Treatment
100% of Beak Length
Economic Impact of IRBT
1
• Hens with IR treatment of the beak tip at day old required 25 g
(LB) and 48 g (LSL) less feed per kg egg mass than untreated
controls.
• The IR treated groups exceeded the untreated controls by 22
and 49 cents per bird, respectively, or 220 (LB) and 490 (LSL)
Euro more profit per 1,000 hens housed.
• The advantage of IR treatment compared to traditional beak
trimming was 15 (LB) and 38 (LSL) cents per hen housed,
indicating that a higher price for IR treated day-old chicks is
not only justified as a contribution to hen welfare, but also by
elimination of beak treatment cost on the rearing farm and
higher egg income over feed cost on the layer farm.
1. Infrared beak treatment – a temporary solution?
Klaus Damme and Stefanie Urselmans, LfL/LVFZ Kitzingen, Germany
Influence of Food Retail and
3rd Party Auditing Groups
Tesco Guidelines
• 18 pages of guidelines
• 146 individual points of requirements
• CS1. All suppliers within the poultry supply chain must have an
approved status within an independently audited quality assurance
scheme (to ISO/IEC Guide 65: 1996 BSEN 45011:1998). The
schemes that are accepted are found in the "Agriculture
Requirements- Approved Scheme" list.
• CS4. Traceability exercises tracing where products or live animals
have come from and their next destination must be completed
within a four hour time frame. The Health and Welfare plan must
be reviewed and signed by the hatchery veterinary surgeon on an
annual basis and changes agreed with the business in response to
repeated disease problems.
Tesco Guidelines
•
•
•
•
•
CS47. No mutilations are permitted on commercial chickens, ducks and
geese.
CS48. Beaks can only be treated under veterinary advice using infrared on
day old poults. If beak treatment is carried out then the following must be
adhered to no more than one third of the upper mandible may be
removed.
CS49. Claws can only be treated under veterinary advice using infrared on
day old poults. Toe clipping is not
permitted.
CS146. A licensed labour provider must be used to provide temporary
labour in the United Kingdom.
NCC Guidelines 2014
Revised every 2 years
The following principles (which apply to all types of housing and strains of chickens) were
considered in the development of this document:
• 1. Poultry raised for food should be cared for in ways that prevent or minimize fear, pain,
stress, and suffering.
•
2. Guidelines for welfare should balance scientific knowledge and professional judgment
with consideration of ethical and societal values.
•
3. It is the welfare of the chickens themselves that is foremost, not how humans might
perceive a practice or an environment.
•
4. Poultry should be treated with respect throughout their lives and provided a humane
death when processed for food or when they are euthanized for any other reason.
•
5. The NCC Animal Welfare Guidelines and Audit Checklist are formally reviewed every two
years, with the current review conducted by a committee of scientific advisors followed by
a review by the NCC Animal Welfare Committee, who recommends final changes to the
NCC Board of Directors. This two-year cycle will continue indefinitely.
International Welfare concerns
• 2000 Germany bans de-beaking of turkeys
• 2015 Italy bans claw treatment in turkeys
• 2016 Germany, Denmark, UK, proposed to ban
beak treatment
• "Beak trimming is to be banned in the
Netherlands from 2018, three years earlier than
originally planned, due to pressure from political
groups."
• Asian countries track the EU requirements
International Poultry Welfare
Coalition
• https://www.youtube.com/watch?v=qfjG
tEG_jFI.