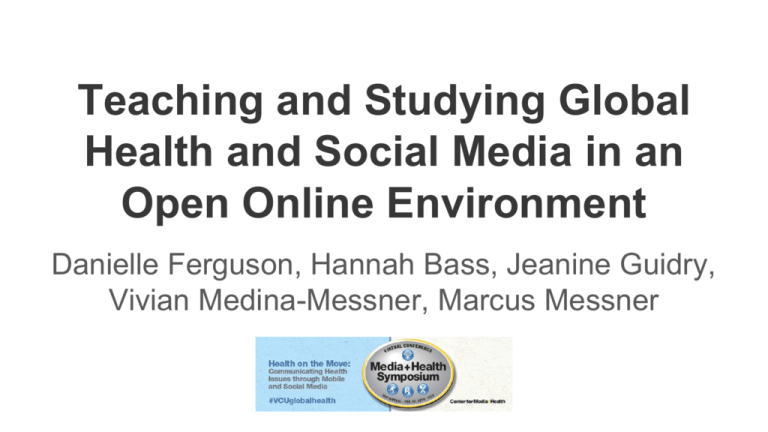 Teaching and Studying Global
Health and Social Media in an
Open Online Environment
Danielle Ferguson, Hannah Bass, Jeanine Guidry,
Vivian Medina-Messner, Marcus Messner
Open online course "Global Health and Social Media"
Open online special topics course "MASC
291 - Global Health and Social Media"
(service-learning designated)
Course offered in Fall Semesters 2014
and 2015
Developed with support from ALT Lab at
VCU
100+ VCU students enrolled for course
credit
15 public participants enrolled for
certificate through the VCU Office for
Continuing and Professional Education
Online lectures and expert talks
Pre-recorded weekly online
lectures
Live Google Hangout
discussions on social media
strategies with nonprofit and
government practitioners:
FEMA
American Diabetes Association
Charity: water
Doctors without Borders
Online Discussions and Reflections
Twitter Engagement
Instagram Engagement
Facebook Group
Student team projects for clients
International Children's
Heart Foundation
●
Provide life saving surgeries in developing nations to children with congenital
heart defects
●
Train surgeons and medical staff in developing nations so they can provide
care for their own people
●
Send medications, surgical supplies and diagnostic equipment to medical
facilities in developing countries
●
Currently focused on Latin America
International Children's Heart Foundation
● Goals
● #ShowYourScar
● Fundraising Strategy
International Children's Heart Foundation
Free Tools
● Repost for Instagram
● Flipagram
● Canva
● Hootsuite
International Children's Heart Foundation
"Teach One. Heal Many."
Physicians for Peace is a nonprofit based in Norfolk, Va with two
offices in the Philippines and Dominican Republic.
Transforms lives by training, supporting and empowering healthcare
professionals working with some of the world's most
underserved populations.
● Education leads to empowerment!
● Rather than healing just one person at a time, they teach
others, in turn they can heal their communities and create a
chain effect.
● Offering more than a Bandaid solution to see a world where
no one struggles with illness, disability or death due to the
lack of quality local healthcare.
Physicians for Peace
Our Campaign:
● Goals: Interaction, people of all ages can
interact, donations, more attention to P4P.
●
Hashtag and Campaign:
Followers would be able to easily post their
photos and videos under the hashtag
#TeachForPeace answering the question
"What Would You Teach?"
This provides a simple and lighthearted way
for audiences and users of all genders,
ages, and demographics, on all types of
social media platforms, to interact.
●
Fundraising: You can choose to donate
your tweet or post. #donateforpeace &
social credibility.
Physicians for Peace
One step further:
Snapchat live & sponsored stories
Hootsuite & Sprout Social
Compilation video for campaign wrap up
Post more, original content.
HAVE FUN!!
Physicians for Peace
Course Recognition
First-Place in 2015 Teaching Competition of the Association for
Education in Journalism and Mass Communication (AEJMC)
2015 VCU Community Engagement Award for Teaching
2015 Quest Global Impact Award for Virtual Global Classrooms
Questions?