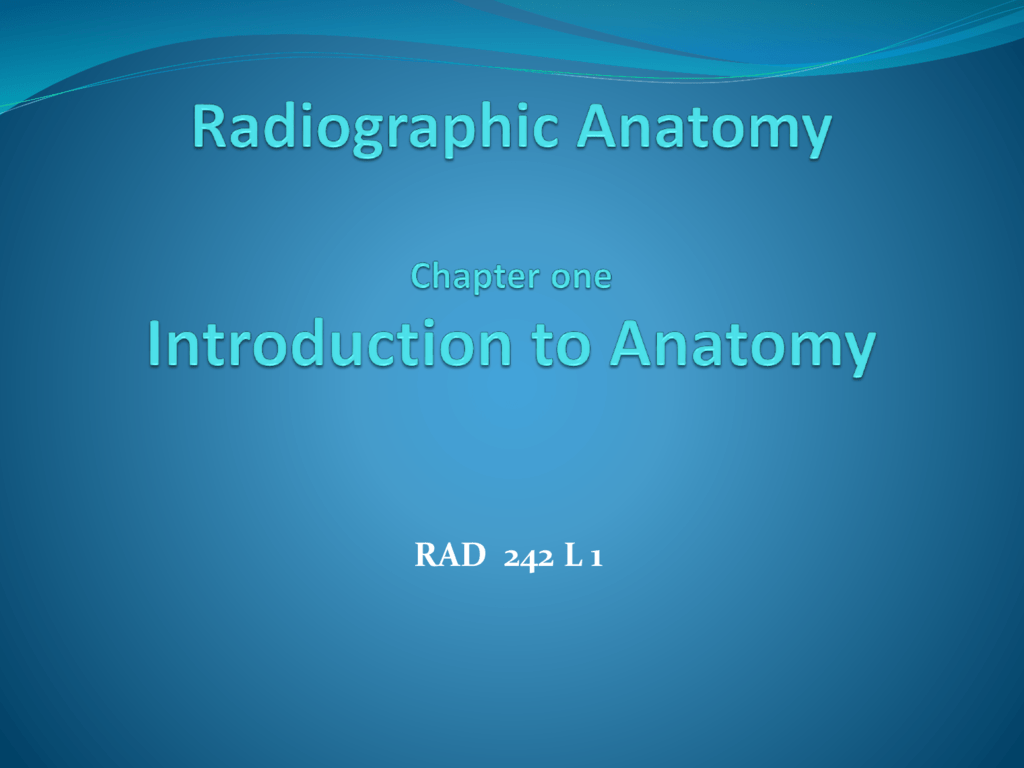 RAD 242 L 1
Learning Objectives
 Define the word "anatomy".
 Explain the organization of the human body
 Name the different regions of the body
 Explain the different terms used in anatomy.
 Define the anatomical position.
Definition
 Anatomy is the study of the structure of the body.
 In the laboratory, anatomy is studied by
dissection.
Kinds of anatomical studies
 Microscopic anatomy
 Gross anatomy,
- by systems,
- by regions,
Regions of the human body
 Back and Trunk. the thorax (chest), abdomen,




Pelvis, ,The lungs, the heart, and the digestive
system.
Head and Neck. The brain, eyes, ears, mouth,
pharynx, and larynx.
Limbs.
(1) upper limb includes a shoulder, arm, forearm,
wrist, and hand.
(2) lower limb includes a hip, thigh, leg, ankle,
and foot
 Anatomical Terminology
- prefix, a root (or base), and a suffix.
 The anatomical position
Planes of the body
A
Figure 1-3, A. The sagittal plane.
B
B. The horizontal plane.
C
C. The frontal plane.
Directions
 a. Superior, Inferior.
 b. Anterior, Posterior.
 c. Medial, Lateral.
 d. Superficial, Deep.
 e. Proximal, Distal.
 Names
 a. Chosen to describe the structure or process as
much as possible.
 b. Chosen to identify structures properly.