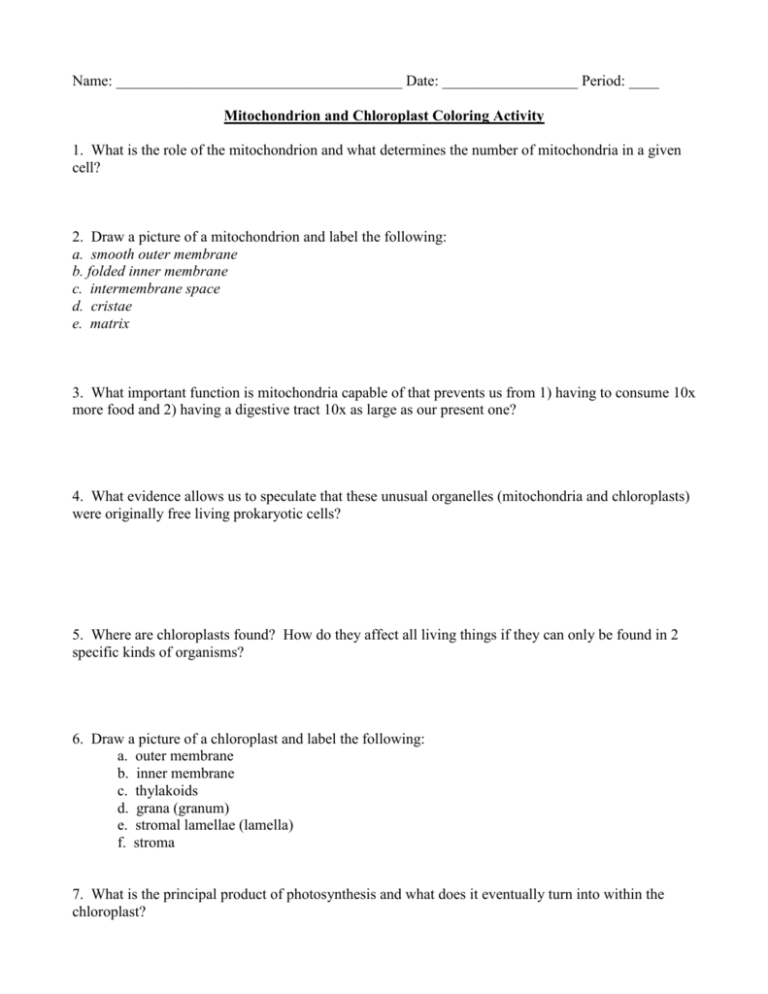 Name: ______________________________________ Date: __________________ Period: ____
Mitochondrion and Chloroplast Coloring Activity
1. What is the role of the mitochondrion and what determines the number of mitochondria in a given
cell?
2. Draw a picture of a mitochondrion and label the following:
a. smooth outer membrane
b. folded inner membrane
c. intermembrane space
d. cristae
e. matrix
3. What important function is mitochondria capable of that prevents us from 1) having to consume 10x
more food and 2) having a digestive tract 10x as large as our present one?
4. What evidence allows us to speculate that these unusual organelles (mitochondria and chloroplasts)
were originally free living prokaryotic cells?
5. Where are chloroplasts found? How do they affect all living things if they can only be found in 2
specific kinds of organisms?
6. Draw a picture of a chloroplast and label the following:
a. outer membrane
b. inner membrane
c. thylakoids
d. grana (granum)
e. stromal lamellae (lamella)
f. stroma
7. What is the principal product of photosynthesis and what does it eventually turn into within the
chloroplast?