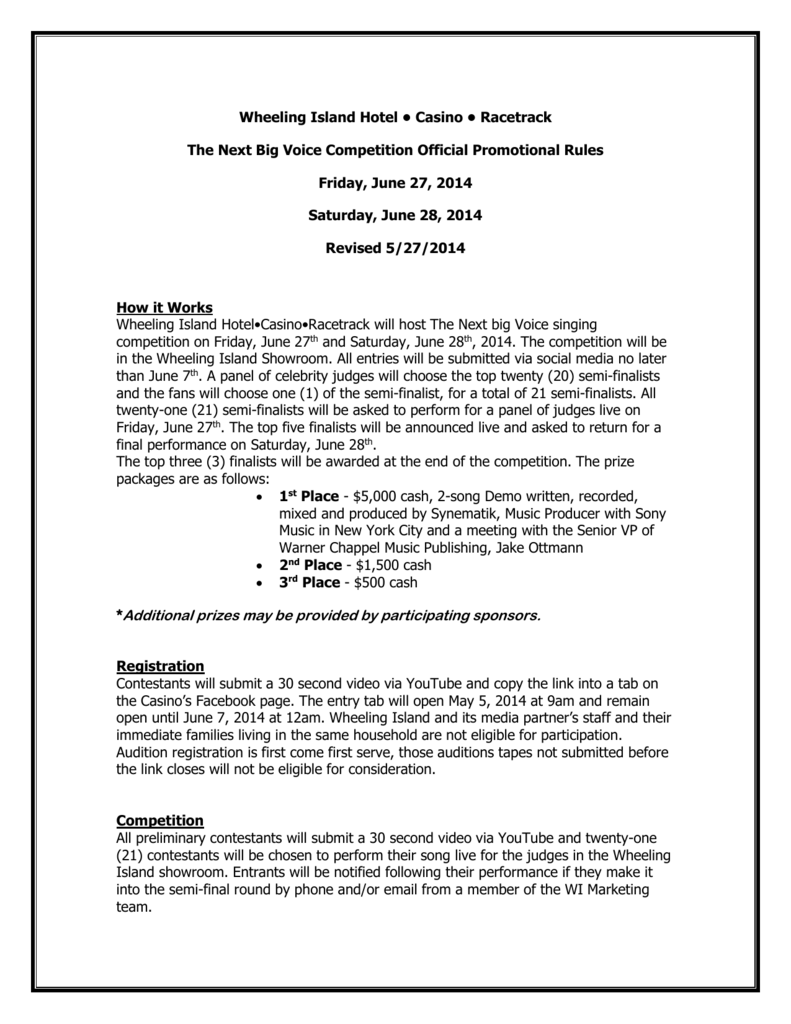 Wheeling Island Hotel • Casino • Racetrack
The Next Big Voice Competition Official Promotional Rules
Friday, June 27, 2014
Saturday, June 28, 2014
Revised 5/27/2014
How it Works
Wheeling Island Hotel•Casino•Racetrack will host The Next big Voice singing
competition on Friday, June 27th and Saturday, June 28th, 2014. The competition will be
in the Wheeling Island Showroom. All entries will be submitted via social media no later
than June 7th. A panel of celebrity judges will choose the top twenty (20) semi-finalists
and the fans will choose one (1) of the semi-finalist, for a total of 21 semi-finalists. All
twenty-one (21) semi-finalists will be asked to perform for a panel of judges live on
Friday, June 27th. The top five finalists will be announced live and asked to return for a
final performance on Saturday, June 28th.
The top three (3) finalists will be awarded at the end of the competition. The prize
packages are as follows:
 1st Place - $5,000 cash, 2-song Demo written, recorded,
mixed and produced by Synematik, Music Producer with Sony
Music in New York City and a meeting with the Senior VP of
Warner Chappel Music Publishing, Jake Ottmann
 2nd Place - $1,500 cash
 3rd Place - $500 cash
*Additional prizes may be provided by participating sponsors.
Registration
Contestants will submit a 30 second video via YouTube and copy the link into a tab on
the Casino's Facebook page. The entry tab will open May 5, 2014 at 9am and remain
open until June 7, 2014 at 12am. Wheeling Island and its media partner's staff and their
immediate families living in the same household are not eligible for participation.
Audition registration is first come first serve, those auditions tapes not submitted before
the link closes will not be eligible for consideration.
Competition
All preliminary contestants will submit a 30 second video via YouTube and twenty-one
(21) contestants will be chosen to perform their song live for the judges in the Wheeling
Island showroom. Entrants will be notified following their performance if they make it
into the semi-final round by phone and/or email from a member of the WI Marketing
team.
Semi-Finalist will check-in on Friday, June 27th by 12:00pm noon at the registration
table. Semi-Finalists will choose their won song and will be asked to provide their own
instrumental track. Each semi-finalist will have a maximum of three (3) minutes to
perform for the judges. We reserve the right for judges to stop performer before the
three (3) minute time period has ended. Semi-Finalist must be prepared to perform their
selected song in its entirety. Semi-Finalists will NOT be permitted to see their judging
sheets or scores. The judges will choose the top five (5) performers and those
performers will be invited to return for the finals. The Finalist will be notified
immediately following the Semi-Final performances.
Finalist will check-in on Saturday, June 28 by 5:00pm at the registration table. Finalist
must be prepared to perform their selected song in its entirety, but we reserve the right
for judges to stop performer before the end of the song. Finalists will NOT be permitted
to see their judging sheets or scores.
All contestants who fail to "check-in" by the assigned time each day will be considered
"withdrawn" from the competition. Contestants will be permitted to use a musical
instrument during their performance, however NO props will be allowed. Props are
anything that supports or enhances the performance, for example, removal of hats,
shoes, capes, sunglasses or any type clothing or accessory; inviting audience members
to join the performer on stage. Contestants will NOT be permitted to leave the stage at
any time during their performance.
Judging Criteria
Each contestant in the Semi-Finals and Finals will be judged in the following categories:
 Singing Ability
 Stage Presence
 Originality
 Audience Appeal
Contestants will be judged on a scale of 1 to 10. Each based on a scale from 1 to 10 in
percentages to prevent ties, 1 being the lowest and 10 being the highest score for each
category. After each contestant performs their complete song, the scoring sheets will be
turned over to WI auditors and the next contestant will perform. In the event of a
question or dispute brought to the host, the judging panel's action must be reviewed by
the executive committee where all decisions made by this committee are final.
Additional Rules
Participation in this promotion is an agreement to abide by the rules of the promotion.
All participants must complete a registration form, a Use of Photograph and Release
form and a Full Release form. By signing and submitting registration form, contestants
agree to comply with any and all rules of the competition.
Management/Judges reserves the right to disqualify or otherwise exclude from
consideration any participant(s) for failing to abide by these riles or by local, state or
federal laws or ordinances.
Wheeling Island Hotel • Casino • Racetrack has the right to change, cancel or alter this
promotion at any time without prior notice. Typographical and other errors are subject
to correction. Void where prohibited by law.
The decision of the judges with regard to the selection of winners and all other aspects
of the contest shall be final and binding in all respects.
All entrants must be 18 years of age or older and must present a valid, governmentissued photo ID and permit a photo copy be made of ID provided. Prizes valued at
$600.00 or more will require the winner to complete an IRS W-9 and IRS 1099 form.
Persons who have ever signed recording contract are not eligible to participate.
All participants must be present for the scheduled performance times and prepare for
competition. The competition judges are not accountable for any late arrivals. Any
discrepancy with the judges shall be reviewed by the executive committee and all
decisions made by the executive committee are final. Final selection of the winning
participant shall be final and shall not be subjected to objection or challenge.
All contestants are forbidden to approach or socialize with competition judges.
Contestants may not be members of the judges' immediate families.
Wheeling Island Hotel•Casino•Racetrack and approved media partners retain the right to
videotape and record all performances. Such videotape will be the sole property of
Wheeling Island Hotel•Casino•Racetrack and may be used in promotions/advertisement
related to the promotion. Winners agree to WI and approved media for unlimited and
unrestricted use of the photo likeness for promotional use.
Contestants may not use the name, likeness, icon, logo or any proprietary trademark or
copyright that is the property of WI or any subsidiary thereof, without the written
permission of same.
Any vendor who provides promotional items or is engaged in sponsorship ties for the
contest or any participants shall be prohibited from participating in the contest or
financially or otherwise supporting contestants.
At no time before or during the competition will contestants consume alcoholic
beverages. Contestants found consuming alcoholic beverages will be disqualified.
Any contestant giving false information on registration form shall be disqualified and will
forfeit any prizes.
The judges, locations, times and decisions made to benefit the overall success of this
promotion are at the discretion of the WI management.
By participating in this contest, participants agree to be bound by the decisions of WI
Management. Persons who violate any rule, gain unfair advantage in participating in the
contest, or obtain winner status using fraudulent means will be disqualified.
Unsportsmanlike, disruptive, lude, annoying, harassing or threatening behavior is
prohibited. WI Management decisions concerning such disputes shall be final. If the
conduct or outcome of the contest is affected by human error, any mechanical
malfunctions or failures of any kind, intentional interference or any event beyond the
control of Management, Management reserves the right to terminate the contest or
make such other decisions regarding the outcome as Management deems appropriate. If
a contestant or any other individual to deliberately circumvent, disrupt or damage
ordinary and normal operation of this contest, telephone systems or website or
undermine the legitimate operation of the contest is a violation of criminal and civil laws
and should such participant to the fullest extent permitted by law.
Winners may be required to complete, execute and return an Affidavit of Eligibility/
Release of Liability, a Publicity Release within 14 days of being named the winner of a
prize. Failure to return all required documents in this time period might result in the
winner being disqualified and an alternate winner being selected.
No substitution of a prize by the winner will be permitted unless otherwise specifically
stated in these Official Rules. If it becomes necessary to substitute a prize due to
unavailability of the prize originally intended, a prize of equal or greater value will be
awarded at the discretion of Wheeling Island Hotel • Casino • Racetrack . The winner's
entry and acceptance of any prize constitutes permission for Wheeling Island Hotel •
Casino • Racetrack to use the winner's name, photograph, likeness, statements,
biographical information, voice and address (city and state), in all forms of media, in
perpetuity, without notice or further compensation.
Prizes are not transferable. All federal, state and local taxes, if any and all expenses
related to the receipt and use of the prize are the sole responsibility of the winner. By
participating, each contest entrant agrees to these Official Rules. Winners are required
to release, discharge and hold Wheeling Island Hotel • Casino • Racetrack, its parent
and affiliated companies, and their respective directors, officers, employees and agents,
harmless from all liabilities, claims or damages arising from participation in this contest
and the acceptance, use, misuse or possession of the prize.
Any dispute or situation not covered by the official rules will be resolved by Wheeling
Island Hotel • Casino • Racetrack management in a manner deemed by them to be the
fairest to all concerned, and that decision shall be final and binding on all participants.
In addition, Wheeling Island Hotel • Casino • Racetrack reserves the right to void any
entry, and/or to change, cancel or modify this promotion at any time.
Persons licensed by the West Virginia Lottery Commission and persons licensed by the
West Virginia Racing Commission as on-the-grounds employees, and vendors directly
associated with this promotion, their subsidiaries affiliates and agencies are ineligible to
participate in the promotion. By entering this promotion, entrants agree to abide by all
terms of the official rules. Must be present to win.