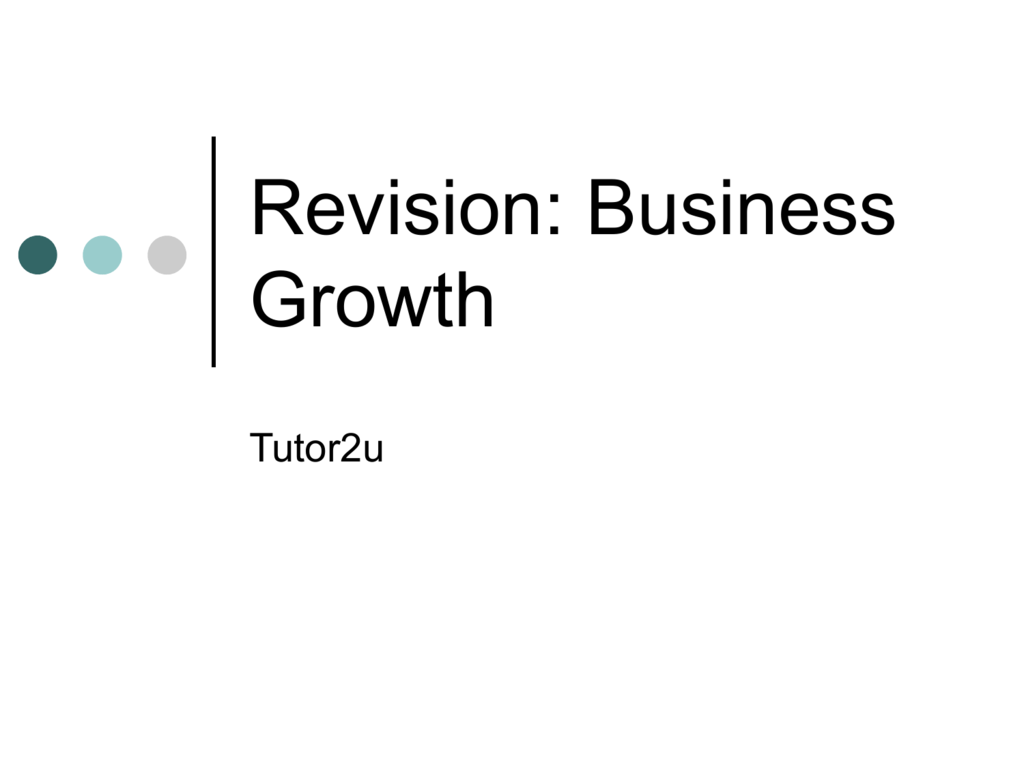 Revision: Business
Growth
Tutor2u
Motivations for business
growth




Profits and shareholder value

Dividend income

Capital gains from rising share prices

Financing business expansion
Market share / market power

Monopoly power

Pricing power
Economies of scale

Falling long run average cost

Higher profit margins
Managerial motives

Managerial satisfaction / status
Demand and Scale
Economies
Profit at P1
Price and
cost
P1
LRMC
AC1
LRAC
AR1
MR1
Q1
Output
Demand and Scale
Economies
Profit at P1
Price and
cost
Profit at P2
P2
P1
LRMC
AC1
AC2
LRAC
AR2
AR1
MR2
MR1
Q1
Q2
Output
How do small firms become
large?

Internal growth

When the company increases in size on
its own

Through increased demand

Expanding range (scope) of products

Selling products in a number of locations

Investment in capital and labour inputs

Joint ventures
How do small firms become
large?

External growth – the integration of two
or more businesses - includes

Merger (where 2 companies combine to
become one new company)

Takeover (where one company wants to buy
another company and make it part of its
existing business)
Types of business
integration

Horizontal

Vertical

Lateral

Conglomerate
Horizontal integration

Horizontal Integration is
when one company
merges/takes over another
company which produces
SIMILAR PRODUCTS and
which is involved at the
SAME STAGE of production.

Examples:

Adidas & Reebok

Airline mergers on the way?
Vertical Integration

Vertical Integration involves the joining
together of firms at DIFFERENT
STAGES of production.

Examples:

Brewing

Holiday companies

Oil industry
Lateral Integration

Lateral Integration is a merger between
two business which produce SIMILAR
products.

Example: A book publisher might
acquire a magazine/newspaper
publisher, or even television and other
media products.
Conglomerate integration
(business diversification)

A conglomerate merger takes place
when one company merges with/takes
over another which is in a completely
different industry.

Conglomerate mergers spread the risks
more because the firm no longer relies
upon sales of only one type of product.